Medical Holography Market to Surge, Finds Significant Potential in Diagnosis of COVID-19, Projects Fact.MR
Medical Holography Market
Published : 18 May 2020 Industry: Healthcare
The medical holography market is set to record impressive growth, expanding at a whopping CAGR of 34.0% during the forecast period (2020-2026). The high adoption of holographic devices for diagnosing chronic conditions such as cardiovascular diseases and cancer, rising financial impetus from government and private organizations and a surging geriatric population pool having chronic conditions are attributed as important growth levers.
Researchers have also advocated that medical holography procedures can be effectively exploited to diagnose COVID-19 infections among asymptomatic patients. These tests are expected to provide greater accuracy over the standard RT-PCR tests. Further research is still underway in order to ascertain the viability of such tests.
Key Takeaways of Medical Holography Market Study:
By product type, holographic displays are anticipated to dominate the market, capturing nearly 70% of the market share. Increasing demand for technologically enhanced devices is driving the growth of the holographic displays segment.
By application, biomedical research shall find the maximum application, attributed to increased applications in advanced fields such as clinical diagnostics and drug development. The segment is anticipated to capture over 60% of the medical holography market.
By end-user, pharmaceutical and biotechnology companies shall capture over half of the total market, due to increasing research and development being undertaken to develop advanced technologies by important market players.
By region, North America and Europe are anticipated to lead the medical holography market, expanding at CAGRs of 35.5% and 34.0% respectively. Increasing research and development to introduce technological advancements as well as applications in diagnosing chronic conditions are anticipated to drive market growth in both regions.
"Increased demand for technological advancements in imaging techniques is anticipated to leverage the market for medical holography in the forecast period. Key manufacturers are taking advantage of this fact and concentrating on broad basing their product portfolio," concludes a Fact.MR analyst.
Medical Holography Market: Competitive Landscape:
The medical holography market consists of the following market players: RealView Imaging Ltd., EchoPixel Inc., Integraf LLC, Koninklijke Philips N.V, Holoxica Ltd., HoloTech Switzerland AG, EON Reality, Inc., Lyncee Tec SA, Nanolive SA and zSpace, Inc. Out of these, the dominant market players are RealView Imaging Ltd., Koninklijke Philips N.V. and Holoxica Ltd. These players focus primarily on technological developments in order to launch new products in the market, thereby consolidating their foothold. The products offered by the dominant players include HOLOSCOPE-i Holographic Augmented Reality Medical System (RealView Imaging), the Philips interventional X-ray and ultrasound systems (Koninklijke Philips N.V) and the Interactive Holographic 3D display (Holoxica Ltd.).
COVID-19 Impact Insights:
The ongoing novel coronavirus pandemic is projected to generate growth opportunities for the medical holography market. Healthcare practitioners are in the process of investigating a bead-based holography technique that detects biological particles by imaging their binding to microscopic beads which could lead to a faster and cheap test for current and past infections.
The idea is to detect the virus using tiny plastic beads coated with antibody proteins that bind only to characteristic proteins of SARS-CoV-2. These would then be mixed into a fluid sample taken from a patient and would bind them to the virus particles in the fluid. This binding would cause the diameters of the beads to increase a few nanometers, a change that the researchers can detect. Such an advanced technique is anticipated to improve accuracies and help in proper diagnosis of the disease.
Looking for more information?
The research study on the medical holography market by Fact.MR incorporates an unbiased assessment of key factors and trends responsible for shaping the landscape of the medical holography market over 2020-2026. It includes a detailed assessment of key parameters that are anticipated to exert influence during 2020-2026. Market statistics have been presented on the basis of product (holographic display, holography microscope, holographic prints and holography software), application (medical imaging, medical education and biomedical research) and end-user (academic centers, pharmaceutical & biotechnology companies and hospitals) across five major regions.
Fact. MR's Domain Knowledge in Healthcare
Fact .MR's healthcare and research professionals guide organizations at each step of their business strategy by helping you understand how contemporary influencers impact transformation in the healthcare sector. Our expertise in recognizing the challenges and trends affecting the global healthcare industry provides valuable insight and support, helping identify critical issues and construct relevant solutions. For more information on our deep domain expertise, click here.
- Request for
More Information

-
Medical Holography Market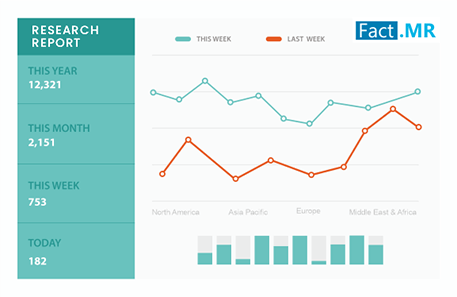 Medical Holography Market Forecast, Trend Analysis & Competition Tracking - Global Market Insights 2020 to 2026