Organic Chicken Market
Organic Chicken Market Analysis by Form (Frozen, Raw/Fresh, Processed), By Product Type (Whole, Breasts, Wings, Legs), By Buyer Group (Food Processors & Manufacturers, HoReCa, Households & Residential Buyers), By Packaging Type (Vacuum Skin Packaging, Modified Atmosphere Packaging, Overwrap Packaging, Shrink Packaging, Vacuum Thermoformed Packaging), By Sales Channel (Direct, Modern Trade, Online Stores, Wet Stores, Chain Stores) & By Region – Global Market Insights 2023 to 2033
Analysis of Organic Chicken Market Covering 30+ Countries Including Analysis of US, Canada, UK, Germany, France, Nordics, GCC countries, Japan, Korea and many more
Organic Chicken Market Outlook (2023 to 2033)
The global organic chicken market size reached US$ 3.22 billion in 2022, according to the latest market study by Fact.MR. Over the projection period (2023 to 2033), worldwide organic chicken sales are predicted to rise steadily at a CAGR of 14.7% and reach a market value of US$ 14.5 billion by 2033.
Traditional agricultural products are manufactured and processed differently from organic foods. Chickens are fed organic feed and have access to the outdoors. Organic chicken intake a balanced feed and thrive in clean-living conditions, which lowers the risk of illness. Organic chicken farming does not utilize antibiotics or feed made from other animal parts. Although they are raised on the farm as conventional hens, they live under healthier conditions because there are no pesticides or chemical additives involved.
Fish meal is also fed to organically raised chicken. A majority of chickens with organic labels are fed diets that specifically forbid genetically engineered feed. Although organic chicken growers do not give antibiotics to their flocks, it is possible for hens bred organically to contract infections and thus need antibiotic treatment while still being allowed to be marketed as organic. Most of the world's chickens that are marketed as organic are fed a diet of grains, fruits, vegetables, and supplements containing vitamins and minerals.
Organic low-sodium chicken noodle soup 14.5 oz. was made available by Health Valley in 2021. It meets the standards set by the American Heart Association for heart-healthy foods. Heart disease is influenced by a variety of factors, however, diets low in saturated fat and cholesterol may help reduce the risk.
Sanderson Farms, a chicken producer, was acquired by Cargill and the Continental Grain Company in August 2021. Cargill's goal with this acquisition is to grow its chicken business in the United States. After the deal is completed, Cargill and Continental Grain will combine Sanderson Farms with Wayne Farms, a Continental Grain subsidiary, to create a brand-new, privately held chicken company.
Report Attributes
Details

Organic Chicken Market Size (2022)

US$ 3.22 Billion

Estimated Market Value (2023)

US$ 3.69 Billion

Forecasted Market Value (2033)

US$ 14.58 Billion

Global Market Growth Rate (2023 to 2033)

14.7% CAGR

South Korea Market Value (2033)

US$ 597.82 Million

South Korea Market Growth Rate (2023 to 2033)

14.2% CAGR

United Kingdom Market Value (2033)

US$ 1.07 Billion

United Kingdom Market Growth Rate (2023 to 2033)

14% CAGR

Key Companies Profiled

Tyson Foods Inc.
Pilgrim's Pride
Perdue Farms Inc.
Sanderson Farms Inc.
Fosters Farms
Plainville Farms LLC
Inglewood Group
Bell & Evans
Plukon Food Group
Eversfiled Organic
Don't Need a Global Report?
save 40%! on Country & Region specific reports
Why is Demand for Organic Chicken Rising Steadily across the World?
"Growing Awareness of Production and Consumption of Organic Products"
Demand for and consumption of chemical-free food items has increased globally as a result of rising consumer knowledge of the negative effects of pesticides and artificial additives. This also applies to the meat-eating customer segment, who favors meat products made without synthetic chemicals or antibiotics. However, increasing consumption of chicken devoid of antibiotics is anticipated to have an impact on the expansion of the organic chicken industry globally.
Increased popularity of organic chicken and frozen meat among consumers has boosted its sales. Benefits of organic chickens include low levels of saturated fats, high levels of omega 3 fatty acids, parasite-free and safe ingestion owing to lack of medications or antibiotics, lack of hazardous microorganisms, etc., which are expected to drive their sales.
"New Product Developments and Smart Packaging"
The food & beverage industry is the greatest consumer of smart packaging, which is typically used to package meat products such as chicken.
Foster Farms, a leading producer of poultry, has launched DORI, an interactive and active packaging. Users can access information such as over 500 new chicken cooking tips and a dictionary of terms used in poultry labeling by scanning a QR code.
During the forecast period, more suppliers are expected to employ this cutting-edge technology. Modern packaging techniques such as vacuum skin packaging have the essential advantage of allowing consumers to see through contents clearly, which attracts their attention. These factors are contributing to the growth of the market over the forecast period.
"Effects of Unethical Broiler Feeding Stimulating Demand for Organic Chicken"
Customers are turning to the organic alternative as awareness of unethical broiler chicken production practices is growing. To boost weight while decreasing quality, broiler chickens are intensively bred using antibiotics and other chemical formulations and medications.
It can result in severe abnormalities such as early puberty in the female population and issues with male fertility. Additionally, eating tainted broiler chicken can raise levels of harmful fats and bad cholesterol, which can cause high blood pressure, heart issues, and obesity. Additionally, such processed meat is vulnerable to illnesses that might cause salmonella dysentery.
More Insights, Lesser Cost (-50% off)
Insights on import/export production,
pricing analysis, and more – Only @ Fact.MR
What are the Key Challenges Faced by Producers of Organic Chicken?
"Organic Chicken Complexities, Labeling, and Production Practices"
A majority of chickens with organic labels are fed diets that specifically forbid genetically engineered feed. Although organic chicken growers do not give antibiotics to their flocks, it is possible for hens to contract an infection and need antibiotic treatment while still being allowed to be marketed as organic.
Chemical pest control or plant disease prevention are not included in organic chicken feed. As a result, the price of organic chicken rises along with the production cost for various types of feed. Customers, however, believe that the higher cost is justified because eating organic food will reduce exposure to pesticides and inorganic fertilizers.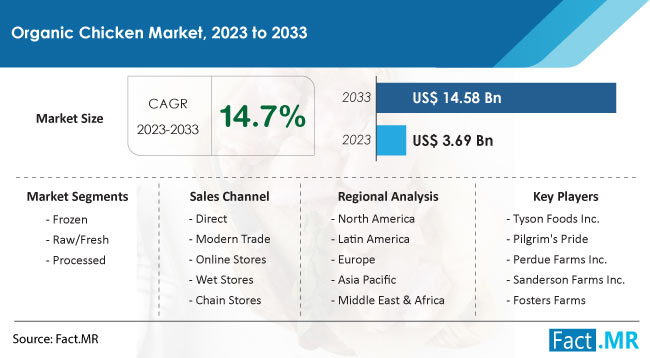 Country-wise Insights
What's Pushing the Sales of Organic Chicken in the United States?
"Rising Consumption of Organic and Sustainable Food"
The market in the United States is forecasted to expand at a stupendous CAGR of 13.4% and reach US$ 4.68 billion by the end of 2033.
The market in the United States has been experiencing significant growth recently as consumption of organic and sustainable food has increased. Organic chicken refers to poultry that has been raised without the use of antibiotics, hormones, or genetically modified organisms (GMOs).
Organic chicken production in the U.S. is regulated by the United States Department of Agriculture (USDA). The USDA National Organic Program (NOP) sets specific guidelines that producers must follow to obtain organic certification. These guidelines include requirements for feed quality, animal welfare, and the use of organic practices throughout the production process.
Organic chicken is primarily sourced from specialized organic poultry farms. These farms adhere to strict organic standards and practices to ensure the organic integrity of their products. Organic chicken products are typically available in natural food stores, organic markets, and some mainstream grocery stores across the country.
What is Stimulating Demand for Organic Chicken Market in Japan?
"Need to Reduce Imports Set to Fuel Market Expansion"
The market in Japan is forecasted to grow at a moderate CAGR of 13.6% and reach US$ 422.85 million by the end of 2033.
The market in Japan has been gradually gaining traction as consumers in the country are showing an increasing interest in organic and sustainable food options.
Japan heavily relies on imports to meet the demand for organic chicken. Domestic production of organic chicken is relatively limited, and the country imports organic poultry from the United States, Brazil, and Australia. Import regulations and certification requirements are in place to ensure the integrity and authenticity of imported organic chicken.
Organic chicken is generally priced higher than conventionally raised chicken due to additional costs associated with organic production practices, certification, and importation. The premium pricing reflects the increased expenses related to organic feed, compliance with organic regulations, and transportation costs.
Know thy Competitors
Competitive landscape highlights only certain players
Complete list available upon request
Category-wise Insights
Why is Demand for Organic Chicken Wings Higher?
"Organic Chicken Wings–High Quality and Safer Option"
Demand for organic chicken wings is forecasted to rise at a CAGR of 13.5% from 2023 to 2033.
Organic chicken wings are a specific cut of chicken that comes from organically raised chickens. They are often perceived as a higher quality and safer option compared to conventionally raised chicken wings. Organic production practices prioritize the welfare of the chickens, minimize exposure to potentially harmful substances, and promote a healthier environment. As a result, consumers who prioritize organic and sustainable food options are expected to choose organic chicken wings for their perceived superior quality.
Consumption of organic chicken wings has been increasing in line with the overall growth in consumer interest in sustainable and organic food & beverage options. As more people are becoming aware of their food choices, health benefits, and environmental impact, demand for organic chicken wings, including popular dishes such as buffalo wings, is expected to rise over the forecast period.
Which Channel Accounts for Higher Sales of Organic Chicken?
"Online Platforms Raising Consumer Awareness and Convenience"
Sales of organic chicken through modern trade are forecasted to increase at a prolific CAGR of 15% over the projected period.
In the context of the organic chicken market, modern trade refers to the distribution and retailing of organic chicken through organized retail channels such as supermarkets, hypermarkets, specialty stores, and online platforms. Modern trade plays a significant role in the distribution and availability of organic chicken to consumers.
Modern trade has played a pivotal role in the growth and development of the market by increasing consumer access, promoting product variety, ensuring quality standards, and educating consumers. However, it's important to note that the availability of organic chicken through modern trade channels may vary based on factors such as regional market dynamics, consumer demand, and strategies of individual retailers.
These retailers play a vital role in educating consumers about the benefits of organic chicken and the organic certification process. Through product labeling, shelf displays, and promotional materials, retailers provide information about the organic production methods, animal welfare standards, and environmental sustainability aspects associated with organic chicken. This helps to create awareness and build consumer trust in organic chicken products.
They have expanded their presence in the online space, offering consumers the convenience of purchasing organic chicken through e-commerce platforms or dedicated online stores. Online platforms provide an additional channel for consumers to access organic chicken products, particularly for those who prefer the convenience of online shopping or have limited access to physical stores.
Competitive Landscape
The competitive landscape of the organic chicken market involves various players, including producers, processors, distributors, and retailers.
Organic chicken farms are at the core of the organic chicken market. These farms focus on raising chickens according to organic standards and practices. These are independent farms or a part of larger organic farming operations. Examples include Murray's Organic Chicken, Bell & Evans, and Shenandoah Valley Organic.
When baked, the pre-sliced, 99 percent fat-free chicken from Plainville Farms created an organic and tasty supper in 2021. It rears its fowl humanely on small family farms, feeds it a vegetarian diet, and never administers antibiotics, growth hormones, or steroids to them.
LDC Group, the top chicken processor in Europe, revealed in October 2021 that it had acquired a majority stake in competitor Capestone Organic Chicken, which is situated in Wales. The LDC Group offers its knowledge of the market for premium poultry as a result of this acquisition.
Key Segments of Organic Chicken Industry Research
By Form :

Frozen
Raw/Fresh
Processed

By Product Type :

By Buyer Group :

Food Processors & Manufacturers
HoReCa
Households & Residential Buyers

By Packaging Type :

Vacuum Skin Packaging
Modified Atmosphere Packaging
Overwrap Packaging
Shrink Packaging
Vacuum Thermoformed Packaging

By Sales Channel :

Direct
Modern Trade
Online Stores
Wet Stores
Chain Stores

By Region :

North America
Latin America
Europe
Asia Pacific
Middle East & Africa
- FAQs -
The global organic chicken market is valued at US$ 3.69 billion in 2023.
From 2023 to 2033, worldwide sales of organic chicken are expected to increase at a CAGR of 14.7%.
By 2033, worldwide sales of organic chicken are forecasted to reach US$ 14.58 million.
The market in China is forecasted to expand at a CAGR of 13.3% through 2033.
Demand for organic chicken in South Korea is predicted to reach a market value of US$ 597.82 million by 2033.