Rose Wine Market
Rose Wine Market Analysis By Product (Pinot Noir, Merlot, Grenache, Malbec), By Type (Still Wine, Sparkling Wine, Fortified Wine & Vermouth), By Sales Channel (Modern Trade, Grocery Stores, Convenience Stores, e-Commerce), By Body Type (Light-bodied, Medium-bodied, Full-bodied), By Sweetness Level (Dry, Semi-sweet, Sweet) & By Region - Global Market Insights 2023 to 2033
Analysis of Rose Wine Market Covering 30+ Countries Including Analysis of US, Canada, UK, Germany, France, Nordics, GCC countries, Japan, Korea and many more
Rose Wine Market Outlook (2023 to 2033)
As per a detailed industry analysis by Fact.MR, the global rose wine market is forecasted to expand at a CAGR of 5.5% through 2033. Worldwide demand for rose wine is valued at US$ 3.27 billion in 2023 and is thus projected to reach US$ 5.59 billion by 2033-end.
Rose wine is gaining popularity on a global scale due to its unique flavor, refreshing taste, and versatility to go with any social occasion. The food-paring quality of rose wine and its growing adoption as a standalone drink is driving market growth.
Rose wine is a type of wine that is produced from red grape varieties but with a shorter contact period between the grape skins and the grape juice during the fermentation process compared to red wine. Due to its unique and versatile taste profile, it strikes a balance between the boldness of red wine and the crispness of white wine. Its versatility means it can be enjoyed on its own or paired with various food items, from seafood and poultry to salads and spicy dishes. This appeals to a wide range of wine drinkers.
Still wine, fortified wine and vermouth, and sparkling wine are some of the types of rose wine. Sparkling wine holds a major share of the global market in 2023. Sparkling wine is often associated with celebrations and special occasions. Whether it is champagne, Prosecco, cava, or other sparkling wine varieties, people tend to reach for them during occasions such as weddings, birthdays, or New Year's Eve. Champagne a sparkling wine type is seen as a symbol of luxury and sophistication.
Sparkling wine is produced in many wine regions worldwide. This global production contributes to its high availability and popularity. Also, the growing wine culture is boosting the consumption of sparkling wine.
Fact.MR states that worldwide demand for sparkling wine is projected to rise at a CAGR of 6.9% through 2033.
The sparkling wine industry is witnessing innovations such as the production of sparkling rosé, single-varietal sparkling wines, and even canned sparkling wine. These innovations are aiding in attracting a broader consumer base.
Expertly crafted with refreshing wine and real fruit juice, Next Round Cocktails were introduced by Constellation Brands in March 2022 into its ready-to-drink (RTD) boxed wine category.
In January 2022, Henkell-Freixenet, a well-known producer of sparkling wines, completed the acquisition of Bolney Wine Estate, a distinguished maker of high-quality red, white, rose, and sparkling English wine.
Report Attributes
Details
Rose Wine Market Size (2023E)
US$ 3.27 Billion
Forecasted Market Value (2033F)
US$ 5.59 Billion
Global Market Growth Rate (2023 to 2033)
5.5% CAGR
Leading Regional Market
Europe
Key Companies Profiled

Pernod Ricard SA
Bodegas Muga
Trinchero Family Estates
Service Distributing
Treasury Wine Estates Limited
Crimson Wine Group
Accolade Wines Holdings Australia Pty Ltd.
Ferngrove Vineyards Limited
Wine Insights Pty Ltd.
Angove Family Winemakers
Domaine de Cala
Chateaux de Lastours
Blossom Hill
Campuget
Chapoutier
Tesco
Echo Falls
BNA Wine Group
Maison Louis Jadot
Penny Johnson Flowers
Don't Need a Global Report?
save 40%! on Country & Region specific reports
Which Trends are Shaping the Market for Rose Wine Market?
"Premium and Boutique Rose Wines Gaining Traction Worldwide"
Growing demand for premium and boutique rose wines is a compelling trend in the wine industry. Consumers are increasingly refining their alcoholic tastes and developing a deeper appreciation for wine. The growing knowledge of wines and willingness to explore and invest in higher-quality wine options are driving luxury rose wine sales. This is also boosting the production of handcrafted rose wine varieties.
Provence in France is often hailed as the epicenter of premium rose wine production. Provence rose wine has become synonymous with quality, as it incorporates the essence of elegance and sophistication.
Premium and boutique rose wine producers prioritize craftsmanship in the winemaking process. This includes meticulous grape selection, gentle pressing, and precise fermentation techniques. These efforts result in wines with complexity, balance, and a nuanced flavor profile that can compete with some red and white wines.
"Innovations in Flavored Rose Wine Driving Up Revenue Shares of Wine Producers"
The wine production sector is witnessing a fascinating evolution with the emergence of flavored rose wine. These innovative offerings are attracting a wider consumer base due to their unique taste. Flavored rose wines, particularly botanical-infused and fruit-infused variations, represent a dynamic response to the growing demand for novelty in wine products.
Botanical-infused rose wine is redefining the traditional perception of wine with its infusion of herbs, spices, and botanicals. These additions not only impart unique flavors but also create a memorable wine-drinking experience.
According to a PUNCH DRINK article, Fernando Paiva, Savio Soares, and Antonio Sousa together are producing a line of wines made with indigenous grapes and stabilized with chestnut flowers in Portugal.
Fruit-infused rose wine, on the other hand, harnesses the vibrant flavors of various fruits, from citrus and berries to tropical fruits such as pineapple and mango. The infusion of fruits enhances the wine's natural fruity character and offers a burst of freshness. Fruit-infused rose wines are not only visually appealing with their colorful hues but also provide a delightful fusion of sweet and tangy flavors, making them especially appealing to younger and adventurous wine enthusiasts.
Sutter Home is a well-known California winery with a range of fruit-infused wines such as its popular Pink Moscato. Pink Moscato is a sweet and fruity rose wine with flavors of strawberry and raspberry, appealing to those who enjoy a sweeter wine profile.
"Canned Rose Wine Products Emerging as Eco-friendly Option by Reducing Plastic Waste"
Millennials and Generation Z are increasingly embracing canned rose wine products. This trend reflects a strategic response to evolving consumer preferences and the desire for convenience, particularly in social and outdoor settings. The appeal of canned rose wines lies in their convenience. These single-serve containers eliminate the need for corkscrews, glassware, and extensive preparation.
Canned rose wine offers a hassle-free and portable option for modern consumers with active lifestyles and a preference for on-the-go enjoyment. The easy-to-open cans also align with the trend of minimizing plastic and glass waste, making them an eco-friendly choice.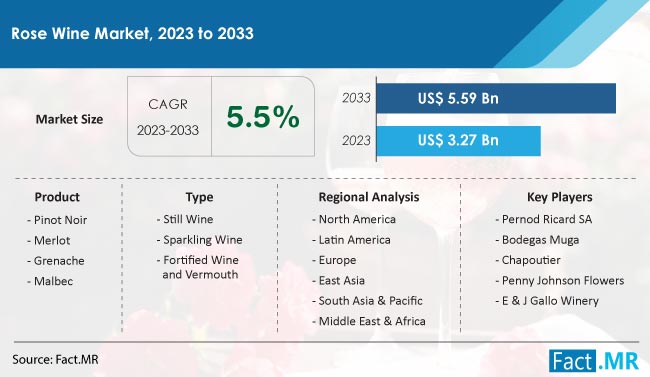 What is Hampering the Sales Growth of Rose Wine?
"Rising Awareness of Health Disorders Associated with Alcoholic Beverages"
Growing health awareness among consumers is triggering a shift in their preferences towards healthier lifestyle choices. Concerns about the potential adverse health consequences of alcohol intake, including liver diseases, cardiovascular ailments, and addiction, are distracting certain individuals from consuming alcoholic beverages, including rose wine. This is further hampering the revenue growth of rose wine producers.
The World Health Organization (WHO) states that excessive alcohol consumption is accountable for around 3 million annual fatalities worldwide.
"Complex Regulatory Frameworks Hindering Rose Wine Production"
Compliance with wine regulations, labeling requirements, and alcohol distribution laws can be complex and pose a barrier to the rose wine market growth. Labels must convey precise information about the wine's origin, varietal, alcohol content, and other critical details. Non-compliance can result in fines, recalls, and reputational damage, which can overall hamper the financial cycle of wine-producing companies.
Alcohol distribution laws vary significantly across regions and countries. Complying with these laws requires extensive legal knowledge and a legal expert team. Thus, such a factor can act as a challenge before small-scale or new producers of rose wine.
More Insights, Lesser Cost (-50% off)
Insights on import/export production,
pricing analysis, and more – Only @ Fact.MR
How Can Start-ups Mark Their Presence in the Competitive Rose Wine Business?
"Prioritization of Sustainability in Vineyard Management and Winemaking Practices"
Entering the competitive rose wine trade as a new company can be challenging, but effective strategies can aid new companies in carving out a niche and earning more. New entrants can differentiate themselves by offering unique rose wine varieties. Flavored rose wines are gaining traction due to their unique flavors and taste. Adopting this strategy can help attract consumers looking for novel and exclusive rose wine options.
New companies should prioritize sustainability in vineyard management and winemaking practices. By obtaining organic or biodynamic certifications, they can highlight their commitment to environmentally responsible production. This strategy resonates with eco-conscious consumers who seek sustainable wine options.
Innovative packaging and branding are playing a pivotal role in attracting a wider consumer base. New entrants can invest in eye-catching labels, eco-friendly packaging, and unique bottle shapes to make their products visually appealing and memorable on the shelves.
In a town called Obcha in Georgia, there's a small start-up company called Baia's Wine. It focuses on traditional winemaking methods. With its 5-acre grape cultivating farm, it produces wine naturally with the clay pot fermenting process. Most of its wine is sold to fancy restaurants in the United States.
Country-wise Analysis
High sales of rose wines in Germany, the United States, and Japan can be attributed to increased domestic wine production, changing consumer preferences, cultural shifts, food pairing opportunities, and effective marketing about the health benefits of rose wine.
According to Fact.MR, a market research and competitive intelligence provider, Germany and the United States currently hold leading positions in the global market, while Japan is set to emerge as a profitable market for rose wine suppliers over the coming years.
What is Aiding German Rose Wine Suppliers?
"Heavy Investments into Domestic Production of Rose Wine"
Germany is the fourth largest producer of wine in Europe after France, Italy, and Spain. Domestic production of rose wine in Germany is gaining momentum. Wineries are investing heavily in rose wine production, responding to the growing demand for high-quality organic rose wine products.
Consumers in Germany are increasingly conscious of health-related aspects when choosing alcoholic beverages. Rose wine is often perceived as a healthier option compared to red wine due to its lower alcohol content and aligns effectively with this trend.
Why is the United States a Profitable Market for Rose Wine Suppliers?
"Growing Awareness of Health Benefits of Fortified Rose Wine"
Sales of rose wine products are increasing at a healthy pace in the United States. This can be due to a substantial consumer base with a penchant for alcoholic beverages, high awareness among consumers regarding the health benefits of fortified rose wine consumption, and a rise in disposable incomes.
Fortified wines are experiencing nationwide popularity due to the emergence of specialized single-spirit bars. These establishments are fostering a deep appreciation for classic fortified wines such as sherry and port.
Why is Demand for Rose Wines Increasing in Japan?
"Rising Wine Tourism and Focus on Cultivation of Indigenous Grape Varieties"
The Japanese have a rich culinary tradition and pairing rose wine with other food items such as sushi and sashimi is driving market growth. Wine tourism is gaining traction in Japan, with more people visiting wineries and vineyards. Rose wine, often associated with leisure and relaxation, complements the experience of wine tourism and is becoming a favorite choice among tourists.
The Koshu Valley is renowned for its cultivation of the Koshu grape variety, which is indigenous to Japan and holds a special place in Japanese winemaking. Koshu grapes are prized for their unique characteristics, including thin skins and a delicate flavor profile.
Know thy Competitors
Competitive landscape highlights only certain players
Complete list available upon request
Category-wise Analysis
Modern trade, grocery stores, convenience stores, and e-commerce are some of the sales channels for the distribution of rose wines. Currently, e-commerce is widely preferred as a prime mode for purchasing wines due to its convenience and the presence of a wide range of options. Other sales channels are also contributing to the growth of the market.
Which Sales Channel is Used Extensively for the Distribution of Rose Wine?
"Easy Availability of Diverse Range of Rose Wines Through e-Commerce Platforms"
The trend of buying alcohol online is increasing rapidly due to several factors. e-Commerce platforms provide consumers with the convenience of browsing and purchasing rose wines not easily available in convenience stores from the comfort of their homes.
e-Commerce is emerging as a dominant sales channel for rose wines due to its convenience, wide product selection, competitive pricing, direct-to-consumer opportunities, and the ability to provide detailed product information and personalized experiences.
Many wineries and boutique vineyards are embracing e-commerce as a means to sell their rose wines directly to consumers. This direct-to-consumer model eliminates the need for intermediaries, allowing wineries to offer their products at competitive prices while maintaining a closer relationship with their customer base.
Competitive Landscape
Key rose wine brands are focusing more on innovations in formulations and packaging to attract a wider consumer base and generate profitable revenues. They are also partnering with other market players to increase their market reach.
In March 2023, Barton & Guestier, a French wine supplier located in Bordeaux, introduced NectaRose, a non-alcoholic sparkling rose wine presented in a 250ml aluminum container.
In the same year, Hampton Water Wine Co revealed the introduction of Vintage Rose, an elegant and distinctive representation of Southern French rose wine.
Key Segments Covered in Rose Wine Industry Research
By Product :

Pinot Noir
Merlot
Grenache
Malbec

By Type :

Still Wine
Sparkling Wine
Fortified Wine and Vermouth

By Sales Channel :

Modern Trade
Grocery Stores
Convenience Stores
e-Commerce

By Body Type :

Light-bodied
Medium-bodied
Full-bodied

By Sweetness Level :

By Region :

North America
Latin America
Europe
East Asia
South Asia & Oceania
MEA
- FAQs -
The global rose wine market is valued at US$ 3.27 billion in 2023.
The market for rose wine is set to advance at a CAGR of 5.5% from 2023 to 2033.
Global sales of rose wine are forecasted to reach US$ 5.59 billion by the end of 2033.
Leading rose wine producers are Pernod Ricard SA, Bodegas Muga, and Trinchero Family Estates.
Germany is exhibiting high sales of rose wine due to its high-quality organic grape production.
Chateau d'Esclans Whispering Angel Rosé is considered one of the best rose wines.