Sales of Non-Alcoholic Wine Soar with Evolving Consumer Perceptions
The global non-alcoholic wine market is estimated to grow at an impressive CAGR of over 7% during the forecast period (2019-2027) and is projected to reach a value pool of over US$ 10 Bn. With increasing demand for healthier variants of alcoholic beverages, the wine industry is undergoing a transition. Compared to conventional wine, low and non-alcoholic wine is soaring on popularity owing to growing consumer awareness about the several health risks associated with alcoholic beverages. Alcohol is banned in many countries such as Egypt, Iran and Libya, thus boosting the growth of non-alcoholic wine as an alternative. Such aforementioned factors are expected to propel the growth of global non-alcoholic wine market during the forecast period.
Low Alcohol Segment to be Lucrative Revenue Pocket
Alcohol-free segment accounts for over 50% of the overall market for non-alcoholic wine. With heightened preference for alcohol-free drinks in Middle Eastern countries including the UAE, Kuwait, Iran and Saudi Arabia, the demand for non-alcoholic wine is expected to have a positive impact on the overall demand for the product. In addition, rising health awareness offering benefits related to alcohol-free consumption of beverages, predominantly among pregnant women and sports athletes around the globe, will further stimulate demand for non-alcoholic wine. The low alcohol segment is projected to grow at the highest CAGR of over 8% during the forecast period. Burgeoning popularity of alcoholic beverages is attributed to prevalence of diseases such as cancer & diabetes, driving its penetration in the market.
Online Retail to Remain Prime Channel for Sales
In 2018, the supermarket segment served more than 20% of the overall market share for sales channel. With global investments in supermarket chains increasing, people are more inclined to purchase multiple items from a single location. Higher discounts and lower retail prices are increasing demand for these products through this distribution network. Growing urbanization is also leading to an increased demand for supermarkets. Countries such as Australia, the UK, and Japan are among the main wine-purchasing countries through the supermarkets retail network. The online stores segment is anticipated to grow at the highest CAGR of 9% during the forecast period. Owing to busier lifestyles and technological advances, particularly cellular phones, sales of non-alcoholic wine is booming via the online retail segment.
Europe Leads With Mushrooming, Large-Scale Wineries
Europe accounted for more than 40% of the total market demand for non-alcoholic wine market in 2018. The emergence of major liquor producers and large-scale wineries in Germany, France, the UK and Italy, combined with the higher market adoption rate is expected to increase demand for wines in Europe. In addition, rapid developments in the manufacturing equipment and liquor processing technology due to a large number of suppliers of machinery will further proliferate the region's segment expansion. Asia Pacific is predicted to see more than 7% growth rate by 2027. Factors such as substantial economic growth, increasing consumer spending coupled with health awareness are driving the region's demand for the products.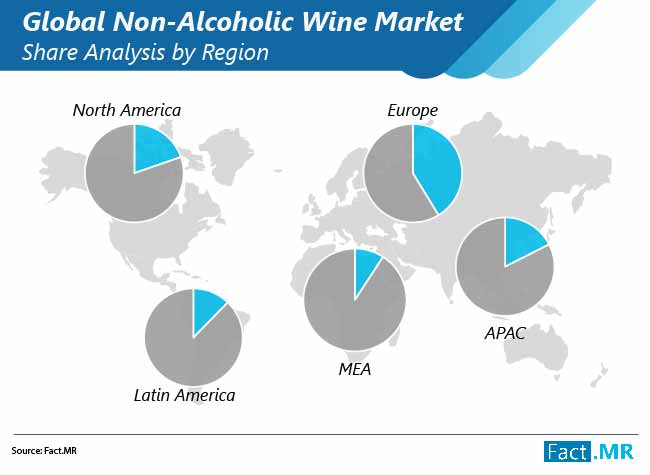 For incisive regional insights on non-alcoholic wine market, request for a report sample here
Leading Wineries Gaining Strong Operating Margins
The global non-alcoholic wine market is moderately fragmented in nature with a few key competitors such as E & J Gallo Winery, Treasury Wine Estate, Castel Frères and McGuigan, holding top shares. Increasing competition in the area due to the entry of world-renowned wineries within the non-alcoholic wine market is improving product acceptance. Several emerging wineries are gaining strong operating margins despite labeling challenges. Furthermore, continuous product improvements, inventions, and partnerships with multiple sales channels are projected to build new value-added solutions which have become a key strategy among brewers to enter high potential markets.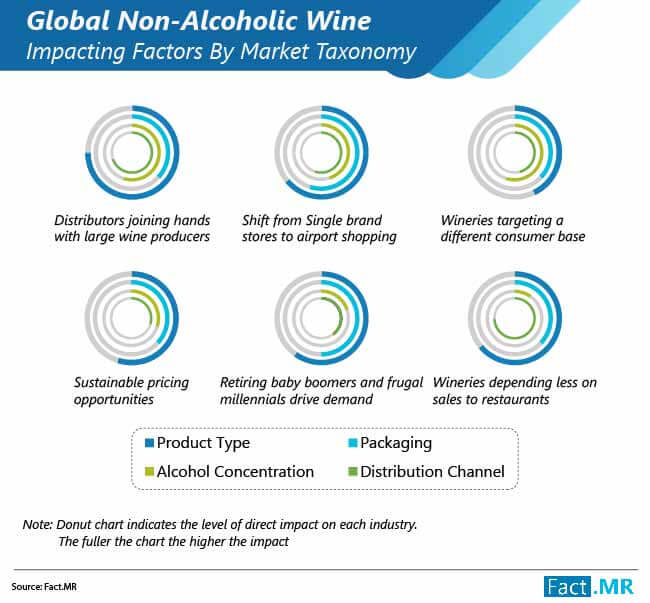 Get cutting-edge intelligence on impacting factors of non-alcoholic wine market by asking an analyst here
Global Non-Alcoholic Wine Market - Scope of the Report
The following report provides forecast and analysis of the global non-alcoholic wine market along with the historical data of 2013, estimated data 2019 and forecast data up to 2027 in terms of value (US$ Mn) and volume (decalitre), according to a Fact.MR study. The research propounds critical trends that are currently influencing growth within the global non-alcoholic wine market along with several macro-economic indicators. This newly published and insightful report on non-alcoholic wine sheds light on key dynamics, and their impact on the overall value chain from suppliers to end-users, which are expected to transform the future of the global non-alcoholic wine market.
The report also comprises the study of current issues with end users and opportunities for non-alcoholic wine. It also contains value chain analysis, including the key market participants. To provide users of this report with a comprehensive view of the market, we have included a detailed competitive analysis about the key players involved in the market and strategic overviews. The dashboard included in the report provides a detailed comparison of non-alcoholic wine manufacturers on parameters such as total revenue, product offerings, and key strategies. A list of key companies operating in the non-alcoholic wine market provided in the report adds to the credibility of this exhaustive research study.
Global Non-Alcoholic Wine Market: In-Depth Assessment on Key Segments
The global non-alcoholic wine market is segmented on the basis of product type, packaging, alcohol concentration, distribution channel and region.
| | | | | |
| --- | --- | --- | --- | --- |
| Product Type | Packaging | Alcohol Concentration | Distribution Channel | Region |
| Still Wine | Bottles | Alcohol Free | Liquor Stores | North America |
| Sparkling Wine | Cans | Low Alcohol | Convenience Stores | Latin America |
| | | | Supermarkets | Europe |
| | | | Online Stores | APAC |
| | | | Restaurant & Bars | MEA |
| | | | Travel Retail | |
| | | | Tasting Rooms | |
This taxonomy and the detailed TOC prepared are confidential and intended exclusively for the individual or entity with whom it is being shared. Reading, disseminating, distributing, or copying this to any party other than addressee(s) is unauthorized and prohibited.
Country-specific assessment on demand for non-alcoholic wine has been provided for each regional market, along with the market size valuation and forecast price point assessment, price index and impact analysis of key regional and country-wise dynamics, which were obtained through quotes from numerous non-alcoholic wine manufacturers, experts, and suppliers. Y-o-Y growth projections have also been offered on all regional markets incorporated in the report. Moreover, future trends, growth prospects, and other possibilities related to the market have been answered in the report.
The report provides company-level market share analysis, which has been derived on the basis of the company's annual sales and segmental revenue in all the target end-use industries. The market has been forecasted based on constant currency rates. The report provides detailed competitive and company profiles of key participants operating in the global non-alcoholic wine market. Some of the major competitors operating in the non-alcoholic wine market are E & J Gallo Winery, Treasury Wine Estate, Castel Frères and McGuigan and others.
Global Non-Alcoholic Wine Market: Research Methodology
A number of primary and secondary sources were consulted during the course of the study. Secondary sources include Factiva, Morningstar and Hoovers, and company annual reports and publications. Comprehensive interviews have been conducted by our analysts, and the intelligence and insights obtained have been used for validating the information gained through secondary research. The report also includes a description of assumptions and acronyms utilized for research purposes. Data gathered has been validated using the triangulation method to offer useful quantitative and qualitative insights in the non-alcoholic wine market.
A short market viewpoint offered in the report elucidates the macro-economic aspects that influence the growth of the non-alcoholic wine market, which includes global GDP growth rate, various industries growth rate, such as food & beverages, e-commerce and HoReCa. This report serves as an authentic resource of intelligence on the non-alcoholic wine market, enabling the readers to take fact-based decisions on the future direction of their businesses.
Fact.MR offers custom research services that help clients to get specific research solutions
We are committed towards customer satisfaction and quality service.
---
Our Clients

Non-Alcoholic Wine Market Forecast, Trend Analysis & Competition Tracking - Global Market Insights 2019 to 2027