Non-Alcoholic Wine Market
Non-Alcoholic Wine Market Analysis By Product Type (Still, Sparkling Non-Alcoholic Wine), By Alcohol Concentration ((Alcohol-free (0.0% ABV), Low-alcohol (Up to 1.2% ABV)), By Packaging (Bottles, Cans), By Sales Channel, By Region - Global Insights 2021-2031
FACT4532MR
Sep-2021

List of Tables : 142

List of Figures : 116

170 Pages
Market Outlook for Non-Alcoholic Wine
Latest industry report on the non-alcoholic wine market by Fact.MR estimates sales to account for more than US$ 1.6 Bn in 2021. This market is expected to balloon at a CAGR 10.4% to top a valuation of US$ 4.5 Bn by the year 2031.
Non-alcoholic wine business research performed by Fact.MR includes key findings such as latest and speculative production capacity, capacity utilization rates of each manufacturer, recent and speculative pricing, and price optimization strategy across the value chain, as well as an economic evaluation of non-alcoholic wine production.
Avail customized purchase options for your needs
Key Points Covered in Non-Alcoholic Wine Industry Survey:
Non-Alcoholic Wine Industry Estimates and Forecasts (2016-2031)
Production Capacity Analysis of Prominent Manufacturers
Non-Alcoholic Wine Pricing Analysis
Product Pricing Optimization Strategy
Associated Industry Analysis (Wine Market Overview)
Key Drivers and Restraints Shaping Market Growth
Segment-wise, Country-wise, and Region-wise Analysis
Competition Mapping and Benchmarking
Market Share Analysis
COVID-19 Impact on Demand for Non-Alcoholic Wine and How to Navigate
Exclusive Sales Assessment of Non-Alcoholic Wine
Recommendation on Key Winning Strategies
Consumption Analysis of Non-Alcoholic Wine from 2016 to 2020 Vs. Market Outlook for 2021 to 2031
Wine with little or no alcohol is termed alcohol-free wine. Alcohol-free wine has the same flavor and structure as alcoholic wine, as well as a similar aroma, but without the alcohol, which makes it appealing to a larger section of the health-conscious population.
Non-alcoholic wine is produced similarly to its alcoholic counterpart, the difference being that the alcoholization technology is used to remove the alcohol content.
There are several methods for the dealcoholisation of wine such as the vacuum distillation technology for non-alcoholic wine, a procedure wherein the wine undergoes heat treatment and the ethanol is allowed to evaporate. High-quality alcohol-free wine manufacturers take great care to heat the wine to the lowest temperature feasible (around 35 degrees Celsius), allowing evaporation to occur without cooking the wine. Another technique is reverse osmosis technology for non-alcoholic wine, which takes a substantial amount of water, making it less sustainable.
Globally, no/low alcohol beverages are on the rise, but some regions such as Europe and North America have shown to be more resilient than others in the past few years. While there is still a long way to go before non-alcoholic wine can compete with alcoholic wine, consumer preferences are shifting, and a significant share of the adult population is seeking lower alcohol portions on a more frequent basis.
Non-alcoholic wine and other beverage consumption is becoming one of the mainstream trends affecting the global beverage sector. The confluence of these trends is driving the sales of non-alcoholic wine.
Consumers demand novel product offerings and alternatives to choose from in the non-alcohol wine segment, which has encouraged manufacturers to launch new versions of non-alcohol wine products such as fruit and berry flavored non-alcoholic wines.
Sales of plain non-alcoholic wine are estimated to decrease as sales of flavored non-alcoholic wine increase. However, non-alcoholic grape wine is estimated to be the most preferred product type over the coming years.
While many individuals may be drinking more at home, a desire to minimize alcohol intake among a growing number of clean drinking, health-conscious consumers is driving demand for novel non-alcoholic alternatives, and the industry is complying.
The global market is expected to witness steady growth, surging at a CAGR of 10.4% from 2021 to 2031, compared to a CAGR of 8.8% for 2016 to 2020, according to Fact.MR.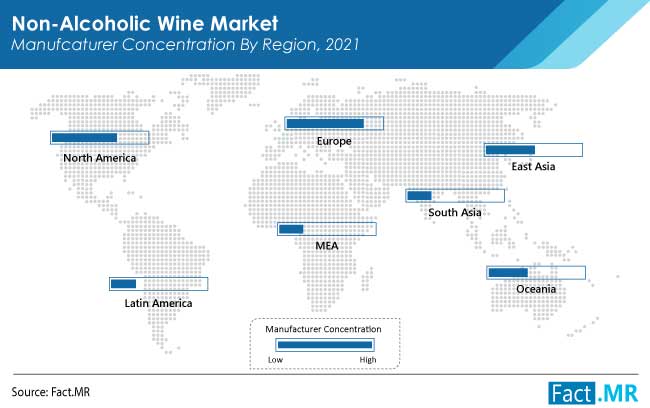 How is Premiumisation Driving Sales of Non-Alcoholic Wine?
In recent years, the food and beverage industry has witnessed a trend towards premium products. Premiumisation of dealcoholized wines is gaining traction owing to greater emphasis on flavor, high-quality ingredients, and more appealing packaging. Consumers perceive non-alcoholic wine as a product worth spending money on.
The premiumization trend is being driven primarily by millennial consumers. According to the report, 54% of 18-34-year-olds are more inclined to choose a premium beverage than only 35% of those over 55 years of age.
Most of the recent growth in premium beverage sales has been attributed to the widespread success of premium-quality wine, with customers frequently purchasing novel products. According to several studies, 40% of global consumers claim to have purchased premium non-alcoholic beverages occasionally, and this figure is expected to rise further, boosting demand for dealcoholized wine.
An Adaptive Approach to Modern-day Research Needs
How are Clean Drinking and Wellness Trends Impacting Demand Growth of Non-Alcoholic Wine?
A flurry of health-conscious beverages entrepreneurs is capitalizing on consumers' urge to reduce alcohol consumption and live healthier lives, with the NOLO (no alcohol, low alcohol) market a prime target for new product development.
Despite early anecdotal evidence suggesting that people were stockpiling alcohol and drinking more during the lockdown, the reverse also appears to be true, with the pandemic highlighting that moderation and wellness trends continue to resonate with consumers, according to IWSR.
As consumers are becoming more health-conscious, cutting calories, and reducing their sugar intake, it's no surprise that health and wellness is one of the leading causes for consumers to reduce their consumption of alcohol. They are focusing more on overall well-being and cutting calories. Affordability is another key factor where consumers are stating saving money as a reason for reducing their consumption of alcohol.
Will Innovative Products Offerings Impact Demand for Non-Alcoholic Wine Products?
The non-alcoholic beverages market is witnessing is a moderation trend. Brand owners are estimated to play a critical role in the future development of alcohol-free and low-alcohol beverages, since increasing the variety of products available to consumers and their price points would promote category growth and broaden its appeal.
Over the coming years, the NOLO market will be dominated by the development of savoury flavors. As people shift away from sweetness, latest trends in the market of non-alcoholic wine will emphasize the launch of savoury, sour, and bitter options.
The non-alcoholic beverage sector is seeing unprecedented growth and innovation, and attracting attention, which is estimated to push non-alcoholic wine manufacturers to offer new, premium alternatives without risking authenticity, flavor, or distinctiveness. Top retailers of flavored non-alcoholic wines are increasing the availability of more flavor profiles.
Interested to Procure The Data
What are the Evolving Trends in Non-Alcoholic Wine Packaging?
To capture a significant market share, winemakers have aggressively utilized vivid colors, clever visuals, and simplified vocabulary. Manufacturers, especially in emerging wine regions, are reconsidering what goes on the bottle as well as the shape of the vessel itself.
Consumer perspective is the foremost aim for non-alcoholic wine manufacturers. Further, cost, uniformity, and logistics play a significant role in the type of packaging for non-alcoholic wines. Bottle packaging of non-alcoholic wines is more prevalent as compared to can packaging, owing to the aesthetic value it provides to the product.
Drink manufacturers are reaffirming their commitment to sustainability. Technology improvements are being made across the industry to assist firms accomplish these goals.
Garçon Wines, for instance, has introduced flat wine bottles made of recyclable PET, which are more efficient and reduce greenhouse gas emissions.
Such advancements are bound to increase market growth in 2031
Country-wise Analysis
What is the U.S Market Outlook for Non-Alcoholic Wine Products?
According to Fact.MR, the U.S. market for non-alcohol wine is estimated to expand at 9.6% CAGR during 2021-2031.
Despite the scale of the industry's challenges, the U.S. non-alcoholic beverage space is expected to hold a considerable proportion of the global market, second only to Germany. Demand for non-alcoholic sparkling wine has increased significantly in the United States, owing to its effervescent texture, which resonates with the population's taste for a fun beverage to commemorate special occasions.
By 2031, the U.S. market is estimated to be valued at US$ 342.6 Mn. It holds a significant share of 83% in the North American region, owing to increasing number of health-conscious consumers who are shifting towards mindful drinking.
What are Key Trends Driving Sales of Non-Alcoholic Wine in Australia?
The Australian wine market accounts for a sizable portion of the global market. Demand for low alcohol wine in Australia is expected to rise as a result of lower alcohol consumption and increased competition in the wine market from foreign wines.
In Australia, 14% of millennials and 17% of the older generation (42-54 years) reported drinking low-alcohol wines. Furthermore, 40% of the population claimed to have stopped drinking or switched to alcohol-Free wine.
According to Fact.MR, sales of non-alcoholic wine in Australia are estimated to increase at 12.2% CAGR owing to shifting consumer preferences.
Will High Consumption of Wine Products in France Drive Market Growth?
Over the last four to five decades, demand for non-alcoholic beverages in France has changed dramatically. Total adult per capita consumption of alcohol has decreased due to shifting consumer preferences and increasing emphasis on advertisements in the country.
Manufacturers of non-alcoholic still wines in France have witnessed steady demand. Additionally, consumers in France are shifting to high-quality premium non-alcoholic wines from less-priced table wine products.
According to Fact.MR, the France market is expected to surge at 11% CAGR from 2021 to 2031, making it one of the top producers of non-alcoholic wine products.
What is the Market Outlook for Italy?
The Italy market for non-alcoholic beverages, in 2019, contributed very little share of total beverage sales. However, with increasing consumer preference for healthier alternatives to alcoholic beverages and rising production of high-quality non-alcoholic wines in the region, consumption is likely to increase during the forecast period.
Italian wine is recognized for its unique flavor and aroma, and has amassed a large consumer base in the domestic market as well as foreign markets such as the U.S. and the U.K. In 2020, Buonafide Foods imported five varieties of non-alcoholic wine from Italy to Florida, owing to increasing consumer preference for Italian wine.
According to Fact.MR, the Italy market for non-alcoholic wine is estimated to rise at a CAGR of 9.9%, owing to the presence of recognized traditional winemakers in the country.
How does the Foodservice Segment Impact Sales of Non-alcoholic Wine in Germany?
Germany is one of the leading markets for non-alcoholic beverages. However, non-alcoholic wine witnessed a slight decrease in sales during 2020 owing to its reliance on restaurants and bars.
The trend of dealcoholized wine in Germany is estimated to pick pace as restrictions are eased and the regional foodservice segment functions in full capacity.
According to Fact MR, the Germany market for non-alcoholic wine is estimated to expand at a CAGR of 9% during 2021-2031.
Category-wise Insights
What is the Most Attractive Form of Non-Alcoholic Wine?
In 2021, demand for non-alcoholic wine is estimated to surpass the demand for non-alcoholic sparkling wine, owing to top manufacturers of non-alcoholic still wine focusing on offering products through various distribution channels such as tasting rooms and online retail stores. Sparkling non-alcoholic wines are also a popular choice for special events because of their texture and flavor. Top brands of non-alcoholic sparkling wines are gaining popularity, such as Pierre Chavin and St. Regis.
Based on product type, non-alcoholic still wine accounts for nearly 73% of the market share in 2021; however, non-alcoholic sparkling wine is expected to rise at a CAGR of 11.1% during 2021-2031.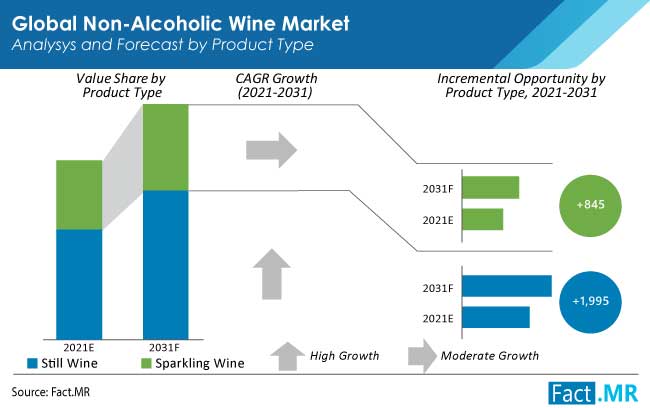 Does Alcohol Concentration Impact Sales of Non-Alcoholic Wine?
Broadly, alcohol-free wine products are outperforming low-alcohol wine. Decline in demand for low-alcohol wine was driven by the poor performance of the traditional lower-alcohol wine market in high-volume regions such as Germany and Spain.
However, newer low-alcohol products are particularly resonating with consumers in markets such as the U.S., who are becoming more mindful of what and how much they consume. Sales of 0.5% alcohol wine are estimated to surge owing to this trend.
According to Fact.MR, the alcohol-free wine market accounts for more than 78.3% in 2021, and the segment is estimated to rise at a CAGR of 11.3% during the forecasted period.
What is the Most Common Packaging Format for Non-Alcoholic Wine?
The target market is divided into two segments based on packaging: bottled non-alcoholic wine and canned non-alcoholic wine. Demand for bottled non-alcoholic wine is expected to grow because of its handy shape, aesthetic appeal, and utility for both, consumers and manufacturers.
Because consumers are accustomed to purchasing alcohol in bottles, canned format of non-alcohol wine is not widely used. Can packaging of non-alcoholic wine, on the other hand, may pick pace during the forecasted period due to its compact size, which is suitable for consumers who prefer to drink on the go.
According to Fact.MR, the bottle segment holds a significant share of 86.5% of the global market for non-alcoholic wines.
Why are Online Sales of Non-Alcoholic Wine Bound to Increase during 2021-2031?
A new coalition of beer, spirit, and wine manufacturers, and top retailers, has presented the industry's first safeguards for worldwide online alcohol sales, which increased by a third in 2020. The alliance shows the commitment of top internet retailers and manufacturers to provide a safe platform for consumers to purchase products online.
Increased online sales of non-alcoholic wine are likely attributed to off-premise celebrations as opposed to celebrations in restaurants and bars before the pandemic. Online retail sales of non-alcoholic wine are expected to offer lucrative opportunities and estimated to surge at a CAGR of 13.2%.
Liquor store sales of non-alcoholic wine are expected to increase at a CAGR of 10.6% as retailers strengthen their supply chains and governments ease restrictions.
Tasting room sales of non-alcoholic wine were adversely affected in 2020 due to several wineries and vineyards closing their tasting room facilities during the pandemic. Sales of non-alcoholic wine through restaurants and bars seemed to have slowed down too; however other sales points such as convenience store sales, supermarket sales, and travel retail sales of non-alcoholic wine are expected to witness gradual growth over the coming years.
How Has COVID-19 Impacted Market Stance?
Before the coronavirus outbreak, a considerable number of people were shifting towards low-alcohol and no-alcohol beverages as part of a move towards healthier lifestyles. Online sales of non-alcoholic wine were not substantially affected by the COVID-19 pandemic. In turn, the pandemic reinforced the need for healthier alternatives to alcoholic beverages.
However, countrywide lockdowns slowed or even temporarily halted the flow of raw ingredients and finished non-alcoholic wines. Non-alcoholic wine distribution analysis demonstrates that manufacturers must manage the financial and operational challenges posed by coronavirus while responding quickly to the demands of their customers and suppliers.
A constant cycle of risk mobilization and monitoring will help optimize results and manage risks, as it respond both, the immediate effects of the pandemic on store-based non-alcoholic wine sales as well non-store-based non-alcoholic wine sales.
Competition Landscape:
The market is highly competitive with several producers of non-alcoholic wine products competing for a significant share in the market. The global market for non-alcoholic wines witnessed several merger and acquisition activities and new product launches during 2016-2020, and the trend is expected to continue owing to increasing consumer interest in low-alcohol and no-alcohol wine.
HUN Wines launched the non-alcoholic canned wine named HUN Alcohol Free (AF) in 2021 in the UK region which is made from South African Chenin Blanc. It has an ABV of 0.5% and is vegan-friendly.
US-based E. & J. Gallo Winery announced the acquisition of more than 30 wine brands from Constellation Brands, Inc. in 2021.
Similar recent developments related to companies offering non-alcoholic wine have been tracked by the team at Fact.MR, which are available in the full report.
Fact.MR has provided detailed information about the price points of non-alcoholic wine, manufacturers positioned across regions, sales growth, production capacity, and speculative production expansion, in its recently published report.
Non-Alcoholic Wine Industry Report Scope
Attribute

Details

Market size value in 2021

USD 1.6 Billion

Market forecast value in 2031

USD 4.5 Billion

Growth Rate

CAGR of 10.4% from 2021 to 2031

Forecast Period

2021-2031

Historical Data Available for

2016-2020

Market Analysis

MT for Volume and US$ Million for Value

Key Regions Covered

North America
Latin America
Europe
East Asia
South Asia
Oceania
MEA

Key Countries Covered

United States
Canada
Brazil
Mexico
Chile
Peru
Argentina
Germany
U.K.
France
Spain
Italy
Russia
BENELUX
Nordic
Poland
China
Japan
South Korea
India
Indonesia
Malaysia
Thailand
Singapore
Australia
New Zealand
GCC Countries
Turkey
South Africa
North Africa
Central Africa

Key Market Segments Covered

Product Type
Alcohol Concentration
Packaging
Sales Channel
Region

Key Companies Profiled

Schloss Wachenheim
Australian Vintage Limited
Treasury Wine Estate
Sutter Home Wine Estate
Miguel Torres S.A
DGB (Pty) Ltd.
Navarro Vineyards
Bodega La Tautila
Grüvi
Chateau Diana Winery
Hill Street Beverage Company Inc.
Ariel Vineyards
Neobulles SA
Thomson and Scott
Giacobazzi A.e Figli srl
Pierre Chavin
Weingut Leitz KG
San Antonio Winery (Stella Rosa)
Proteau

Pricing

Available upon Request
Market Segments Covered in Non-Alcoholic Wine Industry Research
By Product Type

Still Non-Alcoholic Wine
Sparkling Non-Alcoholic Wine

By Alcohol Concentration

Alcohol-free (0.0% ABV)
Low-alcohol (Up to 1.2% ABV)

By Packaging

Non-Alcoholic Wine Bottles
Non-Alcoholic Wine Cans

By Sales Channel

Non-Alcoholic Wine Sold at Liquor Stores
Non-Alcoholic Wine Sold at Restaurants & Bars
Non-Alcoholic Wine Sold through Online Stores
Non-Alcoholic Wine Sold at Supermarkets
Non-Alcoholic Wine Sold at Travel Retails
Non-Alcoholic Wine Sold at Tasting Rooms