Food Preservatives Market Insights: Natural Variants to Lead the Second Wave of Growth
The food preservatives market is estimated to be valued at US$ 2.5 Bn in 2020, and expand at a CAGR of 4% during the forecast period (2020-2030). Demand for food preservative continues to gain a boost from its ability to extend shelf life and inhibit natural aging and discoloration of food products. With greater awareness about chemical and synthetic additives used in food products, health conscious consumers are increasingly shifting towards natural and allergen-free food. The result is expected to lead to increased demand for natural food preservatives.
As with many industries, the food preservatives market is not immune to the domino effect of the COVID-19 pandemic. Widespread lockdowns, closure of production facilities, and disruptions in supply chain are expected to affect the demand for food preservatives during the first half of 2020.The market is poised to recover during the latter half of 2020. The market is expected to show positive growth during the recovery period of COVID-19 crisis, owing to essential status of food products.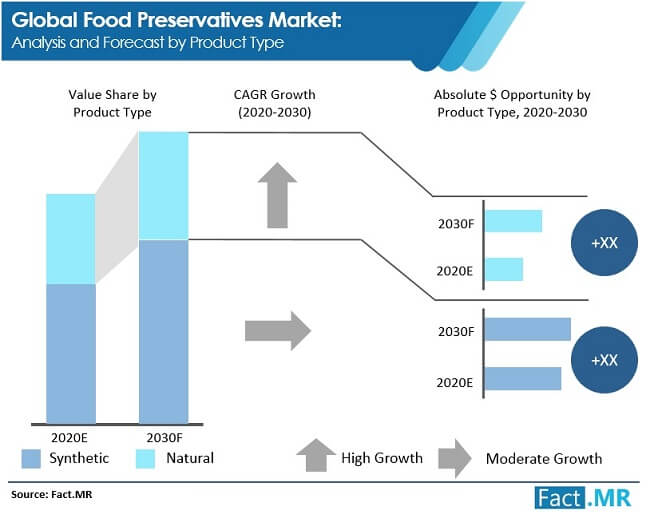 To get access to an in-depth COVID-19 impact analysis of the food preservatives market, ask an expert analyst
Food Preservatives Market Analysis by Application: Bakery & Processed Food Take the Lead
Application of food preservatives in bakery and processed food accounts for nearly half of the total market value. Rapid expansion of bakery industry and consumers' shift towards prepared meals-to-go in grocery and C-store chains are significantly contributing to strong demand for food preservatives.
Manufacturers are currently focusing on multiple launches of plant-based food preservatives to fulfill newer demand and innate needs of the bakery industry. Manufacturers of bakery and processed food products are rolling out better-for-you offerings that are gaining greater acceptance with today's consumers. This, in turn, is expected to push demand for natural food preservatives over their conventional synthetic counterparts.
Food Preservatives Market: Regional Insights
North America is a mature market for food preservatives, accounting for one-third of the global market value. However, demand from South Asia & Oceania is expected to increase at a rapid pace, on the back of robust spending on convenience food products.
With rise in demand for natural food products, several companies have been experimenting with varietal plant-based food ingredients used in South Asia & Oceania to increase their consumer base in the region.
Food Preservatives Market: Competitive Landscape
The food preservatives market is fragmented with top players accounting for only one-third of the revenue share. The COVID-19 impact on the top players has been substantially low, due to essential status of the end products.
Following the pandemic crisis, top companies such as Chr. Hansen Holding A/S, Cargill Incorporated, Corbion N.V. and BASF SE will continue to increase their production of intermediate food ingredient, which also includes the production of food preservatives.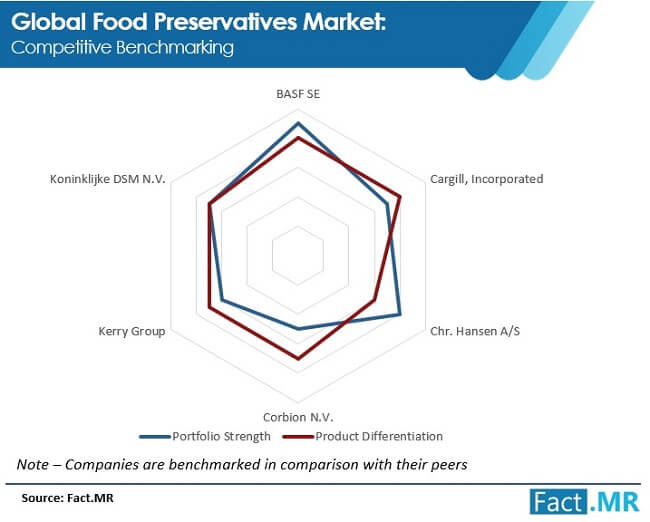 To avail a dashboard view of key players operating in the food preservatives market, request a report sample
COVID-19 Impact Analysis
The impact of COVID-19 crisis has been noticeable in the food preservatives market, as demand observed a decline from February to April in 2020, compared to previous year. Decreasing demand of food preservatives in 2020 can be understood under three scenarios: positive, pessimistic and probabilistic.
Under the optimistic scenario, the global food preservatives market revenue is expected to face a slowdown during the first and second quarter of 2020, and recover in the third quarter. Under the probabilistic scenario, the market is expected to remain under doldrums till the third quarter, due to the ripple effects of COVID-19. Under the pessimistic scenario, food preservatives are not anticipated to gain traction until the first quarter of 2021.
Analysts' Viewpoint
The food preservatives market is expected to experience a slight decline in 2020. However, reopening of factories in China and steady operation of supply chain are expected to accelerate the recovery of the food preservatives market. Robust investments in R&D and increased penetration of food manufacturers in Southeast Asia are expected create long term returns.
Global Food Preservatives Market: Scope of the Report
The recent global food preservatives market report by Fact.MR offers a 10-year forecast for the period, 2020-2030. The report elaborates on the key drivers, restraints, opportunities and threats influencing the expansion of the global food preservatives market. A detailed segmental analysis, based on product, function, and application, has been provided in the report. The study also includes an exclusive chapter on COVID-19 impact analysis to help stakeholder develop unique strategies to maintain business continuity during the pandemic.
Regional analysis in terms of supply chain analysis, business execution and market value analysis provide an in-depth perspective about the future scope of the global food preservatives market. In addition, a separate section on market structure has also been provided. The section provides a detailed analysis of key market players and the strategies for expansion in the food preservatives market.
Food preservativesmarket is anticipated to witness a notable upsurge during the forecast period, (2020-2030), conferring to a new Fact.MR study. The study promotes crucial trends that are presently determining the growth of food preservatives market. This newly published and perceptive report sheds light on vital dynamics, which are likely to convert the future of food preservatives market, in turn generating worthwhile opportunities for key companies as well as evolving players who are interested in the manufacturing of food preservatives.
Food preservatives market study is a detailed market intellect on key revenue progression factors, challenges, industry trends, and opportunities, which will eventually influence the food preservatives market growth. The report primarily conveys a summary of the food preservatives market, considering present and upcoming consumer goods industry scenarios, to reveal striking sides relating to the acceptance of food preservatives across prominent regional markets.
A detailed assessment on few of raw material suppliers covered in the report allows report readers to obtain detailed findings that have resulted from food preservatives supply chain analysis, business execution, and value chain analysis across the regional markets. A list of prominent companies functioning in food preservatives market provided in the report enhances reliability of this ample research study.
Food Preservatives Market: Report Summary and Scope
The Fact.MR study offers a comprehensive overview on diverse features that induce demand, revenue generation and sales in food preservatives market across the globe.
A comprehensive estimate on food preservatives market has also been made accessible by the experts, who have considered the market estimates on the basis of a likely scenario, an optimistic scenario, and a conservative scenario regarding sales of food preservatives during the forecast period. Analysis and estimation of price point comparison by region and by product with the global average price has been included in this study.
Food Preservatives Market: Segmentation
The Fact.MR's study covers the segmentation of food preservatives market on the basis of product, function, application and region.
| | | | |
| --- | --- | --- | --- |
| Product | Function | Application | Region |
| Natural | Antimicrobial | Bakery and processed food | North America |
| Synthetic | Antioxidants | Beverages | Latin America |
| Benzoic acid | Others | Dairy and milk products | Europe |
| Sorbic acid | | Meat, poultry and seafood | East Asia |
| Lactic acid | | Others | South Asia & Oceania |
| Propionic acid | | | MEA |
| Others | | | |
Food Preservatives Market: Market Size Evaluation
Predictions of food preservatives market, encompassing current as well as projected values estimate and analysis on region-wise demand trends and price index have been assimilated in the report.
Market estimates at the regional and global scale for food preservatives are available in terms of "US$ Mn." A Y-o-Y growth contrast on prominent food preservatives market segments, along with the market attractiveness valuation computes understandings brought in the report. Metrics mentioned above are also followed based on food products where food preservatives witness a steady demand.
Food Preservatives Market: Scrutinized Assessment on Regional Segments
Weighted sections have been elaborated in the report on food preservatives market, which delivers projection on the regional markets. These chapters brighten the regional macros (political economic, and business environment outlook), which are expected to have a significant impact on the growth of food preservatives market during the period of forecast.
Country-specific valuation on demand for food preservatives has been offered for each regional market, along with the market scope estimate and forecast, price index, price point assessment, and impact analysis of dynamics of prominent regions and countries. For all regional markets Y-o-Y growth estimates have also been incorporated in the report.
Food PreservativesMarket: In-depth Analysis on Competitive Landscape
The report ends with a section on the competition scenario of the food preservatives market, along with the profiles of major companies contributing to the market expansion. Essential and up-to-date data as well as information correlated to the market performers, who principally engage in the production and supply of food preservatives, has been brought with the help of a detailed dashboard view. Market share analysis and comparison of prominent players provided in the report permits the report readers to plan preemptive steps to advance their businesses.
Company profiles have been shared with report, which exerts essentials such as product portfolio, along with an all-inclusive SWOT analysis on each player recognized along with the company policies identification and analysis. The company presence mapped and presented through the matrix for all the prominent players of the market functioning in food preservatives market offers readers with actionable intellect, which helps in thoughtfully presenting the market status, and making decisive predictions on the competition levels in food preservatives market. Major companies operating in global food preservatives market, include BASF SE, Cargill, Incorporated, Celanese Corporation, Chr. Hansen A/S, Corbion N.V., DuPont, JEY'S F.I. INC, Kerry Group, Koninklijke DSM N.V, and The Archer Daniels Midland Company
Impact of Covid-19 on Food PreservativesMarket
The report includes a scenario based assessment of impact of Covid-19 across key regions for all four quarters of 2020. The report discusses the market forecast under optimistic, probabilistic and pessimistic scenario. Under the three scenarios, the demand loss and recovery has been illustrated and described through L-shaped and U-shaped recovery curves. Alongside, the Covid-19 impact has been benchmarked with previous crisis including sub-prime crisis and SARS pandemic.
Fact.MR offers custom research services that help clients to get specific research solutions
We are committed towards customer satisfaction and quality service.
---
Our Clients

Food Preservatives Market Forecast, Trend, Analysis & Competition Tracking – Global Market Insights 2020 to 2030