Chickpeas belong to the legume family. Chickpeas is also known as garbanzo beans, ceci beans, Bengal gram, gram, etc. Chickpeas is generally pea-shaped and beige-colored. Chickpeas are mostly consumed in Middle-East, South-Asia, and Mediterranean. The two most important variety of chickpeas are the Kabuli type which is large and light-colored, and another is desi type which is dark-colored. Chickpeas are rich in protein, nutrition and are also high in fiber. Chickpeas are also available in a dried or canned form and do not lose its nutrients even in the canned form.
Many restaurants and fast-food chains have also started using chickpeas as the main ingredient in their cooking. With the rise of health-consciousness among consumers, manufacturers have also started including chickpeas in various processed foods. Among various foods, hummus is one of the most popular dips or spread made of chickpeas. Hence, hummus is also being made using a variety of flavors with chickpeas as the main ingredient. Being the largest producer of chickpeas, many major market players are looking forward to expanding in India and other Asian countries to produce various food products with chickpeas as a major ingredient. Increasing number of people suffering from gluten sensitivity or celiac disease is also motivating restaurants to opt for gluten-free cooking with beans such as chickpeas.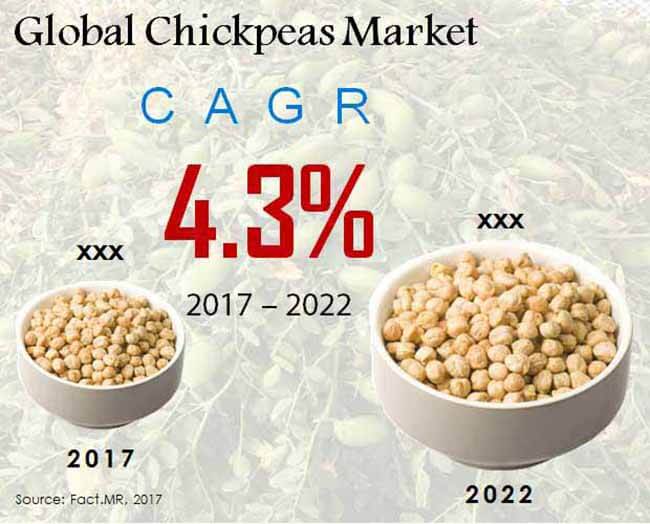 According to a study by Fact.MR, the global market for chickpeas is likely to witness above-average growth. The market is projected to bring in US$ 10,679.6 million revenue towards 2022 end. Being one of the major ingredients of various Mediterranean, Middle Eastern, and Indian dishes, the demand for chickpeas is continuously rising. Moreover, manufacturers of processed foods are also using chickpeas for offering a variety of food products.
Market Taxonomy
| | | |
| --- | --- | --- |
| Product Type | Form | Application |
| Desi | Dried | Direct Consumption |
| Kabuli | Fresh/Green | Salads |
| | Frozen | Snacks |
| | Preserved/Canned | Hummus and Tahini |
| | Flour | Sweets and Desserts |
| | | Other Applications |
(Additional information, including cross-sectional data and country-wise analysis & forecast is available in the report)
Desi Chickpeas to Gain Maximum Revenue Share
Desi Chickpeas are projected to account for more than half of the share in terms of revenue by 2017 end. Desi chickpeas are also expected to create an incremental opportunity exceeding US$ 1,200 million between 2017 and 2022. Meanwhile, Kabuli chickpeas are also projected to witness steady growth throughout the forecast period.
Dried Chickpeas to be the Most Preferred Form
Among various forms of chickpeas available in the market, dried chickpeas are likely to gain traction in the global market for chickpeas. Dried chickpeas are projected to surpass US$ 5,000 million towards 2022 end. On the other hand, fresh/green chickpeas are also likely to be the second most preferred chickpeas form.
Direct Consumption of Chickpeas to Witness Steady Growth
As compared to the various application of chickpeas in salads, snacks, hummus, and tahini, direct consumption is likely to experience steady growth. Towards the end of 2022, direct consumption of chickpeas is projected to exceed US$ 3,500 million value. Although the use of chickpeas in hummus and tahini is also likely to experience growth in the coming years.
Competition Tracking
The report also profiles companies that are expected to remain active in the expansion of global chickpeas market through 2022, which include Bean Growers Australia Limited, The Wimmera Grain Co., Pty Ltd, AGT Food & Ingredients, Inc., OLEGA S.A., Alberta Pulse Growers Commission, Indraprasth Foods Ltd, Mast Qalander Traders, and Sanwa Pty. Ltd.
Note: The insights mentioned here are of the respective analysts, and do not reflect the position of Fact.MR
Offering numerous health benefits and a source of protein, chickpeas offer nutrients. Manufacturers of processed foods are increasingly using chickpeas in enhancing the taste of products such as dips, sauces, spreads, soups, etc. Chickpeas are also being used in various dishes, especially in Indian cooking. With increasing number of people becoming health conscious, chickpeas are being added to salads. Manufacturers are also introducing chickpeas in various forms like baked, canned or boiled chickpeas, offering convenience. This report, published by Fact.MR, provides in-depth analysis of the global chickpeas market for the forecast period 2017-2022, and offers key insights about future market direction.
Scope
The scope of Fact.MR's report is to analyze the global chickpeas market for the forecast period 2017-2022 and provide readers an unbiased and accurate analysis. Chickpeas manufacturers, stakeholders, and suppliers in the global food & beverage sector can benefit from the analysis offered in this report. This report offers a comprehensive analysis, which can be of interest to leading trade magazines and journals pertaining to chickpeas.
Summary
The report commences with a brief information of the global chickpeas market. This executive summary sets the tone for the rest of the report, providing users the scope of the report. The executive summary includes important facts and statistics on the global chickpeas market.
Overview
The next section offers an overview of the global chickpeas market. This comprises an introduction to the market, along with a standard definition of the product – chickpeas. In this section, market value and year-over-year growth is offered to the readers. Year-over-year growth provides readers with a broader view of growth patterns over the forecast period.
The report's succeeding section focuses on drivers, restraints and key trends from macroeconomic, demand, and supply perspectives. Impact analysis of weighted average model-based growth drivers is contained in the report for better provision of decision-making insights to clients.
In order to offer readers with up-to-date information about the latest advancements in the global chickpeas market, the report provides updates about market opportunities, which can benefit leading manufacturers of chickpeas. With continuous evolution of the food & beverage sector, keeping a record of latest developments and trends is fundamental for chickpeas manufacturers to formulate key business strategies. Detailed insights about raw material sourcing, supply chain, pricing analysis, list of distributors, and cost structure are provided in this section.
The Fact.MR report provides in-depth and segment-wise analysis on the global chickpeas market. The global market for chickpeas is segmented on the basis of product type, form, application, and region. The segmentation also offers detailed country-wise analysis on all the major parameters of chickpeas market.
The report's last section comprises of the global chickpeas market competitive landscape, to provide readers with the dashboard view of company analysis and market players. This competitive intelligence is based on the providers' categories across value chain, and their presence in the global chickpeas market.
Research Methodology
Fact.MR is committed to offer unbiased and independent market research solutions to its clients. Each market report of Fact.MR is compiled after months of exhaustive research. We bank on a mix of tried-and-tested and innovative research methodologies to offer the most comprehensive and accurate information. Our main sources of research include,
Primary research
Secondary research
Trade research
Focused interviews
Social media analysis
Fact.MR offers custom research services that help clients to get specific research solutions
We are committed towards customer satisfaction and quality service.
---
Our Clients

Chickpeas Market Forecast, Trend Analysis & Competition Tracking – Global Market insights 2017 to 2022