Remarkable expansion in the residential sector, along with growing disposable income of the population worldwide is likely to remain a key factor driving demand for air conditioning systems. In addition, falling costs of air conditioning systems have further proliferated their adoption among the rising middle-class population in emerging countries. Rapid industrialization, urbanization and mounting number of data centers are also expected to rub off on demand for air conditioning systems.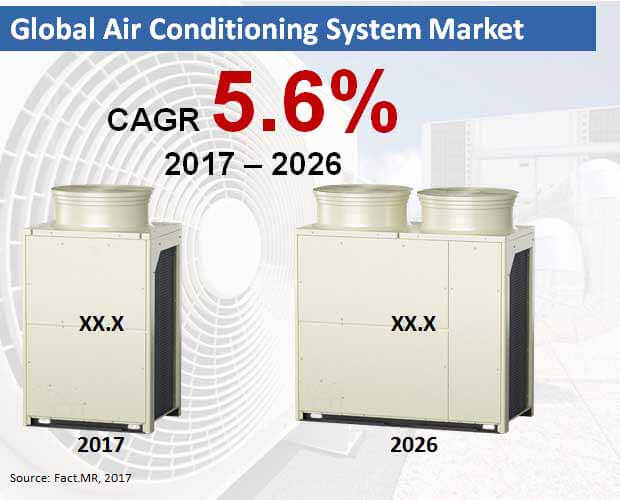 High Demand for IAQ Compelling Air Conditioning System Manufacturers to Focus More on Quality
Demand for improved indoor air (IAQ) quality has gained momentum within the greater building schematic, as awareness about its criticality in promoting healthy and comfortable indoor spaces rises in parallel. Several air conditioning system manufacturers are promoting IAQ innovation further, particularly when demand for novel technologies are witnessing an upsurge. High demand for IAQ has compelled these manufacturers to focus more on quality. Mandatory regulatory compliance, expanded filter testing technology and online monitoring have resulted into higher convenience for customers. A slew of IAQ innovations have been integrated into air conditioning systems recently, which address challenges ranging from air particulate management and detection of emissions to general air exchange and fresh air intake. One of the latest trends being observed in the global air conditioning system market is integration of building controls and HVAC systems. This trend is likely to result into high energy efficiency in management of building systems.
With the trend toward green technologies gaining prevalence, air conditioning systems are being frowned at, albeit population across some regions cannot thrive without them owing to flaming temperature ranges. Air conditioning system is considered to be a major contributor to global warming, owing to its emission of hazardous gases into the environment such as chlorofluorocarbons (CFC) and hydro-chlorofluorocarbons (HCFC). Being a part of greenhouse gases (GHG), these have negative impacts on the environment as they trap heat and result into ozone layer depletion. In addition, air conditioning system's air filters lose their integrity over time and enable harmful exterior compounds to flow into the interior space. This further triggers allergies, and may even lead to irritation in eyes, nose and throat in some cases.
The global air conditioning system market is projected to exhibit a steady CAGR through the forecast period (2017-2026), in terms of volume. Revenues from sales of air conditioning systems worldwide are estimated to surpass US$ 175,000 Mn by 2026-end.
Market Taxonomy
| | | | |
| --- | --- | --- | --- |
| Region | Product Type | Sales Channel | Application |
| North America | Portable Air Conditioning Systems | B2B | Industrial |
| Latin America | Window Air Conditioning Systems | Authorized Stores | Commercial |
| Europe | Split Air Conditioning Systems | Independent Electronic Stores | Residential |
| Japan | Cassette Air Conditioning Systems | E-commerce | |
| APEJ | Single Packaged Air Conditioning Systems | | |
| MEA | Chillers Air Conditioning Systems | | |
| | Airside Air Conditioning Systems | | |
(Additional information, including cross-sectional data and country-wise analysis & forecast is available in the report)
North America to Record Highest Sales of Air Conditioning Systems in terms of Volume
Sales of air conditioning systems are slated to remain the largest in North America, in terms of volume, followed by Europe. Ongoing technological innovations, and changing standards of American Society of Heating, Refrigerating and Air Conditioning, along with the presence of many regulatory policies have accelerated demand for eco-friendly, technologically advanced, and energy-efficient air conditioning systems in these regions.
Demand for air conditioning system in Asia-Pacific excluding Japan (APEJ) will remain more concentrated in its emerging countries such as India and China, mainly because of rising living standards and disposable incomes of population in these countries. Volume sales of air conditioning systems will witness the fastest expansion in APEJ through 2026.
Past few years have represented proliferation in adoption of air conditioning systems in various commercial spaces such as clinics, hospitals, construction, and hotel & tourism, mainly driven by rapid population growth. Commercial applications of air conditioning systems will record the largest sales, in terms of volume. However, volume sales of air conditioning systems for residential applications are expected to reflect the fastest expansion through 2026.
Key Research Findings from Fact.MR's Report
Volume sales of air conditioning systems will remain the largest in B2B sales channel, trailed by independent electronic stores
Chillers air conditioning systems are expected to remain dominant in the market, in terms of volume, with sales estimated to exceed 65,000 Mn units by 2026-end
Competition Tracking
Key players identified by the report include Petra Engg Industies Co., Lennox International, Honeywell International, Gree Electric Appliances, Samsung Electronics, Daikin Industries Ltd., and Midea Group Co. Ltd. Other prominent players in the market include Fuji Electric, Carrier Corp, Hitachi and UTC.
Note: The insights mentioned here are of the respective analysts, and do not reflect the position of Fact.MR
Demand for air conditioning systems across the globe will remain driven by growing living standards of the population, rapid rise in urbanization and global warming. Increasing awareness about indoor air quality along with the need for provisioned & well-furnished houses is further creating demand for air conditioning systems. This report, compiled by Fact.MR, provides in-depth analysis of the global air conditioning system market for the forecast period 2017-2026, offering key insights on the growth prospects of the market.
Scope:
The scope of the Fact.MR's report is to analyze the global air conditioning system market for the forecast period 2017-2026 and offer accurate and unbiased insights to the readers. Air conditioning system manufacturers, suppliers, and stakeholders in the global industry can benefit from the analysis offered in this report.
In-depth analysis regarding the energy saving properties, usage benefits, and long-term maintenance is detailed in this report. The comprehensive study offers insights on various market drivers, trends, and challenges shaping the future of the market, serving as a platform for future study, interest and understanding for the leading industries, trade magazines and journals related to the global air conditioning system market.
Summary:
The report introduces the current scenario of the market for air conditioning system. The executive summary section of the report offers information regarding the future scope of the global air conditioning system market. Brief information on the vital aspects, facts, and statistics on the global air conditioning system market is emphasized in this section.
Overview:
This section offers an overview of the global air conditioning system market. This section comprises definition of the product – air conditioning system, along with key insights on dynamics playing an important role towards the growth of the market. The overview also includes market value and year-on-year growth defining the future progress and decline of the global air conditioning system. Data on the year-on-year growth provides readers with an overall view on expected progress reshaping growth during the forecast period.
In the next section, the report provides insights on major drivers, key trends, and retrains on the basis of demand, supply and macro-economic factors. The report also talks about an impact analysis of drivers and restraints that helps in decision-making and becoming more efficient.
The report further provides information on various technological advancements in the global air conditioning system market. Latest information and advancements regarding growth opportunities can prove to be beneficial for the leading manufacturers of air conditioning system. With advancements in technology, keeping an eye on the latest trends and developments is important for air conditioning system manufacturers to frame key business strategies. Key insights concerning the list of distributor, supply chain, cost structure, pricing analysis, and raw material sourcing, are also provided in this section of the report.
Considering the broad-scope of the global air conditioning system market, the report offers in-depth insights on the forecast and segment-wise analysis. The air conditioning system market has been segmented on the basis of application, sales channel, product type, and region. This sections offers segmentation analysis, along with a detailed country-wise forecast on all the parameters.
In the final section, the report offers information on the key competitors, along with a board view of the market players and company analysis. This competitive intelligence is based on the providers' categories across the value chain, and their presence in the global air conditioning system market.
Research Methodology
Fact.MR is committed to offer unbiased and independent market research solutions to its clients. Each market report of Fact.MR is compiled after months of exhaustive research. We bank on a mix of tried-and-tested and innovative research methodologies to offer the most comprehensive and accurate information. Our main sources of research include,
Primary research
Secondary research
Trade research
Focused interviews
Social media analysis
Fact.MR offers custom research services that help clients to get specific research solutions
We are committed towards customer satisfaction and quality service.
---
Our Clients

Air Conditioning System Market Forecast, Trend Analysis & Competition Tracking - Global Market insights 2017 to 2026