Wearable Air Conditioner Market
Wearable Air Conditioner Market By Product Type (Neck Bands / Neck Straps, Wrist Bands, Waist Belts, Pocket Devices), By Control Technology (Mobile Applications, Touch, Button Control), By Sales Channel (Offline, Online), By Region - Global Insights to 2031
FACT6010MR
Oct-2021

List of Tables : 80

List of Figures : 143

170 Pages
Wearable Air Conditioner Market Outlook
A recent study by Fact.MR on wearable air conditioner market throws light on product pricing, market risks, in-detail study of technological aspects, techno-economic strongholds and other business aspects. According to the study, demand for wearable air conditioners is anticipated to increase at a volume CAGR of 15.4% over the period of 2021 to 2031, with overall shipments set to reach 200,00 units by the same year, mainly due to investments in the development of newer technologies and enhanced cooling effect provided by newer products.
Interested to Procure The Data
Key Points Covered in Wearable Air Conditioner Industry Survey:
Market Estimates and Forecasts (2016-2031)
Production Capacity Analysis of Prominent Manufacturers
Wearable Air Conditioner Pricing Analysis
Product Pricing Optimization Strategy
Demand for Wearable AC Over Short-term Period
Sales of Wearable Air Conditioners
Demand of Wearable Air Conditioners for Industry Workers
Demand for Wearable Pocket Air Conditioners by Sports Enthusiasts
Key Drivers and Restraints Shaping Market Growth
Segment-wise, Country-wise, and Region-wise Analysis
Competition Mapping and Benchmarking
Market Share Analysis
COVID-19 Impact on Demand for Wearable Air Conditioners and How to Navigate
Recommendations on Key Winning Strategies
Demand Analysis of Wearable Air Conditioners from 2016 to 2020 Vs Market Outlook for 2021 to 2031
Wearable air conditioners are small and smart devices usually resting around the neck or attached to the body, and provide comforting air flow or a chilling effect to help a person relax. Usually, wearable air conditioners come with various features, and the most commonly referred aspect while talking about a wearable air conditioner is bladed/ bladeless.
Similar to other electronic appliances, the wearable air conditioner market is crowded with a huge number of Chinese players with masked manufacturing facilities. However, offerings from them fall back in accounting for a significant market share. There are many personal cooling devices available in the market being channelled as air conditioners, but in fact do not offer any such aspect.
Considerations from the demand side also provide a strong image for market reach. Rising concerns over global warming and inclination of people towards eco-friendly air conditioning systems will leave manufacturers of wearable ACs to experience fortunate opportunities over the forecast years. This also provides impetus to strong product pricing along with collective growth.
Over the past half-decade or since the beginning of wearable air conditioners being introduced into the market, strong demand for the same was experienced and is still anticipated to be witnessed over the period of 2021 to 2031. Apart from factors pushing market growth, advancements in overall technological aspects in air conditioning systems have also been laying substantial influence over market progression.
In 2020, the COVID-19 wave hit industries at all levels and scales. Prominent impact from the same has been spread across different individuals with varying disposable incomes. Moreover, wearable air conditioner supply was affected due to lockdown restrictions across countries and showcased a strong setback for market growth.
On the other side, people with high disposable income have remained consistent customers while others have cut expenses during these times. However, industries coming back to track and resumption of other economic activities have fuelled the market to gain traction over the period of Q4 2020 to Q1 of 2021. This has reduced overall impact on wearable air conditioner demand, resulting in Y-o-Y contraction of 4%.
As per Fact.MR, - a market research and competitive intelligence provider, over the forecast period, market is set to recuperate as follows, divided in 3 comprehendible periods:
Short-run: Over this period, the market is set to gain back traction after the COVID-19 pandemic effect and witness significant R&D investments.
Medium-run: Over this term, manufacturers of wearable air conditioners are anticipated to allocate high levels of R&D reserves and the market will experience a wide variety of product offerings.
Long-run: Over this term, the industry is expected to see the evolution of low-cost product offerings from various manufacturers, and is also set to draft strong demand for use by industrial workers.
Below points summarize the market over the long-term forecast period:
Currently, demand for neck strap air conditioners occupies 46% of the market share, and is anticipated to hold its dominance through 2031.
Mobile application-based control technology is the most prominent with expected market growth of 22% over the long-run forecast period.
Embr Labs holds market exclusivity and will continue the same through the inclusion of thermal wellness and custom sensation to provide relief from hot flashes and stress.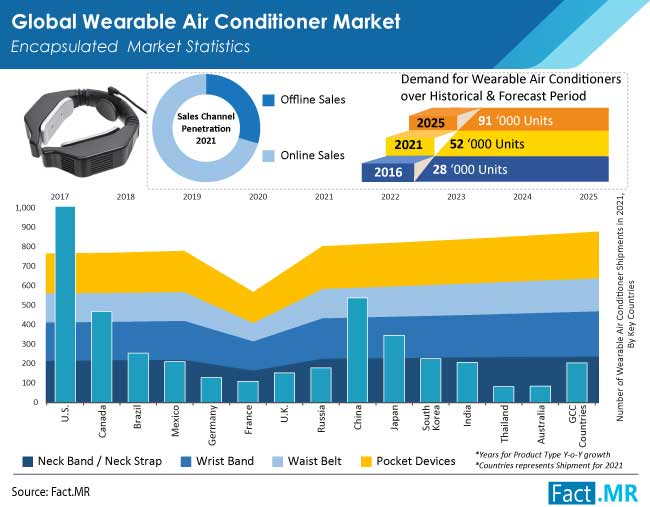 What is the Current Penetration Scenario of Wearable Air Conditioners?
The widely used working principle or technology behind wearable air conditioners is the Peltier effect. This technology discovered in the early 19th century is also being widely applied for its use across a large number of devices, ranging from freezable bras, vests, underwear, to all new technologically advanced wrist bands, neck straps, and pocket devices, which are all currently available in the market.
Now with its prospective introduction by various manufacturers, commercial-scale availability is yet to showcase significant presence. However, it has projected substantial attraction and can be observed being available on an array of options of sales channels.
Currently, Embr Labs and Sony are the brands offering wearable air conditioners through online and offline channels, luring customers by offering groundbreaking gadgets. With the idea being novel, soon, other competitors operating in HVAC are expected to join the flow to benefit from the early bird competition advantage.
Moreover, inclusion of portable air conditioners (neck fans) worn around the neck in scope opens the house for wider product types to be considered. Sales of neck band air conditioners have witnessed huge push over the past half-decade, and there exists a pool of masked manufacturers present wide across the East Asian region, leaving revenue generation from neck band and neck strap air conditioners going unnoticed.
However, brand expansion and standardization conclude the issue, bringing the market out from cache concepts being assumed while estimating the global market value.
An Adaptive Approach to Modern-day Research Needs
What is the Take of Top Manufacturers on Wearable Air Conditioners across the Globe?
Over the past half-decade, blanked competition between top manufacturers across the globe has surfaced. One-on-one announcements by giant companies such as Amazon, Alphabet Inc., Walmart, and others to become employee-centric companies have influenced market growth.
The steps taken and planned to be taken towards providing safer, healthier, and efficient work space leaves behind the opportunity for manufacturers to benefit by designing easy adoptable personal air conditioning systems.
Market tension among lead actors such as Sony, Embr Labs, and a few others being on the very cusp of inception, has left the anticipation entirely on findings made by each analyst while studying the market.
Moreover, personal interests of individual employees to purchase wearable air conditioners for use at work also holds an enhanced outlook over the assessment period. Overall insights on employers and employees to have a comfortable and efficient work space is set to draw higher demand for wearable air conditioning products.
Country-wise Analysis
How are Wearable Air Conditioner Sales Faring across the U.S.?
Over the historical period of 2016 – 2020, the United States wearable air conditioner market propagated at a compound annual growth rate of 14.5% and reached demand worth 6,200 units. The market is anticipated to clock around 40,000 units by 2031, rising at a CAGR of 15.8% over the period of 2021 to 2031.
Key actors positioned in U.S. such as Embr Labs offer top-end products working on the Peltier effect. The country holds a prominent share at the global level, and wrist band air conditioner demand from the nation contributes significant influence on overall market growth.
Total sales of wrist band air conditioners in the country is highly bolstered by Embr Labs, which holds two different versions - Wave 1 and Wave 2 - of wrist band air conditioners under its product offerings.
With some of the world's largest employers, the U.S. signifies the prominence it holds over the forecast period. Employers, on a clean chit race to provide employees with an efficient and healthier work environment, will project highly fortunate opportunities for market players over the assessment period of 2021 to 2031.
How is China's Low-cost Technology Driving Sales of Wearable Air Conditioners?
At present, the complete East Asia region holds the trophy in the manufacturing of personal and other wearable cooling devices. The region enjoys budget-friendly technology, and low production costs and facilities, which have been holistic factors driving market growth.
Demand for wearable pocket AC devices remained the true opportunity for the nation to show its forte, and is set to behold the same over the next couple of decades.
While the low-cost production aspect is concerned, the region hosts a huge number of masked manufacturers positioned in and around Hong Kong. Manufacturers offer a wide variety of products serving numerous brands all across the globe. The country is also expected to foster new entrants with minimal capital investments, and will witness highly positive shipments and profits even over the short term.
China currently houses more than 14 manufacturers specifically operating in personal & wearable air conditioners. The country saw 92.7 Mn unit shipments of wearables, comprising 6,400 units of wearable air conditioners, in 2020.
Avail customized purchase options for your needs
Category-wise Analysis
Why are Neck Band / Neck Strap Products Expected to Gain High Traction Over the Coming Years?
Since the beginning of the development of personal air conditioners, design and development teams of various players have directed their focus on enhancing already existing neck fans to air conditioners by adjusting and adding necessary mechanisms and attachments.
However, there were many other aspects included, such as cost structure and design normality, which ended up making neck type wearable air conditioners hold strong prominence at the initial phase.
During the forecast period, the neck type air conditioner segment is anticipated to lose 128 BPS owing to growing inclination towards wrist bands, which are more compact and a simple kind of accessory. However, the neck band type will remain the top chosen wearable air conditioner over the forecast period owing to low-cost production and simple build structure.
The neck band type segment is estimated to create an absolute dollar opportunity of 12.6 Mn at a growth rate of 18.6% CAGR over the ten year tenure. Use of wearable air conditioners with mobile applications for neck band types will possess high attractiveness over the next couple of years.
Which Sales Channels are Preferred for Purchasing Wearable Air Conditioners?
Wearable air conditioners are being purchased through various distribution channels. Options range from various online platforms to offline channels offering a wide pool of opportunities for customers to choose from.
Online sales of wearable air conditioners have remained the most opportunistic choice for customers, as these offer them with the option to check reviews by previous customers, and the segment has conquered almost 70% of market share.
Third party e-Commerce sales of wearable air conditioners is set to increase at 21% CAGR over the said period, while sales of wearable air conditioners via company websites are set to rise in market size 5.3X. Embr Labs, providing wearable air conditioners for menopausal women, contributed more for sales through its company website.
Sales of wearable air conditioners via electronic stores remained the most preferred option by customers while purchasing through offline sales channels, occupying 52% of overall offline sales. Sales of wearable air conditioners via hypermarkets is anticipated to increase further by gaining 480 BPS over the decade.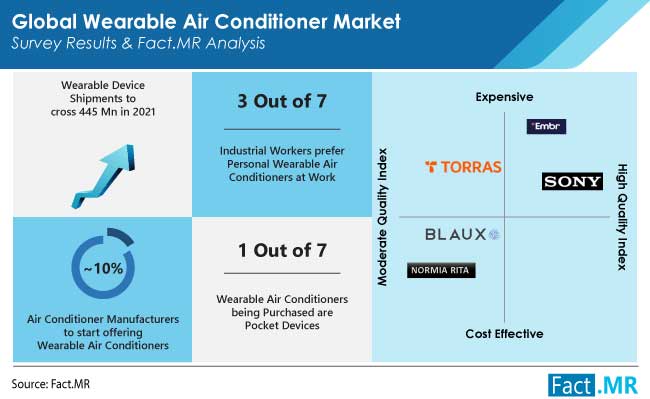 Competitive landscape
These brands offer all new technology products in personal wearable air conditioners by harnessing their R&D expenditure. Players have also launched newer versions of their pioneer products launched back in 2017 and 2018.
In April 2021, Embr Labs announced the launch of its newest product, Wave 2. The company has accelerated expansion into wellness and digital therapeutics with US$ 6 Mn in series B financing. It also has many other unstated plans of expansion of geographical coverage over the next half-decade.
In April 2021, Sony launched the 2.0 version of its wearable thermos device "REON POCKET 2" with an enhanced cooling system. The company is also said to provide licenses for REON POCKET compactible wear and accessories, in turn, widening its scope and reach by offering more of these advanced products.
Wearable Air Conditioner Industry Report Scope
Attribute

Details

Forecast Period

2021-2031

Historical Data Available for

2016-2020

Market Analysis

Value in US$ Mn, Volume in '000 Units

Key Regions Covered

North America
Latin America
Europe
East Asia
South Asia
Oceania
Middle East Africa

Key Countries Covered

U.S.
Canada
Mexico
Brazil
Mexico
Argentina
Germany
Italy
France
U.K
Nordic
Spain
Japan
China
India
Malaysia
Thailand
Australia
GCC Countries
South Africa
Turkey

Key Market Segments Covered

Product Type
Control Technology
Sales Channel
Region

Key Companies Profiled

Blaux
Embrlabs
G2T
Hobby Colin
IYunLife
Moocii
NORMIA RITA
Northfan
Sony
TORRAS
Vortec

Pricing

Available upon Request
Key Segments of Wearable Air Conditioner Industry Research
By Product Type

Neck Bands / Neck Straps
Wrist Bands
Waist Belts
Pocket Devices

By Control Technology

Mobile Applications
Touch
Button Control
Others

By Sales Channel

Offline Sales Channels

Electronic Stores
Supermarkets / Hypermarkets
Others

Online Sales Channels

Company Websites
Third-party e-Commerce