Mineral Ingredients Market Registers Significant Gains as Sales of Micro-nutrients Skyrocket
With a surge observed in the popularity of fast food and ready-to-eat food, particularly in growing economies of Asia Pacific, nutritional deficiencies and related ailments have also come to fore in increased numbers. About 2 Bn people across the globe are affected by a micro-nutrient deficiency such as iron, zinc and iodine. Around 31% of the daily caloric intake in an average American diet comes from mineral ingredient-deficient foods.
The demand for swift supplementation of natural minerals has gained immense traction in the past decade with many companies in food and healthcare sectors heavily investing on developing a vast repertoire of mineral ingredients that can be easily delivered through food and beverages. This has paved the way for exciting prospects for the growth of the mineral ingredients market in the coming years, projected to touch US$ 935 Mn by the end of 2027, according to the newest report by Fact.MR
Powdered Mineral Ingredients Resurgent as They Capture 2/3rd Market Share
Powder form of mineral ingredients have held more than 2/3rd of the market share for the past 5 years and are projected to continue to be the most attractive form, attributable to its versatile usage in food products like flours and malts. The production cost of powder form of mineral ingredients is low as the processing time required for raw material is less as compared to other forms. The cost incurred in transportation of mineral ingredients in powder form is also considerably lower, which consequently increases the profit margins of the manufacturers.
Manufacturers Cashing In as Product Innovations Abound
With a large chunk of global population suffering from deficiency of one or multiple mineral ingredients, the companies in the market have developed a plethora of formulations of mineral ingredients to fulfil the needs of various cross-sections and for numerous applications in the food and beverage industry.
Corbion N.V. for instance, has developed a line of Pura formulations of mineral ingredients, targeting Calcium, Zinc and Magnesium enrichment of dairy-based beverages. Companies also offer specially formulated mineral ingredients, though in smaller quantities, for cosmetics and personal care industry, which adds an uptick to the growth of the market. For example Suntribe AB launched a sunscreen which included mineral ingredient, Zinc oxide, as a natural alternative to chemical UV-filters
Premium bottled water is another vertical where mineral ingredients are utilized and with the growth in consumption of bottled water the demand for mineral ingredients is projected to grow.
In October 2019, An Indian firm, A.V. Organics launched 'Evocus' which are bottles containing black-colored alkaline mineral water, and projects the sale of these bottles to grow to 5 million bottles in India by 2020.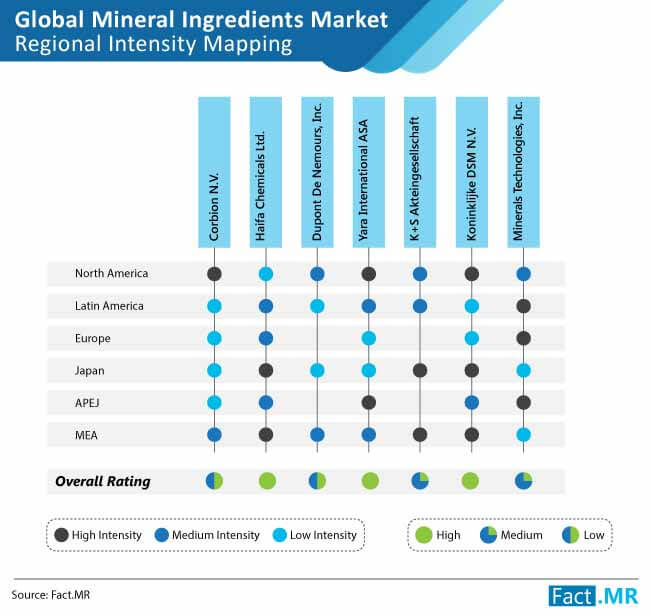 For in-depth insights on the competition landscape of the mineral ingredients market, request for a report sample here
With multiple manufacturers offering a plethora of products, their attention towards regional markets is seeing a definite shift over the course of time. Mineral ingredients market is characterized by high competition, where regional footprint of individual players varies among regions. Players such as Haifa Chemicals Ltd., Yara International ASA, and Koninklijke DSM N.V. have high global footprint, while Corbion N.V., Dupont De Nemours, Inc. and Minerals Technologies, Inc. have a moderate global footprint.
Europe Propels Ahead as Spending Capacity Gains Momentum
The high cross section of geriatric population in Europe at about 19%, as compared to global average of 12%, has led to an increased demand for mineral ingredients in food supplements. Europe currently holds 1/3rd of the mineral ingredients market share and is set to continue its lead during the forecast period. This is well supported by the strong spending capacity of European people and presence of key mineral ingredients manufacturers in the region like K+S Aktiengesellschaft, Yara International, Corbion N.V. among others.
The market for mineral ingredients in APEJ region is expected to have a substantial growth. It is estimated that the average per-capita spending on bottled water in India has risen by 20% in last couple of years while the same has risen by 15% in China.
Along with bottled water, the demand for infant formulation with mineral ingredients is also expected to rise. For instance, Nestle runs an advertisement for its product Ceregrow, which the company claims to be fortified with 15 vitamins and mineral ingredients important for the physical and mental development of new-borns and infants. Owing to these factors, mineral ingredients market in APEJ is projected to expand 1.8x between 2019 and 2027.
The market for mineral ingredients in China is expected to expand by 1.8x during 2019 – 2027. Anticipated performance of some key countries is also mapped below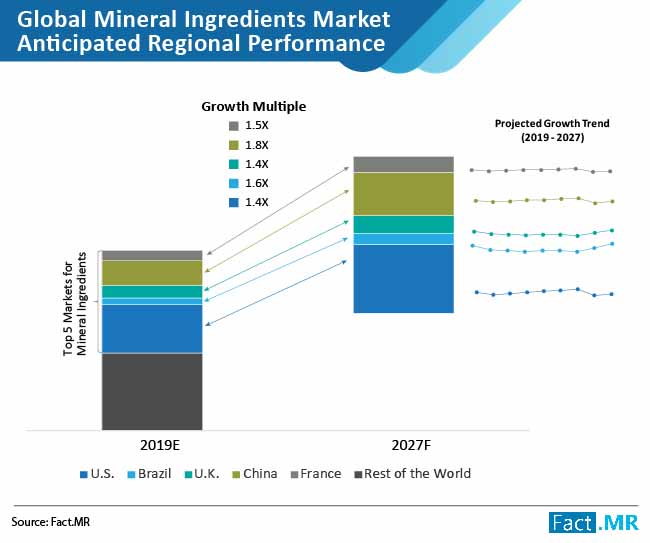 In order to have an exhaustive analysis of the regional growth trends in the mineral ingredients market, ask an analyst here
Emergence of Dietary Restrictions Could Clamp Down Growth of Mineral Ingredients Market
Lack of awareness about the disadvantages of over-consumption of mineral ingredients can lead to serious health issues, which can restrain the growth of the market. Moreover, the emergence of dietary restrictions, like vegan and organic diets, followed by a considerable cross-section of population also restricts the consumption of mineral ingredients as many ingredients do not fall in line with such restrictions. These factors will restrain the mineral ingredients market growth.
Merger of Traditional Businesses with Novel Businesses Get an Uptick
The market for mineral ingredients has become fragmented with a multitude of multinational and regional players entering the market with a plethora of mineral ingredients offerings. Some of the key companies competing in the market are Corbion N.V., Haifa Chemicals, Dupont De Nemours and Company, K+S Akteingesellschaft etc. The mineral ingredients market frontrunners are currently focusing on building and expanding their business portfolio with investments in multiple other verticals.
In September 2019, Corbion N.V., a prominent player in the mineral ingredients market, acquired Granotec do Brazil, to foray into production of functional blends for the bakery industry.
DuPont, after its separation from the DowDuPont collaboration in April 2019, has slowly started to spread its mineral ingredients businesses with strategic acquisitions and collaborations. It acquired the membrane business of Evoqua Water Technologies Corp and ultrafiltration membrane business from BASF in October 2019.
While the frontrunners in mineral ingredients market are looking to diversify their product portfolios, follower companies are eyeing to capture the white space created by collaborations and supply partnerships. For instance, Koninklijke DSM N.V. signed a multiyear mineral ingredients supply agreement with Corning in February 2016. These partnerships and agreements not only spread the reach of mineral ingredients manufacturers in the global market, but also ensure regular demand for company's products on a recurrent basis.
Mineral Ingredients Market Forecast, Trend Analysis, and Competition Tracking - Global Market Insights 2019-2027
The global mineral ingredients market is seeing a profound growth of ~55% from current market value by the end of forecast period in 2027, according to the Fact.MR study. The study imparts an impact analysis on different factors expected to affect the growth of the global mineral ingredients market. This newly published and insightful report has focused on prominent companies associated with the global mineral ingredients market.
The global mineral ingredients market report is an intricate market intelligence on key growth determinants, challenges, market trends, and opportunities, which will eventually influence the rising graph for the global mineral ingredients market. The report initially imparts an overview of the global mineral ingredients market, considering current and future prospects of the food and beverages sector, to unveil attractive verticals appertaining to the adoption of mineral ingredients across key regional markets.
An extensive assessment on key mineral ingredients manufacturers profiled in the report enables report readers to gain thorough insights that have been derived from the global business performance across regional markets analyzed in the report. A list of key companies operating in the global mineral ingredients market provided in the report adds to the credibility of this comprehensive research study.
Global Mineral Ingredients Market: Report Summary and Scope
The study cites a detailed intelligence on factors influencing the demand, sales, and revenue generation within the global mineral ingredients market. The opportunity analysis included in the report is helpful for readers to find growth opportunities in the global mineral ingredients market. A refined cost structure analysis provides the report with an innate completeness, and the study offered on the cost structure involves all regional markets incorporated.
Different chapters provide information on the mineral ingredients market valuation, market growth, push and pull factors, top segments in terms of valuation, and key regional markets to focus on. The executive summary captures the essential aspects of the mineral ingredients market in a nutshell and serves as a valuable first-level reference point for readers. The study also exerts details on aspects that are impacting strategies of manufacturers within the global mineral ingredients market. Segmentation of the global mineral ingredients market has been provided in the form of a table in the report.
Global Mineral Ingredients Market: Analysis on Market Size Evaluation
Current and future prospects for the global mineral ingredients market, containing current as well as future projected values forecast, price index, and analysis on region-wise trends have been included in the report. Analysis offered on factors mentioned above is comprehensive, and dedicated weighted chapters have been delivered on the same.
Market valuation at the global and regional scale for the global mineral ingredients market is offered in terms of "US$ Mn". A Y-o-Y growth comparison on the key mineral ingredients market segments, along with the market attractiveness assessment that quantifies insights are delivered in the report. Metrics mentioned above are also tracked based on the consumption across several regions where mineral ingredients witnesses a growing demand.
| | | | |
| --- | --- | --- | --- |
| Region | Type | Form | Application |
| North America | Micro Nutrients | Powder | Dairy Products |
| Latin America | Macro Nutrients | Liquid | Infant Formula |
| Europe | | Other Forms | Bakery & Confectionery |
| Japan | | | Functional Food |
| APEJ | | | Food Supplements |
| Middle East and Africa | | | Beverages |
| | | | Other Applications |
Global Mineral Ingredients Market: Scrutinized Assessment on Regional Segments
Weighted chapters of the report put forward the regional insights on mineral ingredients across top geographies in the world. These chapters include an assessment of various regional factors driving the adoption of mineral ingredients in various countries.
Regional market shares of mineral ingredients, along with Y-o-Y growth projections and capacity analysis are also highlighted in these chapters. Each regional chapter tracks the performance of the mineral ingredients market in the respective region, with a focus on the growth of each market segment across top countries of the region.
Global Mineral Ingredients Market: In-depth Analysis on Competitive Landscape
The report concludes with a weighted chapter on the competition landscape in the global mineral ingredients market, which profiles key companies contributing to market growth. Key and up-to-date developments related to market players who are predominantly engaging in the production of mineral ingredients have been delivered. Market share comparison and analysis of these market players offered in the report enable the report reader to devise strategies for their businesses.
Company profiles have been incorporated in the report, which exert a detailed study on the development of the global mineral ingredients market, along with a comprehensive SWOT analysis on each player, identified together with the company strategies identification and analysis. The intensity mapping of market players operating in the global mineral ingredients market provides report readers with actionable intelligence, which helps in understanding the current market status and prospects determining competition levels in the global mineral ingredients market.
Fact.MR offers custom research services that help clients to get specific research solutions
We are committed towards customer satisfaction and quality service.
---
Our Clients

Mineral Ingredients Market Forecast, Trend Analysis & Competition Tracking - Global Market Insights 2019 to 2027