E-Pharmacies Emerging as Full-fledged Distribution Channel for Antibacterial Drugs
The antibacterial drugs market is witnessing sluggish movement, with a relatively slim drug pipeline further dampening market prospects. However, conscientious efforts taken by the governments of numerous countries, especially in Europe and North America, are projected to lead to an upsurge in the development of branded drugs. For instance, the U.S. FDA created the CDER Antibacterial Drug Development Task Force to underpin the development of novel antibacterial drugs.
Also, e-pharmacies will be a full-fledged distribution channel in the future, which will enable next day/same day delivery, and help validate the credibility of prescriptions. E-retailers will need to conform to government regulations, which will further increase the reliance of patients on e-pharmacies. Given the rise of this new revenue stream, the antibacterial drugs market will register a revival, albeit at a slow pace. As per a recently published Fact.MR study, the antibacterial drugs market is expected to surge to ~US$ 51 Bn by the end of the year 2025.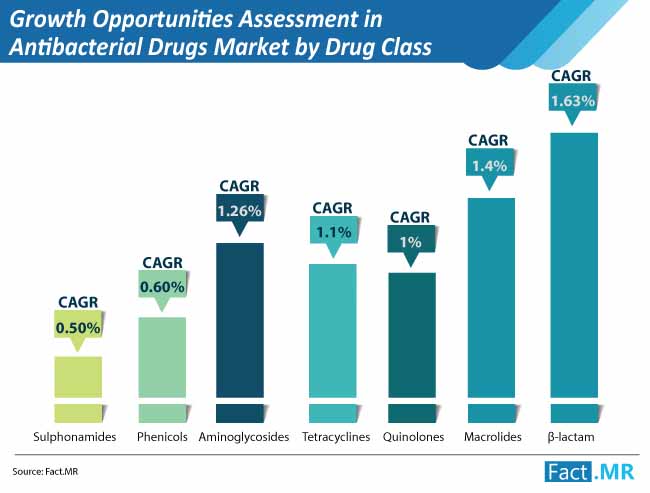 For detailed insights on market taxonomy, request a sample copy of the report here.
β-lactam to Remain the Drug Class of Choice; Macrolides to Follow
There has been a marked uptake in the sales of β-lactam, as these are indicated for the prevention and treatment of bacterial infections. Continuous progression in the development of effective β-lactam is deemed as a primary growth indicator of this drug class. For example, initially, β-lactam drugs were active only against gram-positive bacteria. However, in recent times, these are showing resistance against gram-negative organisms as well, which is expected to further drive their popularity. Besides this, macrolides are fast-replacing quinolones drug class, and emerging as a relatively effective drug class, which will create significant commercial opportunities for this drug class in the antibacterial drugs market during the forecast period.
Low Returns on Investment on Branded Drugs Providing Edge to Generic Drugs
There are numerous dynamics that hold potential to derail the growth of the antibacterial drugs market, out of which, the low RoI potential of branded drugs is projected to adversely impact future investments. Discovery and development of antibacterial drugs have become scientifically complex and cost-intensive in nature. In addition, time-consuming approval processes further reflect on the shrinking sales prospects due to extended time-to-market. This is leading to a weak pipeline of antibacterial drugs, which is being further aggravated by numerous branded drugs that are nearing patent expirations. This, however, creates a highly conducive environment for the growth of regional and local players who vying for market share through the introduction of affordable generic drugs, which could further weaken the sales prospects of branded drugs.
Key Winning Imperatives to Succeed in Antibacterial Drugs Market
Besides the development of novel drugs, market players are experimenting with new routes of administration to increase the efficiency of existing administration drugs. For instance, the availability of the Amikacin inhaler as a liposomal formulation is promising positive results in treating chronic lung infections in cystic fibrosis. In addition, pharmaceutical companies are exploring various means to develop advanced and highly-effective antibacterial drugs.
Manufacturers can also seek partnerships with government organizations to gain financial support for the development of drugs, and, in turn, position themselves as distinguished players in the antibacterial drugs market.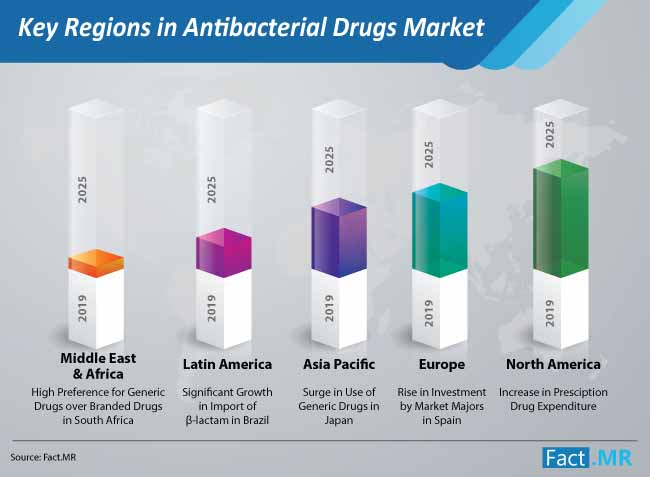 For detailed regional analysis, request a sample copy of the report here.
Manufacturers Earmark Asia Pacific for Expansion in Antibacterial Drugs Market
The Middle East and Africa antibacterial drugs market is sizeably held by leading players in Europe. Though free access to healthcare exists in countries of MEA, the demand for novel and effective drugs, on account of progressive acceptance of the out-of-pocket payment model, is projected to draw high sales possibilities. Low cost of generic drugs will continue to fuel market growth in the region during the forecast period. The Latin America antibacterial drugs market witnesses the high imports of drugs from India, Mexico, Italy, China, and Spain. A marked increase in the consumption of drugs, especially β-lactams, is projected to drive growth of the antibacterial drugs market.
Japan holds significant opportunities for players in the antibacterial drugs market, on the back of a large patient pool that includes the geriatric population, coupled with a well-established distribution network. Besides this, given the technological advancements in Japan, e-pharmacies will remain an integral sales channel in the future. Numerous companies such as Aspen Pharma Holdings, Sun Pharmaceuticals, and Lupin continue to invest in Japan to cash in on the profitable opportunities available in this market. Besides this, rise in skin diseases and bacterial infections, on account of high population density in China and India, is projected to turn Asia Pacific into a conducive antibacterial drugs market for expansion purposes.
Request research methodology of this report.
Antibacterial Drugs Market - Scope of the Study
Fact.MR, in its exclusive research report on the antibacterial drugs market, highlights actionable insights and winning imperatives for stakeholders. This comprehensive study unfolds rare and distinguished intelligence regarding impactful dynamics, which directly or indirectly influence the growth of the antibacterial drugs during the forecast period (2020-2025). With the help of crucial insights discussed in this study, stakeholders will gain a thorough idea regarding the growth trajectory of the antibacterial drugs market.
This comprehensive study offers incisive data regarding the drivers, threats, restraints, and opportunities present in the antibacterial drugs market. The study also recalibrates the impact of each of these dynamics to estimate the size of the antibacterial drugs market for the given period. Authors of the report have taken ample care to measure and include the relevance and impact of microeconomic as well as macroeconomic factors that holds potential to influence growth of the antibacterial drugs market during the forecast period.
The global study on the antibacterial drugs market includes Porter's Five Forces analysis, in order to present the buyer's and supplier's power in the landscape. In addition, the analysis also discusses the threat of substitutes and new entrants, which provides a brief idea regarding the future growth course of the antibacterial drugs market.
The global study offers crucial information about global, regional, and local players operating in the antibacterial drugs market, along with their estimated market share. Market share has been estimated in terms of value (US$ Mn). Besides providing key information regarding the concentration of leading, prominent, and local players in the antibacterial drugs market, the study also aims at equipping stakeholders with the best of information regarding their winning strategies, recent developments, and financials.
Antibacterial Drugs Market - Assessment of Key Segments
With an aim to offer granular level insights into the antibacterial drugs market, authors of the report have segmented the landscape on the basis of drug class, route of administration, distribution channel, and region. This global research report also analyses the incremental opportunity available in the antibacterial drugs market during the forecast period. Key segments of the antibacterial drugs market include:
| | | | |
| --- | --- | --- | --- |
| Drug Class | Route of Administration | Distribution Channel | Region |
| ß-lactams | Enteral | Hospital Pharmacies | North America |
| Quinolones | Parenteral | Drug Stores and Retail Pharmacies | Europe |
| Macrolides | Others (Inhalation, Topical, etc.,) | Online Sales | Asia Pacific |
| Tetracycline | | | Latin America |
| Aminoglycosides | | | Asia Pacific |
| Sulfonamide | | | |
| Phenicols | | | |
| Others | | | |
This detailed guide, based on the latest market movement, ensures that only precise information reaches stakeholders, so as to help them gain an upper hand over their competitors in the antibacterial drugs market. This exclusive guide offers crucial information about the current trends, pipeline drugs, unmet drugs, future scope, and government regulations for the antibacterial drugs market.
Key market players profiled in this comprehensive study on the antibacterial drugs market include Allergan PLC, Bristol-Myers Squibb Company, Novartis AG, Johnson & Johnson, AstraZeneca, Merck & Co., Inc., Bayer AG, GlaxoSmithKline PLC, Sanofi, and Pfizer, Inc. Authors of the study have analysed the antibacterial drugs market in detail, and estimated market values based on the robust research methodology adopted by them.
Antibacterial Drugs Market - Research Methodology
Research undertaken by the seasoned analysts at Fact.MR consists of a systematic approach, including both, primary and secondary research methodologies. For conducting primary research, interviews and discussions were carried out with industry experts, key opinion leaders, vendors, and distributors. Besides these, respondents also include CEOs, presidents, directors, chairmen, vice presidents, marketing managers, suppliers, distributors, and chief medical officers, among others. This helps in assessing the demand-supply gap prevailing in the antibacterial drugs market.
In order to conduct secondary research, marketing collaterals, company websites, industry associations, and government statistics were studied. In addition to this, reports as well as content pieces published by credible sources, such as the American Medical Association, Therapeutic Advances in Gastroenterology, The White Rose University Consortium, Centres for Disease Control and Prevention, the Infection Disease Clinics of North America, and others, were studied.
Insights obtained through primary and secondary research are then authenticated with the data triangulation method.
Fact.MR offers custom research services that help clients to get specific research solutions
We are committed towards customer satisfaction and quality service.
---
Our Clients

Antibacterial Drugs Market Forecast, Trend Analysis & Competition Tracking - Global Market Insights 2020 to 2025