Elevator Components Market
Elevator Components Market Analysis By Component (Elevator Shafts, Elevator Landing Doors, Elevator Machine Drives, Elevator Brakes), By Elevator Technology (Hydraulic Elevators, Traction Elevators, Pneumatic Elevators), By Load Capacity & Regional Forecast to 2029
FACT4384MR
Apr-2021

List of Tables : 86

List of Figures : 245

170 Pages
Elevator Components Market Outlook
The global elevator component market is set to surge at a high CAGR of more than 9% over the forecast period of 2021 to 2031. Demand for elevator motors is expected to remain particularly high across geographies.
Elevator components, as the name suggests, are used primarily in the manufacturing of elevators. Elevators find application in a myriad of end-use industries for transporting both, passengers and freight. Owing to rapid proliferation of multi-storey buildings in developing countries, demand for hydraulic elevator components and traction elevator components is experiencing substantial push. There is also increasing demand being witnessed for elevator drive systems, elevator control systems, and elevator safety systems.
Due to the expanding horizons of the application of elevators in residential and commercial buildings, the market for elevator components is expected to show substantial increase over the forecast period. However, with the global economy yet to recover to its original growth trajectory following the coronavirus pandemic, demand for elevator components still remains impacted.
Elevator component manufacturers are driving the development of newer elevators that offer improved features. Moreover, rapidly increasing demand from a vast number of government and infrastructure projects is opening up new ways of revenue generation in high-potential markets.
This comprehensive study by Fact.MR is based on component, elevator technology, load capacity, speed, end-use application, and region, wherein, all possible elements have been taken into detailed consideration. The foremost objective of the report is to pitch insights on the market scenario, demand generators, and technological advancements in this space. Market trends have been tracked in 20+ high-growth countries, including countries in North America, Latin America, Europe, East Asia, South Asia & Oceania, and the Middle East & Africa.
Interested to Procure The Data
Historical Trends Vs. Future Market Projections
Over the past half-decade, 2016-2020, the market expanded at a meager CAGR of 1.1%. However, digitalization across industries and incorporation of the industrial internet of things (IIoT) is projected to be the prime reason for rapid growth during the forecast period.
Furthermore, numerous initiatives have been adopted by governments of developing nations for inviting foreign investment in infrastructure development. Additionally, these nations are planning to build smart cities with high-rise buildings to optimally utilize space for the coming generation. These multi-storey buildings would require elevators to move passengers and freight, thereby taking the market ahead.
Adding to this, developed nations are investing huge amounts to replace or repair existing elevators with newer elevator components so as to comply with the latest energy efficiency norms.
Moreover, smart elevators are on the rise, which is aiding market development. Besides, developed countries are looking to implement IIoT (Industrial Internet of Things) for reducing the risk associated with elevator usage and provide an overall pleasant experience.
By virtue of the aforementioned factors, the global elevator component market is projected to surge at a high CAGR of more than 9% over the forecast period.
How is Urbanization & Public Infrastructure Spending Impacting Demand for Elevator Components?
Global economy is expanding continuously, driving the need for high-quality public infrastructure around the world. Governments across the globe are increasingly focusing on the provision of better resources to their populations, thereby adding to the infrastructure investment significantly.
Developing regions such as India, China, and other BRICS nations are increasingly indulging in the development of advanced infrastructure. For instance, India is planning to invest around US$ 1.4 Trillion in the coming years on its overall infrastructure development projects. These factors are poised to provide impetus to elevator sales and drive the elevator components market forward.
An Adaptive Approach to Modern-day Research Needs
Country wise Analysis
Why is China a Huge Market for Elevator Components?
China is home to the largest population on the planet. The Chinese government is aware of the fact and is adopting innovation-driven approaches and optimal utilization of space so as to build numerous skyscrapers to meet the growing demand for housing units for its population and as of 2020, it is home to over 3,300 high-rise buildings.
Moreover, as of 2020, China is home to the world's largest number of low, medium and high-rise buildings and other countries are way behind. These buildings require elevators for both freight and passenger movement and continuous repair and replacement of ailing elevator components, which makes China an attractive market for elevator components in the forecast period.
Owing to these reasons, China is poised to remain a lucrative market for elevator components and grow at a CAGR of 9.6% during the forecast period.
What Makes the U.S. an Attractive Market for Elevator Components?
During the historical period, 2016-2020, the U.S. market did not show any growth potential, owing to the already mature market in the region. The US is already home to over 1,060 high-rise buildings above 150 meters, which requires constant monitoring and replacing of ageing elevator components with newer, more energy-efficient and compact elevator components.
The Trump administration has put in place plans to spend around US$ 2 Trillion to renovate the existing aging infrastructure in the coming years. This is expected to create exciting opportunities for elevator component manufacturers during the forecast period.
Owing to these reasons, the US is poised to remain a lucrative market for elevator components and grow at a CAGR of 6% during the forecast period.
Will Demand for Elevator Components in GCC Countries Increase Over the Coming Years?
The UAE is one of the 6 members of the Gulf Cooperation Council and has remained the skyscraper hub in the Middle East & Africa with over 430 high-rise buildings in the country. Further, Burj Khalifa, the world's largest building at 828 meters, is located in Dubai, UAE. Moreover, a number of construction projects are being undertaken by the country's administration to convert the oil-based economy to a tourism-based economy in the coming years.
Additionally, Dubai is also building the largest solar park worldwide and investing significantly in the development of an advanced city through technologies such as the Internet of Things (IoT). Smart Dubai 2021 continues a journey that began in 1999, when the administration announced the first ICT strategy.
Smart infrastructure and high-rise buildings will require smart elevators, and this in turn drives the requirement of elevator components in the UAE during the forecast period. Owing to these factors, GCC countries are poised to remain a lucrative market for elevator components and grow at a CAGR of 8.7% during the forecast period.
Category-wise Analysis
How Big is Demand from Passenger Elevators?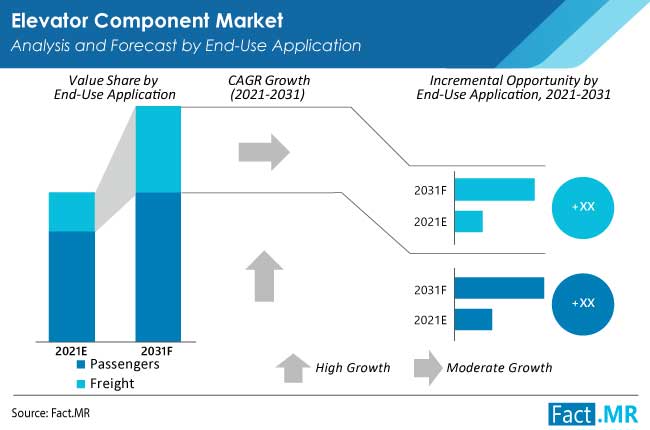 Global population is evaluated to be around 7.8 Billion in FY2020. Among these, over 50% live in urban areas. Of these urban areas, China, the United States, the United Arab Emirates, Japan and South Korea have the largest number of high-rise buildings above 150 meters, and hold a majority share in the overall number of high-rise buildings found in the world.
Together these top 5 countries have around 5,421 high-rise buildings, among which a majority are a blend of residential and commercial buildings. These buildings are pretty sophisticated in nature and require compact elevators with higher energy efficiency and endurance so as to provide an exceptional experience to its passengers and necessitate relatively less maintenance.
Coming to the population density in these buildings, South Korea and Japan house the highest number of people at 500 and 336 per one Km2. This is due to the fact that these countries are investing in the development of high-rise buildings for both residential and commercial purposes.
Here, elevators need to be equipped with the latest technology and safety features so as to deliver a pleasant experience. Owing to the aforementioned factors, the passenger end-use market is expected to grow at a higher CAGR during the forecast period.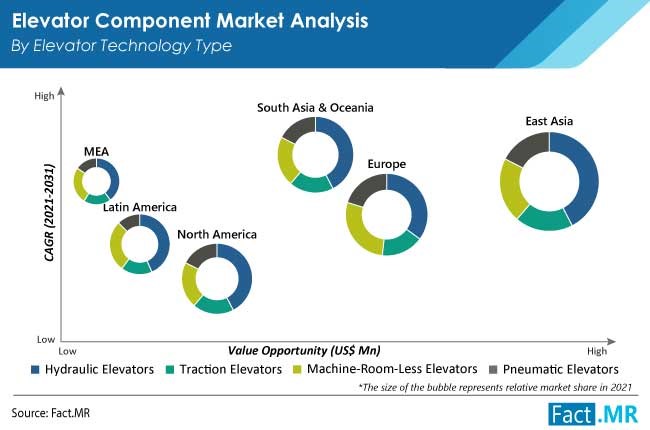 Which Elevator Component Accounts for Majority of Demand?
Motor that drive the elevator up and down account for over one-third of the entire demand for elevator components. Further, motors which has been installed a long time ago utilize a lot of power and have been degrading ever since, necessitating replacement or repairs.
Elevators consume around 10% of the entire energy consumed by a building. Over the years, there have been changes in the energy efficiency ratings of elevators. To remain compliant, elevator manufacturers are launching newer products in the market which are not only more compact, but also offer better performance and energy efficiency than existing components.
End users usually opt for the newer, energy-efficient elevator components keeping in mind the energy saving requirements. This drives the demand for new motor components.
Competitive Landscape
The aforementioned market players are considered as the prominent manufacturers of elevator components. Further, key market players are focusing on gaining access to untapped regions by performing geographic expansion. They are focusing on strategic partnerships, innovative product launches and acquisitions in the market space to substantially increase their market presence.
For instance, Wittur launched a newer variant of Semaic C-MOD doors in 2020 with ECO+ and MIDI+ motors which require less maintenance and provide better performance. Additionally, it partnered with Wurtec for distributing its elevator components in North America.
GAL Manufacturing Corp. adopted the acquisition route and acquired Vertical Dimensions LLC and added elevator interior offerings to its product portfolio in 2021. Additionally, it has partnered with MAD Elevators to provide innovative MAD fixtures and has become the exclusive source to the independent market, offering the convenience of combined controller/fixture solutions across all its products.
SCHMERSAL Böhnke & Partner GmbH has adopted the geographic expansion route to expand its global presence by opening up an export-oriented facility in India in 2020, followed by opening up a new branch in Turkey, Dubai, and funding a newer subsidiary in Japan.
Avail customized purchase options for your needs
Report Scope
Attribute

Details

Forecast Period

2021-2031

Historical Data Available for

2016-2020

Market Analysis

US$ Mn for Value

Key Regions Covered

North America
Latin America
Europe
East Asia
South Asia & Oceania
The Middle East & Africa

Key Countries Covered

U.S.
Canada
Germany
France
Italy
U.K.
Russia
China
Japan
South Korea
India
Thailand
Indonesia

Key Market Segments Covered

Component
Elevator Technology
Load Capacity
Speed
End-use Application
Region

Key Companies Profiled

Adams Elevator Equipment Company (Schindler Holding AG)
Avire Ltd (Halma plc.)
Böhnke & Partner GmbH
DMG
Elevator Equipment Corporation (EECO)
Elevator Products Corporation
EMI / Porta Inc.,
Fermator Group
GAL Manufacturing Corp.
Hans & Jos. Kronenberg GmbH
Hissmekano AB
Hydroware
Kinds Elteknik AB
Nidec Kinetek Elevator Technology (NKET)
Wittur Group

Customization & Pricing

Available upon Request
Key Market Segments Covered
By Component

Elevator Shafts
Elevator Landing Doors
Elevator Motors & Elevator Lift Motor Rooms
Elevator Machine Drives
Elevator Tension Pulleys (per Piece)
Elevator Controllers & Indicators
Elevator Brakes
Elevator Counterweight Frames
Elevator Counterweight Guide Rails
Elevator Car Guide Rails
Elevator Speed Governors (Bidirectional)
Elevator Counterweight and Car Buffers
Elevator Sensors
Elevator Lift Cars
Others

By Elevator Technology

Hydraulic Elevators

Conventional Hydraulic Elevators
Hole-Less Hydraulic Elevators
Roped Hydraulic Elevators

Traction Elevators

Geared Traction Elevators
Gear-Less Traction Elevators

Machine-room-less Elevators
Pneumatic Elevators

By Load Capacity

Below 650 kg
650 kg- 1,000 kg
1,000 kg- 1,600 kg
1,600 kg- 2,500 kg
2,500 kg- 5,000 kg
Above 5,000 kg

By Speed

Less than 1 m/s
Between 1 to 3 m/s
Between 4 to 6 m/s
Between 7 to 10 m/s
Above 10 m/s

By End-use Application

Elevators for Passengers
Elevators for Freight

By Region

North America
Latin America
Europe
East Asia
South Asia & Oceania
Middle East & Africa