Elevator Components Market
Elevator Components Market Analysis By Component (Elevator Shafts, Elevator Landing Doors, Elevator Machine Drives, Elevator Brakes), By Elevator Technology (Hydraulic Elevators, Traction Elevators, Pneumatic Elevators), By Load Capacity & Regional Forecast to 2032
Analysis of Elevator Components market covering 30 + countries including analysis of US, Canada, UK, Germany, France, Nordics, GCC countries, Japan, Korea and many more
Elevator components manufacturers are driving the development of newer elevators that offer improved features
The global elevator components market is set to enjoy a valuation of US$ 43.9 billion in 2022 and further expand at a CAGR of 9.4% to reach US$ 107.9 billion by the end of 2032.
Elevator components is likely to account for above 62% share in global elevator market revenue in 2022.
Report Attributes

Details

Elevator Components Market Size (2021A)

US$ 40.9 Billion

Estimated Market Value (2022E)

US$ 43.9 Billion

Forecasted Market Value (2032F)

US$ 107.9 Billion

Global Market Growth Rate (2022-2032)

9.4% CAGR

East Asia Market Share (2021)

~58.4%

North America Market Value (US$ Mn), 2022

US$ 25.6 Billion

Europe Market Share (%), 2022

~14.8%

Europe Market Value (US$ Mn), 2022

US$ 6.5 Billion

China Market Share (%), 2022

~51.8%

China Market Value (US$ Mn)

US$ 22.7 Billion

Top 3 country Market Share (%)

~65%

Key Companies Profiled

Adams Elevator Equipment Company (Schindler Holding AG)
Avire Ltd (Halma plc.)
Böhnke & Partner GmbH
DMG
Elevator Equipment Corporation (EECO)
Elevator Products Corporation
EMI / Porta Inc.,
Fermator Group
GAL Manufacturing Corp.
Hans & Jos. Kronenberg GmbH
Hissmekano AB
Hydroware
Kinds Elteknik AB
Nidec Kinetek Elevator Technology (NKET)
Wittur Group
Don't Need a Global Report?
save 40%! on Country & Region specific reports
Sales Analysis of Elevator Components Market (2017-2021) Vs. Market Forecast Outlook (2022-2032)
During historic period from 2017 to 2021, the market grew at a paltry 1.6% CAGR. However, it is anticipated that adoption of the industrial internet of things (IIoT) and digitization across different industries will be the main drivers of rapid growth of elevator components during the forecast period.
Governments of developing countries have also taken a number of initiatives to encourage foreign investment in infrastructure development. These countries also intend to construct high-rise buildings in smart cities to make the best use of available space for the next generation. New installation of elevators as well as renovation of existing elevators in multi-story structures to would be advancing the elevator as well as its components market.
Short Term (2022 Q2 to 2025): Utilization and integration of motor and controller type of elevator components in the construction work will positively impact the market growth.
Medium Term (2025-2028): East Asia and Europe anticipated to witness high elevator component demand on the back of industrial and commercial sectors in these regions, with the global leading players.
Long Term (2028-2032): Increase in the production of conventional hydraulic elevator will benefit the elevator components manufacturers in the near future.
Over the 2017-2021 historical period, the global elevator components market registered a CAGR of 1.6%, and according to the Fact.MR, a market research and competitive intelligence provider, the market is projected to exhibit growth at 9.4% CAGR between 2022 and 2032.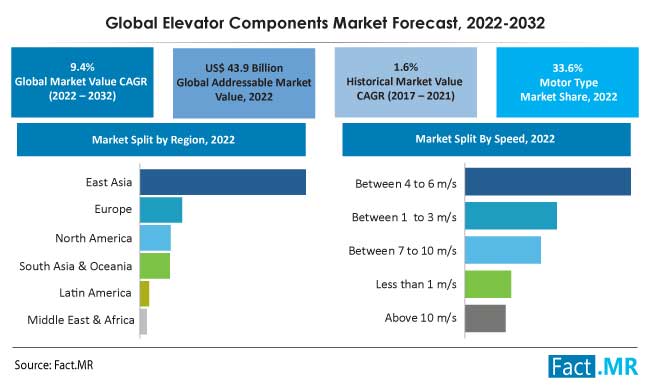 Market share analysis of elevator component based on speed and region is provided briefly in the above image. Under the speed segment, the between 4 to 6 m/s industry sub-segment dominates with 39.6% market share in 2022.
What is Driving Demand for Elevator Components?
"Vertical Expansion in Global Construction Industry to Impact Demand for Elevator Components"
Construction companies and policymakers worldwide concentrate on optimal use of spaces that exist in urban areas with rapidly increasing urbanization. These companies concentrate on the vertical expansion of low, medium and high-level buildings, as the urban population is experiencing a considerable rise in numbers.
High-rise buildings have been increasingly prevalent in developed economies such as the U.S., the U.K and UAE, and make efficient utilization of spaces, accommodating a large number of people within a confined land space in consequent vertical spaces.
However, developing countries are also catching up with the developed countries. For instance, in 2020, China constructed 56, 200-metre, higher-level towers. The aforementioned factors are likely to influence demand for elevator components in these building, as high-rise buildings are just concrete structure without elevators.
"Advanced Security Automation and Cloud Monitoring Solution to Open Up Newer Competing Grounds."
Elevators are the most common mode of vertical transportation among people, so security in such automated systems is a major concern. As a result, the builders of commercial and residential complexes take the necessary security precautions to protect their clients, individuals, tenants, and employees. Furthermore, innovative features such as iris detection and biometrics are used to alleviate security concerns.
These security systems are used for smart elevators, which ensure that the buildings are safe. Besides, smart buildings are witnessing a tremendous surge in prevalence, with the rise in the development of smart cities.
The rising integration of essential building equipment and systems with artificial intelligence (AI) and cloud monitoring solutions has further proliferated demand for smart buildings in developed and developing countries. These factors are expected to keep the elevator components market viable and open up newer competing grounds for market players.
More Insights, Lesser Cost (-50% off)
Insights on import/export production,
pricing analysis, and more – Only @ Fact.MR
What Do Elevator Component Manufacturers Need to Watch Out for?
"Elevators are Using Magnetic Levitation Technology in the Future Skyscrapers"
As building infrastructures of the future have the potential to soar higher into the sky, developing new energy-efficient technologies in equipment such as elevators and escalators is imperative to cater for the sustainability goals.
Keeping the same in mind, a leading company in elevators has developed a new design. This new & advanced elevator system is deprived of ropes and is capable of moving sideways along with the traditional vertical movement. This innovation adheres to magnetic levitation technology, implying its efficacy in operating numerous cabins simultaneously in a constant loop, and replaces the ropes & counterweight systems with magnetic levitation uncuffs.
Elevator components manufacturers are also likely to leverage this new technology and develop compatible elevator components, as it resolves other issues including maintenance costs and waiting times. Despite the huge initial investment required for this new elevator technology, capitalizing on these elevators is expected to pay off on the back of its enhanced offerings and high operational efficiency. This further implies this new technology to have the potential of foraying into the future skyscrapers across the globe.
Country-wise Insights
Will the Huge Population in the China Drive High Demand for Elevator Component?
The world's largest country by population is China. The Chinese government is aware of this and has adopted innovation-driven strategies. Efficient space usage to develop multiple skyscrapers in order to meet the expanding demand for dwelling units for its people. As of 2021, there were over 3,400 high-rise structures in China.
In addition, China will have the highest medium and high-rise structures in the world by 2021, while other nations will lag far behind. China is a desirable market for elevator components in the forecast period because to the need for elevators in these buildings for both freight and passenger transportation as well as ongoing repair and replacement of worn-out elevator components.
Why is the US Elevator Components Market Surging?
Due to the previously developed market in the country, the US market did not exhibit any growth potential throughout the historical era of 2017–2021. Over 1,060 high-rise structures taller than 150 meters may already be found in the US, necessitating continual monitoring and the replacement of worn-out elevator parts with newer, more energy-efficient, and compact elevator parts.
Plans set in motion by the Trump administration call for spending over US$ 2 trillion over the next few years to upgrade the country's deteriorating infrastructure. Manufacturers of elevator component are anticipated to benefit from exciting new opportunities as a result during the forecast period.
These factors will ensure that the US remains a lucrative market for elevator parts, North America expanding at a CAGR of 6.2% over the forecast period.
Category-wise Insights
Which Elevator Component Accounts for Majority Market Share?
Over one-third of all elevator components consumption is made up of the motors that raise and lower the elevator. Additionally, older motors that were installed use a lot of power and have been deteriorating ever since, demanding replacement or repairs.
10% of the total energy used by a building is used by elevators. The ratings for an elevator's energy efficiency have changed over time. Elevator manufacturers are introducing fresh goods into the market that are not only more compact than old components but also offer higher performance and energy economy in order to remain compliant. In order to save energy, end customers typically choose newer, more energy-efficient elevator components. This increases the need for new motor parts.
Why the Passenger Elevators sales is Spurring in End Use Application?
The global population will reach to 8 billion at the end of 2022. Among that over 50% live in urban areas. Of these urban areas, the United States, South Korea, the United Arab Emirates, China, and Japan have the largest number of high-rise buildings above 150 meters and others.
Together these top five countries have around 5,421 high-rise buildings, among which a majority are a blend of residential and commercial buildings. These buildings are sophisticated in nature and require compact elevators with higher energy efficiency and endurance to provide an exceptional experience to its passengers and necessitate relatively less maintenance.
Due to that passenger elevator will help to increase the market growth. Passenger elevator is likely to reach the valuation of US$ 35.3 Bn in 2022.
Competitive Landscape
Elevator components manufacturers are Adams Elevator Equipment Company (Schindler Holding AG), Avire Ltd (Halma plc.), Böhnke & Partner GmbH, DMG Elevator Equipment Corporation (EECO), Elevator Products Corporation, EMI / Porta Inc., Fermator Group, GAL Manufacturing Corp., Hans & Jos. Kronenberg GmbH, Hissmekano AB, Hydroware, Kinds, Elteknik AB, Nidec Kinetek Elevator Technology (NKET), Wittur Group.
The world's leading manufacturers of elevator component products are employing sustainable technologies and optimization systems for diverse end users. Key manufacturers are focusing on developing new product designs to address problems in terms of product placement in harsh operating environments. Moreover, expertise and professionalism in planning, designing, and providing minimum noise level are at the backbone of their marketing strategies.
In Jan. 2021, GAL Manufacturing Corp. expanded its product line by acquiring Vertical Dimensions LLC and adding elevator interior options. It also collaborated with MAD Elevators to offer cutting-edge MAD fixtures, and it has since established itself as the sole supplier to the independent market, providing convenient combined controller/fixture solutions for all of its products.
In May. 2020, By constructing an export-focused plant in India, & Partner GmbH and SCHMERSAL Böhnke plans to increase its global presence. This will be followed by the creation of additional branches in Turkey, Dubai, and Japan.
In July. 2022 For instance, Wittur introduced a redesigned model of Semaic C-MOD doors with MIDI+ and ECO+ motors that offer improved performance and require less maintenance.
Fact.MR has provided detailed information about the price points of key manufacturers of elevator components positioned across regions, sales growth, production capacity, and speculative technological expansion, in the recently published report.
Segmentation of Elevator Component Industry Research
Elevator Components Market by Component :

Elevator Car & Shaft
Landing Door
Motor
Machine Drive
Tension Pulley (per Piece)
Controller
Counterweight Frame
Counterweight Guide Rails
Car Guide Rail
Speed Governor (Bidirectional)
Counterweight and Car Buffer
Others

Elevator Components Market by Elevator Technology :

Hydraulic Elevators

Conventional Hydraulic Elevators
Hole-Less Hydraulic Elevators
Roped Hydraulic Elevators

Traction Elevators

Geared Traction Elevators
Gear-Less Traction Elevators

Machine-room-less Elevators
Pneumatic Elevators

Elevator Components Market by Load Capacity :

Below 650 kg
650 kg- 1,000 kg
1,000 kg- 1,600 kg
1,600 kg- 2,500 kg
2,500 kg- 5,000 kg
Above 5,000 kg

Elevator Components Market by Speed :

Less than 1 m/s
Between 1 to 3 m/s
Between 4 to 6 m/s
Between 7 to 10 m/s
Above 10 m/s

Elevator Components Market by Noise Level :

Elevators for Passengers
Elevators for Freight

Elevator Components Market by Region :

North America
Latin America
Europe
East Asia
South Asia & Oceania
MEA
- FAQs -
The global elevator components market is expected to reach valuation of US$ 43.9 million in 2022.
Worldwide demand for elevator component is anticipated to reach US$ 107.9 billion by 2032-end.
During 2017-2021, sales of elevator component increased at 1.6% CAGR.
East Asia tops the global elevator components market accounting for 58.4% market share in 2022.
Motor elevator component will account for 33.6% share of global sales in 2022.