Quantum Dot Displays Cannibalizing on OLEDs Market Share, Sales to Further Soar through 2027
Quantum dot displays outsold OLEDs (Organic LEDs) in 2018 and are expected to gain market share in the near future. The key selling factor for quantum dot displays are a wide color gamut with minimal re-engineering of LCD panels, thus making it lighter. Quantum dot displays are also proposed for several non-display applications in the pipeline such as improved transistors, quantum computing and medical imaging. Such aforementioned factors are expected to bolster demand for quantum dot displays enabling it to reach the US$ 15 Bn mark by 2027.
Television Segment to Witness Absolute Dollar Opportunity of US$ 7.2 Billion
The quantum dot display technology is witnessing impressive penetration in the television display industry. The global demand of televisions is growing at a significant rate, with manufacturers continuously developing new components to improve the overall performance and appeal of modern televisions. The ultra-high quality provided by quantum dot display is becoming a key technological trend in the global television industry. Additionally, a key entity in displays are colors which are a critical focus point by leading manufacturers for enhancing display and improving image quality.
Market in APAC to Grow 9X as Consumer Electronics Sales Reach All-time High
The global quantum dot display market across APAC is estimated to grow at a CAGR of over 32% over the forecast period. Increasing demand for energy-efficient technologies are the primary factors for increased demand for quantum dot displays in countries like China and India. The adoption of quantum dot displays is ever increasing with the growing expenditure on electronic gadgets.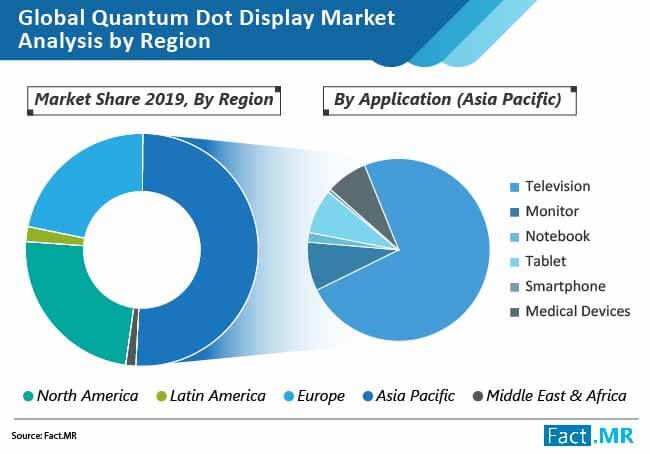 For incisive and critical insights on the regional landscape of the quantum dot display market, ask an analyst here
APAC, in the last few years has made remarkable progress to become a powerhouse in the electronics accessories industry. The elevating internet penetration and large tech-savvy younger population have underpinned robust demand for television sets and smartphones. This presents a great potential for the quantum dot display market.
Mounting Investments and Product Launches to Remain the Key Strategies
The quantum dot display market is consolidated with a few prominent manufacturers namely Samsung Electronics Co. Ltd., LG Display Co. Ltd., Sony Corporation, Sharp Corporation and CSOT (China Star Optoelectronics Technology), acquiring a share of more than 70%. Numerous approaches, such as expansion, introduction of new products, joint ventures, agreements, alliances and acquisitions, are being employed by top competitors. Some of the other developments in the market are:
In October 2019, Samsung invested US$ 11 Billion in the world's first dedicated quantum dot display manufacturing facility. Beginning in early 2021, the new production unit is set to operate with a monthly capacity of 30,000 quantum dot display substrates.
In January 2019, Hewlett-Packard announced the launch of world's first quantum dot display on glass. The company also launched its new range of "Pavilion 27" monitors with quantum dot display.
In February 2019, Nanosys demonstrated its revolutionary quantum efficiency for heavy metal-free red, green, and blue QDEL systems, and successfully printed displays in their laboratories using ink jet technology. This is a major advance in quantum dot engineering of the next decade.
An Impetus in the Use of Cadmium Free Quantum Dots Display Technology is foreseen
The introduction of quantum display devices in the display industry has the potential to create a new model that can bring an end to the LCD era. Top tier competitors in the quantum dot display market are improving gadgets using cadmium-free quantum dot technology. Stringent regulations on the use of cadmium in quantum dots display will restrict its adoption and prevent manufacturers from leveraging the benefits of this technology. Several regions have banned the use of cadmium in display devices. As a result manufacturers of quantum dot display are shifting to cadmium free technology. As a result, cadmium free quantum dots are projected to register steady growth over the forecast period.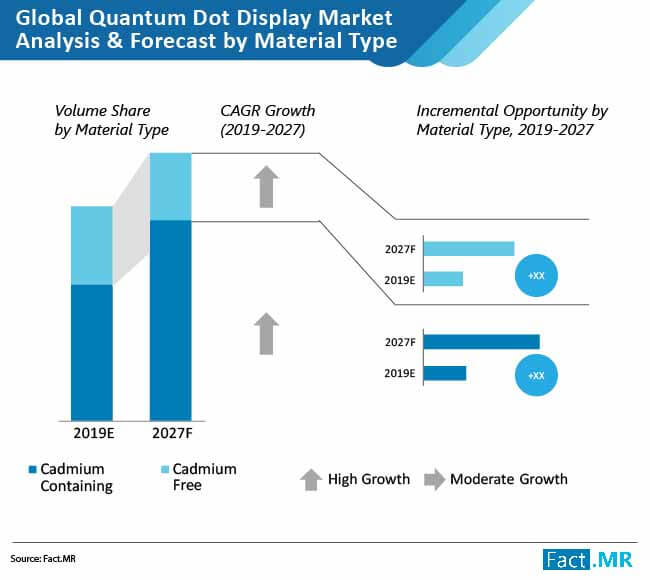 For incisive and critical insights on the regional landscape of the quantum dot display market, request sample of report
Quantum Dot Display Market – Scope of the report
This report provides forecast and analysis of the quantum dot display market. It provides historical data of 2013 along with estimated data for 2019, and forecast data up to 2027 in terms of revenue (US$ Mn) and volume ('000 Units), according to a Fact.MR study. The research propounds key trends that are currently influencing growth of the quantum dot display market along with the macro-economic indicators. This newly published and insightful report sheds light on key dynamics, and their impact on overall value chain from material suppliers to end users, which are expected to transform the future of the quantum dot display market.
The report also comprises the study of current issues with end users and opportunities for quantum dot display in the global market. It also contains value chain analysis along with key market participants. In order to provide users of this report with a comprehensive view of the quantum dot display market, we have included detailed competitive analysis about market key players. The dashboard provides a detailed comparison of quantum dot display manufacturers on parameters such as total revenue, market presence and key developments. A list of key companies operating in the quantum dot display market provided in the report adds to the credibility of this exhaustive research study.
Quantum Dot Display Market: In-Depth Assessment on Key Segments-
The global quantum dot display market is segmented on the basis of material type and application type.
| | | |
| --- | --- | --- |
| Material Type | Application Type | Region |
| Cadmium Containing | Television | North America |
| Cadmium Free | Monitor | Latin America |
| | Notebook | Europe |
| | Tablet | APAC |
| | Smartphone | Middle East & Africa |
| | Medical Devices | |
Country-specific assessment on demand for the quantum dot display has been provided for each regional market, along with the market size valuation and forecast price point assessment, price index and impact analysis of key regional and country-wise dynamics, which were obtained through quotes from numerous quantum dot display manufacturers, experts and suppliers. Y-o-Y growth projections have also been offered on all regional markets incorporated in the report.
The report provides company-level market share analysis, which has been derived on the basis of the company's annual sales and segmental revenue in all the target end-use industries. The market has been forecast based on constant currency rates. The report provides detailed competitive overview and company profiles of key participants operating in the global quantum dot display market. Some of the key players operating in the quantum dot display market analyzed are Samsung Electronics Co. Ltd., LG Display Co. Ltd., Sony Corporation, 3M Company, Sharp Corporation, Microvision Inc.,Altair Nanotechnologies Inc. Evident Technologies Inc., and others
Quantum Dot Display Market: Research Methodology
The quantum dot display market numbers pertaining to the regional as well as country level data and various segments i.e. product, material , component and application are estimated through the combination of primary and secondary research among target countries and regions, and are verified both by applying the bottom-up and top-down approach. Secondary sources include Morningstar, Factiva, association publication, industry magazines and company annual reports and publications. Comprehensive interviews have been conducted by our analysts, and the data and insights obtained have been used for validating the information of quantum dot display gained through secondary sources. The report also includes a description of assumptions and acronyms utilized for research purposes. The data triangulation process is used for cross checking of the collected and analyzed data from the supply as well as the demand side for quantum dot display.
For assessment of the market size on the basis of value and volume, revenues generated by leading players, coupled with their production capacities are taken into consideration. Backed by a proven & tested research approach, the report offers necessary information on the quantum dot display market. Other qualitative findings and perspectives are gathered from interviews from industry participants including Business Development Managers / Executives, CEO's and Plant Managers. This information has been adhered to by the analysts while developing this insightful report on the quantum dot display market. Secondary research is leveraged for ascertaining the overall size of the quantum dot display market.
A short market viewpoint offered in the report explains the macro-economic aspects that influence the growth of the quantum dot display market, which includes worldwide demand for electronic display devices and technological trends impacting the electrical & electronics sector. Global pricing analysis, restraint analysis, and opportunity analysis on the quantum dot display market has also been incorporated in the report. This report serves as an authentic resource of intelligence on the quantum dot display market, enabling the readers to take fact-based decisions on the future direction of their businesses.
Request research methodology of this report.
Fact.MR offers custom research services that help clients to get specific research solutions
We are committed towards customer satisfaction and quality service.
---
Our Clients

Quantum Dot Display Market Forecast, Trend Analysis & Competition Tracking - Global Market Insights 2019 to 2027