Effective moisturization of constituents is essential for production of cosmetics, foods and other consumables. Humectants such as glycerol have been actively used as key ingredients that can regulate the moisture and water activity during the manufacturing of products such as cigarettes and skin care lotions, among others. The key role of humectants as additives in the production of organic substances continues to drive their demand across the globe. In the foreseeable future, companies producing humectants are expected to focus on tapping new applications and increasing the flavor properties of humectants. Moreover, new humectants are being discovered through extensive scientific research projects. Such undertakings will continue to unlock new avenues for growth of the global humectants market in the upcoming years.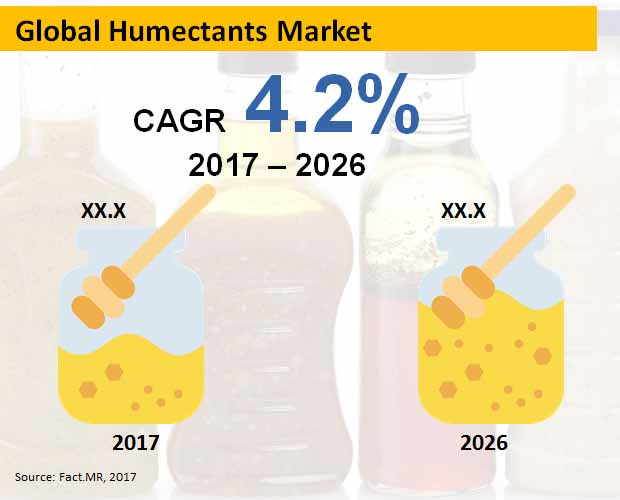 According to Fact.MR's recent forecast study, the global market for humectants is pegged to expand at a CAGR of 4.2% in terms of value during the forecast period, 2017-2026. The report further estimates that by the end of 2026, more than 2 million tons of humectants will be sold across the globe.
Market Taxonomy
| | | | |
| --- | --- | --- | --- |
| Region | Product Type | Application | Source |
| North America | Sugar alcohol | Skin Care Products | Synthetic |
| Latin America | Glycerol | Hair Care Products | Natural |
| Europe | Alpha hydroxy- acids & polysaccharides | Oral Care Products | |
| Japan | Glycols | Other Cosmetic Applications | |
| APEJ | Other Types | | |
| MEA | | | |
(Additional information, including cross-sectional data and country-wise analysis & forecast is available in the report)
Glycerol to Represent Top-Selling Humectant through 2026
The moisture absorption and retention properties of glycerin-based materials will continue to drive the adoption as humectants in the manufacturing of personal care products. Glycerol's properties in terms of exfoliation, potentiation of preservation activities, moisturization, and solvency will instrument its growing demand in the global humectant market. In 2017, more than 640,000 tons of glycerol has been estimated to be sold in the global humectants market. While the demand for glycerol is expected to remain consistently high in the global humectants market through 2026, the report estimates that the demand for glycols will also gain healthy traction, reflecting a volume CAGR of 4.1% during the forecast period.
Skin Care Product Applications of Humectants to Translate High Profits
The report has estimated that throughout the forecast period, more than 40% of the global humectants market volumes will be consumed in the production of skin care products. The report also reveals that the demand for humectants in manufacturing of hair care products will also gain traction. By 2026-end, more than 500,000 tons of humectants are expected to be consumed in the production of hair care products such as conditioners and shampoos. The report also reveals that by the end of 2026, majority of humectants produced in the global market will be derived from synthetic sources. Cost-effective procurement of humectants through synthesis of constituents, as opposed to complexity in producing humectants from natural sources, will continue to drive the consumption of synthetically-sourced humectants in the global market through 2026.
Competition Tracking
Leading producers of humectants have been profiled in the report to develop a holistic overview of the global humectant competition landscape. Companies namely, Cargill, The Dow Chemical Company, Archer Daniels Midland Company, E. I. du Pont de Nemours & Company, Roquette Frères, Ingredion Incorporated, BASF SE, VMP Chemiekontor GmbH, The Lubrizol Corporation, Vantage Specialty Ingredients, Inc., and Wuhan Sanjiang Space Gude Biotech Co. are expected to instrument the global humectant production during the forecast period. Several of these key players in the global humectants market will be focusing on improving the properties of these substances in exacerbating dryness and increasing the absorption of trans-epidermal water.
Note: The insights mentioned here are of the respective analysts, and do not reflect the position of Fact.MR
Application of hygroscopic substances such as sugar or glycerin in food and beverage industry and in the production of cosmetics is gaining traction. These substances, commonly known as humectants, are playing a key role in controlling and regulating the moisture and water activity in products. Their demand continues to grow aggressively as manufacturers are finding new applications to utilize humectants in changing the chemical makeup of products. This report, compiled by Fact.MR, provides in-depth analysis of the global humectant market for the forecast period 2017-2026, and offers key insights about future market direction.
Scope
The scope of Fact.MR's report is to analyze the global humectant market for the forecast period 2017-2026 and provide readers an unbiased and accurate analysis. Humectant manufacturers, stakeholders, and suppliers in the global consumer goods sector can benefit from the analysis offered in this report. This report offers a comprehensive analysis, which can be of interest to leading trade magazines and journals pertaining to humectant.
Summary
The report commences with a brief information of the global humectant market. This executive summary sets the tone for the rest of the report, providing users the scope of the report. The executive summary includes important facts and statistics on the global humectant market.
Overview
The next section offers an overview of the global humectant market. This comprises an introduction to the market, along with a standard definition of the product – humectant. In this section, market value and year-over-year growth is offered to the readers. Year-over-year growth provides readers with a broader view of growth patterns over the forecast period.
The report's succeeding section focuses on drivers, restraints and key trends from macroeconomic, demand, and supply perspectives. Impact analysis of weighted average model-based growth drivers is contained in the report for better provision of decision-making insights to clients.
In order to offer readers with up-to-date information about the latest advancements in the global humectant market, the report provides updates about market opportunities, which can benefit leading manufacturers of humectant. With continuous evolution of the consumer goods sector, keeping a record of latest developments and trends is fundamental for humectant manufacturers to formulate key business strategies. Detailed insights about raw material sourcing, supply chain, pricing analysis, list of distributors, and cost structure are provided in this section.
Considering the wide scope of the global humectant market and to offer in-depth insights, Fact.MR's report provides segment-wise analysis and forecast. The humectant market has been categorized on the basis of product type, application, source, and region. This segmentation analysis is comprehensive, coupled with a detailed country-wise forecast provided on all parameters.
The report's last section comprises of the global humectant market competitive landscape, to provide readers with the dashboard view of company analysis and market players. This competitive intelligence is based on the providers' categories across value chain, and their presence in the global humectant market.
Research Methodology
Fact.MR is committed to offer unbiased and independent market research solutions to its clients. Each market report of Fact.MR is compiled after months of exhaustive research. We bank on a mix of tried-and-tested and innovative research methodologies to offer the most comprehensive and accurate information. Our main sources of research include,
Primary research
Secondary research
Trade research
Focused interviews
Social media analysis
Fact.MR offers custom research services that help clients to get specific research solutions
We are committed towards customer satisfaction and quality service.
---
Our Clients

Humectants Market Forecast, Trend Analysis & Competition Tracking - Global Market Insights 2017 to 2026