Moving Walkways Market to Register Strong Growth, Demand Upheld by Horizontal Moving Walkways
The global moving walkways market is forecasted to develop a promising CAGR during the forecast period. Heightening construction of new airports, expansion of existing facilities and increasing number of shopping centers is fueling demand for horizontal moving walkways. Growing passenger traffic at airport terminals will drive the market for horizontal moving walkways. The horizontal moving walkways are finding diverse applications at train stations, airports, subway stations, super stores, and civic transportation. However, horizontal moving walkways will encounter limitations due to higher pricing and maintenance charges.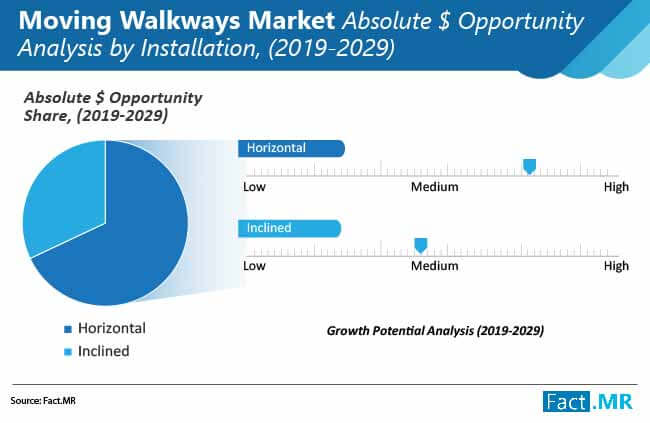 Demand for Airport Moving Walkways to Soar, Heightening Prospects of Travel and Tourism to Remain Key Influencer
The rising demand for air passengers and globalization trends will fuel the airport moving walkways segment. The airport moving walkways segment growth is at a nascent stage in developing countries, which will provide immense scope for business expansion for manufacturers. Airports Council International (ACI) has forecasted that the passenger traffic worldwide is expected to double to more than 17 billion by 2037. Thus, this will create the need for enhancing infrastructure and transportation at airports, which will further propel market growth. According to the construction intelligence center (CIC), the total investment for airport construction projects is valued at US$ 638.7 billion. This will increase focus towards airport improvement and expansion across major countries.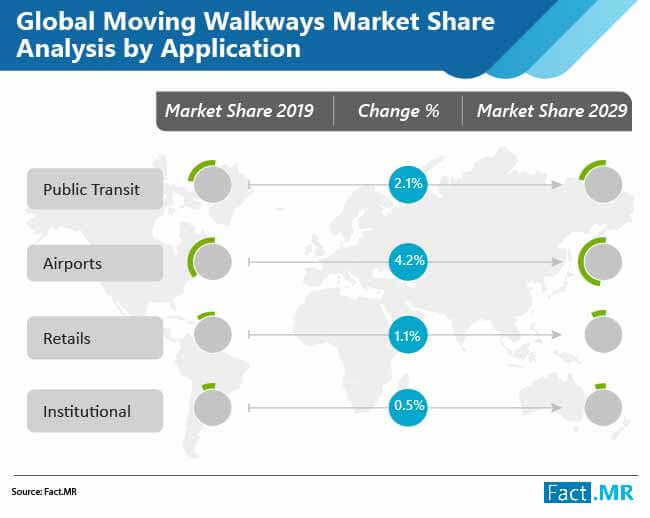 Major investments directed towards airport improvement projects and construction of new airports will be supplementing the market share for airport moving walkways during the forecast period. Developing countries are likely to invest a substantial amount towards the development of airport infrastructure by 2022. For instance, Airports Corp. of Vietnam is planning to invest around US$ 14.7 billion for construction of new passenger terminals and runways in the coming years. Autowalks are being majorly used in airports across the world, but challenges such as high installation cost and high maintenance costs will slow down the market. However, to manage the passenger traffic effectively, the demand for airport moving walkways will increase.
Asia Pacific to Remain Frontrunner in Global Sales
Asia Pacific has a prominent share in the market with China and India presenting key growth opportunities for the market. The developing economies are witnessing rapid urbanization, increasing investment in infrastructure including airports and metro projects which is expected to fuel the growth of the market during the forecast period. Asia Pacific's airports are projected to account for half of all worldwide passenger traffic growth from 2018 to 2040. Asia Pacific accounted for more than 30% of the global moving walkways market share in 2019 owing to increasing focus on building of new airports and airport improvement projects across the region.
North America and Europe are projected to hold a significant market share in the moving walkways market, due to their fully automated infrastructure. The increase in R&D development related to construction technology, wherein moving walkways are useful as machines, will boost the moving walkways market in these regions.
Contracts and Agreements to be an Important Stimulator for Moving Walkways Market
Industry leaders are continuously focusing on contracts and agreement to expand their global footprints. Leading manufacturers in the moving walkways market are awarded with contracts with the end-user industry to gain competitive edge over the other market players. For instance,
In 2019, Otis UK has been awarded the maintenance contract for 340 units at Gatwick airport. This contract will expand the company's footprint in UK's major infrastructure market in line with its strategy
In 2019, Kone has been awarded the six year contract for elevator, escalator, and moving walkway maintenance, repair, modernization and new construction
Global Moving Walkways Market – Scope of the Report
The moving walkways market is anticipated to observe a significant growth in the forecast period of 2019 to 2029, according to the Fact.MR study. The study propounds key trends that are currently shaping the growth of the Moving walkways market. This newly published and insightful report sheds light on key dynamics, which are expected to transform the future of the moving walkways market. This, in turn, is creating flourishing avenues for prominent companies as well as emerging players associated with moving walkways.
The moving walkways market study is a sinuous market intelligence on key drivers, challenges, industry trends and opportunities, which is likely to influence the growth trajectory of the moving walkways market. The report initially imparts an overview of the moving walkways market, considering current and future prospects in growth, to unveil attractive facets pertaining to the adoption of moving walkways across key regional markets.
An in-depth assessment of a few of the moving walkways providers in the report enables the report readers to gain detailed insights that are derived from moving walkways providers across regional markets. A list of key companies operating in the moving walkways market provided in the report adds to the credibility of this exhaustive research study.
Global Moving Walkways Market: Opportunity Analysis
The report offers a detailed study of different factors influencing demand, sales, and revenue generation in the moving walkways market around the world. The opportunity analysis included in the report is beneficial for readers to better understand opportunities in the moving walkways industry, which in turn, is likely to trigger the adoption of moving walkways. An elaborated cost structure analysis provides the report with innate completeness, and analysis offered on the cost structure involves all the regional markets incorporated.
A detailed forecast on the global moving walkways market has also been offered by experts, who have categorized market forecasts into a likely scenario, a conservative scenario, and an optimistic scenario regarding adoption and involvement of the global market during the forecast period. Analysis and assessment of price point by region has also been included in this study. The study also exerts details on aspects impacting strategies of service providers within the global Moving walkways market.
Global Moving Walkways Market: Segmentation
Segmentation table of the global moving walkways market has been provided below on the basis of application, installation, speed, type, and region.
Application

Installation

Speed

Type

Region

Public Transit
Airports
Retails
Institutional
Other

Constant Moving Walkways
Accelerating Moving Walkways

North America
Latin America
Europe
East Asia
South Asia
Oceania
Middle East & Africa (MEA)
Global Moving Walkways Market: Analysis on Market Size Evaluation
Market valuation at the global and regional scale for the global moving walkways market is offered in terms of "US$ Bn." A Y-o-Y growth comparison on the key moving walkways market segments, along with the market attractiveness assessment quantifies insights delivered in the report.
Global Moving Walkways Market: Scrutinized Assessment on Regional Segments
Weighted chapters have been included in the report on the global moving walkways market, which imparts a forecast on the regional markets recognizing the regional macros (business, economic and political environment outlook), which are expected to have an impact on the growth of the global moving walkways market in the near future.
Country-specific assessment on the demand for moving walkways has also been provided for each regional market, along with the market size valuation, price point assessment, price index, and impact analysis of key regional and country-wise dynamics. Y-o-Y growth projections have also been offered on all regional markets that are incorporated in the report.
Global Moving Walkways Market: In-depth Analysis on Competitive Landscape
The report concludes with a weighted chapter on the competition landscape considering up-to-date and essential developments related to market players, who are predominantly engaged in the manufacturing of moving walkways, along with company's strategies, identification, and analysis. Market share comparison and analysis of these market players offered in the report enables readers to devise strategies for their businesses.
The intensity mapping of the market players operating in the global moving walkways market provides readers with actionable intelligence, which helps in understanding the current market status and prospects determining the competition levels in the global moving walkways market.
Fact.MR offers custom research services that help clients to get specific research solutions
We are committed towards customer satisfaction and quality service.
---
Our Clients

Moving Walkways Market Forecast, Trend Analysis & Competition Tracking - Global Market Insights 2019 to 2029