Garages to be Most Profitable End Users for Automotive Lifts
Strict regulations on safety of working environments have put encumbrances on garages & workshop owners. Garage owners are therefore focusing on installing automotive lifts. Besides offering a safe environment to work in, automotive lifts also ease operations in garages. The increased space is an added advantage for installing automotive lifts. Several automotive lift manufacturers are focused on providing custom solutions to garage owners to offer best solutions for space optimization.
Increasing costs of spare parts, high replacement rate of components and feasible labor costs make commercial garages profitable businesses, which in turn drives the installation rate of advanced automotive lifts. It is projected that more than one third automotive lifts are projected to be sold via garages, throughout the assessment period of 2019 – 2026. Surpassing a value opportunity of more than US$ 2.8 Bn the newest report by Fact.MR estimates the market to grow at a steady CAGR of more than 4.2% during the assessment period of 2019 – 2026.
Scissor Lifts to Lead the Way throughout the Assessment Period
Heightened demand for safety equipment that occupies minimal space and provides high throughput in working environment has significantly increased in the last few years. Scissor lifts are fully retracted and take up very little space in the operating environment. This saves operational time and helps to eliminate potential body twisting injuries. Further, even distribution of working load reduces the incidents of lift failure. Scissor lifts became the utmost installed automotive lift in 2019. In same year, one in every four lifts sold in global market were estimated to be a scissor lift. Owing to these factors, scissor lifts are gaining rapid prominence and are predicted to grow 1.3X during the assessment period.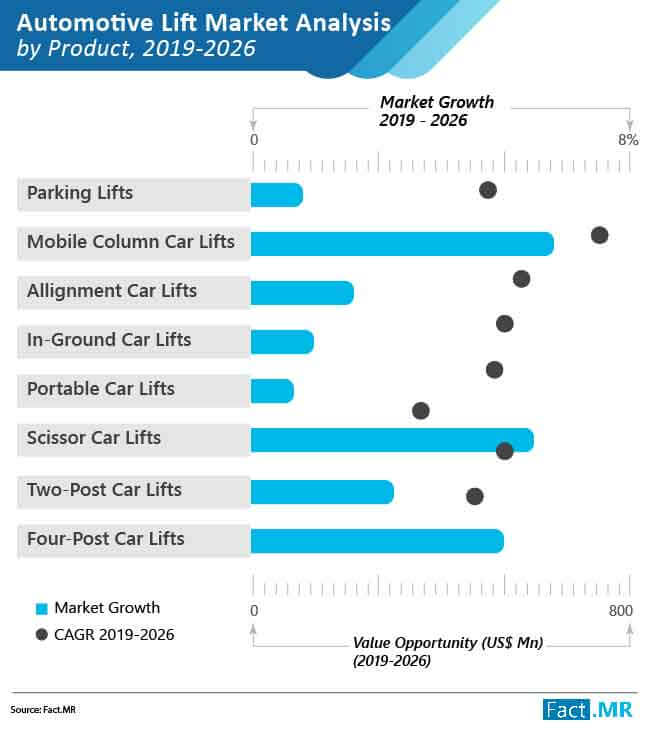 To get the latest market intelligence on automotive lifts, ask an analyst here
Motorization Rates and Improved Vehicle Runs will Stoke Growth of Automotive Lift Market
On the backdrop of robust sales in automotive sector, global motorization rate is expected to surpass 400 vehicle per 1000 population in coming decades form nearly 230 in 2019, vehicle run per kilometer has also increased. This has led to increased component replacement and maintenance. In modern vehicles, most of the components are fixed or replaced under the car. Vehicles are required to be at a certain height for under body work to be carried out effectively. For this reason, garages and automotive manufacturing units will be equipped with automotive lifts in the foreseeable future.
Developed Regions Grasp More Than 70% Share of Automotive Lifts Demand
North America and Europe will emerge as lucrative marketplaces for adoption of automotive lifts owing to the existence of high number of vehicles per capita. For instance, in U.S. almost every household owns a car if not a fleet of vehicles. North America and Europe collectively held more than 70% of the automotive lift demand in 2019, owing to their stringent regulatory stance on building a safe environment in automotive manufacturing and aftermarket repair works.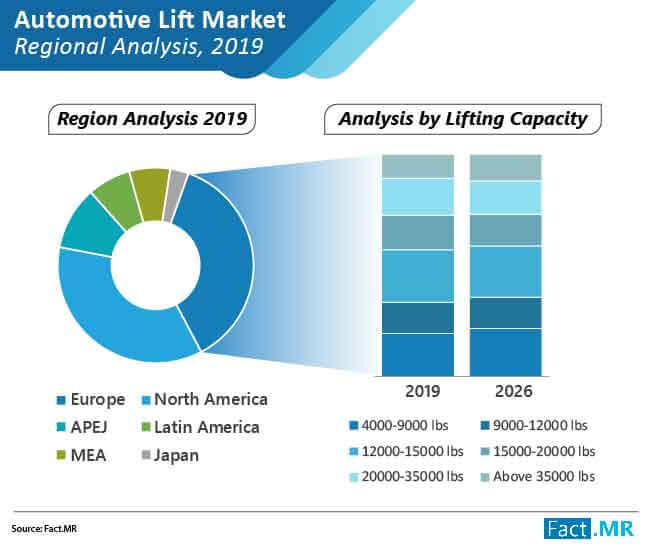 Get real and tangible insights on automotive lift market by requesting for a report sample here
Stakeholders Targeting Preliminary Lifting Capacities and Low Height Lifts
Catering to the demands of commercial garages will always remain highly profitable for automotive lift manufacturers. However, in the last couple of years, demand for automotive lifts have seen a sharp increase across home garages in developed regions. The low height of home garages may create certain challenges for existing product lines. However several companies are offering redesigned automotive lifts that are suitable in low height environment along with lifting capability of 4000-9000 lbs. Prominent players in the market such as BendPak, Inc., Challenger Lifts, Inc., Nussbaum Automotive Solutions LP, Rotary Lift, Stertil-Koni USA, Inc., SUGIYASU Co.Ltd, ARI-HETRA, Ravaglioli S.p.A, PEAK Corp and EAE Automotive Equipment Co.Ltd., among others will continue to extend their product offerings such as lower height lifts with preliminary lifting capacities. Finding a balance between adherence to automotive lift manufacturing standards and compliance with diverse end-use requirements will characterize the market's manufacturing landscape.
Automotive Lift Market - Scope of the Report
Fact.MR recently published a market study on the global market for automotive Lift. The study provides a detailed assessment on the key market dynamics, including drivers, trends, opportunities, restraints, and detailed information about the automotive Lift market structure. The market study presents exclusive information about how the automotive Lift market will grow during the forecast period of 2019-2026.
Key indicators of market growth, which include Year-on-Year (Y-o-Y) growth of the market, value chain, supply chain analysis, and Compounded Annual Growth Rate (CAGR) are explained in Fact. MR's study in a comprehensive manner. This information can help readers understand the quantitative growth prospects of the automotive Lift market in the forecast period.
The study is relevant for stakeholders in the automotive Lift market, including manufacturers, suppliers, distributors, and investors, and can help them in developing appropriate strategies to grow in the market. Stakeholders in the automotive Lift market, investors, industry experts, researchers, and journalists, as well as business researchers can leverage the information and data presented in the Fact.MR study.
The study also includes statistics as well as facts related to macro as well as microeconomic factors that are impacting developments in the automotive Lift market. It also offers actionable insights based on future trends in the automotive Lift market. Furthermore, small businesses and new entrants in the automotive Lift market too can make use of the information presented in this study, based on which, they can make appropriate business decisions in order to gain momentum in the market.
Key Segments of the Automotive Lift Market
Fact.MR's study on the automotive Lift market offers information divided into four key segments— product, lifting capabilities, end use application and region. This report offers comprehensive data and information about important market dynamics and growth parameters associated with these categories.
Product

Lifting Capacities

End Use Application

Region

Four-Post Car Lift
Two-Post Car Lift
Scissor Car Lift
Portable Car Lift
In-Ground Car Lift
Alignment Car Lift
Mobile Column Car Lift
Parking Lift

4000-9000 lbs
9000-12000 lbs
12000-15000 lbs
15000-20000 lbs
20000-35000 lbs
Above 35000 lbs

Garage
Auto Manufacturers
Tire Manufacturers

North America
Latin America
Europe
Japan
Asia Pacific Ex. Japan
MEA
Key Questions Answered in the Fact.MR's Automotive Lift Market Report
Which regions will continue to remain the most profitable regional markets for automotive Lift market players?
Which factors will induce a change in the demand for automotive Lift during the assessment period?
How will changing trends impact the automotive Lift market?
How can market players capture the low-hanging opportunities in the automotive Lift market in developed regions?
Which companies are leading the automotive Lift market?
What are the winning strategies of stakeholders in the automotive Lift market to upscale their position in this landscape?
Automotive Lift Market: Research Methodology
In Fact.MR's study, a unique research methodology is utilized to conduct extensive research on the growth of the automotive Lift market, and reach conclusions on future growth parameters of the market. This research methodology is a combination of primary and secondary research, which helps analysts ensure the accuracy and reliability of conclusions.
Secondary resources referred to analysts during the preparation of automotive Lift market study includes statistics from governmental organizations, trade journals, white papers, and internal and external proprietary databases. Analysts have interviewed senior managers, product portfolio managers, CEOs, VPs, marketing/product managers, and market intelligence managers, who have contributed to the development of this report as a primary resource.
Fact.MR offers custom research services that help clients to get specific research solutions
We are committed towards customer satisfaction and quality service.
---
Our Clients

Automotive Lift Market Forecast, Trend Analysis & Competition Tracking - Global Market Insights 2019 to 2026