With stringent rules of governments regarding safety regulations and baby care across regions, it has become imperative for manufacturers of baby care products to develop enhanced juvenile products that meet government standards. Design, quality and safety are intertwined aspects of baby care products, that the manufacturers are striving to improve by incorporating additional features to their products.
Baby prams and strollers are no exception. For instance, mandatory checking quality of wheels has been initiated by governments to regulate effective baby care. Also, European Union had introduced EU i-Size regulation that ensures high protection in all products associated with baby gear and safety, especially for children that are 15 months old. These regulations have made it imperative for manufacturers to develop prams and strollers with advanced features that have enhanced safety measures. This is expected to trigger the sale of baby prams and strollers in the long run. Additionally, fast-paced lifestyle, increasing number nuclear families and single parents have forced customers to prefer enhanced safety measures and convenience for babies. This has further spurred the adoption of baby prams and strollers.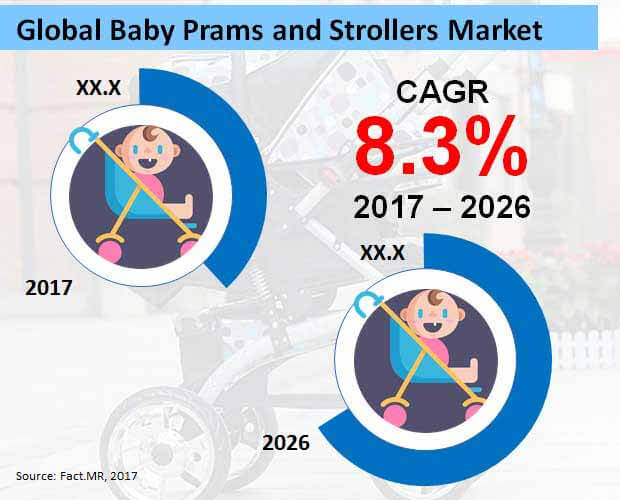 Fact.MR's analysis on the global baby prams and strollers market states that the market will grow at an impressive pace in the upcoming years and is projected to expand at a value CAGR of 8.3% throughout the period of assessment, 2017-2026. During this period, volume sales of baby prams and strollers across the globe is estimated to surpass 37,300 thousand units by end of the year of assessment (2026).
Prominent companies involved in production of baby prams and strollers include Artsana Spa, Beinmate Group Co. ltd., Dorel Industries Ltd., Emmaljunga Barnvagnsfabrik AB, evenflo Company Inc., and Goodbaby International Holdins Ltd.
Market segmentation
| | | | |
| --- | --- | --- | --- |
| Region | Product Type | Sales Channel | Age |
| North America | Lightweight Strollers | Baby Boutiques | 0 - 6 months |
| Latin America | Jogging Strollers | Specialty Stores | 6 - 12 months |
| Europe | Standard Strollers | Modern Trade | 12 - 36 months |
| Japan | Double / Triple Strollers | Departmental Stores | |
| APEJ | Multi-Optional System Strollers | Mono-brand Stores | |
| MEA | | Online retailers | |
| | | Other sales channel | |
(Additional information, including cross-sectional data and country-wise analysis & forecast is available in the report)
Increasing Developments in Baby Prams and Strollers in Europe to Drive the Sales of the Product in the Coming Years
Research says that Europe has been at the forefront with respect to innovations in baby prams and strollers. Government regulation in Europe initiated stringent regulations associated with baby safety. Rules were made to manufacture baby care products that ensured high level of protection and convenience for babies. This pushed the manufacturers to invest in research to develop advanced products to ensure protection head and neck of babies. The region is marked with presence of key players that are striving for developing prams and strollers for babies that offer additional features and safety. For example, in Europe, Bugaboo and Baby Jogger, few of the key manufacturers, have developed enhanced quality baby strollers and prams that have slip resistant rubber handle, self-aligning wheels, adjustable footrest and canopies for protection from UV radiation.
Adoption of smart technology has become a key trend among manufacturers of baby prams and strollers in Europe. Such smart strollers are gaining high momentum owing to their design that supports additional facilities such as storage, multiple seating configurations, and other smart features. For example, moxi stroller by 4momns is equipped with tail lights, pathway lights and an LCD dashboard that tracks speed, distance, temperature, battery level, calorie burn and time. Sale of baby prams and strollers in Europe is expected to reach a value of over US$ 2.5 Bn by end of assessment period (2026).
Note: The insights mentioned here are of the respective analysts, and do not reflect the position of Fact.MR
Analysis of goal baby prams and strollers market has been carried out by Fact.MR, and is represented in a systematic format in new research publication – global baby prams and strollers market. The research study covers deep insights on several factors influencing the growth of the global market. These factors include new developments, trends, opportunities, restraints and drivers that have positive and negative impact on the growth of the global baby prams and strollers market. The research report also includes forecast analysis that portray future market projections for a nine year period, starting from 2017 till 2026. This research study supports the reader in gaining deep insights of the market and also plan future moves based on past, present and future market scenario.
360 degree approach followed
Research report on the global baby prams and strollers market includes a global perspective. Important regions in the globe are evaluated and trends, drivers and developments that influence growth of the market across these regions are scrutinized. This presents a 360 degree outlook of the entire baby prams and strollers market in front of the reader that can assist the reader in gaining deep market understanding on various segments of the baby prams and strollers market and their scenarios across regional markets. With this information the reader can expected to identify key revenue pockets with the analysis of which he/she can plan to expand their global footprint by tapping new markets. Moreover, the scrutiny and analysis included in this research report is devoid of bias thus delivering much needed value addition to the reader.
Uniqueness in research process
Fact.MR uses a unique research process to glean key insights and garner statistical data of the global market. Primary and secondary research are two main arms of this research process. Extensive secondary research is initiated to gain vital market understandings based on which in-depth primary research is undertaken. Primary interviews with market observers, players, experts and opinion leaders are conducted, wherein data point gathered in one interview is cross verified in the second. Likewise, the process of validation and evaluation of data is carried out till the conclusion of the research. This process increases the accuracy of the data so gathered and can be directly used in planning and marketing purposes.
Detailed analysis on competition
The research report on global baby prams and strollers market includes analysis on the growth path of the market. This includes analysis of key market players, their product portfolio assessment, their SWOT and overall company overview. The chapter on competitive landscape includes profiles of major companies that are involved in the manufacturing of baby prams and strollers. The market shares of each company, key developments based on new trends, new innovations (if any), sales and revenue shares and other key financial aspects of these players have been covered in this section. This can assist the reader in formulating key strategies and make informed decisions and gain edge over the competition.
The "why" to invest in this research report
Such an intelligence dashboard offered by Fact.MR can deliver value by revealing actionable intelligence on each market segment with unbiased market insights. The impact analysis and recommendations are covered in this research report that can support the reader in detecting key prospects in the global market. The reader can gain market intelligence on various companies and their footprints across regions in the globe. This way, upcoming businesses can identify opportunity areas to develop their businesses and count profits. Moreover, the data and statistics are in user friendly systematic format for his/her convenience.
Fact.MR offers custom research services that help clients to get specific research solutions
We are committed towards customer satisfaction and quality service.
---
Our Clients

Baby Prams and Strollers Market Forecast, Trend Analysis & Competition Tracking - Global Market insights 2017 to 2026