Baby Prams and Strollers Market
Baby Prams and Strollers Market Analysis By Product Type (Lightweight Strollers, Jogging Strollers, Standard Strollers, Double/Triple Strollers, Multi-optional System Strollers), By Age (0 to 6 Months, 6 to 12 Months, 12 to 36 Months), By Sales Channel (Baby Boutiques, Specialty Stores, Modern Trade, Departmental Stores, Mono-brand Stores, Online Retailers) & Region – Global Market Insights 2023 to 2033
Analysis of Baby Prams and Strollers Market Covering 30+ Countries Including Analysis of US, Canada, UK, Germany, France, Nordics, GCC countries, Japan, Korea and many more
Baby Prams and Strollers Market Outlook (2023 to 2033)
The global baby prams and strollers market is predicted to expand at a CAGR of 5.9% and hit a valuation of US$ 8.79 billion by 2033, up from US$ 4.95 billion in 2023.
Baby prams and strollers, sometimes known as baby carriers, are modes of transportation meant to move a baby or toddler. A pram is used to move infants, whereas strollers are used to transport children aged three and up.
Nuclear families and single-parent households have to manage a range of responsibilities while caring for their newborns and toddlers. As a result, parents seek out baby care items to make their life simpler and more convenient. One of their primary concerns is transporting the child from one location to another. Prams and strollers are the most popular alternatives among parents for transporting their infants in a safe and effective manner.
Baby pram and stroller vendors put a major emphasis on satisfying the demands of nuclear and single-parent homes, which frequently include extra features such as extra straps and UV-blocking shades. Globally, the increasing number of single parents and nuclear families is boosting demand for baby prams and strollers, which is expected to contribute considerably to market growth over the study period.
Parents emphasize their babies' safety and comfort. Prams and strollers are equipped with safety measures such as straps, brakes, and stability systems to ensure the child's safety while traveling. They also provide cushioned sitting, reclining settings, and sun protection to keep the infant comfortable while on the move.
Eco-friendly strollers are new, in-demand items that have risen in favor among environmentally conscious shoppers. Parents nowadays are increasingly worried about the components used to construct baby strollers to keep their children safe. Parents of newborns want to know more about the production processes, risks linked with the chemicals utilized in the stroller's production, and stroller reusability while selecting a stroller for their baby.
Consequently, businesses selling baby strollers place higher emphasis on meeting safety standards and providing eco-friendly baby strollers to customers. As a result of the current wave of adopting environmentally friendly baby products, including strollers, there is a surge in demand for this type of stroller in the global market.
Report Attributes
Details

Baby Prams and Strollers Market Size (2023)

US$ 4.95 million

Projected Market Value (2033)

US$ 8.79 billion

Global Market Growth Rate (2023 to 2033)

5.9% CAGR

United States Market Value (2033)

US$ 2.4 billion

Standard Strollers Segment Growth Rate (2023 to 2033)

6.4% CAGR

Key Companies Profiled

Artsana S.p.A
Baby Trend
Evenflo Company, Inc
Graco Children's Products Inc
Baby Jogger
Why are Baby Prams and Strollers Exhibiting Strong Sales Growth?
"Increasing Consumer Expenditure on Baby Care Products"
Growing concerns of parents for their children's safety is one of the fundamental drivers of increased expenditure on baby care items, which is also a major driver of the global market. Parents worldwide are growing more careful when buying baby-related products, prioritizing the quality of baby care products. This is a major factor boosting their expenditure on baby care products.
For instance, Artsana, a firm that sells baby care equipment like strollers, stated that it generated EUR 1,720 million in revenue in 2021, up from EUR 1,542 million in 2020.
When it comes to baby safety and convenience items like strollers, people want trusted and reliable products composed of lightweight materials and sophisticated safety features that are ideal for short trips. For instance, lightweight strollers are appropriate for small babies who can sit upright and accompany their parents on a walk in the park or other nearby activities such as shopping.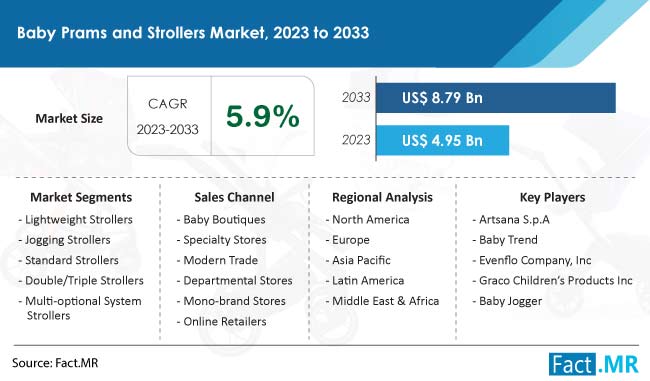 Country-wise Insights
What Supports the United States's Dominance in the Worldwide Market?
"Growing Urbanization and Changing Lifestyles of Parents in the Country"
As per Fact.MR, a market research and competitive intelligence provider, the United States baby prams and strollers market is set to touch US$ 2.4 billion by 2033.
Urban areas have grown significantly in the United States, and more people live in cities. In urban areas, parents often seek quick and effective transportation choices. Prams and strollers are convenient for navigating crowded streets, public transportation, and shopping malls.
Modern lifestyles in the United States frequently involve active and hectic schedules. Parents can accommodate the babies while continuing to lead busy lifestyles thanks to prams and strollers. They make it possible for parents to carry their children around all day while still participating in activities like walking, jogging, or running errands.
How are China, Japan, and South Korea Promoting Asia Pacific Market Growth?
"Rising Economy, Disposable Incomes, and Urbanization"
Sales of baby prams and strollers in China, Japan, and South Korea are expected to reach US$ 1.47 billion, US$ 360.73 million, and US$ 325.53 million by 2033.
These countries' economic progress has increased disposable incomes, enabling families to invest in a broader selection of baby items, such as prams and strollers. As households' purchasing power rises, they are increasingly ready to spend on high-quality and convenient transportation choices for their children.
China, Japan, and South Korea are also experiencing rapid urbanization. Prams and strollers are sensible solutions for transporting babies in urban situations because space is sometimes restricted. Compact and collapsible prams and strollers are especially popular in these nations since they are easy to store in small apartments or transport on public transportation.
Parents in these countries are looking for more convenient ways to transport their children as people's lifestyles become more hectic. Strollers make managing busy streets, crowded public transportation, and shopping locations easy. They give parents the freedom to go about their regular lives while keeping the babies safe and comfortable.
What is the Demand Outlook for Baby Prams and Strollers in the United Kingdom?
"United Kingdom to Exhibit Significant Demand for Baby Prams and Strollers"
The baby prams and strollers market in the United Kingdom is projected to garner US$ 642.27 million. The demand for baby prams and strollers is increasing due to growing urbanization, changing parent's lifestyles, and rising demand for convenience.
Category-wise Insights
Why are Standard Prams and Strollers in High Demand?
"Comfort, Safety, and Convenience Provided by Standard Prams and Strollers"
Demand for standard prams and strollers is anticipated to evolve at a CAGR of 6.4% during the forecast period. Parents emphasize their babies' comfort and safety. Cushioned sitting, changeable reclining positions, and safety measures like secure belts, solid frames, and dependable braking systems are standard features of standard prams and strollers. These characteristics ensure that babies are safe and comfortable while being transported.
Standard prams and strollers are intended to be easy to use and handy for parents. They frequently have features such as storage compartments, cup holders, and simple folding mechanisms, making them ideal for everyday usage. The convenience of use enables parents to transport their babies swiftly and efficiently.
Which Age Group is Pushing the Demand Growth of Baby Prams and Strollers?
"High Usage of Baby Prams and Strollers for Children Aged 6 to 12"
Baby prams and strollers have traditionally been linked with infants and young children. However, there is an increasing need for prams and strollers for children aged 6 to 12. The 6 to 12 months segment is expected to expand at a CAGR of 5.6% over the next ten years.
Prams and strollers made for older children make it easier and more comfortable for the youngster and the parents. They provide a distinct seating area for children to rest and relax when on outings or long hikes. Parents can avoid circumstances in which their child becomes fatigued or complains about having to go long distances.
Children with special needs may require more support and help during outings. Prams and strollers made for older children often have extra support, flexible seating positions, and customized straps to accommodate the needs of children with physical limitations or limited mobility.
Families frequently engage in travel and tourist activities, and having a pram or stroller for older children can be advantageous. Moving the child around congested tourist locations, airports, or public transportation systems is a practical way. It also helps parents manage their belongings and navigate unfamiliar settings more effortlessly.
Competitive Landscape
Major players in the global baby prams and strollers market are concentrating on expanding their global footprint through R&D support, technological advancements, product introductions, and competitive pricing.
Thule released the redesigned Thule Shine city stroller in September 2022. According to the company, this small stroller was created for convenience in the city for newborns to toddlers. The stroller is compact and lightweight, with an attractive design that makes it excellent for navigating all situations.
Mercedes AMG GT introduced a limited-edition stroller in May 2022 in conjunction with Hartan, a luxury and well-known stroller company. This design is meant to be inspired by AMG vehicles. This product includes a movable seat unit for the baby to sit or lay down in and a dinamica microfiber upholstery for the seat inside, which Mercedes utilize for the fabric of their seats.
Silver Cross released the Dune and Reef strollers in March 2022. According to the firm, Dune is the Silver Cross small, feature-filled travel system suitable for urban families or those looking for a space-saving pushchair. Dune's world-class agility and minimalist elegance make it ideal for infants, allowing parents to go out with ease.
Key Segments of Baby Prams and Strollers Industry Research
By Product Type :

Lightweight Strollers
Jogging Strollers
Standard Strollers
Double/Triple Strollers
Multi-optional System Strollers

By Age :

0 to 6 Months
6 to 12 Months
12 to 36 Months

By Sales Channel :

Baby Boutiques
Specialty Stores
Modern Trade
Departmental Stores
Mono-brand Stores
Online Retailers

By Region :

North America
Latin America
Europe
Asia Pacific & China
Middle East & Africa
- FAQs -
The global baby prams and strollers market is worth US$ 4.95 billion in 2023.
Worldwide sales of baby prams and strollers are expected to reach US$ 8.79 billion by 2033.
Global demand for baby prams and strollers is estimated to increase at a CAGR of 5.9% during the forecast period.
The United States market is anticipated to reach US$ 2.4 billion by 2033.
Worldwide demand for standard baby prams and strollers is forecasted to swell at a CAGR of 6.4% from 2023 to 2033.