Air Springs Market Insights
The air springs market is slated to witness a moderate 5% growth rate during the forecast period (2020 and 2030). With the high utilization of air suspension systems in the automotive industry, the need for air springs has risen significantly. Changing terrain conditions and high user preference for convenient and effortless driving will fuel sales of air springs as they efficiently regulate chassis height especially on uneven terrains. The global market for air springs is also influenced by the aftermarket to a large extent. Replacement of air springs becomes necessary after a predetermined range of travel, which is expected to fuel the demand for air springs. Moreover, various technological developments with respect to design and composites used in air springs are expected to exert a positive impact on air springs market growth.
Air Springs Market Product Insights
Sales of rolling lobe air springs continue to remain higher than convolutes (single and multi), and sleeves. Rolling lobe is set to hold over 40% share of total market value by the end of 2030. With the objective to increase the load-carrying capacity of commercial vehicles, manufacturers have introduced heavy commercial vehicles such as class 8 trucks & trailers, thus accelerating the demand for air springs across the HCVs sector. Single Convolute air springs segment is expected to expand at 4% over the forecast period. Key manufacturers are focusing on increasing their customer base through OEM partnerships. Leading companies in the industry are forming joint ventures in order to avail benefit from each other's expertise and innovation of products.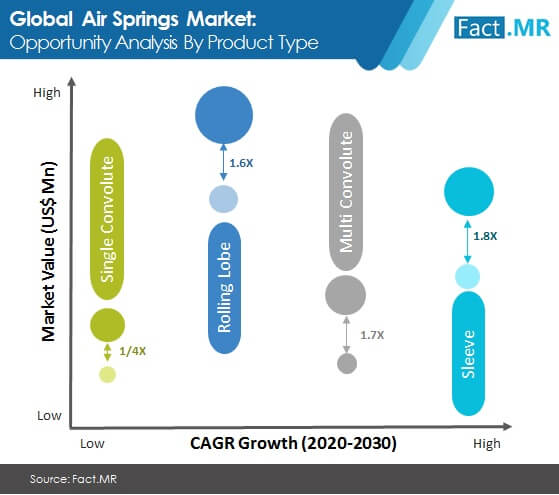 Air Springs Market Application Insights
The production of commercial vehicles has been steadily increasing across the globe. This growth is mainly fuelled by increasing trading activities which involve transportation of goods and growing preference for local transport such as buses. The increase in the production of commercial vehicles especially in emerging economies and few countries in Eastern Europe are expected to drive the demand for air springs. Air springs for trucks are very high in demand. Truck racing has gained wide popularity with huge companies investing in truck racing championships and organizing events.
For such events, highly tuned trucks are being used with enhanced safety features, which includes the incorporation of air spring suspensions (typically convoluted bellows). Manufacturers are also developing advanced air springs for facilitating enhanced air suspension for racing trucks. Truck racing championships that use advanced air springs in air suspension systems are expected to have a positive influence on the growth of the global air springs market.
Air Springs Market Regional Insights
North America holds more than 20% share of the total market value. Technologically advanced mobility solutions, such as electric vehicles are gaining traction, especially in developed countries thus escalating demand for airs spring assemblies in the foreseeable future. However, the most financially rewarding opportunities are offered by Middle East & Africa. Developing healthcare infrastructure coupled with increasing disposable incomes of consumers is set to drive demand from this region. The air springs market in the Middle East & Africa region will continue to grow at a stupendous 7% CAGR through 2030. Investments by developing countries in railways and transportation to enhance connectivity make air springs a high growth category. South Asia & Oceania will witness an impressive 6% CAGR during the forecast period.
Air Springs Market Manufacturer Strategies
Manufacturers of air springs have introduced various enhancements in the design of air springs used in heavy and medium commercial vehicles. Air spring manufacturers have been concentrating upon enhancement of the air spring functionality in air suspensions used in vehicles. Increasing heavy vehicle requirements for logistic, growing demand for electric vehicles and hybrids as well as the desire for enhanced ride comfort and optimized vehicle dynamics, all these factors are pushing the industry to deliver new lightweight innovations.
In Oct 2019, the Tier 1 player, Continental has unveiled its latest technological breakthrough; a lightweight air spring to reduce CV weight by 15kg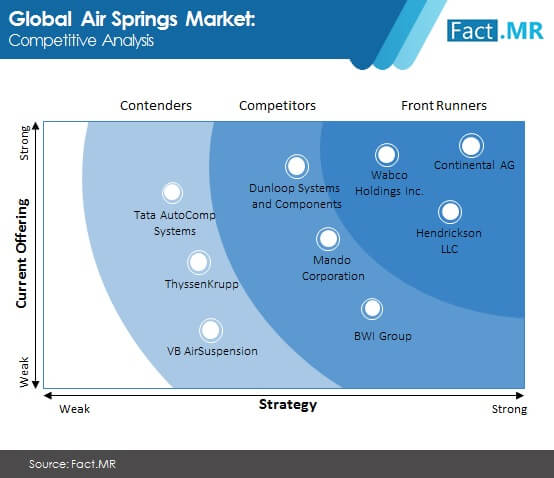 COVID-19 and Air springs
Manufacturers face increased trade restrictions due to COVID-19. Major organizations have ceased production or are working at minimal capacity. Suspension of non-essential trade has pushed market players to rely on cash reserves during the pandemic. Raw material procurement and availability of workforce is a major hurdle for air springs manufacturing during COVID-19. As the world fights novel coronavirus, prosthetic operations have been suspended indefinitely. Manufacturers will find revenue opportunities in fast recovering countries such as Australia. The country has witnessed around six thousand cases and more than three thousand have been recovered fully. Stringent lockdowns of public gatherings and retail shopping is another limitation for market players. Financial recovery strategies focus on low impact countries such as Indonesia and Singapore to find growth opportunities. Companies are mapping alternative trade routes to avoid stagnancy during the COVID-19 pandemic.
Analyst Viewpoint
"Air springs for railways, trucks and buses has witnessed a marked proliferation over the years. Growing use of public transport vehicles in metropolitan cities, coupled with shifting preference of drivers and travelers for a smoother commute is set to remain the primary driver of market growth."
Global Air Springs Market: Scope of the Report:
The recent global air springs market report by Fact.MR offers a 10-year forecast from 2020 to 2030. The report elaborates on the key drivers, restraints, opportunities and threats to the expansion of the global air springs market. A detailed segmental analysis, based on product type, application and end-user, has been provided in the report.
Regional analysis in terms of supply chain analysis, business execution and market value analysis provides an in-depth perspective about the future scope of the global air springs market. In addition, a separate section on market structure has also been provided. The section provides a detailed analysis of key market players and the strategies for expansion in the air springs market.
Global Air Springs Market – Scope of the Report
The following report provides forecast and analysis of the global air springs market along with the historical data of 2015, estimated data for 2020 and forecast data up to 2030 in terms of value (US$ Mn) and volume ('000 Units), according to a Fact.MR study. The research propounds critical trends that are currently influencing growth within the global air springs market along with several macro-economic indicators. This newly published and insightful report on air springs sheds light on key dynamics, and their impact on the overall value chain from suppliers to end-users, which are expected to transform the future of the global air springs market.
The report also comprises the study of current trends for end users and opportunities for air springs. It also contains a value chain analysis, including the key market participants. To provide users of this report with a comprehensive view of the market, we have included a detailed competitive analysis about the key players involved in the market and strategic overviews. The dashboard included in the report provides a detailed comparison of air springs manufacturers on parameters such as total revenue, product offerings, and key strategies. A list of key companies operating in the air springs market provided in the report adds to the credibility of this exhaustive research study.
Global Air Springs Market: In-Depth Assessment on Key Segments
The global air springs market is segmented on the basis of product type, sales channel, application, forces and region.
| | | | | |
| --- | --- | --- | --- | --- |
| Product Type | Sales Channel | Application | Force | Region |
| Single Convolute | OEM | Passenger Cars | Less than 1500 | North America |
| Multi Convolute | Aftermarket | Buses | 1500-2100 | Latin America |
| Sleeve | | Trailer & Trucks | 2100-3300 | Europe |
| Rolling Lobe | | Light Commercial Vehicle | 3300-7300 | East Asia |
| | | Railways | 7300-8800 | South Asia & Oceania |
| | | Industrial Lifts & Earthmovers | 8800-10000 | Middle East & Africa |
| | | | Above 10000 | |
This taxonomy and the detailed TOC prepared are confidential and intended exclusively for the individual or entity with whom it is being shared. Reading, disseminating, distributing, or copying this to any party other than addressee(s) is unauthorized and prohibited.
Country-specific assessments on demand for air springs have been provided for each regional market, along with the market size valuation and forecast price point assessment, price index and impact analysis of key regional and country-wise dynamics, which were obtained through quotes from numerous air springs manufacturers, experts, and suppliers. Y-o-Y growth projections have also been offered on all regional markets incorporated in the report. Moreover, future trends, growth prospects, and other possibilities related to the market have been answered in the report.
The report provides company-level market share analysis, which has been derived on the basis of the company's annual sales and segmental revenue in all the target end-use industries. The market has been forecasted based on constant currency rates. The report provides detailed competitive and company profiles of key participants operating in the global air springs market. Some of the major competitors operating in the air springs market are BWI Group, Continental AG, Dunloop Systems and Components, Firestone Industrial LLC, Hendrickson LLC, and others.
Global Air Springs Market: Research Methodology
A number of primary and secondary sources were consulted during the course of the study. Secondary sources include Factiva, Morningstar and Hoovers, and company annual reports and publications. Comprehensive interviews have been conducted by our analysts, and the intelligence and insights obtained have been used for validating the information gained through secondary research. The report also includes a description of assumptions and acronyms utilized for research purposes. Data gathered has been validated using the triangulation method to offer useful quantitative and qualitative insights into the air springs market.
A short market viewpoint offered in the report elucidates the macro-economic aspects that influence the growth of the air springs market, which includes global GDP growth rate and other sector growth rate such as automotive, industrial and others. This report serves as an authentic resource of intelligence on the Air springs market, enabling the readers to take fact-based decisions on the future direction of their businesses
Fact.MR offers custom research services that help clients to get specific research solutions
We are committed towards customer satisfaction and quality service.
---
Our Clients

Air Springs Market Forecast, Trend Analysis & Competition Tracking - Global Market Insights 2020 to 2030