Report Addresses
Market Estimates and Forecasts (2016-2031)
Key Drivers and Restraints Shaping Market Growth
Segment-wise, Country-wise, and Region-wise Analysis
Competition Mapping and Benchmarking
Brand Share and Market Share Analysis
Key Product Innovations and Regulatory Climate
COVID-19 Impact on Sales of Automotive and Off-Road Vehicle Hoses and How to Navigate
Recommendation on Key Winning Strategies
Sales of Automotive and Off-Road Vehicle Hoses in 2016 to 2020 Vs Projections for 2021 to 2031
Historically from 2016 to 2020, use of automotive and off-road vehicle hoses has witnessed declined growth at - 2.3% CAGR, mainly due to the COVID-19 pandemic that devastated automotive industry growth in 2020.
On a global scale, automotives costs have increased significantly due to rising raw material cost over the past few years, which can be attributed to rising expenditure on R&D activities conducted by major players in the automotive industry. The main traits of automotive hoses are hollow pipes that are used for fluid transfer in vehicle engines.
Earlier, manufacturers did not have a variety of options for hose materials, and hence, rubber reinforced with other materials such as plastic or polymer was used by hose manufacturers. Rubber, as a hose material, is still popular among manufacturers, but now, many are using other materials that are lightweight and provide excellent chemical resistance and high temperature resistance,such as nylon, fluoropolymer, silicone infused with rubber, and metal.
Manufacturers are looking at material innovation as an expansion strategy to attract more customers. It is very important for car manufacturers to provide comfort, safety, and reliability to users. As these automotive parts ensure smooth functioning of the vehicle, it is important for automotive hose manufacturers to adhere to the needs of their customers and provide high-quality parts.
Considering these statistics and shift in dynamics, the market for automotive and off-road vehicle hoses is forecast to expandata healthy 5.4% CAGR over the coming 10 years. Demand for brake hoses and coolant hoses has been rising rapidly over the years, while demand for fuel hoses is expected to steadily increase over the coming years.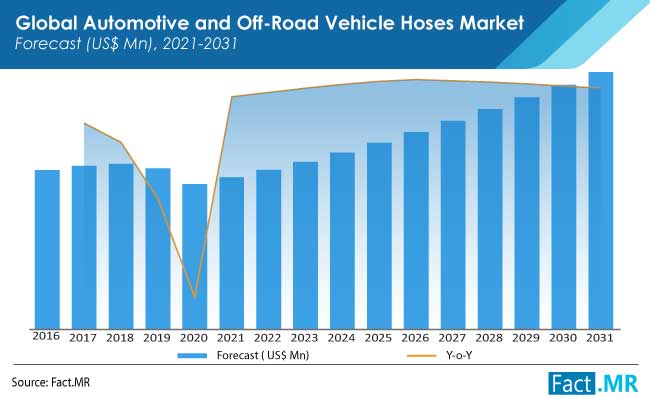 What are the Key Opportunities for Manufacturers of Automotive and Off-Road Vehicle Hoses?
Automotive and off-road vehicles hoses manufacturers are focused on manufacturing hose systems with high operational efficiency and long-lasting service life. Manufacturers are concentrated on collaborating with OEMs to offer their products as per requirements. Also, various suppliers and distributors are engaged in serving theaftermarket across the world.
Increasing demand from electric vehicles is also complementing market expansion. EVs require almost the same number of hose assemblies and hose connections as conventional vehicles, except the fuel hose.
More Insights, Lesser Cost (-50% off)
Insights on import/export production,
pricing analysis, and more – Only @ Fact.MR
What are the Roadblocks for Automotive and Off-Road Vehicle Hose Suppliers?
Automotive and off-road vehicle hose suppliers have been struggling with counterfeit products and supply of components through grey market trading. Counterfeit products lack quality and are a threat to vehicle and consumer safety.
With increasing stringent regulatory standards for automotive hoses, companies often use standard products by OEMs. Automotive manufacturing companies are not happy due to the additional cost of investment in research & development. This has had a ripple effect on overall product pricing of automotive and off-road vehicle hoses.
Will Sales of Automotive and Off-Road Vehicle Hoses Gain Traction Due to Rising Demand for Electric Vehicles?
EVs are becoming popular and increasing in number day by day in terms of production and sales. Electric hybrid vehicles require different types of hoses and fluid transfer systems. EVs draw power from large batteries that generate energy. Manufacturers use longer and narrower hoses for EVs than traditional automotive hoses.
EVs are equipped with battery cooling hose systems thatare around four meters long. The line for the battery cooling system in hybrid and electric cars is laid in the car's underfloor section. It is one of the major and important hose assembly systems in EVs.
Several manufacturers have launched new hoses for EVs in the past few years. These hoses have gained traction as they cater to changing consumer preferences with respect to application. These product launches have resulted due to changing OEM behavior regarding the use of products specific to vehicle categories.
Thus, automotive and off-road vehicle hose manufacturers are aiming to market their products for various vehicle types with altered technologies in the automotive industry.
Don't Need a Global Report?
Save 40% on Country & Region specific reports
How is Growing Traffic Congestion Expected to Drive Demand for Automotive and Off-Road Vehicle Hoses?
There has been significant growth in traffic congestion across the globe. In Europe and APAC, countries such as India, China, France, and Italy have started to witness heavy traffic congestion and smog formation due to large number of four wheelers and heavy vehicles present on the roads. This has contributed to increased demand for automotive hose replacement in the aftermarket.
Frequent traffic congestions will impact the service life of automotive hoses, due to frequent usage of various hoses at regular intervals, which would boost demand for automotive and off-road vehicle hoses over the coming years.
Which Region Offers the Largest Opportunity for Sales of Automotive and Off-Road Vehicle Hoses?
With an absolute dollar opportunity of around US$ 3.4 Bn, China is expected to be the most lucrative market for automotive and off-road vehicle hose suppliers. China is leading the Asian market, and is expected to witness a significant growth during 2021-2031.
With fast-paced growth of its economy and changes in lifestyle, Chinese consumers' inclination towards new automotive has grown in the recent past. The huge population in the country is creating opportunities for automotive manufacturers, mainly due to growing industrialization and urbanization.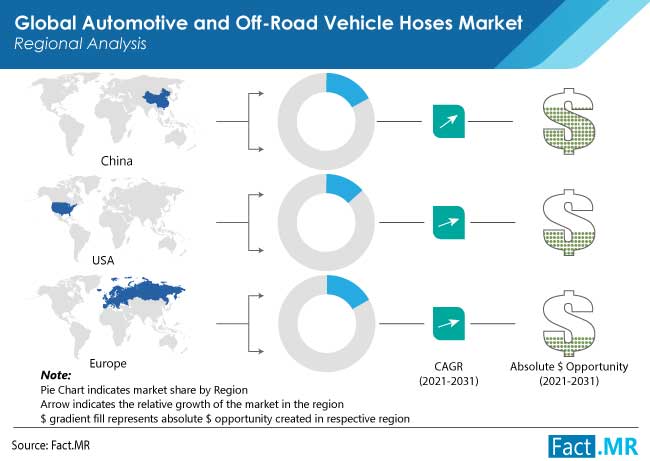 Country-wise Analysis
What's Driving the Automotive Vehicle Hose Market in the U.S.?
The U.S. holds over 16% market share, and it is likely to expand at a CAGR close to 5% over the forecast period. Due to substantial sales of automotive and off- road vehicle hoses in the United States, different market players have launched new dimensions and designs with added features in recent years.
Manufacturers are introducing products that are designed to last a long time, require little maintenance, and are rust-free throughout their lifetime. U.S. automotive hose manufacturers are relying more on product development, investments in manufacturing facilities, and research & development.
The U.S. also has a growing number of emerging and leading automotive hose manufacturers, which makes the country a leading market expanding at a steady rate.
What Makes Chinaa Hub for Automotive and Off-Road Vehicle Hoses Demand?
In 2020, China accounted for over 35% share of the globalmarket forautomotive and off-road vehicle hoses. The market in China is expected to expandat 5.6% CAGR over the projection period.
China has abundance of raw materials for the production of automotive hoses, which is why many major companies that make automotive hoses have set up manufacturing plants at various locations in the country. China does business with many countries such as the U.S., Japan, Germany, and others.
Category-wise Insights
Which Product Holds the Highest Growth Potential for Automotive and Off- Road Vehicle Hoses?
Hydraulic hoses, engine hoses, clutch hoses, and others account for around 30% share of the global market. These automotive and off-road vehicle hoses are divided into various categories based on application in various vehicle types, such as break hoses, fuel hoses, coolant hoses, air-conditioning hoses, steering hoses, other types.
The main reason for growth of the segment is large number of hoses used in construction and mining equipment. Hydraulic hoses are widely used for the movement of construction and mining equipment. There has also been high application of other type of hoses in various vehicle types.
With high investments, growing number of OEM manufacturers, and high replacement of hydraulic hoses in construction & mining equipment, the market is likely to see an upward trend over the coming years.
In Which Vehicles are Automotive and Off-Road Vehicle Hoses Most Used?
Passenger cars hold higher significance and accounted for more than 48% share of the global market in 2020. Different vehicle types are installed with various automotive hoses based on their handling capacity and application for regular operations.
The main reason for such a high share of this segment is rapidly growing demand for passenger cars across both, developed and developing economies. People are preferring to have their own vehicle over public transport, which is accelerating demand for passenger vehicles, and thereby hoses suitable for them.
Why Do Rubber Hoses Experience Highest Sales?
Rubber hoses held the highest market share of around 47% in 2020. Rubber and composite hoses offer long resistance and flexibility. Moreover, there is high requirement for efficient hoses thatoffer better operational efficiency and performance for vehicles. Thus, rubber hoses are expected to experience high sales over the coming years.
HowHas COVID-19 Impacted Sales of Automotive and Off-Road Vehicle Hoses?
COVID-19 has significantly hindered the sales of automotive and off-road vehicle hoses, as production declined in 2020 due to lockdowns imposed by various countries across the globe. The automotive and off-road vehicle hoses industry, which was growing at around 5.4% annually, witnessed year-on-year shrinking of nearly 10% in 2020 with the onset of COVID-19.
Sudden decline of production created a downfall in sales in the first two quarters of the year; however, manufacturers soon ramped up production in a few countries to meet rising demand. With disrupted distribution, manufacturers also increased their distribution reach to expand their sales across the globe.
Competitive Landscape
Majority of companies discussed in the report have focused onproduct launches and expanding their manufacturing units in developing regions. Strategies include innovation, collaborations with key players, partnerships, strategic alliances, and strengthening of regional and global distribution networks. Some of the key developments are:
Cooper Standard Automotive Inc. makes automotive hoses for powertrain and HVAC operations. The company has addressed temperature requirements of hoses while reducing weight with abrasion and corrosion protection properties of different types of automotive hoses. It uses EPDM integrated with plastic molded components for coolant hoses and brake hose components.
Hutchinson S.A., a manufacturer of automotive fluid management system components, uses all rubber hoses assembled with aluminum or steel tubes that are integrated with noise reduction systems. These hoses operate at high temperature with high thermal and chemical resistance.
Similarly, recent developments related to companies manufacturing automotive and off-road vehicle hoseshave been tracked by the team at Fact.MR, which are available in the full report.
Report Scope
Report Attributes

Details

Forecast Period

2021-2031

Historical Data Available for

2016-2020

Market Analysis

US$ Million for Value and Units for Volume

Key Regions Covered

Americas
Europe
Asia
Middle East & Africa
India
China
USA

Key Segments Covered

Product
Material
Vehicle
Sales Channel
Region

Key Companies Profiled

Continental AG
Sumitomo Riko Co. Ltd
Hitachi Ltd.
Toyoda Gosei Co. Ltd
Hutchinson S.A
Gates Corporation
Eaton Corporation plc
TI Fluid Systems
Nichirin Co. Ltd
Codan Rubber A/S
Key Market Segments Covered
By Product

Break Hoses
Fuel Hoses
Coolant Hoses
Air Conditioning Hoses
Vehicle Steering Hoses
Other Types

By Material

Rubber Automotive and Off-Road Vehicle Hoses
Silicone Automotive and Off-Road Vehicle Hoses
Fluoropolymer Automotive and Off-Road Vehicle Hoses
Other Material Types

By Vehicle

Passenger Cars
LCVs
HCVs
Two Wheelers
Three Wheelers
Construction & Mining Equipment
Tractors

By Sales Channel

By Region

Americas
Europe
Asia
MEA
India
China
USA