Carbon Dioxide Incubators Market
Carbon Dioxide Incubators Market Analysis By Product (Water Jacketed CO2 Incubators, Air Jacketed CO2 Incubators, Direct Heat CO2 Incubators), By Capacity (Below 100 Litres, 100-200 Litres, Above 200 Litres), By Application (Laboratory Research & Clinical Applications, In Vitro Fertilization), & By Region - Global Market Insights 2022-2027
Analysis of Carbon Dioxide Incubators market covering 30 + countries including analysis of US, Canada, UK, Germany, France, Nordics, GCC countries, Japan, Korea and many more
Carbon Dioxide Incubators Market Outlook (2022-2027)
Worldwide carbon dioxide incubator sales are anticipated to rise at a CAGR of 8.4% over the next five years. As a result, the global carbon dioxide incubators market is expected to climb from a valuation of US$ 323 million in 2022 to reach US$ 483.5 million by 2027.
Compared to water jacketed CO2 incubator sales, air jacketed CO2 incubator and direct heat CO2 incubator sales are expected to progress at impressive CAGRs. Air jacketed CO2 incubator sales are predicted to surge at a CAGR of 9% between 2022 and 2027.
Report Attributes

Details

Market Size (2022E)

US$ 323 Million

Forecasted Market Value (2027F)

US$ 483.5 Million

Global Market Growth Rate (2022-2027)

8.4% CAGR

China Market Value (2027F)

US$ 104 Million

Share in Incubator Market (2022)

75%

Key Companies Profiled

PHC Holdings Corporation
Thermo Fisher Scientific
Eppendorf AG
Sheldon Manufacturing Inc.
BINDER GmbH
Memmert GmbH Co.KG
Bellco Glass Inc.
LEEC Ltd
Shanghai Boxun Medical Biological Instrument Corp.
NuAire
Know thy Competitors
Competitive landscape highlights only certain players
Complete list available upon request
Demand Analysis of Carbon Dioxide Incubators (2017-2021) Vs. Market Forecasts (2022-2027)
Cell culture incubators or tissue culture incubators, also referred to as carbon dioxide incubators, are made to maintain and ensure a constant temperature & high humidity for the development of tissue culture cells in a carbon dioxide environment.
The carbon dioxide incubators typically have a temperature range of 40O to 50OC and a carbon dioxide concentration range of 0.3% to 19.9%. Either a water bath that flows through the cabinet's walls or electric coils that emit radiant heat should be used to regulate the temperature in carbon dioxide incubators.
For research and clinical labs that perform cell culture and tissue culture tasks, cell culture incubators are crucial pieces of equipment. Cell culture incubators can be used for routine tasks such as the cultivation of cells or specialised procedures such as IVF and stem cell treatments.
In vitro fertilization is becoming more and more popular, and government attempts to promote in vitro fertilization are all factors contributing to the growth of the global market for carbon dioxide incubators.
Cell culture development, tissue engineering, cancer and neurological research, and embryonic cell research are just a few of the uses for tri gas incubators. The rising rate of the elderly population, increasing chronic disease rates, increasing life expectancy, and increased spending power, all have a significant impact on the better use of CO2 incubators.
On the other hand, the rise in GMOs and the rising demand for CO2 incubators because of their ability to maintain consistent temperature will both provide plenty of opportunities for the market growth of CO2 incubators throughout the projected period.
According to Fact.MR, a market research and competitive intelligence provider, the global market for carbon dioxide incubators is expected to reach US$ 483.5 million by the end of 2027.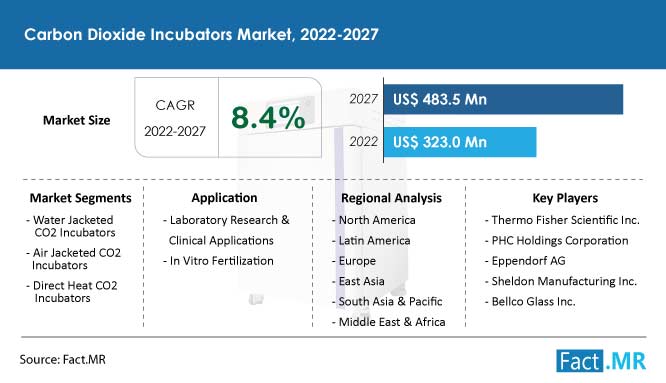 What are the Key Dynamics for the Growth of the CO2 Incubators Market?
"Temperature Control Quality Helpful in Embryo Conditioning Driving Sales of Carbon Dioxide Incubators"
As it creates and preserves an atmosphere that is beneficial for embryos, the carbon dioxide incubators market is anticipated to see several growth opportunities. It automatically maintains a 37-degree Celsius temperature and a 5% CO2 atmosphere (to control pH).
Since carbon dioxide incubators enable in vivo simulation of the conditions embryos experience in the uterus and fallopian tubes, sales of carbon dioxide incubators are expected to increase.
A CO2 cylinder that delivers gas is connected to an incubator. The CO2 and temperature are calibrated each day to ensure that the incubator is running properly. The market's main growth engines are these services that carbon dioxide incubators offer.
"IVF Treatment Procedures Highly Dependable on CO2 Incubators"
The effectiveness of IVF treatment in any fertility clinic is highly dependent on the use of carbon dioxide incubators in the IVF lab. Carbon dioxide incubator sales are increasing since they are essential for IVF procedures.
The carbon dioxide incubators feature tried-and-true contamination control methods, growth optimization techniques that encourage application versatility and user-friendly layouts that make data collection and operation simpler.
The market for carbon dioxide incubators is experiencing increased demand as a result of the rising popularity of IVF. Tissue culture CO2 incubator technology has progressed in a variety of ways over the past few decades.
One element that has evolved greatly is the insulation of the incubator walls. For a very long time, incubators have been evaluated on their ability to maintain the proper temperature for the cells/tissues growing inside of them. Maintaining a warm and well-insulated environment is essential for healthy cell growth.
Since cells need a steady temperature of 37°C to grow effectively, temperature variations might be harmful to cell development. Because they have become an essential tool for attaining temperature homogeneity, insulated CO2 incubator demand is growing.
"Advancements & Adoption of New Technologies Expanding CO2 Incubators Market Size"
Rising demand for lab-on-chip technology, increased use of microfluidics in industrial and biotechnological applications, and an increase in the use of human cells as therapeutic agents are some of the other factors boosting the revenue of the global CO2 incubator market.
Over the forecast period, the development of the CO2 incubators market is expected to be influenced by the increased efforts of CO2 incubator manufacturers to introduce advanced technologies and devices to the market, such as antimicrobial copper surfaces to prevent contamination or auto decontamination using heat.
Additionally, technological advancements and current market trends in the CO2 incubator market, such as door opening alarms, password-protected settings, auto decontamination cycles, over-temperature alarms, self-calibration, thermostats, and pre-set alarms are anticipated to drive the growth of the CO2 incubator market over the forecast period.
More Insights, Lesser Cost (-50% off)
Insights on import/export production,
pricing analysis, and more – Only @ Fact.MR
Which Factors are Adversely Influencing the Market Size of Carbon Dioxide Incubators?
"High Production Cost & Chances of Errors in Machines Slowing Down Carbon Dioxide Incubator Sales"
The market for carbon dioxide incubators may be negatively impacted by escalating incubator prices as well as the potential for critical mistakes by some machines. Incorrect carbon dioxide and humidity levels in the incubator may also affect cell growth and even threaten to stop it. These factors are all limiting the market expansion for carbon dioxide incubators.
Other problems include a lack of standardization in high-volume production, difficult technology transfer across international boundaries, and fragmentation across a range of different sorts of models with insufficient focus on certain product segments.
Why is North America a Dominant Market for Carbon Dioxide Incubators?
"Presence of Strong End-use Sectors in North America"
During the forecast period of 2022–2027, North America is anticipated to dominate the global carbon dioxide incubators market in terms of market share and revenue.
North America is anticipated to hold the largest share of the carbon dioxide incubators market due to an increase in the end-use sector of technologically sophisticated CO2 incubators with well-developed research centres and institutions.
Furthermore, rising respective governments' support, technological advancements, increased investments in cell-based research, rising cases of illnesses such as cancer, and rising regulatory approvals for vaccines based on cell culture are important factors driving the growth of the North America carbon dioxide incubators market.
The market for carbon dioxide incubators in European nations is anticipated to be driven by favourable regulatory guidelines, rising health care standards and government support for the production of vaccines using cell cultures, a growing concentration of global market players in developing European nations, and affordable manufacturing.
The production of vaccines is anticipated to increase at a profitable growth rate over the projected period as a result of the growing significance of culturing technologies for the manufacturing of highly contagious vaccines developed using pMK, Madin-Darby Canine Kidney, Vero, or human lines such as MRC 5 and HEK 293.
The COVID-19 pandemic has had a positive impact on the cell culture incubator industry since it is driving a faster vaccine permitting process and significant investments in vaccine manufacturing.
Due to rising healthcare spending, increased knowledge of cell and gene therapies, and significant potential for clinical research applications, the Asia Pacific region is expected to increase at the quickest CAGR during the next 5 years.
Also, during the projected period, the market expansion is anticipated to be aided by the increased usage of scientific technologies and novel therapeutics, such as cancer immunotherapies and regenerative medicines.
Country-wise Analysis
Why are Sales of Carbon Dioxide Incubators Surging in the U.S.?
"High Infertility Rates Promote Adoption of IVF Technology, Which Subsequently Boosts Carbon Dioxide Incubator Demand"
The United States is expected to dominate the North American CO2 incubators market during the projected timeframe. This may be attributed to increased research and development activities in the biotechnology and life science industries, as well as manufacturers concentrating on offering products based on unique and specific needs in the market for carbon dioxide incubators.
The most successful type of assisted reproductive technology (ART) is IVF.
According to CDC's 2019 Fertility Clinic Success Rates Report, 330,773* assisted reproductive technology cycles were carried out at 448 registered clinics in the United States in 2019. These cycles led to 77,998 live births (birth of one or more living newborns) and 83,946 live birth newborn babies. In 2019, 330,773 ART cycles were carried out, and 121,086 of those cycles involved embryo or egg banking, in which all of the resultant embryos or eggs were saved for later use.
Even though assisted reproductive technology is still not widely used compared to the expected demand, usage has increased significantly over the previous ten years. Approximately 2.0% of all babies born in the U.S. each year are the result of assisted reproductive technology.
As a result, market forecasts for carbon dioxide incubators are improving as the rate of infertility rises.
Furthermore, the market share of the U.S. in carbon dioxide incubators is anticipated to be fuelled by the strongholds of major market competitors in the nation.
How are IVF Procedures Offering Profitable Opportunities for Cell Culture Incubator Producers in India?
"Positive Shift in Attitudes towards IVF Pushing Sales of Cell Culture Incubators"
Due to rising infertility rates, an increase in IVF clinics, a shift in attitudes toward IVF, an increase in medical tourism, and greater awareness of IVF and its higher success rate, the demand for IVF has recently increased significantly across India.
In India, the prevalence of primary infertility is thought to range from 3.9% to 16.8% overall, according to an article in the National Health Portal (NHP) India.
Couples without children are choosing ART methods including in vitro fertilization as a result of this rise in infertility rates.
Similar to this, several domestic and regional IVF providers are growing their businesses by opening new IVF facilities around India, which would help the expansion of the fertility market in that nation.
For, instance, the first international-level fertility center, Mira IVF, opened in the Indian city of Indore in December 2021.
Thus, increasing demand for IVF treatment in India is expected to increase sales of carbon dioxide incubators, also known as cell culture incubators, which play an important role in the production cycle.
Category-wise Analysis
Why is Demand for Air Jacketed Incubators So High?
"Air Jacked Incubators Highly Demanded Due to Implementation of Advanced Technology & Presence of Multiple Benefits Compared to Water Jacketed Incubators"
Cell culture CO2 incubator technologies have developed in several factors over the past few years. The insulation of the incubation walls is one element that has significantly advanced.
Insulated incubators are a crucial piece of technology for maintaining optimum temperature consistency as a result.
One of the earliest insulation options for CO2 incubators to become commercially accessible was water jacketed incubators. This technology still uses hot water inside the walls of the incubator to keep the interior at a constant temperature.
Water jacketed carbon dioxide incubator demand has risen in the pharmaceutical and biomedical sectors as a result of design innovations and temperature stability.
Water jacketed incubators are also more prone to rusting from the inside out quickly if the unsuitable sort of specialized water is utilized. In many cases, this corrosion might go all the way through to the chamber, necessitating expensive repairs or complete disposal.
The air jacketed incubator is a new technology that was developed in response to issues with water jacketed incubators. In addition to being lighter than water jacketed systems, air jacketed systems also offered equal temperature homogeneity and quicker recovery following door openings. This is because air jacket incubators can modify the on/off cycles of the temperature depending on the air temperature inside the chamber after door openings.
Incubators with water jackets are unable to do this since they can only regulate the water's temperature. In addition, air jacketed incubators reduced the risk of contamination, which freed scientists from worrying about maintenance.
Many air jacketed incubators also include heating options for the incubator's front entrance. With the help of this innovation, condensation was reduced while there was more even heating and temperature distribution. Furthermore, air jacketed incubators allow for the use of both conventional decontamination techniques, such as high heat, and more effective ones, such as ultraviolet radiation and H2O2 vapour. Air jacketed incubators are a popular choice due to the necessity of GMP compliance and effectiveness.
Comparing air jacketed incubators to their water jacketed counterparts, air jacketed incubators frequently offer greater flexibility and better performance. Air jacketed incubators should be taken into consideration by labs that operate with delicate cultures or often utilise their incubator due to their quick temperature recovery and cleaning procedures. Air jacketed incubators excel in situations where efficiency and adaptability are essential due to their lightweight design and low maintenance needs. Air jackets are replacing water jackets due to advancements in technology.
Competitive Landscape
The carbon dioxide incubators market is moderately competitive as a result of a large number of small and big market rivals. Top companies in the CO2 incubators market are implementing product launch and expansion strategies to meet changing customer demands while preserving their brand reputation.
In May 2021, Esco introduced the CelCulture CO2 Incubator featuring High Heat Sterilization. This ground-breaking product employs a 180°C dry heat sterilization technique, which has been proven effective in eliminating resistant fungi, spoilage bacteria, and vegetative cells in the workspace.
A brand-new CO2 sensor for incubators that regulates and monitors the parameters for cell cultures, tissue samples, and bacterial development patterns was introduced in January 2020, according to CO2Meter Inc., a top producer of high-quality gas detection and monitoring products worldwide.
The high quality of IncuSafe CO2 Incubators is well known across the world. A highly accurate, secure, and user-friendly incubator is necessary to produce viable cell cultures. Wide selections of cell culture incubators are available from IncuSafe that use cutting-edge technology for unmatched temperature and CO2 (and O2 for some models) control for processing different cell cultures. These CO2 are incredibly dependable, viable, and offer long-term performance.
Key Segments in Carbon Dioxide Incubators Industry Research
By Product :

Water Jacketed CO2 Incubators
Air Jacketed CO2 Incubators
Direct Heat CO2 Incubators

By Capacity :

Below 100 Litres
100-200 Litres
Above 200 Litres

By Application :

Laboratory Research & Clinical Applications
In Vitro Fertilization
Others

By Region :

North America
Latin America
Europe
East Asia
South Asia & Oceania
MEA
- FAQs -
Global sales of carbon dioxide incubators are expected to surge at 8.4% CAGR from 2022 to 2027.
Currently, the carbon dioxide incubators market is valued at US$ 323 million.
The global market for carbon dioxide incubators is predicted to reach US$ 483.5 million by 2027.
North America is the leading market for the sales of carbon dioxide incubators.
Air jacketed incubator sales are expected to progress at an impressive CAGR of 9% through 2027.