CNS Therapeutics Market
Central Nervous System (CNS) Therapeutics Market Analysis by Segment (Pain Management CNS Therapeutics, Anti-psychotics, Anti-depressants, Anti-epilepsy, Anti-Alzheimer's, Anti-Parkinson's) And by Region - Global Forecast 2022-2026
Analysis of CNS Therapeutics market covering 30 + countries including analysis of US, Canada, UK, Germany, France, Nordics, GCC countries, Japan, Korea and many more
Central Nervous System (CNS) Therapeutics Market Outlook
The CNS therapeutics market stands at a valuation of US$ 116.7 Billion in 2022, and is expected to reach US$ 142.1 Billion by the end of 2026. CNS drug sales are projected to rise at a steady CAGR of 4.9% from 2022 to 2026.
Revenue from CNS drug sales in the United States is projected to be valued at US$ 36.1 Bn by the end of 2026.
Report Attributes

Details

CNS Therapeutics Market Size (2022)

US$ 116.7 Billion

Projected Year Value (2026F)

US$ 142.1 Billion

Global Market Growth Rate (2022-2026)

4.9% CAGR

United States Market Value (2026)

US$ 36.1 Billion

Key Companies Profiled

Allergan Plc.
AbbVie Inc.
Alkermes Plc.
AstraZeneca Plc.
Bristol-Myers Squibb
Eisai Co. Ltd.
Eli Lilly and Co.
Endo Pharmaceuticals Inc.
F. Hoffman-La Roche Ltd.
GlaxoSmithKline Plc.
H. Lundbeck A/S
Janssen Pharmaceuticals Inc.
Merck & Co. Inc.
Neurocrine Biosciences Inc.
Novartis AG
Otsuka Pharmaceutical Co. Ltd.
Pfizer Inc.
Purdue Pharma L.P.
Sanofi
Shire Plc.
Sumitomo Dainippon Pharma Co. Ltd.
Takeda Pharmaceutical Co. Ltd.
Teva Pharmaceutical Industries Ltd.
UCB Group
CNS drug companies are focusing on launching new drugs to expand their product portfolio and increase their sales amidst rising demand for CNS therapeutics on a global level. Rising prevalence of neurodegenerative diseases will also propel demand for brain therapeutics on a global scale.
Know thy Competitors
Competitive landscape highlights only certain players
Complete list available upon request
CNS Therapeutics Demand Analysis (2017-2021) in Comparison to Market Growth Forecasts (2022-2026)
Disorders and diseases related to the central nervous system (CNS) have increased in prevalence over the past few years and this trend has largely influenced the central nervous system therapeutics market potential.
CNS therapies are expected to gain popularity as their efficacy in the treatment of multiple CNS-related conditions is proved. Brain therapeutics are expected to see high demand owing to rising prevalence of neurological disorders.
Rising prevalence of CNS diseases, increasing healthcare expenditure, and rising research activities in CNS neuroscience and therapeutics are prime factors that influence the central nervous system (CNS) therapeutics market potential over the coming years.
Rising awareness regarding neurological disorders, increasing instances of lifestyle-related CNS disorders, and increasing levels of stress among the general population are other factors that guide the consumption of CNS therapeutics.
Regulatory bodies take more time to evaluate and approve CNS drugs than non-CNS drugs, and this is due to the complex nature of these drugs, high costs of CNS medications, and increasing instances of the side effects associated with the use of these drugs.
Demand for CNS therapeutics is projected to rise at a CAGR of 4.9% from 2022 to 2026.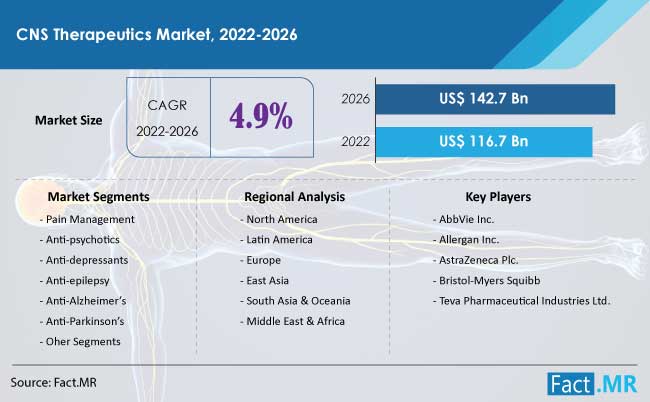 How are Lifestyle Changes Affecting CNS Therapeutics Market Potential?
"Poor Lifestyle Choices Increasing Risk of Neurodegenerative Disorders"
Lifestyle habits have changed drastically over the past few years and this has largely affected the overall health trends of the general population and given rise to multiple diseases owing to poor lifestyle choices.
CNS disorders have also increased in prevalence due to increased stress in the lifestyle of the general population. The world has also seen a hike in instances of Alzheimer's and Parkinson's diseases.
How are Regulatory Approvals Restricting CNS Therapeutics Demand?
"Longer than Usual Time Taken to Approve CNS Drugs Hampering Market Growth"
All drugs have to undergo a regulatory process to get approval for commercialization and general use. Regulatory bodies take longer time to approve CNS drugs than non-CNS drugs, which increases the time taken for these drug to reach the markets and increases the risks for CNS drug companies.
This factor is expected to lead several manufacturers to abstain from investing in CNS drug research and development owing to rising risks involved.
Will Cost of Drugs Influence CNS Therapeutics Market Potential?
"High Costs of CNS Drugs to Negatively Impact Sales Growth"
CNS drugs involve extensive research and development which incurs huge costs to CNS drug manufacturers and hence increases the pricing of the end product. Moreover, longer approval times increase the risk of investment, and hence CNS drug vendors price their products at high costs to recover their spending and keep the business running.
All of these factors adversely affect patients who purchase these CNS drugs and high costs even hamper sales of CNS drugs in regions with low spending potential.
Which Region Should CNS Drug Vendors Keep an Eye Out For?
"North America to Emerge as Highly Rewarding Market for CNS Therapeutics"
The market for CNS therapeutics in North America is anticipated to be a highly lucrative market over the forecast period. The increasing prevalence of CNS diseases and the rising geriatric population are projected to be major factors driving CNS therapeutics market growth in this region.
The United States and Canada are anticipated to be prime markets that CNS drug companies should focus on in this region. Increasing investments from the government and rising awareness of CNS disorders will also favor CNS therapeutics consumption in the aforementioned countries.
Increasing focus on the development of healthcare infrastructure in regions of South Asia and East Asia is expected to provide rewarding opportunities for top CNS drug pharma companies. Increasing focus on CNS pharmacology by pharmaceutical companies and governments is also expected to favor CNS therapeutics market potential in the aforementioned regions.
Shipments of CNS drugs in China are projected to progress at a CAGR of 8% from 2022 to 2026.
Country-wise Insights
What is the Outlook for the U.S. CNS Therapeutics Industry?
"Supportive Government Initiatives to Favor Demand for CNS Therapies"
Focus on mental health and CNS disorders has substantially increased in the U.S. over the past years and is projected to follow a similar trend through 2026.
Increasing geriatric population, rising instances of Alzheimer's, Parkinson's, increasing research activity, and rising government investments to increase awareness about CNS diseases are major factors that drive CNS therapeutics market potential in the U.S.
The market in the U.S. is expected to be worth US$ 36.1 Bn by the end of the forecast period.
Category-wise Insights
What Impact Will Increasing Instances of Alzheimer's Have on Market Growth?
"Anti-Alzheimer's Drugs to See High Demand Going Forward"
The incidence of Alzheimer's has seen a substantial rise over the past few years and is expected to continue this rise over the forecast period as well. Awareness of the disease is also expected to increase with efforts from government and pharmaceutical companies.
These factors will increase the demand for anti-Alzheimer's drugs and other brain therapeutics across the world through 2026.
How Did the CNS Therapeutics Market Perform During the Pandemic?
Emergence of COVID-19 led to major changes in healthcare trends across the world and had to a negative impact on the CNS therapeutics market. Focus was completely on the treatment and management of coronavirus infections and this led to negligence towards other diseases and hence resulted in a slowdown of CNS drug demand.
The CNS therapeutics market is projected to rise at a steady pace in the post-pandemic era as coronavirus infections recede and focus on other healthcare conditions returns back to normal. The increasing geriatric population will be mostly at risk of being affected by CNS diseases and will drive the consumption of CNS therapeutics through 2026.
Competitive Landscape
CNS drug manufacturers are increasing their investments in research and development activities in order to fast-track the development of novel treatment drugs.
Increasing CNS pharmaceutical clinical trials to test the efficacy of drugs will also play a crucial role in the launch of new drugs.
In April 2021, two leading names in the CNS therapeutics market - Otsuka Pharmaceuticals Co. Ltd. and H. Lundbeck A/S - announced the continuation of recruitment of new patients for their phase III clinical trials aimed at the treatment of Alzheimer's dementia. The clinical trial focuses on the use of brexpiprazole for the treatment of the aforementioned medical condition.
Key Segments Covered in CNS Therapeutics Industry Research
By Segment :

Pain Management CNS Therapeutics
Anti-psychotics
Anti-depressants
Anti-epilepsy
Anti-Alzheimer's
Anti-Parkinson's
Other Segments

By Region :

North America
Latin America
Europe
East Asia
South Asia & Oceania
MEA
- FAQs -
Consumption of CNS therapeutics is predicted to account for US$ 142.1 Billion by 2026.
From 2022 to 2026, the market for CNS therapeutics is anticipated to evolve at a CAGR 4.9%.
The U.S. is largest market for CNS therapeutics, and is anticipated to hold a market value of US$ 36.1 Bn by the end of 2026.
Over the forecast period, the China CNS therapeutics market is projected to surge ahead at CAGR of 8%.
In 2022, the global CNS therapeutics market stands at a valuation US$ 116.7 Bn.
Top CNS therapeutic drug manufacturers are AbbVie Inc., Alkermes Plc., AstraZeneca Plc., Bristol-Myers Squibb, Eisai Co. Ltd., Eli Lilly and Co., Endo Pharmaceuticals Inc., F. Hoffman-La Roche Ltd., GlaxoSmithKline Plc., H. Lundbeck A/S, Janssen Pharmaceu