Collagen and HA-based Biomaterials Market
Collagen and HA-based Biomaterials Market Analysis By Type (Facial Aesthetics Dermal Fillers, Viscosupplements, Viscoelastics, Wound Dressings), By Application (Food, Medicine, Cosmetics), & By Region - Global Market Insights 2022-2027
FACT7704MR
Sep-2022

List of Tables : 25

List of Figures : 132

170 Pages
Collagen and HA-based Biomaterials Market Outlook (2022-2027)
The global collagen and HA-based biomaterials market is set to enjoy a valuation of US$ 8 billion in 2022 and further increase at a CAGR of 6% to reach US$ 10.8 billion by the year 2027.
Sales of facial aesthetics dermal fillers are predicted to increase faster at a CAGR of 6.5% and reach a market size of US$ 5.5 billion by 2027.
Report Attributes

Details

Collagen and HA-based Biomaterials Market Size (2022E)

US$ 8 Billion

Forecasted Market Value (2027F)

US$ 10.8 Billion

Global Market Growth Rate (2022-2027)

6% CAGR

China Market Growth Rate (2022-2027)

9% CAGR

Share in Biomaterials Market (2022)

20%

Key Companies Profiled

Alcon Laboratories Inc.
Allergan plc
Anika Therapeutics Inc.
Bausch & Lomb Inc.
Collagen Solutions Plc
Galderma S.A.
Lifecore Biomedical LLC
Sanofi US
Seikagaku Corporation
Teijin Pharma Limited
Interested to Procure The Data
Sales Analysis of Collagen and HA-based Biomaterials (2017-2021) Vs. Market Predictions (2022-2027)
One of the most common protein types in the human body is collagen, which has seen a significant increase in application in tissue engineering due to its accessibility, biodegradability, adaptability, and biocompatibility.
Exogenous hyaluronic and hyaluronan-based biomaterials have been successfully used in a variety of medical fields, including dermatology, rheumatology, and ophthalmology, as well as in wound healing and cosmetic procedures.
Biomaterials are one of the most significant materials utilised in pharmaceutical and healthcare industries. Due to their widespread availability and biocompatibility, collagen and HA-based biomaterials are frequently employed in bone tissue engineering. The development of prosthetics, the food industry, personal healthcare, and regenerative medicine all have potential uses for collagen and HA-based biomaterials. Collagen-based biomaterials for wound healing are an effective treatment method.
The global market for collagen and HA-based biomaterials is expected to experience healthy growth over the forecast period due to factors including an increase in cosmetic surgeries across the globe, technological developments, the introduction of advanced collagen-based products in industrialized regions, rise in the prevalence of joint disorders globally, and the knowledge of benefits that HA-based biomaterials provide.
Expanding at a CAGR of 6%, the global collagen and HA-based biomaterials market is projected to reach a valuation of US$ 10.8 billion by 2027, says Fact.MR, a market research and competitive intelligence provider, in its recent study on the global collagen and HA-based biomaterials market.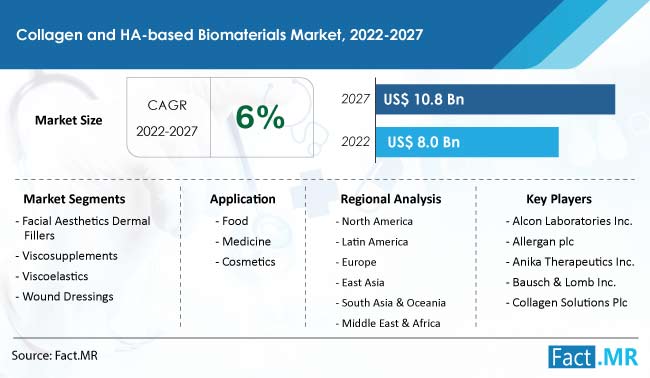 What is Enhancing the Collagen and HA-based Biomaterials Market Share?
"Huge Arthritis Patients Populace Moving towards Viscosupplementation"
During viscosupplementation, a gel-like material (hyaluronic acid) is pushed into the kneecap, which helps to reduce pain in joints. Companies that produce viscosupplementation devices are scrambling to create and obtain new drug approvals for the treatment of elbow, hip, and knee osteoarthritis.
Viscosupplementation for knee osteoarthritis is projected to be a key growth driver, followed by hip osteoarthritis. The major justification is that viscosupplementation can reduce the chances of knee surgery.
Anti-inflammatory medications now include viscosupplementation. Manufacturers are concentrating their efforts on creating and promoting innovative viscosupplementation solutions in response to the rising demand for viscosupplementation devices.
Furthermore, as the elderly are more prone to musculoskeletal disorders such as osteoarthritis, the expanding senior population worldwide with joint disorders would stimulate market expansion for collagen and HA-based biomaterials over the anticipated timeframe.
"Rapid Rise in Number of Cosmetic Surgeries"
The market has been growing over the last few years as millennials' enthusiasm for fitness increases. During the projection period, it is projected that both the technological development of cosmetic surgery devices and the increased demand for less invasive procedures would considerably promote market growth.
The American Society of Plastic Surgeons estimates that 13,281,235 cosmetic minimally-invasive surgeries were carried out in the country in 2020.
Furthermore, it is projected that the launch of new cosmetic products in the sector will significantly fuel the collagen and HA-based biomaterials market growth.
For instance, the RHA (resilient hyaluronic acid) collection of fillers was launched by Revance.
These elements, combined with rising public awareness and the trend of cosmetic surgery, are projected to propel the market for collagen and HA-based biomaterials over the coming years.
What Challenges are Faced by Companies in the Collagen and HA-based Biomaterials Market?
"Religious Beliefs Affecting Collagen and HA-based Biomaterials Business"
Religious and cultural views are progressively impeding the adoption and acceptance of collagen and hyaluronic acid-based biomaterials as animal-derived components, particularly in the case of collagen sources, becoming more and more a part of healthcare.
Pigs and cows are excellent sources of collagen, but the use of products manufactured from these sources is challenging in various regional markets due to religious beliefs, which has a detrimental effect on the expansion of the worldwide market for collagen and HA-based biomaterials.
An Adaptive Approach to Modern-day Research Needs
Why is Asia Pacific Emerging as a Profitable Market for Collagen and HA-based Biomaterials?
"High Number of Chronic Arthritis Cases & Anti-ageing Cosmetic Surgeries in Asia Pacific"
Concerning the market for collagen and HA-based biomaterials, North America is in the lead, followed by Europe. Rising incidence of various skin diseases, creation of technologically sophisticated collagen-based biomaterials, use of single-injection viscosupplements, and the rising desire of people to maintain good health as they age are some of the main drivers of market expansion in these regions.
The Asia Pacific is among the most profitable market for the growth of collagen and HA-based biomaterials. High market penetration, rising collagen demand for bone tissue regeneration in developing regions, an increase in the number of elderly people suffering from chronic arthritis as a result of high population density in countries such as China and India, an increase in the need for people to choose anti-ageing treatments to improve their physical appearance, and rising spending power of the populace are the main factors driving the collagen and HA-based biomaterials market growth in Asia Pacific.
Country-wise Analysis
What is Supporting U.S. Collagen and HA-based Biomaterials Market Growth?
"Awareness Initiatives Regarding Collagen and HA-based Biomaterials by Government & Private Organizations"
Due to efforts made by numerous governmental and private organisations, the United States currently dominates the North American market and is anticipated to hold the highest revenue share in 2022.
These organisations comprise the National Science Foundation and the National Institute of Standards and Technology, which offer advice and information on the use of biomaterials in biological applications. The usage of biomaterials and collagen in biological applications in this nation has increased as a result of such initiatives.
The U.S. market share has also been influenced by other elements such as favourable government policies, high trend of cosmetic surgeries to look good, and the existence of several significant market participants in this nation.
What is the Outlook for Cosmetic Treatment in China?
"Advancement of Dermal Fillers Complementing China's Collagen and HA-based Biomaterials Market Expansion"
The China market for collagen and HA-based biomaterials is anticipated to benefit over the coming years due to the rising demand for anti-ageing cosmetic operations. The ongoing advancements of dermal fillers present a lucrative business opportunity for China market.
Players in the nation are also making several efforts to improve their market positions.
For instance, China National Biotech Group Company Ltd. (CNBG) and Croma Pharma GmBH established a joint venture agreement in China in September 2020. The strategy is anticipated to increase the company's footprint in China and boost sales throughout the anticipated time frame.
Thus, the above factors are contributing to the sales of collagen and HA-based biomaterials in the country.
Category-wise Analysis
Why is Demand for Facial Aesthetics Dermal Fillers So High?
"Craze to Look Good Driving Popularity of Facial Cosmetic Surgeries"
The need for cosmetic procedures has grown significantly in the current world, particularly non-invasive cosmetic surgeries such as dermal fillers. To obtain a cosmetic result, these gel-like materials are also injected under the skin of the face. Dermal fillers are utilized for a variety of purposes, including the treatment of acne scars, wrinkles, and facial lines.
These treatments are anticipated to increase the number of cosmetic procedures performed as people's spending power on self-care is increasing around the world, particularly in emerging nations. Furthermore, the ultimate taboos linked with cosmetic procedures have been greatly diminished by the growing understanding of filler procedures. The adoption of these products is anticipated to be strongly influenced by such shifts in mindsets.
Several companies that manufacture facial injectable dermal fillers have made considerable research and development investments in response to these promising market growth trends. These R&D endeavours have produced a significant number of dermal filler products with significantly better aesthetic results.
During the projected period, these dermal filler product introductions are also anticipated to have a significant positive impact on collagen and HA-biomaterial market expansion. Therefore, increased demand for facial cosmetic procedures as well as the launch of new products with a variety of applications will significantly fuel the demand for facial aesthetics dermal fillers over the forecast period.
Avail customized purchase options for your needs
Competitive Landscape
Major firms in the collagen and HA-based biomaterials market are focusing on creating advanced biomaterials. They are also employing growth strategies such as mergers and acquisitions, new product launches, partnerships, and more.
The competitive landscape section includes key global growth strategies, market dominance, and market ranking analysis of major companies such as Galderma Laboratories L.P., Bausch Health Companies Inc., Anika Therapeutics, Inc., Collagen Solutions Plc, Abbott Laboratories, Johnson & Johnson Services, Inc., Allergan plc, Sanofi, and BioCell Technology LLC.
A global unique developmental and commercialization contract for dermal and soft tissue filler solutions was signed by CollPlant Biotechnologies (NASDAQ: CLGN) and Allergan Aesthetics, an AbbVie company, in February 2021.
In February 2020, Anika Therapeutics, Inc., a leading privately held provider of joint surface and preservation solutions for active patients, announced the acquisition of Arthrosurface. Anika Therapeutics, Inc. is a global, integrated joint regenerative and preservation therapies manufacturer.
Allergan Aesthetics, an AbbVie corporation, announced the release of the SkinMedica® Neck Correct Cream in April 2021. This is the first item in the line's skilful skincare collection designed to treat the unique anatomy of the skin on the neck and decolletage. The SkinMedica® Neck Correct Cream was created for both, curing and preventing the initial signs of mild to serious neck degeneration.
Collagen and HA-based Biomaterials Industry Research Segments
By Type :

Facial Aesthetics Dermal Fillers
Viscosupplements
Viscoelastics
Wound Dressings
Others

By Application :

By Region :

North America
Latin America
Europe
East Asia
South Asia & Oceania
MEA