Couplings Market
Couplings Market Analysis, By Type (Elastomeric, Metallic, Mechanical), By Application (Power Generation, Metal & Mining, Papermaking, Automotive, Healthcare, Aerospace & Defense, Oil & Gas), & By Region - Global Market Insights 2023 to 2033
Analysis of Couplings Market Covering 30+ Countries Including Analysis of US, Canada, UK, Germany, France, Nordics, GCC countries, Japan, Korea and many more
Couplings Market Outlook (2023 to 2033)
The global couplings market is valued at US$ 1.3 billion in 2023 and is expected to reach US$ 1.7 billion by 2033. This is because worldwide sales of couplings are predicted to increase steadily at a CAGR of 3% through 2033.
A coupling connects two shafts at their ends for transmitting power. Coupling devices are primarily employed to connect two parts of rotating shafts while accommodating some amount of end motion, misalignment, or both. On a more comprehensive scale, coupling may refer to a mechanical mechanism that connects the ends of interconnected components or objects.
Couplings are designed to prevent the separation of shafts during operation. However, certain torque-limiting couplings are capable of slipping or disconnecting when a predetermined torque limit is surpassed. By carefully selecting, installing, and maintaining couplings, maintenance time and expenses can be reduced.
Elastomeric couplings, metallic couplings, mechanical flexing couplings, safety couplings, flexible couplings, rigid couplings, motor couplings, and hydraulic couplings are some of the types of couplings. Elastomeric couplings are a type of connection that transmits torque and is made up of a flexible, elastic material. The purpose of this coupling is to let the elastic wear down first and then the metal parts.
Worldwide sales of elastomeric couplings are expected to increase at a CAGR of 4% from 2023 to 2033.
Elastomeric couplings offer beneficial operational characteristics including high displacement tolerance and vibration attenuation. According to user demand, elastomeric couplings are also sold with specific design options for specialized uses. It has been proven that elastomeric couplings have a longer lifespan than conventional couplings.
Industries and automobile manufacturers require production equipment that calls for elastomeric couplings to be installed as a crucial component in the gearbox and conveyor units. Sales of elastomeric couplings are anticipated to be driven by the rapid development of industrial sectors and increasing automotive production in low-income countries.
Heavy equipment industries have a higher need for elastomeric couplings because they effectively isolate high-frequency noise between both the engine and downstream components. The wide use of elastomeric couplings in power transmission to industrial machinery such compressors, conveyors, pumps, blowers, and mixers further is driving demand for elastomeric couplings.
The development of couplings with a wide range of torsional stiffness and high torque transmission capacity is also contributing to their sales. Due to its ease of installation and capability to accommodate a wide range of shaft gaps, the jaw-type coupling is a commonly used coupling device.
Report Attributes

Details

Market Size (2023E)

US$ 1.3 Billion

Forecasted Market Value (2033F)

US$ 1.7 Billion

Global Market Growth Rate (2023 to 2033)

3% CAGR

China Market Growth Rate (2023 to 2033)

4.5% CAGR

Japan Market Growth Rate (2023 to 2033)

2% CAGR

Germany Market Growth Rate (2023 to 2033)

2.5% CAGR

Canada Market Growth Rate (2023 to 2033)

2.5% CAGR

Key Companies Profiled

ABB Ltd.
Altra Industrial Motion Corporation
Boston Gear
Challenge Power Transmission Ltd
Anmark
Camozzi Industries spa Societa Unipersonale
Bea Ingranaggi SpA
Chr. Mayr GmbH + Co. KG
ALMA driving elements GmbH
ComInTec
Colder Products Company
Colly Flowtech
AMG-PESCH
Arestho
Don't Need a Global Report?
save 40%! on Country & Region specific reports
Which Factors are Contributing to Increased Sales of Couplings across the World?
"Growing Demand for Electric Vehicles benefiting Manufacturers of Couplings"
The rapidly developing automotive industry is boosting sales of coupling devices. Due to increasing global freight, transportation, and construction operations, there is a growing need for electric vehicles. Demand for electric vehicles is expected to increase through 2033 due to the stringent regulations governing pollution, electrification, and alternative energy sources as well as the emergence of autonomous vehicles.
With the increasing global shift towards green transportation, companies involved in goods transportation are replacing their existing fleet with electric vehicles. Electric vehicle manufacturers are also planning to introduce more electric trucks in response to the growing demand for them.
In January 2020, Dana Incorporated and Peterbilt Motors Company announced their partnership for the development of the Model 220EV electric cars. The Model 220EV provides a range of 100 to 200 miles, and its high-energy-density batteries can be fully charged in just 60 minutes using the vehicle's DC fast-charging technology, making it suitable for local pickup and delivery, as well as short-haul operations.
Demand for automotive fifth-wheel couplings is anticipated to rise due to the increasing necessity to safeguard heavy vehicles from overloading. Demand for automotive couplings is anticipated to grow from 2023 to 2033 as they help reduce vibration and protect shafts from wear and tear.
"Increasing Use of Coupling Agents in Automobile Industry"
To improve the interfacial interaction between fibers or particles and the matrix polymer, coupling agents are substances that chemically link two dissimilar species. To facilitate simple bonding with the polymer chains, these compounds effectively alter the surface functionality of the filler.
Vehicle manufacturers are focusing on improving fuel efficiency and vehicle safety. The use of silicone elastomers in tire manufacturing increases fuel efficiency. Manufacturers often recommend coupling agents to reduce rolling resistance and boost traction in slick or wet conditions.
"Utilization of Gear Couplings Increasing in Heavy Engineering"
Gear couplings are becoming increasingly popular due to their expanding use in high-speed and high-torque applications. The rising demand for gear couplings can be attributed to their numerous advantages, including high torque density and torsional stiffness, which enable them to withstand minor shaft misalignments.
They are extensively utilized in high-speed sectors such as the oil and gas, mining, metal, and heavy equipment industries due to their high torsional rigidity. Gear couplings can reduce vibrations and small-scale shocks in high-speed equipment such as centrifugal pumps. These benefits are increasing the utilization of gear couplings across a wide range of sectors, which is driving the growth of the couplings market.
"Production of Efficient and High-quality Industrial Couplings Increasing to Expedite Industry 4.0 Implementation"
Industrial couplings are used to connect two spinning pieces of machinery at their ends and transfer electricity, with some degree of end mobility and misalignment between the shafts. An industrial coupling is a critical and indispensable component of any industrial or electrical machinery's rotation mechanism.
Companies are moving towards Industry 4.0 to raise efficiency and part quality, which is giving coupling vendors a chance to increase production and meet the escalating demand from industrial applications. Several changes are being made to hasten the implementation of Industry 4.0.
For instance, 13 new manufacturing facilities have joined the World Economic Forum's Global Lighthouse Network as pioneers in implementing technologies from the Fourth Industrial Revolution to boost productivity and efficiency.
What Can Restrict Demand for Couplings to Some Extent?
"High Maintenance Costs of Couplings Limiting Their Demand"
The market for couplings may be hampered by coupling failure brought on by faulty linking, poor coupling selection, and usage beyond design limitations. Also, it is anticipated that high maintenance costs may limit the sales of couplings.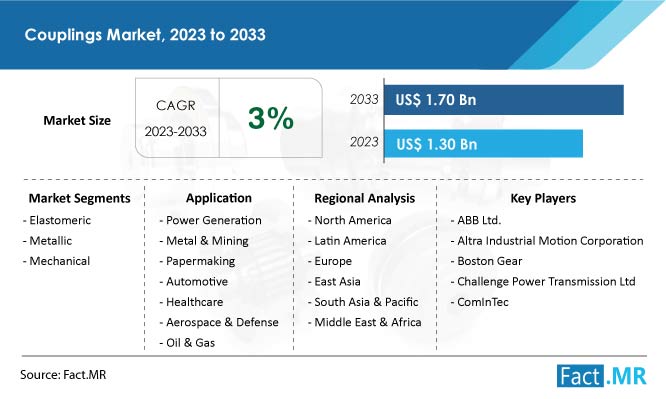 Country-wise Analysis
What is the Demand Outlook for Couplings in the United States?
"Growth of Aerospace & Military Sectors Driving Demand for Couplings"
Sales of couplings are anticipated to increase at a healthy pace in the United States during the next 10 years due to the rapidly advancing aerospace and defense sectors. The United States is home to the top exporters and producers of defense products in the world. Close-coupled couplings and flexible shaft couplings are some of the coupling types used in aerospace applications.
For the fiscal year 2022, the Department of Defense (DoD) was authorized a budget of around US$ 722 billion, representing an increase of US$ 17 billion from the budget for the fiscal year 2020, which was US$ 705 billion. The proposed budget for the DoD for the fiscal year 2023 from the President is expected to be approximately US$ 773 billion.
The budget is primarily focusing on advancements that enhance the country's competitive capabilities in the air, sea, and ground battlespace sectors.
Although the most recent space research programs have been conducted by some private businesses, there are ongoing debates on making the Space Force the sixth branch of the United States military. This is expected to boost public sector spending on space technologies during the forecast period.
Which Sector Accounts for High Sales of Couplings in Japan?
"Increasing Use of Couplings in Solar Energy Applications"
Solar energy is a type of renewable energy that is generated by converting energy from the sun. After passing through the Earth's atmosphere, the majority of sunlight that reaches the surface is composed of visible light and infrared radiation. Solar cell panels are used to convert these forms of energy into electricity.
Rubber couplings are commonly employed to connect solar pool heater panels to both PVC piping and each other in a series. Sales of couplings in Japan are expected to progress at a CAGR of 2% during the next 10 years.
Japan is currently leading the way in ground-mounted solar photovoltaic (PV) development, with companies like Mitsubishi and Toshiba driving the industry forward. The adoption of policy reforms such as FiT, combined with a growing focus on meeting capacity targets, is expected to further boost the solar PV market.
Japan intends to raise its installed solar capacity to approximately 108 GW by 2030 as part of efforts to lower the proportion of nuclear energy in its energy mix.
How is Demand for Couplings Evolving in Germany?
"Technological Advancements in Healthcare Systems Driving Need for Couplings"
Medical couplings are used in hospitals, clinics, and medical centers for equipment such as blood pressure monitors, dialysis machines, and computer tomography. In the operating room, safety couplings are also employed to deliver breathing air or surgical gases safely and efficiently.
Cleanliness, usability, and safety are critical in various healthcare and laboratory applications. Therefore, major market participants have long been dedicated to developing specialized medical coupling sockets and plugs for medical air and gases to meet the strict requirements of medical, dental, laboratory, and analysis technologies.
Germany is considered to have well-established healthcare facilities. The presence of major pharma and biotech companies in this country is expected to boost sales of safety couplings. Demand for couplings in Germany is expected to increase at a CAGR of 2.5% from 2023 to 2033.
More Insights, Lesser Cost (-50% off)
Insights on import/export production,
pricing analysis, and more – Only @ Fact.MR
Category-wise Analysis
Which Sector is the Primary User of Couplings?
"Fast-growing Automobile Industry Driving Sales of Couplings Worldwide"
The automotive industry requires various tools to measure and secure vehicles onto troughs, which results in high demand for couplings. Also, the increasing use of electric vehicles across the globe is expected to generate several potential growth opportunities in the couplings market.
One of the major trends in the automobile industry is the downsizing of engines and their components, along with a focus on achieving high fuel efficiency and improved engine performance. Additionally, regulations such as BS-VI, EURO 6, and CAFE (Corporate Average Fuel Economy) as well as those enforced by the US EPA (Environmental Protection Agency) have become increasingly stringent, imposing significant fines on manufacturers who fail to meet the required mpg (miles per gallon) standards.
The aforementioned elements prompt automakers to produce better vehicles with high fuel efficiency and lower emissions. Anticipated sales growth in the automotive coupling industry is expected to be driven by the use of superior alloys with excellent tensile strength.
Competitive Landscape
Rapid industrialization and growth in the healthcare industry as well as the aerospace & defense sectors are encouraging key players in the couplings market to develop advanced devices to meet end users' demand, which is further boosting their profits.
According to Fact.MR, a market research and competitive intelligence provider, leading companies in this market are following several organic and inorganic marketing tactics to maintain their market position.
In June 2022, KTR Systems GmbH revealed the development of its newly developed Rotex family intermediate shaft couplings. These aluminum shaft couplings are designed to support shaft lengths of up to 4,000 mm.
Couplings Industry Segmentation
By Type :

Elastomeric
Metallic
Mechanical

By Application :

Power Generation
Metal & Mining
Papermaking
Automotive
Healthcare
Aerospace & Defense
Oil & Gas

By Region :

North America
Latin America
Europe
East Asia
South Asia & Oceania
MEA
- FAQs -
The global couplings market is estimated at US$ 1.3 billion in 2023.
Worldwide demand for couplings is projected to reach US$ 1.7 billion by 2033.
Sales of couplings are forecasted to increase at a CAGR of 3% from 2023 to 2033.
Couplings are most widely used in the automobile industry.
ABB Ltd., Altra Industrial Motion, and Boston Gear are some of the leading manufacturers of couplings.