Rice Syrup Market
Rice Syrup Market Analysis by Product Type (Conventional, Organic Rice Syrup), by Dextrose Equivalent (28 DE, 42 DE, 45 DE, 60 DE), by Source (White Rice, Brown Rice), by Function, by Maltose Content, by Form, by Application & Regional Forecast 2022-2032
Analysis of Rice Syrup market covering 30 + countries including analysis of US, Canada, UK, Germany, France, Nordics, GCC countries, Japan, Korea and many more
Rice Syrup Market Outlook (2022-2032)
Global demand for rice syrup (volume) enjoyed year-on-year (YoY) growth of 2.9% in 2021 to reach 307.6 kilo tons. Overall, sales of rice syrup are predicted to increase at a CAGR of 4.5% and reach a market valuation of US$ 1.09 Bn by the end of 2032.
Report Attributes

Details

Rice Syrup Market Size (2021A)

US$ 674.7 Mn

Estimated Market Value (2022E)

US$ 702.0 Mn

Forecasted Market Value (2032F)

US$ 1.09 Bn

Global Market Growth Rate (2022-2032)

4.5% CAGR

North America Market Share (2021)

~47.6%

North America Growth Rate (2022-2032)

4.3% CAGR

U.S. Growth Rate (2022-2032)

4.4 % CAGR

Top 5 Companies' Market Share

~34%

Key Companies Profiled

ABF Ingredients, Ltd
Archer-Daniels-Midland Company
Axiom Foods, Inc.
Bharat Glucose Pvt. Ltd.
California Natural Products Inc.
Cargill Incorporated
Ciranda
Gehl Food
Glucorp
GoMacro LLC
Gulshan Polyols Ltd.
Habib Rice Products Ltd.
IFPC
Lundberg Family Farms
Matco Foods Limited
Nature Bio-Foods Ltd
naVitalo
Om Foods Inc.
Shafi Gluco Chem (Pvt) Ltd
Sweet Additions
Windmill Organics Ltd.
Wuhu Deli Foods Co., Ltd.
Wuhu Haoyikuai Food Co., Ltd
As per the detailed analysis by Fact.MR, rice syrup consumption is anticipated to account for nearly 10% of the global syrup market value during 2022-2032.
Rice syrup is used in a variety of traditional Asian dishes. In South Korea, brown rice syrup, also known as ssal-jocheong, is used as a natural sweetener to give foods a glossy finish.
Rice syrup is used as a sweetener as well as a colorant and a binding agent due to its sticky texture and sugar charring. The Korean Wave has sparked the growing adoption of Korean culture in around 88 countries, promoting rice syrup consumption all across the world.
Don't Need a Global Report?
save 40%! on Country & Region specific reports
Rice Syrup Consumption Analysis (2017-2021) Vs. Market Growth Trends (2022-2032)
As per latest market analysis by Fact.MR, a market research and competitive intelligence provider, market value for rice syrup over the past half-decade grew at a CAGR of around 1.5%. In 2021, the rice syrup market stood at around 307.6 kilo tons.
Rice syrup consumption in bakeries and confectioneries accounts for the highest market share, which is mainly attributed to the properties of rice syrup such as lesser fructose content and easier digestible nature in comparison to refined sugars.
Brown rice syrup, rich in several compounds, has been gaining popularity as more people seek fructose-free goods. Brown rice syrup is a nutrient-dense sweetener derived from cooked brown rice fermentation. It is made up of maltotriose, glucose, and maltotriose, all of which stimulate appetite-suppressing hormones in the body. Rice syrup producers have been using this as a marketing tool, selling it as a healthier alternative to refined sugar.
In addition, over the past decade, there has been a move towards a healthier lifestyle, especially in the European and American regions. Consumption of rice syrup in these regions is projected to see significant growth. This can be attributed to rising awareness towards the importance of vegan lifestyle and the overall changing trend of adopting alternatives to refined sugar, which has inevitably benefitted rice syrup sales in the past, and is anticipated to continue impacting sales in the future as well.
Thereby, projections are that, demand for rice syrup in confectioneries and bakeries is poised to drive the rice syrup market size to greater heights, with the overall market slated to expand at 4.5% CAGR through 2032.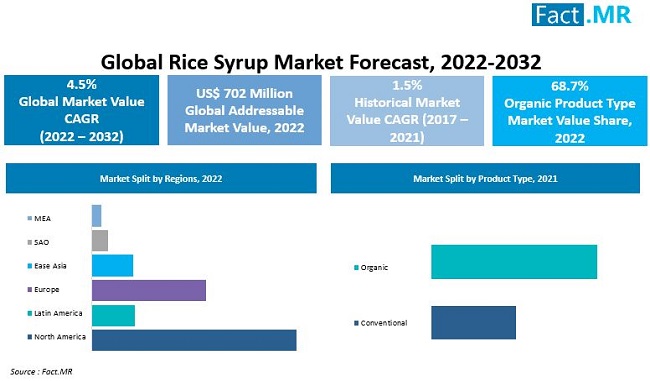 Which Factors are Set to Drive Rice Syrup Consumption Over the Coming Years?
"High Rice Syrup Usage in Baking Sector"
Rice syrups are available in a variety of colors, including water-white, white, amber, light amber, and dark amber, due to the quality of rice and filtration procedures. This has enhanced its use in the baking industry. It gives the crumb and crust the color of choice and can also caramelize throughout the baking process.
"Rising Demand for Brown Rice Syrup in F&B Sector"
Additionally, brown rice syrup also supplies fibre as well as the daily necessary 3 percent salt and potassium. These physical characteristics provided by additive products are becoming increasingly essential as the food industry places greater emphasis on food presentation. The ability to choose colors makes the product more appealing to a wider audience.
"Rising Popularity of Rice Syrup as Alternative to Sugar"
Besides, immune damage, increased cancer vulnerability, early senescence, mental disease, insulin-related illnesses, etc., are only a few of the negative consequences of refined sugar consumption. Refined sugar has also been shown to leach calcium, potassium, magnesium, and sodium from the body, causing bone and tooth density to deteriorate.
Sugar consumption releases dopamine in the brain, making it addicting despite all the harm it brings to the body. The sugar alternatives business has been propelled forward by expanding research resources and increasing public awareness of the need to avoid sugar. This has provided an uptick growth in the demand for the product, thus boosting the sales of rice syrup.
More Insights, Lesser Cost (-50% off)
Insights on import/export production,
pricing analysis, and more – Only @ Fact.MR
Country-Wise Analysis
What Makes Europe a Prominent Consumer of Rice Syrup?
"High Consumption of Packaged Food & Awareness Regarding Healthy Sugar Alternatives"
Europe has inevitably remained a big consumer of packaged products, with a majority of its working population consuming packaged food products. These packaged cereal and energy bars, ice creams, and desserts have remained the primary consumers of HFCS and glucose syrups acting as a sweetening agent.
However, in recent times, consumers have started to move towards healthier alternatives of sugar and HFCS, and are looking towards rice syrup as an alternative to sugar syrups. It is utilized as a tabletop sweetener for health drinks and beverages in various parts of the region.
Brown rice syrup is predicted to see considerable growth in demand throughout the projection period due to its relatively lesser sweet taste and rich nutty flavor, as well as a growing health-conscious population.
Global consumption of calories is expected to double within the next 25 years, which will demand two to three times the volume of the current sugar produced. Additionally, organic rice, being environmentally sustainable, is gaining rapid momentum. Organic rice syrup thus poses new opportunities for manufacturers.
Owing to the above-discussed factors, the Europe rice syrup market is poised to provide a high absolute dollar opportunity worth US$ 111.7 Mn, with Germany leading of rice syrup consumption across the region.
Why is the U.S. Market for Rice Syrup Maturing Rapidly?
"High Demand for Clean Label and Organic Products"
The U.S. market for sweeteners has been maturing at a rapid pace, owing to the presence of a population with high-income levels along with better awareness among the working population towards syrups.
The processed food market is predicted to develop significantly in the future as a result of a rapidly increasing working population. Over the coming years, however, development of reformulated products to replace table sugar is projected to stimulate demand for clean labels and organic products.
Furthermore, customer demand for cereal food and energy bars is rapidly increasing, which is a major driver for specialized ingredients such as rice syrup that provides characteristics such as texture, prolonged shelf-life, and texture stability to food products. As a result, manufacturers are focusing on creative initiatives to provide clients with clean-label components.
The U.S. is one of the leading consumers of rice syrup accounting for more than 43.5% of the global consumption. Besides, the already established food and beverage industry of the U.S. has remained the primary demand generator of rice syrups for energy bars and cereal manufacturing, which is why U.S. market attractiveness is high.
Category-Wise Analysis
Which Application is Projected to Account for a Huge Chunk of Rice Syrup Consumption?
"Rising Rice Syrup Usage in Innovative F&B Products"
Rice syrup usage in the production of cereal & energy bars, ice creams, and desserts is projected to hold a major share in the market. Furthermore, rice syrup utilization in the food & beverage industry is predicted to increase in both, existing and undiscovered areas around the world.
Furthermore, innovative product offerings are expected to boost the market shortly, notably in the United States, where rice syrup has lately been approved as a natural sweetener.
Over the years, there has been increased demand for naturally-derived food products, resulting in an increase in demand for brown rice syrup, over the past half-decade.
Owing to the aforementioned factors, the food & beverage application, which comprises consumers in the form of bakeries and confectioneries, is projected to provide a high absolute dollar opportunity worth US$ 302.7 Mn over the forecast period of 2022-2032.
Which Rice Syrup is Mostly Preferred and What is its Dextrose Equivalent?
"Brown Rice Main Source of Rice Syrup"
Brown rice has remained the most popular and sought-after raw material for the production of rice syrup over the previous half-decade, and is expected to continue to do so from 2022 to 2032.
60 DE rice syrup is used as a texture modifier and moisture stabiliser. It can be used in place of egg whites in some cases. It's also quite resistant to freezing and thawing. 42 DE rice syrup helps keep sugar bloom at bay while also reducing stickiness. Most importantly, it is flavourless.
Moreover, 42 DE brow rice syrup gives consistency, a smooth texture, and a pleasant mouthfeel. Owing to this, demand of rice syrups from confectioneries has been consistently growing in the recent times.
Additionally, due to an increase in demand from end-use customers for ethically produced products and the general higher nutritional content of brown rice over white rice, manufacturers of liquid rice syrup have been progressively adopting organic varieties of brown rice.
Brown rice has remained the most preferred source for producing rice syrup and is projected to account for around 79.9% market share by 2032-end. Furthermore, the brown rice syrup market is anticipated to be valued at US$ 869.1 Mn by 2032.
Which Function is Anticipated to Remain the Growth Epicentre in This Market?
"Surging Demand for Organic Rice Syrup as Natural Sweetener"
Rice syrup is gaining popularity in the market because it is a low-calorie natural sweetener with a low-fructose content that serves as a gateway for consumers seeking low-calorie products or who are health-conscious. Furthermore, rice syrup is a plant-based sweetener that contains no synthetic ingredients, fertilisers, or pesticides, making it a safe and suitable sweetener for people of all ages.
Organic brown rice syrup, according to the National Centre for Biotechnology Information, can be used as a sweetener in organic food items as an alternative to high-fructose syrup. Besides, growing use of rice syrups in nutraceuticals has also remained the talk of the town, especially in developed countries.
As such, along with changing consumer sentiments towards organic products, demand for organic rice syrup as a natural sweetener is anticipated to expand at a higher CAGR of 5.5% and reach 1.7X its current market valuation by 2032.
Know thy Competitors
Competitive landscape highlights only certain players
Complete list available upon request
Competition Landscape
ABF Ingredients Ltd., Axiom Foods Inc., Bharat Glucose Pvt. Ltd., California Natural Products Inc., Cargill Incorporated, Ciranda, Gehl Food, Glucorp, GoMacro LLC, Gulshan Polyols Ltd., Habib Rice Products Ltd., IFPC, Lundberg Family Farms, Matco Foods Limited, Nature Bio-Foods Ltd, naVitalo, Om Foods Inc., Shafi Gluco Chem (Pvt) Ltd, Sweet Additions, Windmill Organics Ltd., Wuhu Deli Foods Co. Ltd., and Wuhu Haoyikuai Food Co. Ltd. are major suppliers of rice syrup.
In October 2021, ADM announced plans to invest in a biotechnology company - Acies Bio.
In September 2021, ADM entered into an agreement to acquire 75% stake in PetDine, Pedigree Ovens, The Pound Bakery and NutraDine (P4 Companies).
In January 2021, ADM signed a contract to acquire Soja Protein.
In September 2021, Natural Bio Foods announced the inauguration of its futuristic organic food processing plant, focused towards organic rice processing, and it also announced its aim to revitalizes India's rural communities while bringing organic products to the world.
Tier-1 market players have remained active in term of overall investments being done in the rice syrup market, and are profoundly looking forward to create future revenue generating opportunities in target markets. Tier-2 players have also been following suit by silently reducing their margins in order to target the price-sensitive and growing market in the Asian sub-continent.
Fact.MR has provided detailed information about the overall strategies adopted by players in the rice syrup market, along with their detailed overviews, including SWOT analysis and revenue generated from targeted rice syrup products of top rice syrup manufacturers positioned across geographies, in addition to providing sales growth information, production capacity, and speculative production expansion, in the recently published report.
Key Segments in Rice Syrup Industry Analysis
Rice Syrup Market by Product Type:

Conventional Rice Syrup
Organic Rice Syrup

Rice Syrup Market by Dextrose Equivalent (DE):

Rice Syrup Market by Source:

Rice Syrup Market by Function:

Natural Sweeteners
Binders/Stabilizers/Thickeners
Humectants
Others

Rice Syrup Market by Maltose Content:

Low Maltose (<36 g/100g) Rice Syrup
High Maltose (>36 g/100g) Rice Syrup

Rice Syrup Market by Form:

Solid Rice Syrup
Liquid Rice Syrup

Rice Syrup Market by Application:

Food & Beverages

Food

Bakeries
Confectioneries
Ice Creams & Desserts
Dairy Products
Meat, Poultry and Seafood
Cereal & Energy Bars

Beverages

Nutrition

Nutraceuticals & Supplements
Infant Formula

Pharmaceuticals

Rice Syrup Market by Region:

North America Rice Syrup Market
Latin America Rice Syrup Market
Europe Rice Syrup Market
East Asia Rice Syrup Market
South Asia & Oceania Rice Syrup Market
Middle East & Africa Rice Syrup Market
- FAQs -
Currently, the global rice syrup market is pegged at US$ 702 Mn.
Rice syrup consumption is anticipated to increase at a CAGR of around 4.5% during 2022-2032.
Rice syrup market size expanded at a CAGR of around 1.5% during 2017-2021
Key manufacturers of rice syrup can be seen involved in investing in R&D to reduce overall production complexity and are focussing on price stabilization to gain a competitive advantage in the market.
Top companies manufacturing rice syrup are ABF Ingredients Ltd., Axiom Foods Inc., Bharat Glucose Pvt. Ltd., California Natural Products Inc., Cargill Incorporated, Ciranda, Gehl Food, Glucorp, GoMacro LLC, Gulshan Polyols Ltd., Habib Rice Products Ltd.,
The U.S. is estimated to hold around 43.5% of the global rice syrup market value.