Thoracic Drainage Devices Market
Thoracic Drainage Devices Market Analysis, By Product (Pleural Drainage Catheters, Secured Needles, Thoracic Drainage Kits, Others), By Application (Thoracic Surgeries & Pulmonology, Cardiac Surgeries), By End User (Hospitals, Specialty Clinics) & By Region - Global Market Insights 2022-2032
Analysis of Thoracic Drainage Devices market covering 30 + countries including analysis of US, Canada, UK, Germany, France, Nordics, GCC countries, Japan, Korea and many more
Thoracic Drainage Devices Market Outlook (2022-2032)
The global sales of thoracic drainage devices are valued at around US$ 688 million in 2022, with the market projected to register a 4.6% CAGR and top a valuation of US$ 1.07 billion by the end of 2032.
Demand for thoracic drainage devices that are utilized in thoracic surgeries and pulmonology is expected to rise at a CAGR of 5.2% from 2022 to 2032. Since pulmonary and thoracic illnesses are more prevalent, there is high demand for thoracic drainage devices. This is also attributable to rising public awareness and a sizable patient base, both of which support market growth.
A chest drainage device often referred to as a thoracic drainage device, is a sterile, disposable device that is introduced into the pleural space or the region between the visceral and parietal pleura, more commonly referred to as the pleural cavity drainage. It aims to prevent air or liquids from entering back into the system. Any time the pleural cavity's negative pressure is compromised, causing respiratory difficulty, a patient may need a chest drainage system.
There are typically three chambers in a traditional thoracic drainage system: a collection chamber, a water-seal chamber, and a wet or dry suction chamber. A thoracic drainage system incorporates several safety elements in addition to the aforementioned chambers to make sure that large negative pressures may be monitored and swiftly alleviated. To stop the entry of ambient pressure, chest drainage systems are typically airtight.
Operating rooms, emergency rooms, and intensive care units (ICUs) are the main settings for thoracic drainage systems. Rising global prevalence of cardiovascular disorders, growth in the burden of spontaneous pneumothorax, and rising acceptability of digital thoracic drainage systems (DTDS) are the main factors boosting the sales of thoracic drainage devices.
Patients often tolerate DTDS well and find it safe and relaxing. Furthermore, DTDS aids in lowering or eliminating the price of a hospital stay. In the coming years, the demand is anticipated to grow due to novel thoracic drainage system inventions.
The first clinical research of Centese, Inc.'s "Thoraguard digital drainage system," which is used in cardiovascular surgeries, was concluded at Stanford University Medical Center in January 2020, according to the company's announcement.
To aid in clinical decision-making following cardiac surgery, Thoraguard is the first surgical drainage device to offer automated clog clearance without the need for human involvement. It also digitally monitors and shows hourly drainage volumes and trends.
Thoracic drainage devices are further classified into pleural drainage catheters, secured needles, thoracic drainage kits, thoracic drainage systems, and more. Pleural drainage devices are used to achieve lung expansion, remove blood, fluid, or air, from the pleural cavity, and rectify mediastinal shift that may result in hemodynamic abnormalities.
Malignant pleural effusions (MPE) are among the most prevalent and dangerous diseases in the general population. Pleural drainage catheters with more efficiency have been created by the producers to lessen recurring MPE.
Healthcare professionals' need for pleural drainage catheters is further encouraging sales growth. Demand for chest wall drainage devices will increase as people become more aware of MPE's effects and the importance of early diagnosis.
Report Attributes

Details

Thoracic Drainage Devices Market Size (2022E)

US$ 688 Million

Forecasted Market Value (2032F)

US$ 1.07 Billion

Global Market Growth Rate (2022-2032)

4.6% CAGR

China Market Value (2032F)

US$ 187.8 Million

China Market Growth Rate (2022-2032)

4.3% CAGR

Share in Medical Devices Market (2022)

0.1%

Key Companies Profiled

ATMOS MedizinTechnik GmbH & Co., KG.
Becton, Dickinson Company
Cook Group, Inc.
Maquet Holding B.V. & Co. KG
Medela, Inc.
Medtronic PLC
Sinapi Biomedical
Smiths Medical
Teleflex Inc.
Utah Medical Products, Inc.
Vygon SA
Know thy Competitors
Competitive landscape highlights only certain players
Complete list available upon request
What is Positively Influencing the Sales of Thoracic Drainage Devices?
"Rising Worldwide Prevalence of Cardiovascular Disorders"
Congestive heart problems are becoming more common as a result of changing sedentary lifestyles and processed food consumption, necessitating standard procedures for diagnosis and treatment, thus increasing demand for thoracic drainage devices. Another element supporting the sales of thoracic drainage devices is the fact that the elderly population is more susceptible to cardiovascular disorders.
The rate of surgical operations, particularly cardiothoracic surgeries, keeps rising annually. Ultimately, the demand for chest drainage devices in various procedures is increasing.
"Increasing Cases of Spontaneous Pneumothorax"
One of the most serious health issues around the globe is spontaneous pneumothorax. Air in the chest cavity causes spontaneous pneumothorax, which can go away on its own but sometimes needs hospitalization and urgent medical attention.
13% to 15% of penetrating wounds involving the thoracic cavity in a military situation call for thoracic intervention, including a thoracic catheter.
Men are more likely than women to experience primary spontaneous pneumothorax, according to a March 2017 Canadian Respiratory Journal report. Each year, this illness affects 7.4 to 18 out of every 100,000 males and 1.2 to 6 out of every 100,000 women.
"High Demand for Minimally-invasive Procedures Over Open Surgeries"
Furthermore, the growing preference for minimally-invasive procedures over open surgeries is anticipated to promote the growth of the thoracic drainage devices market.
The rising cost of healthcare and the respective government's favourable reimbursement practices are further significant causes for device sales growth. The global thoracic drainage devices market is anticipated to expand as a result of several advantages provided by minimally-invasive techniques, such as producing results comparable to those of open surgeries, decreased risk of complications, shorter hospital stays, and faster recovery periods.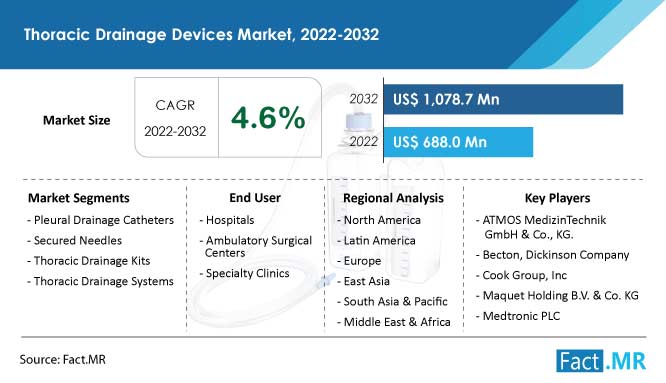 Which Region is Dominating the Sales Graph of Thoracic Drainage Device Suppliers?
"Well-established Healthcare Facilities Allows North America to Dominate Global Market"
North America is predicted to dominate the industry, due to its developed healthcare infrastructure and easy access to cutting-edge technologies. This is mostly related to an increase in the prevalence of chronic diseases and increased healthcare costs in the region's nations.
Europe is a potential market for thoracic drainage devices due to the presence of advanced clinical services in European nations.
Due to the rising penetration of healthcare firms that are making substantial investments in the region, the Asia Pacific market is anticipated to expand at a high CAGR over the projection period. By enabling the sales of novel devices, evolving healthcare reforms are encouraging sales growth.
In Asia Pacific countries such as India, Japan, China, and Indonesia, the prevalence of lasting illnesses (such as cancer, diabetes, and more) has been gradually rising, adding to the region's mounting healthcare costs. A lot more surgical operations are being performed as a result of the rise in these diseases, which is anticipated to accelerate thoracic drainage device sales.
More Insights, Lesser Cost (-50% off)
Insights on import/export production,
pricing analysis, and more – Only @ Fact.MR
Country-wise Analysis
What Helped German Manufacturers of Thoracic Drainage Devices Gain Ground?
"Invasive Mechanical Ventilation System of Thoracic Drainage Devices Helped Stabilize COVID-19 Patients with Respiratory Failure"
As of August 2022, the World Health Organization has received reports of more than 585.0 million confirmed cases of COVID-19 worldwide, including about 6.4 million fatalities.
Thoracic drainage systems, on the other hand, have been found to considerably reduce the huge spread of COVID-19. Patients with COVID-19 are highly susceptible to the onset of acute respiratory distress syndrome (ARDS), which necessitates invasive mechanical ventilation. Additionally, barotrauma in COVID-19 patients frequently results in pneumothorax, necessitating the insertion of a chest tube (thoracostomy).
Furthermore, since the start of 2020, companies that are members of the German Health Alliance (GHA), such as ATMOS MedizinTechnik GmbH & Co. KG, B. Braun, Getinge, and Dräger, have seen a noticeable rise in demand from all over the world for their products, such as thoracic drainage systems. Thus, German manufacturers of thoracic drainage devices are experiencing profitable sales growth.
Also, it is anticipated that during the projection period, respiratory disorders due to COVID-19 will generate new opportunities in the thoracic drainage devices market.
What is Supporting Thoracic Drainage Device Sales in the United States?
"Thoracic Drainage Devices Widely Used Due to Rising Cases of Heart Attacks"
Heart disease is one of the main causes of death in the United States, according to the Centers for Disease Control and Prevention's (CDC) article titled "Heart Disease Facts," updated in February 2022. The same source states that approximately 659,000 Americans get a heart attack each year.
Thoracic drainage devices are increasingly required during heart surgeries.
Furthermore, there has been a significant rise in chronic diseases in the region in recent years. According to data published in June 2022 by the National Center for Chronic Condition Prevention and Health Promotion, 6 in 10 Americans live with at least one chronic disease, such as diabetes, cancer, or heart disease.
These and other chronic illnesses are the main contributors to health care costs as well as the major causes of mortality and disability in the United States. This has further increased the demand for thoracic drainage devices and improved their growth prospects.
Category-wise Analysis
Why are Pleural Drainage Catheters Immensely Popular?
"Rising Occurrence of Pleural Effusions & Simple-to-operate Product Features"
Pleural drainage catheters are sterile tubes with several drainage holes that are put into the pleural space. They are sometimes referred to as thoracic drainage catheters, chest tubes, or thoracic drainage tubes.
Pleural drainage catheter sales for a variety of purposes are significantly increasing. Pleural drainage device demand is growing due to the rising occurrence of pleural effusions in the general population. Pleural drainage catheter demand is increasing globally due to reduced hazards associated with their usage and the simplicity of their use for patient outcomes.
Competitive Landscape
Merit Medical Systems, Medela LLC, Smiths Medical, ATMOS MedizinTechnik GmbH & Co., KG., Becton, Dickinson Company, Cook Group, Inc., Maquet Holding B.V. & Co. KG, and Medela, Inc. are some of the key players in the thoracic drainage device market.
Companies in the thoracic drainage devices market are focusing on advancements in drainage devices as per end users' needs. Advancements in thoracic drainage systems, collaborations, partnerships, and acquisitions are some of the growth tactics of key producers.
Product Launches
Medela LLC, a well-known manufacturer of nursing supplies and medical vacuum technology, declared in December 2020 that the filtration mechanism of its "Thopaz+ Digital Chest Drainage and Monitoring System" effectively prevents the passage of aerosolized virus particles, including SARS-CoV-2.
Merit Medical Systems, Inc. introduced the ReSolve Thoracostomy Tray in April 2022. The new tray includes all the supplies required to execute a thoracostomy, a minimally-invasive surgery that spares patients from having to have their chests opened up to drain fluids or air.
Purchase, Agreements, and Collaborations
ICU Medical purchased Smiths Medical from Smiths Group in January 2022. ICU Medical became one of the top infusion treatment firms with a global presence after adding Smiths Medical's vascular access & critical care products, as well as its medical infusion devices & syringes, to its portfolio.
Don't Need a Global Report?
save 40%! on Country & Region specific reports
Segments of Thoracic Drainage Devices Industry Research
By Product :

Pleural Drainage Catheters
Secured Needles
Thoracic Drainage Kits
Thoracic Drainage Systems

By Application :

Thoracic Surgeries & Pulmonology
Cardiac Surgeries
General Intensive Care & Emergency Medicine
Infectious Diseases
Others

By End User :

Hospitals
Ambulatory Surgical Centers
Specialty Clinics
Others

By Region :

North America
Latin America
Europe
East Asia
South Asia & Oceania
MEA
- FAQs -
Worldwide sales of thoracic drainage devices are currently valued at US$ 688 million.
Global demand for thoracic drainage devices is predicted to increase at 4.6% CAGR and reach US$ 1.07 billion by 2032.
Demand for thoracic drainage devices is expanding as a result of improvements in surgical techniques, increasing public knowledge about chest pipes, and resultant quick discharge procedures from hospitals.
The thoracic drainage devices market report is segmented into product, application, end user, and region.
Key manufacturers of thoracic drainage devices are Merit Medical Systems, Medela LLC, Smiths Medical, ATMOS MedizinTechnik GmbH & Co., KG., Becton, Dickinson Company, Cook Group, Inc., Maquet Holding B.V. & Co. KG, and Medela, Inc.