Unique Considerations for Starting a Successful Mobile Business: Building a Brand Without a Fixed Location
Published : 11 Oct 2021 Industry: Food & Beverage
Known as a mobile business, pop-up shop, or a business on-the-go, a business with no fixed location is exactly what it sounds like — a business that can travel to various locations to provide consumers with various services and/or products.
A few popular examples of mobile businesses are food and beverage trucks. Without a brick-and-mortar home base, mobile businesses can change locations daily, monthly, even hourly, depending on their industry. While this may bring some advantages, it also carries some unique challenges and considerations for entrepreneurs who wish to operate untethered to a single space.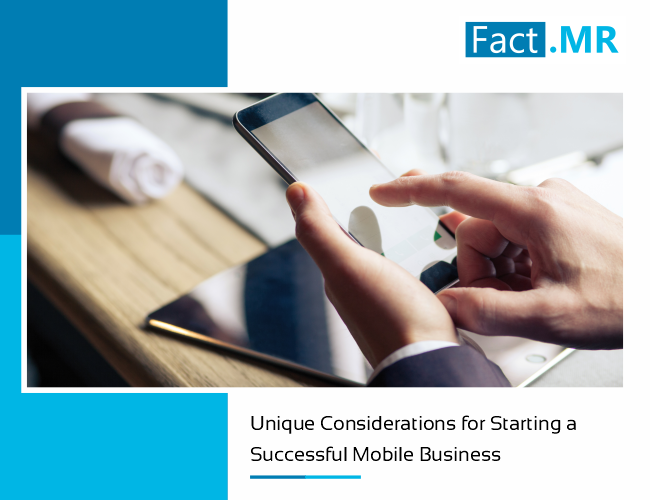 The food and beverage industry is just one example of how business owners have learned to take advantage of mobile operations. Other types of businesses on-the-go include:
Bicycle repair shops;
Bookmobiles;
Gyms;
Hair salons/barber shops;
Medical services like mammography buses, screenings, and more;
Pet grooming stations;
Tech repair services;
Vehicle maintenance services.
Consumers are drawn to convenience. Studies show that "83% of consumers said convenience while shopping is more important now than five years ago." Business owners of many industries are realizing this — therefore searching for opportunities that allow them to cater to their customer's needs.
What better way to implement convenience in your business than by starting a mobile business? The specifics on what type of business to open and who to cater to will vary with each industry. However, the list of considerations to be mindful of when starting a mobile business are ones that can be helpful for everyone, no matter the industry. Let's take a closer look at considerations to be mindful of throughout the start-up process.
Memorable Branding
Branding is the process of establishing a company's public identity, name recognition, and reputation, especially to cultivate a unique identity from competitors and win loyal customers. Without branding, it is difficult to make your business stand out from others in the industry. However, branding alone will not suffice — you must be able to understand how to make your branding memorable, if new and returning customers are to find and patronize your mobile business.
Implementing eye-catching ideas — especially how you color and advertise your roving location — into your branding can be particularly helpful for your business. This kind of physical, image-based branding is a form of aided awareness, which describes the ways an organization sticks in the memory of people. When people recognize your food truck or pop-up from a distance, it increases the chances of a successful opening wherever you go to do business.
There are many unique ways to establish unique branding that reflects your colors, imagery, messaging, or other memorable features — reusable water bottles, clothing, or even gym accessories can be used to give people a tangible reminder of meeting you or learning of your brand. Of course, this will be aided by a catchy, simple slogan, a distinctive logo, or other features that lend themselves to recollection. Regardless of how you choose to show off your brand, you'll want to be sure to do so in a way that stands out from your competition, and cements your name and your offering in the minds of those who see you or your branding.
Keeping an Eye on Your Market
To run a successful business of any kind, you must stay up to date on who your target audience is and what their expectations, needs, and concerns are. To succeed, you need to find a way to communicate this understanding, so it pays to establish a strong sense of what you have to offer and ensure it will surprise and delight those you offer it to.
An impactful way to learn these values is through conducting mood board research. This kind of consumer study helps you visualize how people feel, communicate, and act in response to different brands, words, ideas, and more. This can be a powerful way to connect your consumer's existing images of something, with your own brand's iconography and advertising. Other ways to identify the needs of your target market include:
Analyzing your current customer base to see what they're shopping for;
Reviewing the products and services you currently offer to ensure they're what your audience is demanding. For example, veganism is trending in the health and wellness industry. Those with a mobile food and/or beverage truck may want to consider putting vegan options on the menu like vegan protein to reach more consumers, or create inclusive vegan and vegetarian options as part of a fast food menu;
Narrow in on the demographics and psychographics of individuals your services/products will cater to;
Reevaluate your approach often and tailor it when need be.
Of course, one of the biggest ways to ensure you're appealing to your target audience is by being an expert in your field. Staying up to date on current industry trends is a must for many reasons, including ensuring you're selling to who you should be/want to be selling to.
Awareness of Unique Legal Hurdles
Just as with any business, some legal rules and regulations must be followed. The number of legalities will increase if you choose to put your business on wheels. There are a few legal obligations that must be taken care of before transforming your business. This includes obtaining the following permits, licenses, and certifications:
Driver's license with correct driving class (some classes may be required to drive and operate larger vehicles);
Fire certificate;
Health department permit;
Industry-specific licenses;
Local business license;
Parking permits;
Seller's permit;
State business license.
Business owners should also consider how some legal requirements may be more difficult to keep up within a mobile environment, such as sanitation protocols and information security. This doesn't mean that they aren't achievable, just that it will require more attention to detail to find ways to work around these hurdles.
Hidden Start-Up Costs
Whether your mobile business is your single facility or a branch of the office, there are start-up costs associated with each that everyone should know about. Let's take a look at a few that you may need to pay for come time to run your mobile business:
Business and retail permits;
Business vehicle;
Shop customizations.
The total cost will vary based on the type of business, the size of the truck/trailer, and the number of customizations. All of which are factors to remember when determining your budget for the business.
Surprise Operating Costs
Start-up costs aren't the only factors that need to be budgeted in — operating costs must be thought of as well. Operating costs are the crucial items you need to properly run your business.
There are numerous examples of operating costs that will vary based on each industry. Let's take a look at a few of them that are common items across the board:
Advertising and marketing materials;
Kitchen appliances and utensils (for food/beverage trucks);
Office supplies;
Parking permits;
Tire stoppers;
Uniforms.
Creating a checklist ahead of time is a great way to remember the items that will impact the total operating costs.
Inventory Planning
It's obvious that as a mobile business you will not have nearly as much space as if you were to be in a fixed-location office. Because of this, you will need to be even more discerning than most businesses when thinking about inventory.
If you know you will sell out before you're supposed to close, then it would be wise to pack additional inventory. However, if you're just getting started or are expecting slow days, then you can leave the excess inventory at a permanent storage area for easy access.
You can read up on consumer reports for your industry, review invoices, and see past sales data to get a baseline as to how much inventory you should have on hand at all times.
Planning and Researching Your Venues
Finally, you will need to understand where you can and cannot park your business on wheels. To determine what venue is right for you, you will need to know what local areas are primarily made up of your target customers. The type of business you're running will also determine your ideal location.
For example, if you're running a food truck you will want to park somewhere with frequent crowds. Other possible venues for your mobile business — as long as you're permitted to park there — include:
Hospitals;
Local events (fairs, concerts, etc.);
Market places;
Neighborhoods;
School campuses.
Running a business, in general, comes with its challenges. Running a business on wheels may present even more. However, this doesn't mean that it's impossible to do. It just means that those who are willing to take on the challenge must know what they're getting into beforehand. This includes knowing how to show off your brand, monitoring industry trends, paying attention to all hidden costs and fees, and obtaining any permits and/or licenses that may be necessary.
- Request for
More Information

-