Prebiotic Fiber Market
Prebiotic Fiber Market Analysis by Ingredient (Inulin, Fructo-oligosaccharides (FOS), Galacto-oligosaccharides (GOS), Manan-oligosaccharides (MOS), Xylo-oligosaccharides (XOS)), By Application (Prebiotic Food & Beverages (Dairy Products, Cereals, Baked Food, Fermented Meat Products, Dry Food Prebiotics) Prebiotic Dietary Supplements (Food Supplements, Nutritional Supplements, Specialty Nutrients, Infant Foods), Animal Feed Prebiotics), & By Region – Global Market Insights 2023 to 2033
Analysis of Prebiotic Fiber Market Covering 30+ Countries Including Analysis of US, Canada, UK, Germany, France, Nordics, GCC countries, Japan, Korea and many more
Prebiotic Fiber Market Outlook (2023 to 2033)
The global prebiotic fiber market, valued at US$ 7.08 billion in 2023, is projected to expand at a high-value CAGR of 10.9% and reach US$ 19.94 billion by the end of 2033.
Prebiotic fibers are found naturally in many foods such as fruits, vegetables, whole grains, and legumes. Apple pectin is a soluble fiber with several possible health advantages. Although results are conflicting and additional research is required, these are said to reduce cholesterol & blood pressure and enhance gut health & bowel stability.
These fibers are incorporated into various food and beverage products, including prebiotic dietary fibers, functional foods, dairy products, bakery items, and beverages.
Sunfiber has been approved by the United States FDA as a prebiotic fiber. It is fully water-soluble, tasteless, odorless, colorless, non-GMO, and certified low-FODMAP (a diet intended to help patients with IBS).
Prebiotic fiber powder has many uses in the food and beverages industry, including improving texture and serving as a sweetener. Over the projection period, the rising uncertainties about sugar disorders are anticipated to fuel product expansion. There is demand for nutraflora prebiotic components such as inulin and fructo-oligosaccharide (FOS) from goods that need a low-calorie sweetening taste, which will fuel the expansion of the prebiotic industry as a whole throughout the projection period.
The bacteria that make up a person's skin microbiota use glucomannan, a prebiotic, as food. Glucomannan, a type of prebiotic, aids in balancing the skin's microbiome by supplying nourishment (energy) to the probiotic strains residing there, thereby helping maintain its equilibrium. This results in healthier-looking skin.
Cargill and Manna Tree led a round of financing in February 2021 for Evolve Biosystems Inc., a probiotic technology company focused on improving infant health.
Report Attributes
Details

Prebiotic Fiber Market Size (2022)

US$ 6.39 Billion

Estimated Market Value (2023)

US$ 7.08 Billion

Forecasted Market Value (2033)

US$ 19.94 Billion

Global Market Growth Rate (2023 to 2033)

10.9% CAGR

China Market Value (2033)

US$ 3.72 Billion

China Market Growth Rate (2023 to 2033)

11.7% CAGR

United Kingdom Market Value (2033)

US$ 1.27 Billion

United Kingdom Market Growth Rate (2023 to 2033)

10.6% CAGR

Key Companies Profiled

BENEO GmbH
FrieslandCampina
Cosucra Groupe Warcoing SA
Cargill Inc.
Bright Food (Group) Corp. Ltd.
Galam
Jarrow Formulas Inc.
Royal Cosun
The Kraft Heinz Company
Why is Consumption of Prebiotic Fibers Rising at a Fast Pace?
"Growing Demand for Prebiotic Fibers from Pet and Livestock Nutrition Sectors in Developing Economies"
Consumption of prebiotic fibers is expanding beyond traditional food and beverage categories. Manufacturers are incorporating prebiotic fibers into a wide range of products, such as snacks, confectionery items, baby food, and pet food, to meet the evolving demands of various consumer segments.
Whether keeping their animals as companions or as livestock, animal owners are now more aware of the importance of giving them a portion of good food. Livestock owners prioritize their animals' health and thus provide them with high-quality food and supplements.
Pet owners ensure adequate nutrition for their companion animals rather than feeding them leftovers. Sales of prebiotic fibers are anticipated to increase as a result of the shifting attitudes of cattle producers and pet owners.
"Prebiotic Fiber Companies' Increasing Focus on Sustainable Production & Sourcing and Waste Reduction"
With increasing awareness of environmental sustainability, there is a growing focus on sustainable sourcing and production practices. Companies are focusing on eco-friendly production methods, waste reduction, and ensuring transparency in their supply chains.
Demand for daily digestive prebiotic fibers is on the rise, as consumers look for convenient ways to incorporate prebiotic fibers into their daily routine. Prebiotic fiber supplements offer a concentrated and easily consumable form of prebiotics, providing a convenient option for individuals with specific dietary needs or limited access to prebiotic-rich foods.
Don't Need a Global Report?
save 40%! on Country & Region specific reports
What are the Primary Barriers Limiting the Prebiotic Fiber Market from Expanding?
"Lack of Awareness about Benefits of Prebiotic Fibers in Improving Gut Health and Limited Availability"
Despite increasing awareness about the importance of gut health, many consumers still have limited knowledge about prebiotic fibers and their benefits. Lack of awareness can adversely affect market growth as consumers may not actively seek out products containing prebiotic fibers. Wheat, rye, and barley have insoluble fibers that do not dissolve in water. This insoluble fiber is not digested or fermented by the bacteria in the colon.
Sourcing and producing prebiotic fibers can pose challenges, particularly when it comes to obtaining consistent and high-quality fiber sources. Limited availability of certain prebiotic-rich ingredients or difficulties in their extraction or production can impact the supply chain and limit the growth of the prebiotic fiber market.
"High Cost of Prebiotic Fiber Products"
Prebiotic fiber products can be more expensive than regular dietary products. This high cost can be a deterrent for price-sensitive consumers, limiting their adoption of prebiotic fiber-rich products, particularly in lower-income segments or developing economies.
Probiotics, which are live beneficial bacteria, and synbiotic products that combine both prebiotics and probiotics are gaining popularity in the prebiotic fiber market. These alternatives can divert consumers' attention and affect product demand.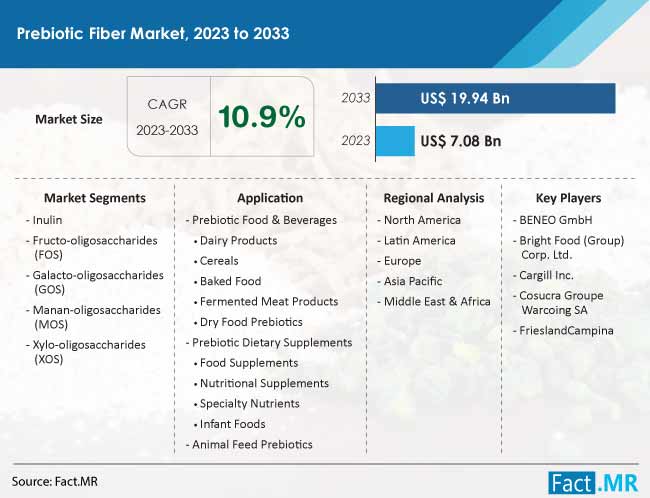 Country-wise Insights
Why is Germany Exhibiting High Sales of Prebiotic Fibers?
"Rising Concerns about Obesity & Diabetes Boosting Demand for Prebiotic Fortified Foods"
Consumption of prebiotic fibers in Germany is anticipated to reach a market valuation of US$ 2.45 billion by 2033, increasing at a robust CAGR of 11.5%.
Rising demand for foods fortified with prebiotic elements is anticipated to accelerate market growth in Germany. Because it is an excellent and nutritious alternative to fat and sugar, inulin is frequently used in the food processing industry. Demand for foods and beverages enriched with prebiotics is projected to rise further due to growing concerns about obesity and diabetes in the country.
The country's consumption of prebiotic ingredients is being influenced by the growing recognition of functional foods and beverages brought on by the expansion of the health-conscious population. To meet industry demand, food ingredient firms are creating a wide range of innovative food products with a strong focus on nutrition.
What is the Demand Outlook for Prebiotic Fibers in Japan?
"Increasing Preference for Natural & Functional Foods to Maintain Gut Health"
The prebiotic fiber market in Japan is projected to reach US$ 0.93 billion by 2033, expanding at a substantial CAGR of 10.7%.
Demand for prebiotic fibers in Japan is growing significantly, due to an increasing focus on health and wellness. More and more consumers are becoming conscious of their dietary choices and the impact on their gut health.
Consumers are showing an inclination for natural and functional foods that offer health benefits. Prebiotic fiber-rich ingredients, such as chicory root, Jerusalem artichoke, and green bananas, are increasingly incorporated into food products to meet this demand. This trend is driving the growth of the prebiotic fiber market.
People in Japan value their traditional food culture and are seeking ways to incorporate prebiotic fibers into traditional dishes. Food manufacturers are exploring the use of traditional Japanese ingredients such as konjac, burdock root, and seaweed, which naturally contain prebiotic fibers, to cater to this demand.
More Insights, Lesser Cost (-50% off)
Insights on import/export production,
pricing analysis, and more – Only @ Fact.MR
Category-wise Insights
Why Does Inulin Account for High Sales in This Market?
"High Demand for Inulin Due to its Nutritional Benefits and Growing Usage in Food Industry"
Sales of inulin are anticipated to rise at a high CAGR of 11.2% during the forecast period.
Inulin, a widely consumed prebiotic fiber, offers an excellent and nutritious alternative to fat and sugar in the food processing industry. Its functional properties make it an attractive ingredient for food manufacturers looking to enhance the nutritional profile of their products.
Growing usage of inulin in dietary items, which increases gut flora and limits the growth of dangerous organisms by enhancing gut function, is responsible for the leading share of the prebiotic fiber market. The psyllium husk prebiotic is a component necessary for the development of healthy probiotic colonies in the stomach. Demand for prebiotic inulin is anticipated to rise due to the increasing consumption of natural products on a global scale.
Why are Prebiotic Fibers Extensively Used in the Food & Beverage Sector?
"Rising Health Awareness and Growing Demand for Functional Foods"
Demand for prebiotic fibers from the food & beverages sector is expected to advance at a substantial CAGR of 10.9% during the forecast period.
Expansion of the market is primarily driven by growing demand for prebiotic food additives and increasing awareness of health among consumers. In the digestive tract of humans, acacia fiber functions as a prebiotic and can greatly raise the number of beneficial bacteria.
The functional food and beverages sector is exhibiting significant growth, and prebiotic fibers are playing a crucial role in this expansion. Suppliers of prebiotic fibers are focusing on probiotic-prebiotic combinations and prebiotic-fortified beverages.
Competitive Landscape
Companies are working on developing prebiotic fiber products that target specific health concerns or demographic groups. For instance, there is a growing interest in prebiotics tailored for children's health, women's health, and specific digestive conditions such as irritable bowel syndrome (IBS).
As the market grows, there is an increasing focus on exploring new sources of prebiotic fibers. Manufacturers are researching and developing fibers from diverse plant-based probiotics to provide a wider range of options for consumers.
In July 2021, Taiyo GmbH, a German manufacturer of natural dietary fibers, joined forces with Asiros, a Danish fruit powder producer, to develop and promote two high-fiber fruit powder variations that eliminate the need for maltodextrin. Asiros's blends incorporate Sunfiber, a clinically validated prebiotic provided by Taiyo.
U.K.-based functional food and beverages company MOJU introduced a prebiotic shot in March 2021. It had a combination of prebiotics and plant fibers from green banana, golden kiwi, baobab, and chicory root inulin.
Know thy Competitors
Competitive landscape highlights only certain players
Complete list available upon request
Key Segments of Prebiotic Fiber Industry Research
By Ingredient :

Inulin
Fructo-oligosaccharides (FOS)
Galacto-oligosaccharides (GOS)
Mannan-oligosaccharides (MOS)
Xylo-oligosaccharides (XOS)

By Application :

Prebiotic Food & Beverages

Dairy Products
Cereals
Baked Food
Fermented Meat Products
Dry Food Prebiotics

Prebiotic Dietary Supplements

Food Supplements
Nutritional Supplements
Specialty Nutrients
Infant Foods

Animal Feed Prebiotics

By Region :

North America
Latin America
Europe
Asia Pacific
Middle East & Africa
- FAQs -
Worldwide sales of prebiotic fibers are estimated at US$ 7.08 billion in 2023.
Global demand for prebiotic fibers is forecasted to rise at a CAGR of 10.9% through 2033.
The global prebiotic fiber market is set to reach US$ 19.94 billion by 2033.
Sales of prebiotic fiber in Germany are expected to rise at 11.5% CAGR through 2033.
Consumption of prebiotic fibers is forecasted to increase at a CAGR of 10.7% in Japan.