Parenteral Drugs Market gains Traction, Driven by Automation in Drug Production and Inclination towards Single-use Equipment
Many parenteral drug manufacturers are adopting a single-use strategy for antibodies, proteins, cell therapy, vaccines, and gene therapy. FDA recommends the use of automation in pharmaceutical manufacturing. While continuous manufacturing offers both time and cost benefits; automated production reduces labour cost. However, for biologics and other advanced products, a cost-efficient and automated technology is yet to be developed. Furthermore, parenteral drug manufactures are currently focused on maintaining high quality of their products. Single-use technology maintains the quality of biologic parenteral drugs. Additionally, manufacturers are making efforts to incorporate Quality by Design (QbD) in their processes. On this premise, the parenteral drugs market is poised to reach a staggering valuation of US $ 802Bn by the end of the forecast period (2019-2029)
Increased Spending on Biologic Drugs to Shape Parenteral Drugs Market
There were nearly 500 parenteral drugs in the pipeline as of 2018. Increase in R&D spending in the pharmaceutical industry offers an opportunity for large molecule drugs to enter the pipeline. Oncology continues to remain the key research focus owing to the large patient pool that offers significant growth opportunities once the drug is launched in the market. The proportion of drugs in the pipeline requiring parenteral administration rose by ~2%, from 2018 to 2019. This is primarily due to the rise in the number of biologic drugs in the market. Most biologic drugs are available in injectable form, thus increasing the number of parenteral drugs in the pipeline, thereby driving the growth of the parenteral drugs market.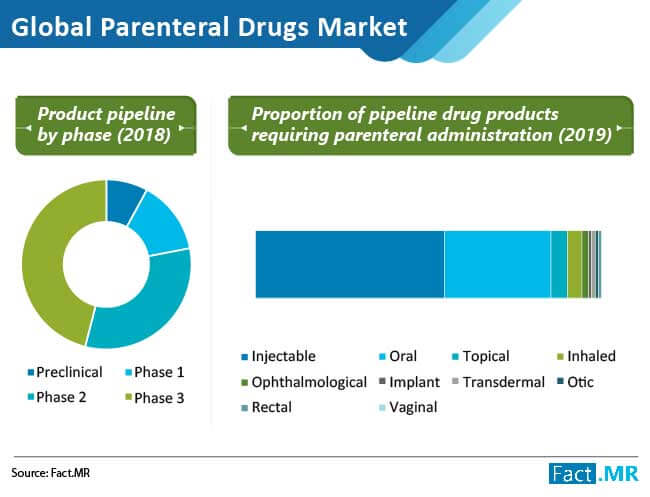 To get strategic insights on the parenteral drugs market, request for a report sample here
Monoclonal Antibodies in the Forefront, Large Molecule Parenteral Drugs Gaining Traction
In terms of share analysis by product, monoclonal antibodies (mAb) led the global market, contributing a revenue share of 20% in 2018. Revenue shares from monoclonal antibodies product type segment are foreseen to increase primarily due to the expanding product pipeline and high number of product approvals by the FDA. The segment of large molecules parenteral drugs will see an upward year on year growth trajectory as is seen in the figure below with growth steadying out after mid-term forecast. Large molecule drugs are biological injectable preparations which are administered to treat chronic disease like cancer, diabetes and blood diseases. Large molecules segment is a key focus area of the pharmaceutical industry at present. This is due to the highly biocompatible nature of large molecules. Approval for large molecules and biosimilars is a long and lengthy process that requires a significantly high investment for research.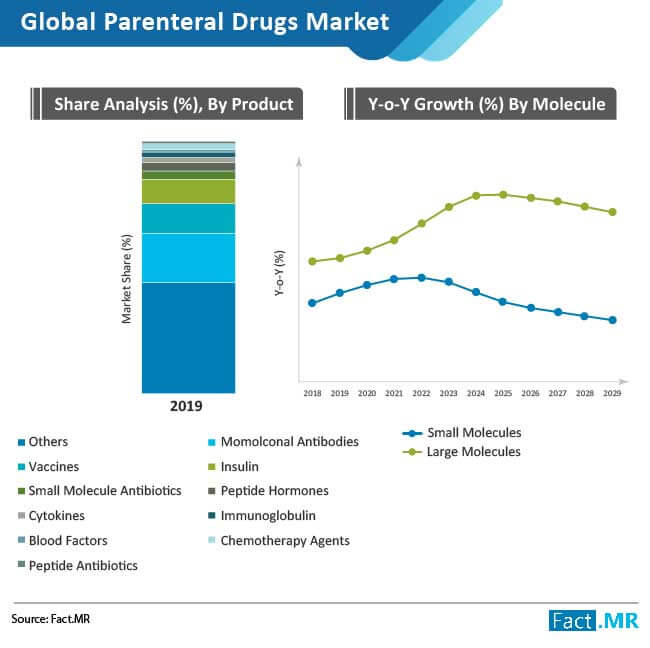 To get strategic and in-depth insights on the product share analysis of the parenteral drugs market, ask an analyst here
Big Pharmas Eyeing Untapped Markets for Stronger Foothold
Big pharmaceutical companies are acquiring smaller firms in emerging markets in Asia Pacific for sustainable growth. In terms of distribution, hospital pharmacies accounted for the maximum revenue share on the back of increased hospitalization and availability of skilled manpower. This was followed closely behind by retail pharmacies. Companies in the parenteral drugs market are focusing on geographical expansions and establishing their new facilities close to target markets. They are also consolidating their existing manufacturing capabilities to capture a larger market share.
Parenteral Drugs Market – Report Scope
Fact.MR recently published a market study on the global market for parenteral drugs. The study provides detailed assessment on the key market dynamics, including drivers, trends, opportunities, and restraints, as well as detailed information about the parenteral drugs market structure. The market study presents exclusive information about how the parenteral drugs market will grow during the forecast period of 2019-2029.
Key indicators of market growth, which include year-on-year (Y-o-Y) growth of the market and compounded annual growth rate (CAGR) are explained in Fact.MR's study in a comprehensive manner. This information can help readers understand the quantitative growth prospects of the parenteral drugs market during the forecast period.
The study is relevant for stakeholders in the parenteral drugs market, including, manufacturers, suppliers, distributors, and investors, and can help them in developing appropriate strategies to grow in the market. Stakeholders in the parenteral drugs market, investors, industry experts, researchers, and journalists, as well as business researchers can leverage the information and data presented in Fact.MR's study.
The study also includes statistics as well as facts related to macro as well as microeconomic factors that are impacting developments in the market. It also offers actionable insights based on the future trends in the parenteral drugs market. Furthermore, small businesses and new entrants in the parenteral drugs market too can make use of the information presented in this study, based on which, they can make appropriate business decisions to gain momentum in the market.
Key Segments of Parenteral Drugs Market
Fact.MR's study on the parenteral drugs market offers information divided into six important segments— product type, application, molecule type, route of administration, distribution channel, and region. This report offers comprehensive data and information about the important market dynamics and growth parameters associated with these categories.
Product Type

Application

Molecule Type

Route of Administration

Distribution Channel

Region

Monoclonal Antibodies
Immunoglobulin
Cytokines
Insulin
Peptide Hormones
Blood Factors
Peptide Antibiotics
Vaccines
Small Molecule Antibiotics
Chemotherapy Agents
Others

Oncology
Infectious Diseases
Diabetes
Blood disorders
Hormonal Disorders
Musculoskeletal Disorders
CNS Diseases
Pain Management
Cardiovascular Diseases

Small Molecules
Large Molecules

Intravenous (IV)
Intramuscular (IM)
Subcutaneous (SC)

Hospital Pharmacies
Retail Pharmacies
Drug Stores
Online Pharmacies

North America
Latin America
Europe
South Asia
East Asia
Oceania
Middle East & Africa
Key Questions Answered in Fact.MR's Parenteral Drugs Market Report
Which regions will continue to remain the most profitable regional markets for parenteral drugs market players?
Which factors will induce a change in demand for parenteral drug manufacturers during the assessment period?
How will changing trends impact the parenteral drugs market?
How can market players capture the low-hanging opportunities in the parenteral drugs market in developed regions?
Which companies are leading the parenteral drugs market?
What are the winning strategies of stakeholders in the parenteral drugs market to upscale their position in this landscape?
Parenteral Drugs Market: Research Methodology
In Fact.MR's study, a unique research methodology is utilized to conduct extensive research on the growth of the parenteral drugs market, and reach conclusions on the future growth parameters of the market. This research methodology is a combination of primary and secondary research, which helps analysts ensure accuracy and reliability of conclusions.
Secondary resources referred to analysts during the production of the parenteral drugs market study include statistics from government organizations, trade journals, white papers, and internal and external proprietary databases. Analysts have interviewed senior managers, product portfolio managers, CEOs, VPs, marketing/product managers, and market intelligence managers, who contributed to the development of this report as a primary resource.
Comprehensive information acquired from primary resources and secondary resources acts as a validation from companies in the parenteral drugs market, and makes Fact.MR's projection on the growth prospects of the parenteral drugs market more accurate and reliable.
Fact.MR offers custom research services that help clients to get specific research solutions
We are committed towards customer satisfaction and quality service.
---
Our Clients

Parenteral Drugs Market Forecast, Trend Analysis & Competition Tracking - Global Market Insights 2019 to 2029