Ocular Drug Delivery Technology Market
Ocular Drug Delivery Technology Market Analysis By Type (Topical, Ocular, Iontophoresis), By Formulation (Solution based, Suspension based, Emulsion based), By Disease Type (Glaucoma, Diabetic Retinopathy, Dry Eye Syndrome), By Region - Global Insights 2022-2032
Analysis of Ocular Drug Delivery Technology market covering 30 + countries including analysis of US, Canada, UK, Germany, France, Nordics, GCC countries, Japan, Korea and many more
Ocular Drug Delivery Technology Industry Overview (2022-2032)
The global ocular drug delivery technology market is likely to be valued at US$ 17.74 Billion in FY 2022, up from US$ 16.4 Billion in 2021.
Report Attributes
Details

Anticipated Base Year Value (2021)

US$ 16.4 Billion

Expected Market Value (2022)

US$ 17.74 Billion

Projected Forecast Value (2032)

US$ 39 Billion

Global Growth Rate (2022-2032)

8.2% CAGR

Growth Rate of the U.S Market (2022-2032)

7.1% CAGR

Expected Market Value of China (2032)

US$ 3.5 Billion

U.K Market Expansion Rate (2022-2032)

7.2% CAGR

Key Companies Profiled

Ocular Therapeutix, Inc.
Alimera Sciences
Allergan Plc.
Valeant Pharmaceuticals International (Bausch Health Company), Inc.
Santen Pharmaceutical Co., Ltd.
Bepreve
Istalol
Besivance
Alrex
Zylet
During the past year, the industry registered a Y-o-Y increase worth 8.2%. From 2022 to 2032, the ocular drug delivery technology industry is poised to flourish at a CAGR of 8.2% to reach a value of US$ 39 Billion by the end of 2032.
Demand for liposome and nanoparticle formulations will continue to thrive, with a documented CAGR of 8.2% during the 2015-2021 historical period of assessment, while demand for intraocular implants Ocular Drug Delivery Technology proliferated at a rate of 7.7% during the same time period.
Don't Need a Global Report?
save 40%! on Country & Region specific reports
2015 to 2021 Ocular Drug Delivery Technology Market Revenue Analysis vs. Market Outlook 2022-2032
According to Fact.MR, the sales of ocular drug delivery system have propagated at a 7.2% CAGR between 2015 and 2021. Ocular drug delivery systems are platforms invented for dispensing drug, biologic, biopharmaceutical, and botanical therapeutics for doctoring macular degeneration, glaucoma, presbyopia, allergy, anti-viral, dry eye, anti-infective and anti-inflammatory indications.
It is anticipated that glaucoma cases will surpass 100 billion by 2040, while macular degeneration shall reach nearly 200 billion by 2022-end. These increasing cases are poised to heighten prospects for the ocular drug delivery technology. Immense research and development are occurring in the ocular drug delivery market. Shortages in the bioavailability of such drugs is a key growth driver. Studies have shown that micellar formulations and derivative active pharmaceutical ingredients have immense scope for development. Based on these trends, the global ocular drug delivery technology market is poised to register positive growth.
To beat the ocular drug delivery barriers and advance bioavailability, numerous conventional and new drug delivery systems have been established such as ointments, emulsion, suspensions, aqueous gels, nanomicelles, liposomes, dendrimers, implants, contact lenses, nanoparticles, Nano suspensions, microneedles, and in situ thermosensitive gels for the earlier mention ocular diseases.
Key Drivers Stimulating Ocular Drug Delivery Technology Industry Expansion
Advancement in Medical Assistance & Prevalence of Vision Impairment to Act as key Drivers
Recently, there has been an increment in the geriatric population followed by upsurge in occurrence of eye disease such as glaucoma, cataract and macular degeneration, augmenting the demand of ophthalmic drug in countries like U.S & Canada.
A latest published report by National Institute for Occupational Safety & Health (NIOSH) summarizes that nearly 2,000 workers need medical assistance owing to job-related eye injuries every day in the United States. Similarly, over 12 billion people aged above 40 years have vision impairment in the nation. Therefore, the demand for effective treatment to control the increasing incidence of ophthalmic diseases and injuries is likely to create a pool of growth opportunities for the foresaid market.
Promising reimbursement strategies and ongoing advancement in drug delivery treatment will proliferate the growth of ocular drug delivery technology system. Swelling demand for targeted drug delivery techniques will fortify the ocular drug delivery technology system market growth.
More Insights, Lesser Cost (-50% off)
Insights on import/export production,
pricing analysis, and more – Only @ Fact.MR
Key Challenges to Ocular Drug Delivery Technology Industry Expansion
Expensive Cost of Production & Drug-related Side effects to Restrain Market Expansion
Based on the recent analysis, prominent drug manufacturer which hinders the market growth of ocular drug delivery technology which comprises excessive cost and complexities linked with the treatment. Low bioavailability of drugs for conventional ocular therapies is also one of the prominent restraining factors in the ocular drug delivery system market.
Subsequently after the clinical trials, scientists have discovered some side effects of ocular drug delivery technology on the human skin such as irritation, excessive lachrymation, and drug dilution occurring post the treatment which is expected to restrict the market growth over the forecast period.
Country-wise Analysis
How Opportunistic are Growth Prospects across the U.S Market?
Presence of Prominent Manufacturers Reinforce the Demand for Ocular Drug Delivery System
North America is poised to retain hegemony in the global ocular drug delivery technology market. Burgeoning cases of visual impairments, high cost of ocular surgeries and presence of a large number of market players are anticipated to boost the North American market. Canada will arise as the fastest growth market within North America, yet the U.S. is estimated to remain dominant through the assessment period.
There are approximately 3 Billion people with glaucoma and between 16 and 49 Billion people suffering from dry eyes in the United States alone. Rise in patients suffering from infections or inflammatory diseases (uveitis), and that is a significant number of people who have to administer eye drops regularly
Projections indicate a market share exceeding half of the total ocular drug delivery technology market. In addition, introduction of different formulation types and reduced research and development costs are also poised to leverage growth prospects. Fact.MR forecasts that the North American market is anticipated to expand 1.4x to surpass US$ 9 Billion during the forecast period. The market is subjected to register a CAGR value of 7.1% which documented a valuation of nearly US$ 4.2 Billion in 2021.
Why are Ocular Drug Delivery Technology Providers Venturing into China?
Amplifying Pharmaceutical Growth in China to Reinforce the Foresaid Market Demand
Asia-Pacific is expected to generate credible growth opportunities in the future. Establishment of research and development units by key manufacturers in emerging economies, increasing prevalence of cataract and uveitis are key growth levers. Research grants are being advanced by major research companies across several Asia-Pacific countries, thus broadening the scope of drug development. The Asia-Pacific region is poised to expand at a CAGR of 7% throughout the forecast period, capturing nearly 1/10th of the total market share.
With upsurge in disposable income, the emerging nations like China & India are continuing to spend on ground-breaking technologies for better treatment modalities. China is already the second largest pharma market in the world, but as drug makers encounter growth challenges in the U.S. and other established countries, the country is looking more alluring in the current scenario. Fact.MR's latest report summarizes that APAC ocular drug delivery technology market is estimated to surpass US$ 3.5 Billion, following a CAGR of 7.3% throughout the conjecture period.
Country-wise Value CAGRs for Ocular Drug Delivery Technology (2022-2032)
| | |
| --- | --- |
| U.S | 7.1% |
| U.K | 7% |
| China | 7% |
| Japan | 7.4% |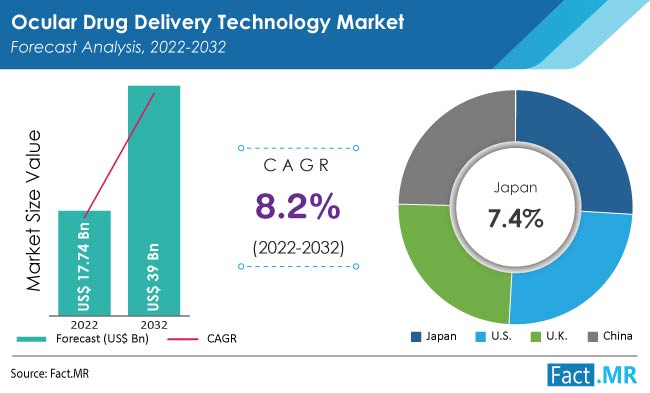 Category-wise Insights
Which Product Type is Most Preferred in the Ocular Drug Delivery Technology Market?
Solution-based Formulations to Remain Most Preferred across the Globe
By formulation type, solutions are anticipated to capture the majority share, accounting for more than 60% of the global ocular drug delivery technology market. High production volume, high-patient compliance and cost-effectiveness are important growth levers.
Augmenting demand for targeted drug delivery, especially for posterior eye disorders, and high penetration of low molecular size particles shall leverage market prospects for liposome and nanoparticle formulations. Moreover, nanoparticles are claimed to provide prolonged resistance time on the ocular surface. Fact.MR reveals that liposome and nanoparticle segment have recorded a CAGR of 8.2% in the historic period, reaching a value of US$ 1.75 Billion by 2032-end.
By technology, which Ocular Drug Delivery Technology is expected to Dominate?
Pharmaceutical Advancements in Developing Regions to Spur Demand for Intraocular Implants
In terms of technology advancements, the intraocular implants segment is witnessing the fastest-growth rate in the upcoming future. High adoption of intraocular implants due to its targeted action and long-term effectiveness have boosted growth opportunities for this technology. A market share of more than one-tenth is anticipated for intraocular implants, expanding at a CAGR of 7.7% across the forecast period. The segment is poised to reach a value of US$ 3.6 Billion by the end of conjecture period.
Know thy Competitors
Competitive landscape highlights only certain players
Complete list available upon request
Competitive Landscape
Prominent Ocular Drug Delivery Technology providers are reliant on partnerships, collaborations, acquisitions, and new software launches so as to stay afloat in the global market. Constant innovations to ensure a seamless client-customer relationship are the main focus of prominent market players.
In Feb 2022, Alimera Sciences, Inc., a global pharmaceutical company whose mission is to be invaluable to patients, physicians and partners concerned with retinal health and maintaining better vision longer, announces that Alimera Sciences Europe Limited, its Ireland-based European subsidiary, launched ILUVIEN® for non-infectious posterior uveitis in Spain, through its distribution partner, Brill Pharma (Brill).
In October 2021, Allergan, an AbbVie company, announced that it will present new pooled analyses and post hoc results from the Phase 3 trials of AGN-190584 (pilocarpine HCl ophthalmic solution 1.25%), an investigational novel treatment for presbyopia, at Academy 2021, the annual meeting of the American Academy of Optometry, November 3-6. Presentations included the clinical results for near and intermediate vision, functional near vision, efficacy for post-LASIK patients, and the patient experience.
Key Segments Covered in the Ocular Drug Delivery Technology Industry Survey
Ocular Drug Delivery Technology by Type :

Topical Ocular Drug Delivery Technology
Ocular Drug Delivery Inserts:

Non-erodible Ocular Drug Delivery Technology
Erodible Ocular Drug Delivery Technology

Iontophoresis Ocular Drug Delivery Technology
Intraocular Implants:

Biodegradable Ocular Drug Delivery Technology
Non-biodegradable Ocular Drug Delivery Technology

In-Situ Gel & Punctal Plugs Ocular Drug Delivery Technology
Others

Ocular Drug Delivery Technology by Formulation :

Solution based Ocular Drug Delivery Technology
Suspension based Ocular Drug Delivery Technology
Emulsion based Ocular Drug Delivery Technology
Liposomes & Nanoparticles based Ocular Drug Delivery Technology
Ointment based Ocular Drug Delivery Technology

Ocular Drug Delivery Technology by Disease Type :

Ocular Drug Delivery Technology for Glaucoma
Ocular Drug Delivery Technology for Diabetic Retinopathy
Ocular Drug Delivery Technology for Dry Eye Syndrome
Ocular Drug Delivery Technology for Macular Degeneration
Ocular Drug Delivery Technology for Diabetic Macular Edema
Ocular Drug Delivery Technology for Cataract
Others

Ocular Drug Delivery Technology by Region :

North America Ocular Drug Delivery Technology Market
Latin America Ocular Drug Delivery Technology Market
Europe Ocular Drug Delivery Technology Market
Asia Pacific Ocular Drug Delivery Technology Market
Middle East & Africa Ocular Drug Delivery Technology Market
- FAQs -
As of 2021, Fact.MR estimated the Ocular Drug Delivery Technology market to have reached US$ 16.4 Billion
By 2022, Fact.MR expected demand for Ocular Drug Delivery Technology to reach US$ 17.74 Billion
From 2015-2021, the Ocular Drug Delivery Technology market grew at a 7.2% value CAGR
From 2022-2032, Ocular Drug Delivery Technology demand is likely to surge at a 8.4% CAGR
By 2032, the market for Ocular Drug Delivery Technology is likely to be valued at US$ 39 Billion
By 2032, Fact.MR expects the U.S market for Ocular Drug Delivery Technology to reach US$ 9 Billion
China is expected to register a 7.3% CAGR with regard to the Ocular Drug Delivery Technology industry
South Korea and Japan are expected to document CAGRs worth 7.2% and 7.4% respectively in the Ocular Drug Delivery Technology market
Solution-based Ocular Drug Delivery Technology will be maximum, expanding at a 7.7% CAGR
Intraocular Implants Ocular Drug Delivery Technology will remain most preferred, expanding at a CAGR of 8.2% until 2032