Dozers are standard machines employed for dozing, land cleaning and offer assistance in disposal of scrapper. These are diesel-powered tractors that are equipped with the front-mounted blades, which are available in 3 varieties viz. u-blade, straight blade and combination blade. Dozers are employed for multiple applications in construction sector such as downhill dozing, hard material dozing, slot dozing, and side dozing.
OEMs focusing on Development of Compact Dozer Capable of Operating in Uneven & Small Terrains
Earthmoving and construction equipment have witnessed a rapid transformation on the basis of technological shifts, from the conventional equipment to advent of enhanced capacity machinery such as dozers. The organized construction industry plays a pivotal role in demand for dozers. Apart from the construction sector, mining, irrigation and several other infrastructure segments such as power plants and railways also contribute to adoption. In addition several developing countries have been making enormous investments on infrastructure development. This along with higher degree of urbanization are anticipated to create opportunities for adoption of various dozers for earthmoving purposes. OEMs are focusing on the design of compact dozers capable of operating in uneven and small terrains, which in turn will attract new customers and pave growth opportunities for the global dozer market.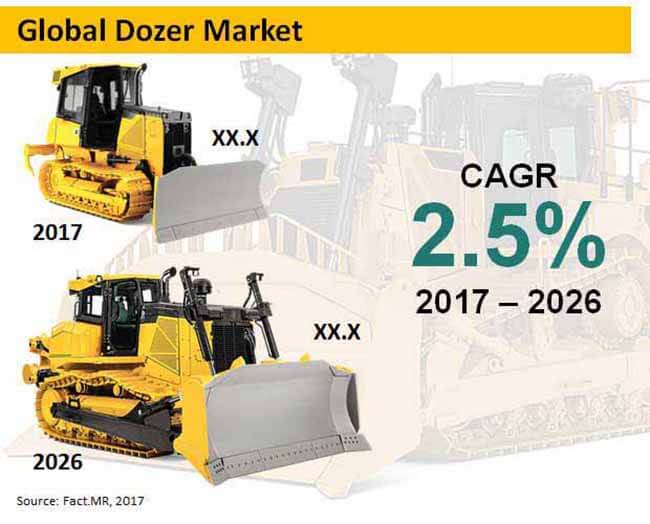 High initial investment of dozers continues to be major challenge, along with their noisy operations making them unsuitable for use around residential areas. With regard to this, construction industries are moving toward less noisier alternatives, which can impact demand for dozers. During the forecast period (2017-2026), the global market for dozer is projected to register a moderate expansion according to a new report developed by Fact.MR. Global sales of dozer are estimated to cross 34,500 Mn units, to exceed revenues worth US$ 2,700 Mn by 2026-end.
Market Taxonomy
| | | | |
| --- | --- | --- | --- |
| Region | Operating Weight | Flywheel Power | End Use Vertical |
| North America | Under 20,000 lb | 75-125 hp | Construction |
| Latin America | 20,000–60,000 lb | 125-250 hp | Mining |
| Europe | 60,000–150,000 lb | More than 250 hp | Forestry & Agriculture |
| Japan | Over 150,000 lb | | Others |
| APEJ | | | |
| MEA | | | |
(Additional information, including cross-sectional data and country-wise analysis & forecast is available in the report)
APEJ to Remain Most Remunerative Market for Dozer
Increasing urbanization in developing countries of Asia-Pacific excluding Japan (APEJ) such as China and India will fuel the market growth in this region. Large infrastructural investments are being made across a wide range of sectors in the region, such as education, healthcare, utilities, energy and transportation, which in turn are anticipated to boost adoption of dozer in the near future. APEJ will continue to be the most remunerative market for dozer, followed by North America and Europe. Combined revenues from the markets in North America and Europe are expected to remain relatively lower than those from the market in APEJ by 2026-end.
With robust growth in construction activities associated with transit, residential & commercial buildings, and infrastructure development, demand for dozers will witness a surge in the near future, Construction is anticipated to remain the most lucrative end-use vertical in the global dozer market during the forecast period. Mining will also remain a somewhat lucrative end-use vertical of dozer, as it involves operations such as mineral processing, screening & pulverizing and crushing.
Key Research Findings from Fact.MR's Report on Dozer Market
Dozers with operating weight of 20,000-60,000 lb will remain dominant in the market, in terms of revenues as well as volume sales
Dozers with flywheel power of more than 250 hp will remain sought-after in the market
Competition Tracking
Key companies profiled by Fact.MR's report that are actively contributing to expansion of the global dozer market include Zoomilion, SHANDONG SHANTUI CONSTRUCTION MACHINERY IMP&EXP CO, CNH Industries, Guangxi Liugong Machinery Co., Ltd., Bell Equipment Co SA, Komatsu, Liebherr, Deere & Company, and Caterpillar.
Note: The insights mentioned here are of the respective analysts, and do not reflect the position of Fact.MR
Growth of the global dozer market will continue to be affected by growing demand for better infrastructure facilities, and development of advanced dozers that require low maintenance and are equipped with eco-friendly features. Various government initiatives focused toward infrastructure development, along with growing investments in the construction sector globally will further fuel demand for dozer. This Fact.MR report discusses key prospects for growth of global dozer market during the forecast period, 2017-2022, offering pragmatic insights to lead market players towards devising & implementing informed strategies.
Scope
The scope of the report is to analyze the global dozers market for the period 2017-2022 and give readers an accurate, unbiased analysis. Dozer manufacturers, suppliers, and stakeholders in the overall automotive market can benefit from the insights offered in this report. The comprehensive analysis offered in the report can also be of interest to leading automotive journals and trade magazines.
Summary
The report begins with a concise summary of the global dozers market. This executive summary sets the tone for the rest of the report, giving users the scope of the report. The executive summary includes important facts and statistics on the global dozers market.
Overview
The next section is an overview of the global dozers market. This includes the introduction to the market and a standard definition of the product – dozer. In this section, year-over-year growth and market value is offered to readers. Year-over-year growth gives readers a broader picture on growth patterns during the forecast period.
The next section of the report offers a thorough description of the latest macroeconomic factors that have a bearing on the global dozers market. Considering the interconnectedness of the dozer market to global automotive market and, in general, the global economy, readers will get valuable insights on how international developments impact this market.
In a bid to keep readers up-to-date on the latest developments in the global dozers market, the report offers readers a roundup of the latest trends impacting the market. As the automotive sector is ever-evolving, staying abreast with latest trends and developments is paramount to formulating key business strategies. Information on supply chain, cost structure, pricing analysis, raw material sourcing, and list of distributors are offered to readers in this section.
Considering the broad scope of global dozer market, the report includes a segment-wise analysis and forecast. The global dozer market is segmented into operating weight, flywheel power, end-use vertical, and region. Through this section, the report offers an in-depth country-wise forecast on every parameter associated with dozers.
The concluding section of the report profiles companies operating in the global dozers market. Companies of all sizes, including market leaders, established players, and market entrants are profiled in this section. The competitive intelligence offers information on company overview and other important parameters, such as product offerings and key financials.
Research Methodology
Fact.MR is committed to offer unbiased and independent market research solutions to its clients. Each market report of Fact.MR is compiled after months of exhaustive research. We bank on a mix of tried-and-tested and innovative research methodologies to offer the most comprehensive and accurate information. Our main sources of research include,
Primary research
Secondary research
Trade research
Focused interviews
Social media analysis
Fact.MR offers custom research services that help clients to get specific research solutions
We are committed towards customer satisfaction and quality service.
---
Our Clients

Dozer Market Forecast, Trend Analysis & Competition Tracking - Global Market insights 2017 to 2026