Acidified Whey Protein Market
Acidified Whey Protein Market By Application (Ready-to-drink Beverages , Ready-to-drink Powders/ Powder Drink Mixes , Nutritional Products , Sports Nutrition , Medical Nutrition , Infant Nutrition) By Form (Isolates , Hydrolysates , Concentrates , WPC-35 , WPC-80) Global Review 2019 to 2029
FACT4124MR
Feb-2022

List of Tables : 84

List of Figures : 84

170 Pages
Acidified Whey Protein Market Outlook
The gloabl acidified whey protein market is set to be worth US$ 135.2 Mn in 2021, and surge a CAGR of 8.2% to reach a valuation of US$ 296.6 Mn by 2031.
Acidified whey protein business research performed by Fact.MR includes key findings such as latest and speculative production capacity, capacity utilisation rates of each manufacturer, recent and speculative pricing, price optimization strategy across the value chain, as well as economic evaluation of acidified whey protein production.
Interested to Procure The Data
Key Points Covered in Acidified Whey Protein Industry Survey:
Acidified Whey Protein Market Estimates and Forecasts (2016-2031)
Production Capacity Analysis of Prominent Manufacturers
Acidified Whey Protein Pricing Analysis
Product Pricing Optimization Strategy
Associated Industry Analysis (Food and Beverage Market Overview)
Key Drivers and Restraints Shaping Market Growth
Segment-wise, Country-wise, and Region-wise Analysis
Competition Mapping and Benchmarking
Market Share Analysis
COVID-19 Impact on Acidified Whey Protein Demand and How to Navigate
Exclusive Sales Assessment of Acidified Whey Protein
Recommendation on Key Winning Strategies
Historical Analysis Vs Future Projections for Global Acidified Whey Protein Market    
As per Fact.MR, a market research and competitive intelligence provider, over the past half-decade, global market value for acidified whey protein increased at a CAGR of around 6.2%, owing to high demand for acidified whey protein across various regions such as North America and Europe.
Changing lifestyles, stressful work schedules, and rise in unhealthy and unbalanced eating habits are all contributing to an increase in the risk and prevalence of numerous health issues. Another favourable factor for market growth is rising demand for natural supplements and components.
The global acidified whey protein market is rising in response to increased demand for natural products. It protects against obesity, diabetes, cancer, hypertension, and phenylketonuria, among other metabolic illnesses.
The protein has been shown to help people recover from resistance exercise injuries, promote gut physiology, and protect the skin from harmful UV rays. With rising prevalence of health problems such as cardiovascular disease and obesity, demand for products such as acidified whey proteins is on the rise and projected to continue to rise going ahead as well at a CAGR of around 8.2% over the forecast period.
The global acidified whey protein industry is being driven by rising demand for ready-to-drink acidified whey protein beverages globally. Additionally, there is a rise in demand for nutritional supplements and emergence of new players providing acidified whey protein. Many small-scale players are concentrating more on innovation than on sales of acidified whey proteins.
Leading manufacturers who have a large global presence have increased their focus on mergers and acquisitions with these small-scale companies to include innovative products in their product portfolios and offer products of smaller companies to a larger consumer base. These leading players are also obtaining manufacturing plants to increase their production capacity.
For instance, in 2019, Glanbia Nutritionals agreed to acquire Watson Inc., a supplier and manufacturer of bakery ingredients, custom nutrient premix, material conditioning solutions, and edible film for food products, acidic beverage, nutrition supplement, and personal care industries.
An Adaptive Approach to Modern-day Research Needs
Why is Acid Whey Protein Concentrate Used as an Ingredient in Non-Fat Cup Set-Style Yogurt?
Acidified whey protein has low pH, high ash level, and high organic acid concentration; it is a liquid by-product that remains after yoghurt has been strained or centrifuged to form thick and creamy Greek yoghurt.
With the aid of current science, it is becoming increasingly apparent that acid whey is a valuable dairy stream, including functional proteins and peptides, lipids, vitamins, and minerals. Lactose, galactose, calcium phosphate, and lactic acid are all present in acidified whey protein, and each has potential value and use in the food sector.
A high-protein diet can help lose weight, increase metabolism, and build muscle. Greek yoghurt is a good source of calcium, which is good for the bones. It also contains probiotics, which help maintain a healthy bacterial balance in the gut, driving higher desire for acidified whey protein.
How are Health Benefits Associated with Consumption of Acidified Whey Protein Gaining Traction in Global Market?
Inflammation is part of the body's response to damage. Short-term inflammation does not cause much harm, but under certain circumstances, it may become chronic. Chronic inflammation is a risk factor for many diseases and can be hazardous. It could be a sign of underlying health issues or poor lifestyle choices.
High doses of acidified whey protein supplements dramatically lower C-reactive protein (CRP), a major measure of inflammation in the body, according to review research. Along with this, acidified whey protein has been demonstrated to be beneficial at controlling blood sugar levels by increasing both, insulin levels and sensitivity to their effects.
Avail customized purchase options for your needs
Why is There Significant Surge of Sports and Nutritional Products in the Acidified Whey Market?
Consumption of acidified whey protein is popular in post-workout smoothies because it aids muscle growth and recuperation. More benefits of acidified whey protein include weight loss, reduced cravings, reduced stress, and increased immunity and bioavailability with simple digestion.
Furthermore, as the number of muscle and fitness enthusiasts grows, so does consumer demand for protein-based sports beverages, speciality nutritional drinks, nutritional snacks and other performance-enhancing items. Glycogen and carbs are the primary sources of energy during short- and medium-term activity.
Research conducted by protein experts have revealed that during aerobic activities, protein turnover can increase by up to 20%. Demand for acidified whey protein has skyrocketed as a result.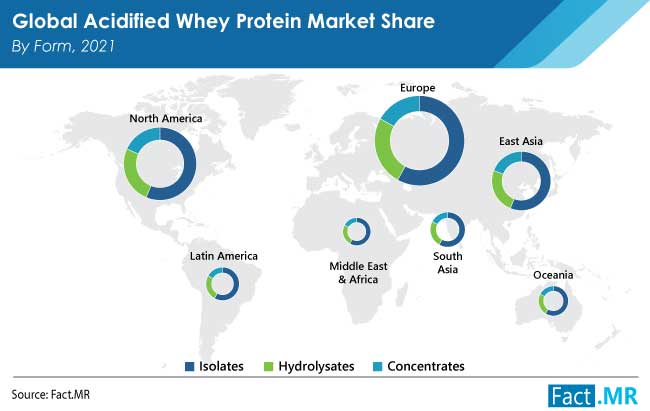 Country-wise Analysis
Which Factors Driving Sales of Acidified Whey Protein in the U.S.?
With a market share of 30.4% in 2021, North America is a prominent region in the global market. According to the most current analysis, demand for acidified whey protein in the U.S will account for more than 85% of the North American market in 2021.
Latest trends of acidified whey protein is rising used of protein supplements among health-conscious people in the United States as protein is one of the most essential micronutrients for the human body. Protein supplements are normally sold as a powder that can be mixed with healthy beverages to increase daily protein intake.
Whey protein that has been acidified contains a wide variety of important amino acids that are easily absorbed. It has been shown in numerous trials to help people build strength, muscle mass, and shed considerable quantities of body fat. All these factors are driving the U.S market for acidified whey protein growth through 2031.
Why is Demand for Isolate Acidified Whey Protein in Germany Rising Rapidly?
The Germany acidified whey protein market size in 2021 is estimated to reach a value of US$ 10.8 Mn, while demand in Russia for acidified whey protein is expected to boost growth of the European acidified whey protein industry at a high growth rate of 9.5%.
Havero Hoogwegt B.V. and Glanbia Foods, Inc., the region's largest manufacturers of acidified whey protein isolates, is focusing on expanding its current milk protein facilities, purchasing additional facilities, and forming partnerships with new distributors.
Havero Hoogwegt B.V. keeps a healthy investment portfolio to diversify its product offerings. In addition, in 2019, the company joined with First Milk to consolidate its whey protein operations in Europe and become the exclusive owner of acidified whey protein isolates. In 2019, the company purchased Polymer Films LLC, intending to expand its non-dairy goods and non-dairy ingredients solution business globally.
Are Sales of Acidified Whey Protein in Australia Set to Surge?
In 2021, Australia had a market share of 66.7% in Oceania. Acidified whey protein products, which improve health conditions, are typically promoted as alternatives to traditional medication in the country. Dietary supplements are a major end-use application area of acidified whey proteins in Australia.
What is Driving Sales for Acidified Whey Protein in India?
According to Fact.MR, India is estimated to account for 34.2% of overall South Asia acidified whey protein market share in 2021, while demand for acidified whey protein in Indonesia is also fuelling growth of the acidified whey protein industry in South Asia.
What is the Strategy of Producers of Acidified Whey Protein in China & Japan?
According to the most recent estimate by Fact.MR, China accounts for a market share of 58.9% in 2021, while manufacturers of organic acidified whey protein in Japan, with technology advancements in the country, are expected to drive the industry at a growth rate of 8.6% during the forecast period.
Further, strong promotional plans by manufacturers in both, China and Japan are being witnessed. With the help of informative and eye-catching advertisements, key manufacturers can enlarge their consumer base, as customers will become more aware of the benefits of using natural acidified whey protein-based products.
Promotion or advertising can be done via audio-visual means and short films, such as social media and distribution of leaflets.
Category-wise Insights
Why Do Acidified Whey Protein Isolates Dominate the Landscape?
According to Fact.MR, high demand for acidified whey protein isolates is estimated, which will account for 57.3% share in 2021, Sales of isolates are expected to witness a significant CAGR of 7.6% over the forecast period.
Acidified whey protein isolates have higher protein content and lower fat and carbohydrate content per serving due to the processing stages utilised in their manufacturing, and are highly accepted by consumers because of the lower fat content.
Which is the Most Attractive Application of Acidified Whey Protein?
In 2021, the ready-to-drink beverages segment accounted for approximately 36.2% of the global market, followed by acidified whey protein application in acidic beverages, which is expected to rise at a CAGR of 8.4% during the forecast period.
Additionally, use of acidified whey protein in nutritional products due to their health benefits has risen during the historical period at a CAGR of 5.8%. Nutritional products further include acidified whey protein-based in sports nutrition, expected to witness a high growth rate of 7.7% over the decade.
Competition Landscape
Top producers of confectionery & dessert products are using acidified as a prime ingredient, as rennet and acid whey being transformed into sweets is a trendy cuisine.
Additionally, infant nutrition application in acidified whey protein and application of acidified whey protein in dairy have raised the knowledge about the health advantages of products produced from acidified whey protein.
Top producers of acidified whey protein are also focusing on research & development activities for new product development.
Acidified Whey Protein Industry Report Scope
Attribute

Details

Market size value in 2021

USD 135.2 Million

Market forecast value in 2031

USD 296.9 Million

Growth Rate

CAGR 8.2%

Forecast Period

2021-2031

Historical Data Available for

2016-2020

Market Analysis

MT for Volume and US$ Million for Value

Key Regions Covered

North America
Latin America
Europe
East Asia
South Asia
Oceania
MEA

Key Countries Covered

United States
Canada
Brazil
Mexico
Rest of LATAM
Germany
U.K
France
Spain
Italy
BENELUX
Russia
Rest of Europe
China
Japan
South Korea
Rest of East Asia
India
Indonesia
Malaysia
Singapore
Thailand
Rest of South Asia
Australia
New Zealand
South Africa
GCC Countries
Central Africa
Rest of South Africa

Key Market Segments Covered

Form
Nature
Application
Region

Key Companies Profiled

Arla Foods Ingredients Group
Glanbia Plc
Fonterra Co-Operative Group Limited
Milei GmbH
Milk Specialties
Grande Cheese Company
Others

Pricing

Available upon Request
Key Segments Covered in Acidified Whey Protein Industry Research
By Form

Isolates
Hydrolysates
Concentrates

By Nature

Organic Acidified Whey Protein
Conventional Acidified Whey Protein

By Application

Ready-to-drink Beverages
Ready-to-drink Powders/ Powder Drink Mixes
Nutritional Products

Sports Nutrition
Medical Nutrition
Infant Nutrition

Others

Dry Mixes
Seasoning Blends
Frozen Desserts
Sorbets
Soups
Margarines

Dairy
Acidic Beverages
Functional Beverages
Juice Drinks
Protein Bars
Protein Supplements
Baked Goods
Confectionery & Desserts
Snacks and Cereals
Ice Cream
Coffee Creamers