Sustainable Eating Creating Growth Opportunities for Plant-Based Cheese
The global plant-based cheese market is estimated to grow at a CAGR of over 9% during the forecast period (2019-2027). The plant-based cheese market has witnessed double-digit growth over the past decade. With a large segment of the population turning towards veganism, healthier eating habits are key factors driving the plant-based cheese market. In addition, the changing preferences among consumers for low fat, low sugar, and lactose-free products is paving the way for plant-based products like plant-based cheese thus boosting plant-based product demand. Lactose intolerance and milk allergies, are also responsible for 'vegan' trends. The consumption of plant-based cheese is highly recommended by several regulatory bodies. For example, the U.S. Food and Drug Administration (FDA) established plans to introduce innovations in plant-based cheese production, as well as other plant-based products. Likewise, in 2019 the European Commission aims to create a legal definition of plant-based food which will be used as a category benchmark. Such aforementioned factors are anticipated to bolster the plant-based cheese market during the forecast period.
Fast Food Corporations Ignite Consumer interest in Plant-Based Products
The increase in the popularity of veganism has led food production units to integrate dairy-free alternatives into their product portfolio. In bakeries and fast food joints, plant-based cheese is seeing substantial adoption. In order to capitalize on the increasing demand for plant-based cheese, fast food joints such as MacDonald's have already begun serving plant-based fast food such as plant-based cheese burgers, and pizzas. In addition, an increasing number of retail stores and retail outlets are starting to sell various plant-based cheese varieties. The availability of plant-based cheese in myriad flavors are providing consumers with enormous opportunities to experience new tastes.
North America at the Forefront, While APAC to Offer Profitable Growth Prospects
Evaluating the production of plant-based cheese at a global level, the primary demand for plant-based cheese is from North America. North America, led by the U.S. and Canada captured a share of over 30% in 2018. Retail sales of plant-based milk paved the way for growing acceptance of plant-based cheese in North America. Further, demand for milk-free cheese is particularly high among consumers seeking health and nutritional benefits. The region boasts of advanced production capabilities underpinned by the presence of a mature market. Although North America is expected to continue to be the leading region, Europe will close in, with the second-highest market share. Furthermore, analysts expect an unprecedented increase in demand from unindustrialized markets across Asia Pacific, as it houses a majority of the global population.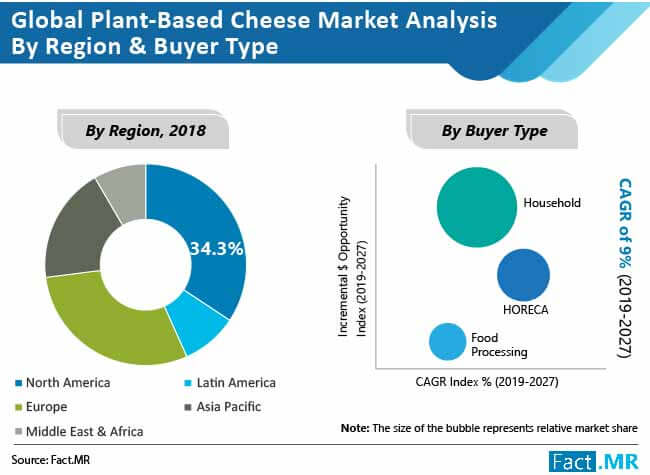 Get access to critical regional insights on the plant-based cheese market, by asking an analyst here
Product Development to be an Important Strategic Maneuver
The increasing demand for plant-based foods is giving start-ups and established brands the opportunity to develop new products to fill current white spaces on the market. Plant-based cheese brands are ensuring nominal pricing. Its healthy attributes will make it best positioned to capture the interest of flexitarian millennials who are more open to make a switch to plant based products. Some of the key developments in the plant-based cheese market are:
In 2019, Nestle SA developed alternatives to dairy cheese and bacon, designed to complement their existing plant based burger patties
In 2019, French cheese maker Danone says it plans to expand its plant-based cheese range to encourage sustainable eating and drinking
High demand for flavored foods has broadened the growth spectrum for producers around the world. Product innovation is thus an important strategy in the plant-based cheese market.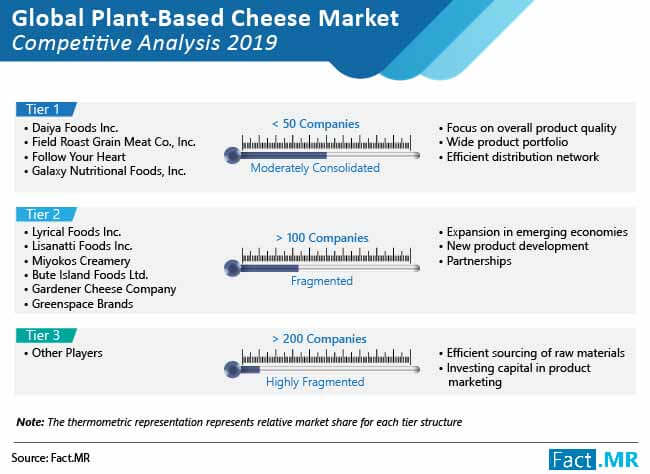 To get an in-depth competitive analysis on plant-based cheese market, request for a report sample here
Global Plant-Based Cheese Market – Scope of the Report
The following report provides forecast and analysis of the global plant-based cheese market along with the historical data of 2013, estimated data 2019 and forecast data up to 2027 in terms of value (US$ Mn) and volume (Tons), according to a Fact.MR study. The research propounds critical trends that are currently influencing growth within the global plant-based cheese market along with several macro-economic indicators. This newly published and insightful report on plant-based cheese sheds light on key dynamics, and their impact on the overall value chain from suppliers to end-users, which are expected to transform the future of the global plant-based cheese market.
The report also comprises the study of current issues with end users and opportunities for plant-based cheese. It also contains value chain analysis, including the key market participants. To provide users of this report with a comprehensive view of the market, we have included a detailed competitive analysis about the key players involved in the market and strategic overviews. The dashboard included in the report provides a detailed comparison of plant-based cheese manufacturers on parameters such as total revenue, product offerings, and key strategies. A list of key companies operating in the Plant-Based Cheese market provided in the report adds to the credibility of this exhaustive research study.
Global Plant-Based Cheese Market: In-Depth Assessment on Key Segments
The global plant-based cheese market is segmented on the basis of source, form, sales channel, buyer type and region
Source

Soy
Coconut
Cashew
Almond
Others

Form

Blocks & Wedges
Slices
Spreads
Shreds

Buyer Type

Household
HORECA
Food Processing

Sales Channel

Retail Sales

Hypermarkets / Supermarkets
Departmental Stores
Convenience Stores
Specialty Stores
Online Retailers

Direct Sales

Region

North America
Latin America
Europe
APAC
MEA
This taxonomy and the detailed TOC prepared are confidential and intended exclusively for the individual or entity with whom it is being shared. Reading, disseminating, distributing, or copying this to any party other than addressee(s) is unauthorized and prohibited.
Country-specific assessment on demand for plant-based cheese has been provided for each regional market, along with the market size valuation and forecast price point assessment, price index and impact analysis of key regional and country-wise dynamics, which were obtained through quotes from numerous plant-based cheese manufacturers, experts, and suppliers. Y-o-Y growth projections have also been offered on all regional markets incorporated in the report. Moreover, future trends, growth prospects, and other possibilities related to the market have been answered in the report.
The report provides company-level market share analysis, which has been derived on the basis of the company's annual sales and segmental revenue in all the target end-use industries. The market has been forecasted based on constant currency rates. The report provides detailed competitive and company profiles of key participants operating in the global plant-based cheese market. Some of the major competitors operating in the plant-based cheese market are Daiya Foods, Inc., Field Roast Grain Meat Co., Inc., Follow Your Heart, Galaxy Nutritional Foods, Inc., Lyrical Foods Inc. and others.
Global Plant-Based Cheese Market: Research Methodology
A number of primary and secondary sources were consulted during the course of the study. Secondary sources include Factiva, Morningstar and Hoovers, and company annual reports and publications. Comprehensive interviews have been conducted by our analysts, and the intelligence and insights obtained have been used for validating the information gained through secondary research. The report also includes a description of assumptions and acronyms utilized for research purposes. Data gathered has been validated using the triangulation method to offer useful quantitative and qualitative insights in the plant-based cheese market.
A short market viewpoint offered in the report elucidates the macro-economic aspects that influence the growth of the plant-based cheese market, which includes global GDP growth rate, various industries growth rate, such as food & beverages, e-commerce and HORECA. This report serves as an authentic resource of intelligence on the plant-based cheese market, enabling the readers to take fact-based decisions on the future direction of their businesses.
Fact.MR offers custom research services that help clients to get specific research solutions
We are committed towards customer satisfaction and quality service.
---
Our Clients

Plant Based Cheese Market Forecast, Trend Analysis & Competition Tracking - Global Market Insights 2019 to 2027