Specialty Malt Market Insights: COVID-19 Induces Sluggishness in Demand till 2021
The COVID-19 pandemic has had a varied impact on multiple industries, including food and beverages. Its effects are expected to be negative on the specialty malt market. Companies have ceased their production owing to decreased demand and diminishing supply due to nationwide lockdowns. However, the specialty malt market is expected to recover by the end of last quarter of 2020 registering an upsurge in demand in the mid-term forecast. An influx of brewing industries is likely to create notable demand for specialty malt. Based on these trends, the market is projected to see 6% growth during the forecast period (2020-2030).
Specialty Malt Market Product Insights: Multiple Functionalities of Specialty Malt Likely To Augment the Demand Growth
The specialty malt segment is projected to grow at 5.5% CAGR during forecast period 2020 – 2030. Specialty malts have multiple applications, as they help in providing taste, texture, appearance, and flavors to beer and other beverages. For instance, rye malt offers a unique attribute as a multifunctional and natural dough conditioner, along with a sweet and tangy flavor. Mainly used in the bakery industry, it paves way for softer and more elastic dough, making the final product rich in terms of volume.
To get the latest COVID-19 impact insights on the specialty malt market, ask an analyst here
Specialty Malt Market Regional Insights: Microbrewers Specializing in Flavored Beers Fueling the Demand for Specialty Malt
An expanding microbrewery industry is expected to surge the demand for specialty malt during the forecast period. The number of operating breweries grew by almost 10-12% in 2018, and totaled to 4,500 breweries in the US. Small and independent breweries accounted for almost 99% of the breweries in operation in the United States. In 2018, craft brewers produced 26 million barrels, and witnessed 11% rise in volume. Also, the number of operating breweries in the US grew by 13% in the same year.
Specialty Malt Market Strategy Insights: Manufacturers are Strategically Introducing Malternatives as Substitute to Beer
Malternatives are alcoholic beverages which contain malt alcohol in low proportion mixed with other types of alcohol. Malternatives are an exciting and enticing alternative to regular beer. These products are regulated in a way identical to beer, which allows retailers to sell seemingly wider product lines. The malternatives market is driven by product acceptance among young and urban consumers. The prominent players in the production of malternatives such as Anheuser-Busch Inc., Arizona Beverage Company LLC, Bacardi USA Inc. are widely using specialty malt for production of malternatives.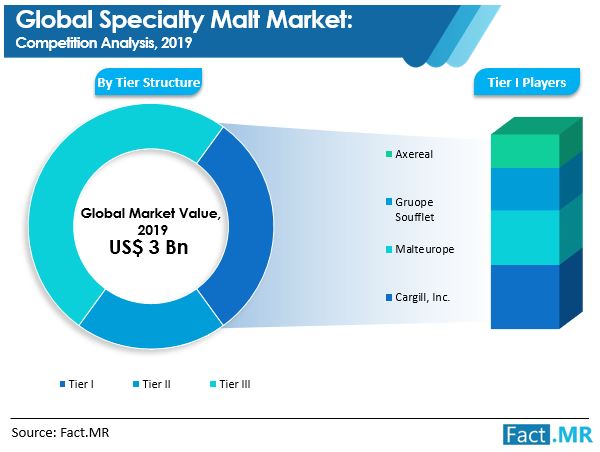 To know more about the specialty malt market, request for a report sample here
COVID-19 Market Insights:
The Covid-19 pandemic has adversely impacted the global food and beverages industry where national and regional lockdowns have disrupted both production and supply chains. It is anticipated that the effect on beverages and liquor firms will be complex, affecting both demand and supply sides. And unlike other sectors, a change in consumer habits have led to increased demand for several other categories of food and beverages as well as shifting product preferences. At the same time, manufacturers are determining how best to tackle possible disruptions to the supply chain and capacity constraints that may prevent them from meeting evolving customer needs.
Analyst's Viewpoint:
The global specialty malt market is poised to grow positively during the forecast period. Emerging regions such as East Asia, South Asia and Latin America have shifted consumer demand towards specialty malt. However, the market is expected to showcase sluggish growth during year 2020 due to the coronavirus pandemic.
Global Specialty Malt Market: Scope of the Report:
The recent global specialty malt market report by Fact.MR offers a 10-year forecast from 2020 to 2030. The report elaborates on the key drivers, restraints, opportunities and threats to the expansion of the global specialty malt market. A detailed segmental analysis, based on product type, source, extract and application has been provided in the report.
Regional analysis in terms of supply chain analysis, business execution and market value analysis provides an in-depth perspective about the future scope of the global specialty malt market. In addition, a separate section on market structure has also been provided. The section provides a detailed analysis of key market players and the strategies for expansion in the specialty malt market.
Specialty malt market is anticipated to witness a notable upsurge during the forecast period 2020 to 2030, conferring to a new Fact.MR study. The study promotes crucial trends that are presently determining the growth of specialty malt market. This newly published and perceptive report sheds light on vital dynamics, which are likely to convert the future of specialty malt market, in turn generating worthwhile opportunities for key companies as well as evolving players who are interested in the manufacturing of specialty malt.
Specialty malt market study is a detailed market intellect on key revenue progression factors, challenges, industry trends, and opportunities, which will eventually influence the growth of specialty malt market. The report primarily conveys a summary of the specialty malt market, considering present and upcoming food and beverages industry scenarios, to reveal striking sides relating to the acceptance of specialty malt across prominent regional markets.
A detailed assessment on few of specialty malt raw material suppliers accessible in the report allows the report readers to obtain detailed findings that have resulted from specialty malt supply chain analysis, business execution, and value chain analysis across the regional markets incorporated in the report. A list of prominent companies functioning in specialty malt market provided in the report enhances reliability of this ample research study.
Specialty Malt Market: Report Summary and Scope
Study offers a comprehensive overview on diverse features that are inducing demand, revenue generation and sales in specialty malt market across the globe.
A comprehensive estimate on specialty malt market has also been made accessible by the experts, who have considered the market estimates on the basis of a likely scenario, an optimistic scenario, and a conservative scenario regarding sales of specialty malt during the forecast period. Analysis and estimation of price point comparison by region and by product with the global average price has been included in this study.
Specialty Malt Market: Segmentation
FactMR's study has done the segmentation of specialty malt market on the basis of product type, source, extract and application.
Product Type

Source

Extract

Application

Region

Caramelized Malt

Roasted Malt

Barley

Wheat

Rye

Others

Dry

Liquid

Malt Flours

Individual

Institutional

Promotional

North America

Latin America

Europe

East Asia

South Asia

Oceania

MEA
Specialty Malt Market: Analysis on Market Size Evaluation
Predictions of specialty malt market, encompassing current as well as forthcoming projected values estimate and analysis on region-wise demand trends and price index have been assimilated in the report.
Market estimates at the regional and global scale for specialty malt are available in terms of "US$ Mn." A Y-o-Y growth contrast on prominent specialty malt market segments, along with the market attractiveness valuation computes understandings brought in the report. Metrics mentioned above are also followed based on specialty malt products where specialty malt witness a steady demand.
Specialty Malt Market: Scrutinized Assessment on Regional Segments
Weighted sections have been elaborated in the report on specialty malt market, which delivers projection on the regional markets. These chapters brighten the regional macros (political economic, and business environment outlook), which are expected to have a significant impact on the growth of specialty malt market during period of forecast.
Country-specific valuation on demand for specialty malt has been offered for each regional market, along with the market scope estimate and forecast, price index, price point assessment, and impact analysis of dynamics of prominent regions and countries. For all regional markets Y-o-Y growth estimates have also been incorporated in the report.
Specialty Malt Market: In-depth Analysis on Competitive Landscape
The report ends with a section on the competition scenario of specialty malt market, along with the profiles of major companies contributing to the market expansion. Essential and up-to-date data as well as information correlated to the market performers, who principally engage in the production and supply of specialty malt, has been brought with the help of a detailed dashboard view. Market share analysis and comparison of prominent players provided in the report permits the report readers to plan preemptive steps to advance their businesses.
Company profiles have been shared with report, which exerts essentials such as product portfolio, along with an all-inclusive SWOT analysis on each player recognized along with the company policies identification and analysis. The company presence mapped and presented through the matrix for all the prominent players of the market functioning in specialty malt market offers readers with actionable intellect, which helps in thoughtfully presenting the market status, and making decisive predictions on the competition levels in specialty malt market. Major companies operating in global specialty malt market, include IREKS Gmbh, Malteurop, Simpsons Malt Limited, Groupe Soufflet, Viking Malt Oy, Axereal, Cargill, Inc, GrainCorp Ltd, Cooperative Agraria Agroindustrial, Barmalt India Pvt Ltd.
Impact of Covid-19 on Specialty Malt Market
The report includes a scenario based assessment of impact of Covid-19 across key regions for all four quarters of 2020. The report discusses the market forecast under optimistic, probabilistic and pessimistic scenario. Under the three scenarios, the demand loss and recovery has been illustrated and described through L-shaped and U-shaped recovery curves. Alongside, the Covid-19 impact has been benchmarked with previous crisis including sub-prime crisis and SARS pandemic.
Fact.MR offers custom research services that help clients to get specific research solutions
We are committed towards customer satisfaction and quality service.
---
Our Clients

Specialty Malt Market Forecast, Trend Analysis & Competition Tracking - Global Market Insights 2020 to 2030