Avocado Oil Market
Avocado Oil Market Analysis Report By Product (Extra-virgin, Virgin, Pure, Blends Oil), By Application (Retail, Cosmetics and Personal Care, Medicinal, Other), By Source (Hass, Fuertes), By Sales Channel, By Region - Global Market Insights 2019-2029
FACT635MR
Mar-2022

List of Tables : 140

List of Figures : 110

170 Pages
Extra-Virgin Oil Expected to Hold More than 44% of the Avocado Oil Market Share in the Forecast Period
Fact.MR's recent study on the avocado oil market shows that the market is expected to grow with a CAGR of ~ 8% in the forecast period. The global market value for avocado oil is valued to be ~ US$ 1 billion in 2019.
Avocado oil contains high protein, antioxidant properties, soluble & insoluble fibers and various vitamins and minerals. The demand for avocado oil is expected to increase over the forecast period owing to its extensive use in cooking. Moreover, the beauty and cosmetics industry is also using avocado oil in numerous products as an ingredient, mainly to reduce blemishes, dry skin, wrinkles, and acne.
Avocado oil is also used for the treatment of major health-related problems such as coronary heart diseases and cholesterol. Overall, the avocado oil market has set its footprint in three major industries, which is expected to boost the demand for avocado oil in the future.
Incidences of lifestyle diseases such as cardiovascular disorders, are mounting across the globe. For instance, in the United States about 610,000 individuals die due to heart disorders each year. Awareness regarding health issues and suitable precautionary measures have gained increased importance ever since. Scientists and medical experts have been researching upon various natural treatments and solutions for such chronic diseases. This has pushed the research on avocado oil owing to the health benefits associated with its consumption.
Avocado oil is used in various applications, such as in cosmetics, personal care and medicinal applications.
It has gained high importance in medicinal applications owing to various advantages it provides, for instance, it supports weight reduction, enhances digestion, improves heart health, carries out detoxification, enhances skin glow, increases the rate of wound healing, and is a rich source of vitamin E. With this, the consumption of avocado oil is expected to increase in the coming years.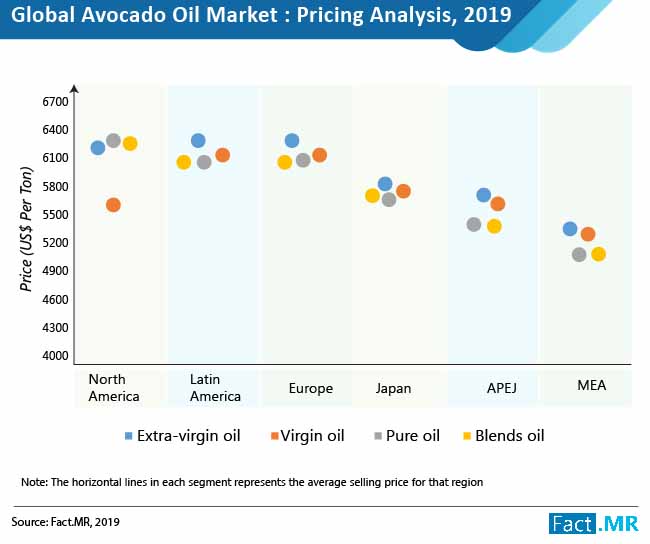 Fact.MR, in its new research publication, has stated that the global market for avocado oil is projected to expand at a stellar rate in the coming years. According to this research, the global avocado oil market growth is expected to rise significantly during the period of forecast, 2019-2029.
In addition, the volume of avocado oil being sold is estimated to be more than 160,000 metric tons in 2019 and the demand is expected to increase in the forecast period.
This growth is largely driven by its nutrient rich composition, increased awareness regarding the benefits of the product among consumers and health experts alike, and higher demand for avocado oil in cosmetics and personal care products.
Manufacturers involved in the production of avocado oil are focusing on acquisitions and strategic alliances to enhance their product lines. For example, Costa Group has acquired Lankester to enter and expand its product line in the avocado market.
This research report includes profiles of key players involved in the global avocado oil market. To name a few, the report covers analysis on players such as Sesajal S.A de C.V., Cibaria International, Crofts Ltd., The Village Press, Westfalia Fruit (Pty) Ltd., and other prominent players.
Avail customized purchase options for your needs
Growing Awareness for a Healthy Lifestyle to Fuel the Demand for Avocado Oil
Higher consumer inclination towards a healthy lifestyle has pushed the consumption of healthy food products and ingredients. Of late, people have become more conscious regarding their diet and food intake.
In addition, obesity rate has also increased since 2016. During this period, more than 1.9 billion people, especially adults, were overweight.
According to WHO, obesity and over weight problems are the main causes of deaths. To combat these health issues, individuals are increasing their consumption of healthy vegetables and fruits, such as avocados that reduce cholesterol levels and triglycerides, which is expected to aid the demand for avocado oil.
Avocado Oil to Witness High Consumption in Latin American Countries
Increasing awareness regarding a healthy lifestyle has driven the demand and consumption of avocado oil in Latin America. Latin America region has witnessed a high rate of occurrence of health problems such as heart diseases, chronic disorders, and associated cardiovascular problems owing to high consumption of fats and a poor lifestyle.
With growing awareness regarding the advantages of avocado oil, its consumption has spurred across the region.
In Latin America, consumption of avocado oil is largely observed in Mexico, which is considered as the largest producer and supplier of avocados. Moreover, the demand for avocado oil in North America is also expanding at a higher rate since couple of years.
The avocado oil market in North America is projected to expand at a high rate in the coming years, followed by Asia Pacific excluding Japan.
An Adaptive Approach to Modern-day Research Needs
Customers Swaying Towards Avocado Oil Due to Its Benefits over Traditional Oils
As avocado oil's nutrient profile gloats of a higher amount of unsaturated fats, health-conscious consumers, especially individuals who are fighting obesity problems, have formed a significant buyer base of avocado oil. Deficiencies of traditional oil, for example, an undesirable smell and flavor, are swaying customers toward other sound and tasty oils, for example, avocado oil.
Continuously changing consumer buying patterns such as recognizing the supplement synthesis of a nourishing item, and an inclination towards natural and organic products is anticipated to create a noteworthy thrust for avocado oil, thereby fueling the growth of its market.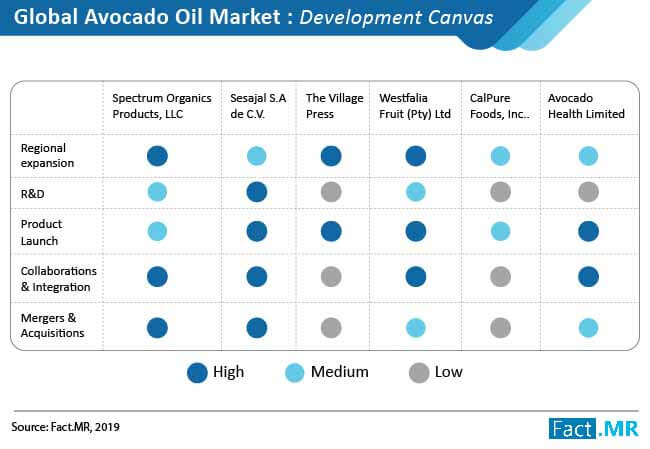 Growing Awareness about Health Benefits of Edible Oils to Trigger Market Growth
Increasing world population and growing demand for different cooking oils are mainly creating a higher demand for edible oil across the globe. Growing awareness about health benefits of consuming vegetable oils is making consumers explore various types of edible oils that can be used for cooking.
Manufacturers are implementing innovative technological solutions to improve the nutritional quality of edible oils, which is expected to provide traction to the increasing demand.
Also, growth of the global retail sector coupled with the rise in disposable income of consumers is expected to make a positive impact on the edible oil production and distribution across the globe. Exponentially increasing demand for edible oils from the growing world population is expected to drive the growth of the global avocado oil market, in the foreseeable future.
Interested to Procure The Data
Market Leaders Investing in R&D and Advanced Technologies to Develop Apt Substitutes for Fats
Growing number of health-conscious consumers across the globe is leading to a declining demand for food products containing oils. Consumers are becoming aware of the ill-effects of consuming fats on their health, which is driving manufacturers to improve the functionality and nutritional benefits of the products.
In order to deal with such challenges, manufacturers are finding ways to provide healthy products to a growing, health-conscious, consumer base.
Leading manufacturers are implementing advanced fat-replacement technologies to meet the consumer demand for zero grams trans-fat in different food products. Production of edible oils and fats that contain no fatty acids is expected to be the most popular and prolific trend followed by majority of the manufacturers in the world.
Furthermore, many companies are engaged in acquisitions and collaborations with other companies to increase their market share and recognition in the global market. Prominent companies are also engaged in increasing their production capacity and product launches, which is boosting the market growth significantly.
For example, in 2019, Avocado Health Ltd. started a new factory in Ethiopia, which can process 5,000 kg of fresh avocado per hour. In January 2018, Westfalia Fruit (Pty) Ltd entered into a partnership with Agricom Group, which is based in Chile.
In September 2017, Westfalia Fruit (Pty) Ltd introduced its range of avocado oils in new and attractive packaging in South Africa.In January 2017, Sesajal S.A de C.V. acquired Chosen Foods, a leading manufacturer of culinary oils and sauces.
In October 2017, La Tourangelle, Inc. expanded its production capacity to cater to the growing demands of consumers. Similarly, in January 2017, CalPure Foods, Inc. started selling its products on Amazon Launchpad - a marketing platform for startup companies.
Product Innovation is Proving to be a Winning Imperative in the Avocado Oil Market
The cold pressed extraction technique was first investigated in the 1980s but its commercial use was only possible a few years back. This opened up new possibilities of manufacturing virgin and extra-virgin oil from avocado as the oil after extraction did not need an additional extraction process.
Also, avocado oil can be produced organically and the yield was also high when this process was used. This improved the quality of the oil processed and the manufacturers could manufacture avocado oil of cosmetic and food grade quality.
Manufacturers of avocado oil have started shifting their oil extraction plants near avocado producing regions. This is due to the shorter shelf-life of avocado fruits, as these get spoilt and rotten within a short period of time.
This affects the quality of the oil extracted. Thus, this step has been taken by manufacturers to ensure good quality of oil. This has also enabled sustainable sourcing from farmers that produce avocado fruits. Also, the storage, shelf-life and supply of avocado oil is much easier than that of avocado fruit giving significant traction to avocado oil.
Global Avocado Oil Market: Segmentation
Segmentation table of the global avocado oil market has been provided below on the basis of product, application, sales channel, source, and region.
Product

Extra-virgin Oil
Virgin Oil
Pure Oil
Blends Oil

Application

Retail
Cosmetics and Personal Care
Medicinal
Other Applications

Sales Channel

Specialty Stores
Modern Trade
Drug Stores
Online Stores
Other Sales Channels

Source

Hass
Fuertes
Other Sources

Region

North America
Latin America
Europe
Japan
APEJ
MEA
- FAQs -
Avocado oil market is expected to grow with a CAGR of ~ 8% in the forecast period.
Sesajal S.A de C.V., Cibaria International, Crofts Ltd., The Village Press, Westfalia Fruit (Pty) Ltd. Are the Prominent Players of the Company
Need an Exclusive Report for your Unique Requirement?
- Our Clients -