Eucalyptus Oil Market
Eucalyptus Oil Market By Product (Eucalyptus Globulus, Eucalyptus Kochii, Eucalyptus Polybractea), By Nature (Conventional, Organic), By Application (Therapeutics & Cosmetics, Aromatherapy, Food & Beverages, Fragrances), By Distribution Channel (Modern Trade, Franchise Outlets, Specialty Stores, Online Retail Stores) & By Region - Global Market Insights 2023-2033
Analysis of Eucalyptus Oil Market Covering 30+ Countries Including Analysis of US, Canada, UK, Germany, France, Nordics, GCC countries, Japan, Korea and many more
Eucalyptus Oil Market Outlook (2023-2033)
Expanding at a CAGR of 6.8%, the global eucalyptus oil market is predicted to increase from a valuation of US$ 140 million in 2023 to US$ 270 million by the end of 2033.
The use of organic eucalyptus oil is estimated to rise at a significant CAGR over the forecast period. Organic eucalyptus oil products are produced and processed without the use of chemicals or fertilizers. As such, more and more people are favoring natural eucalyptus oil over conventional eucalyptus oil.
Eucalyptus oil is derived from the eucalyptus leaves. Eucalyptus trees are originally found in Australia. However, they are being cultivated across the world as well to cater to rising demand from various oil manufacturers. A group of selected eucalyptus leaves undergoes a steam distillation process for the extraction of eucalyptus oil. Eucalyptus oil offers anti-oxidant protection, stimulates immunity, and improves respiratory circulation.
Demand for eucalyptus oil for applications in aromatherapy has been gaining an uptick over the past few years, along with rising demand for flavors & fragrances in personal care, and food & beverage products. Shifting consumer preferences towards natural-ingredient-based products has resulted in the development of several innovative applications in beauty products.
This oil is mainly employed as a medication to treat several common illnesses and problems, such as asthma, nasal congestion, cold symptoms, and other respiratory disorders. Ailments, including arthritis and skin ulcers, can be treated with it as well. In addition, eucalyptus essential oil is extensively used in aromatherapy diffusers to achieve the advantages of relaxation, better sleep, and relief from stress, despair, and anxiety. Eucalyptus essential oil is becoming increasingly popular because of this.
Eucalyptus oil is observed to resolve all side effects associated with conventional medicines and drugs. In addition, the antiseptic properties of eucalyptus oil have led to its adoption in medicinal supplements and pharmaceutical products, helping consumers with high blood pressure and respiratory problems.
Due to its antibacterial and antiseptic qualities, eucalyptus oil is widely used in the pharmaceutical business. As a result, it is highly used to treat burns, scrapes, bruises, cuts, and sores. For the treatment of dandruff and itchy scalp, it is also included in personal care and hair care products.
Growing preference for the use of organic eucalyptus oil in major and developing countries is driving market growth. Products made from eucalyptus oil that has been certified organic are now used in a variety of products, including foods and beverages, medications, and cosmetics.
The market for eucalyptus oil will also see new growth potential since it is widely used to add scents to soaps, perfumes, and detergents. Eucalyptus oil also has a wide range of uses in the mining industry, including as an antibacterial, stain remover, and floating agent, which is driving the market trends for this product.
Demand for natural products is being driven by consumers' increasing health consciousness, which is also fueling market expansion. Eucalyptus essential oil is used more consistently for medicinal purposes owing to its many health benefits, which are helping the sector flourish.
The industry is growing rapidly due to several elements, including increased disposable incomes, rising standards of living, an expanding retail sector, and the expansion of the main end-use industries.
The market is expected to increase because of many important aspects, such as the widespread availability of eucalyptus essential oil in modern and medical stores, and the increasing use of the Internet, which allows for efficient product distribution through e-Commerce platforms.
Report Attributes

Details

Market Size (2023)

US$ 140 Million

Projected Market Value (2033)

US$ 270 Million

Global Market Growth Rate (2023-2033)

6.8% CAGR

Market Share of Eucalyptus Globulus

40%

Key Companies Profiled

Plant Therapy Essential Oils
NHR Organic Oils
Biolandes S.A.
Integria Healthcare
Young Living Essential Oils
Augustus Oils Ltd.
Emu Ridge
Kama Ayurveda
Khadi Natural Healthcare
Sensient Technologies Corporation
Don't Need a Global Report?
save 40%! on Country & Region specific reports
Why is Consumption of Eucalyptus Oil Rising Significantly?
"Increasing Adoption of Eucalyptus Oil in Cosmetics, Personal Care Items, and Food Products Owing to its Antimicrobial Qualities"
Greater public awareness of the value of maintaining a skincare routine is contributing to the rise in demand for personal care products. Since eucalyptus oil has qualities that are beneficial to the skin, it is widely utilized in skin care products. Antioxidants and flavonoids, which both protect the skin from oxidative stress, are abundant in the eucalyptus.
Additionally, eucalyptus can cure wounds, making it helpful for insect bites, minor wounds, ulcers, and contusions. Numerous studies have shown that eucalyptus is quite effective at treating the herpes simplex virus.
Eucalyptus oil is a flavoring ingredient that can be found in a wide range of foods, baked products, sweets, and beverages. Additionally, it is used in organic and gluten-free food products. The consumption of organic food is rising in popularity worldwide. Gluten-free products are getting more popular. These factors are causing the market for eucalyptus oil to expand.
Eucalyptus oil may improve the growth structure when used in medications and nutritional supplements. The antimicrobial qualities of eucalyptus oil have contributed to its rising popularity. The interest in organic food items among consumers is growing, which could provide a solid foundation for market expansion.
How is Industry Growth Being Restrained to Some Extent?
"High Cost of Production and Availability of Various Substitutes"
A huge quantity of eucalyptus leaves is required for creating a single ounce of eucalyptus oil. Moreover, consumers, as well as manufacturers, are increasingly concerned about resource depletion. Production of eucalyptus oil is an expensive procedure, requiring a tremendous capital investment for advanced equipment.
Market players are focusing on overcoming numerous challenges, including high capital costs, and availability of substitutes, which stand as major restraining factors for the growth of the global eucalyptus oil market.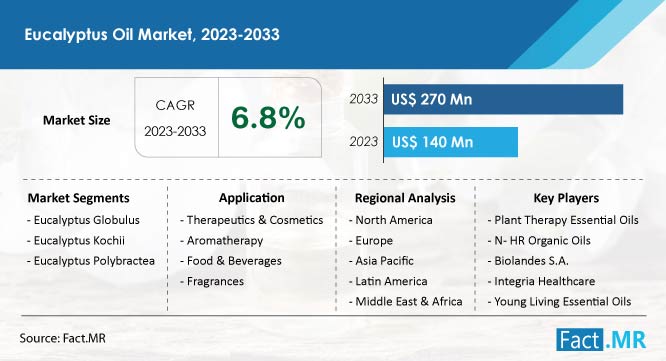 How Can Emerging Companies Penetrate This Market?
"Start-ups Should Focus on Introducing Fresh & Creative Mixes of Eucalyptus Oil for a Variety of Uses"
New entrants are concentrating on releasing fresh and creative mixes of eucalyptus oil for a variety of uses, including cosmetics, food goods, pharmaceuticals, and other products. Aspiring market players are also concentrating on investing in R&D operations to create an ecologically friendly production process and lessen the demand for the natural resources from which key ingredients are obtained.
A start-up company in Vancouver named Vitruvi specializes in creating essential oil products manufactured from high-quality, all-natural ingredients. Vitruvi will be the industry leader in home scenting that is fragrance-free, all-natural, and non-toxic through both products and education. The business introduced a subscription program that lets users experiment with new smells while receiving regular refills.
More Insights, Lesser Cost (-50% off)
Insights on import/export production,
pricing analysis, and more – Only @ Fact.MR
Which Region is Considered Profitable for Eucalyptus Oil Providers?
"High Consumer Awareness about Advantages of Eucalyptus Oil Driving Market Growth in North America"
North America holds 50% share of the global market owing to the growing desire for cosmetic oil, the launch of new products, and increased disposable income.
The existence of developed end-use industries and expanding consumer awareness of the advantages of eucalyptus oil are propelling market expansion.
Country-wise Insights
Why is Germany a Prominent Market for Eucalyptus Oil Suppliers?
"Large Consumer Base for Eucalyptus Oil Producers in Germany"
Due to the huge number of small- and large-scale cosmetic producers in Germany, the market is predicted to expand significantly over the projection period. The rapid development of the cosmetic industry in Germany offers eucalyptus oil producers a wide consumer base. This further stimulates market expansion.
What Makes the U.S. a Leading Market for Eucalyptus Oil in North America?
"Constant Innovations in Healthcare and Spa & Relaxation Sectors in the U.S."
An increase in concerns about aging, the impact of UV light, and hair loss are driving the demand for eucalyptus oil in the U.S.
Continuous innovations in the healthcare, food & beverage, and spa and relaxation industries and growing demand for aromatherapy are boosting market value in the U.S.
What's Driving Eucalyptus Oil Demand in South Korea?
"Rapid Expansion of Pharmaceutical Industry in South Korea"
The rising standard of life, the presence of top eucalyptus oil producers, and the rapid expansion of the pharmaceutical industry are the elements supporting market expansion in South Korea.
What are the Growth Opportunities for Eucalyptus Oil Manufacturers in Japan?
"Abundant Supply of Raw Resources across Japan"
Market growth in Japan is attributed to the favorable weather for farming, inexpensive labor, and abundant supply of raw resources. It is projected that a shift in consumer preferences toward organic food products will present profitable growth prospects for the competitors on a global scale.
Category-wise Insights
Why is Demand for Eucalyptus Globulus Gaining Ground?
"Eucalyptus Globulus More Preferred in Therapeutic Settings Due to its Advantages for Respiratory Conditions"
By product, the market is classified into eucalyptus globulus, eucalyptus kochii, and eucalyptus polybractea. Eucalyptus globulus holds around 40% of the global market.
Eucalyptus globulus, often known as blue gum, is widely utilized in therapeutic settings due to its advantages for respiratory conditions. To relieve arthritis and muscular discomfort, it is widely included in massage oils and other topical mixtures.
Eucalyptus globulus oil can be used medicinally as a mouthwash or chest rub to relieve breathing problems, as a mouthwash in water to soothe the throat, or as a skin, rub to relieve aches and pains. The use of anti-plaque products in dental hygiene is relatively new. The pleasant flavor and smell qualities of cineole-rich eucalyptus oils play a significant role in their acceptance and widespread use, although they are used for medical purposes.
Which Distribution Channel is Expected to Generate High Revenue for Market Players?
"Increasing Popularity of Online Shopping to Boost Sales of Eucalyptus Oil Products"
Based on distribution channels, the market is divided into modern trade, franchise outlets, specialty stores, and online retail stores.
Currently, online retail stores account for the highest share of the global market. Eucalyptus oil producers are concentrating on using internet portals to distribute their products since it reduces operational expenses and enables them to get in touch with niche markets anywhere in the world. Online marketplaces such as Amazon and Flipkart have contributed to the growth of the eucalyptus oil business.
To reach a larger audience and boost sales, several small- and large-scale eucalyptus oil producers are concentrating on selling their products online. Customers are using the internet to shop to save time and money. As a result, it is anticipated that the popularity of online shopping would boost sales of eucalyptus oil products worldwide.
Competitive Landscape
Key players in the eucalyptus oil market are concentrating on improving their production methods to reduce resource consumption and increase productivity. Top businesses' main strategies are to increase profitability through value chain optimization and business process restructuring.
To establish a strong brand identity with their customers, producers are also concentrating on obtaining certifications of various international standards.
For instance :
In 2019, a producer of natural ingredients named Robertet launched powdered, encapsulated essential oil. Using the prebiotic insulin as a carrier, this advanced technique transfers aetheroleum oils into powders with improved absorption. This cutting-edge method makes it possible for the nutraceutical industry to utilize the product.
In 2020, dôTERRA unveiled several new diffusers and essential oil products, along with three new wellness initiatives aimed at assisting people in achieving their health objectives.
Key Segments Covered in Eucalyptus Oil Industry Research
By Product :

Eucalyptus Globulus
Eucalyptus Kochii
Eucalyptus Polybractea

By Nature :

By Application :

Therapeutics & Cosmetics
Aromatherapy
Food & Beverages
Fragrances
Others

By Distribution Channel :

Modern Trade
Franchise Outlets
Specialty Stores
Online Retail Stores

By Region :

North America
Europe
Asia Pacific
Latin America
Middle East & Africa
- FAQs -
At present, North America accounts for 50% share of the global eucalyptus oil market.
Sales of eucalyptus oil are forecasted to reach US$ 270 million by 2033.
NHR Organic Oils, Biolandes S.A., and Integria Healthcare are major suppliers of eucalyptus oil.
Increasing preference for natural ingredients and massive use of eucalyptus oil in food & beverages are driving market growth.
Currently, eucalyptus globulus holds 40% share of the global market.