Autoinjectors Market
Autoinjectors Market Analysis, By diseases (Rheumatoid Arthritis, Anaphylaxis, Multiple Sclerosis, Cardiovascular Disorders, Diabetes), By Type (Disposable Autoinjectors, Reusable Autoinjectors), By Route of Administration (Subcutaneous, Intramuscular), By Type of Molecule, By End User & Region - Global Market Insights 2023-2033
Analysis of Autoinjectors Market Covering 30+ Countries Including Analysis of US, Canada, UK, Germany, France, Nordics, GCC countries, Japan, Korea and many more
Autoinjectors Market Outlook (2023 to 2033)
The global autoinjectors market size was valued at US$ 59.04 Billion in 2023, and is predicted to reach US$ 260.45 Billion by 2033, growing at a compound annual growth rate (CAGR) of 16% during the forecast period from 2023 to 2033.
Autoinjector is medical device used to deliver a dose of a particular medication. These injections are intended to get beyond the self-administration reluctance of needle-based drug delivery methods. Since autoinjectors are simple to use they can be delivered by untrained individuals or by patients themselves. Most of them are spring-loaded and single-use syringes. Depending on the drug loaded, the site of administration may vary, however, it is often injected into the buttock or thigh.
Being specialized medical tools, auto-injectors can be used to lessen needle stick injuries and assist in easing the needle fear that is extremely frequent among patients. Auto-injectors are chosen over conventional medication administration methods such as traditional injectables because of their many benefits, such as their easy use, greater precision, and reduced discomfort.
Autoinjectors help ensure that the full quantity of medication is administered without discomfort. The market for autoinjectors is expected to expand at an impressive rate during the forecast period due to the simplicity that these autoinjectors offer to patients.
People are choosing numerous advanced treatment methods to manage and treat chronic illnesses as well as to alleviate symptoms as the prevalence of chronic disorders is rapidly spreading across the globe. Traditional drug delivery techniques or systems, however, take a lot of time and are laborious, uncomfortable, and painful.
People are therefore looking for more effective and sophisticated drug delivery devices, such as autoinjectors. The growing tendency of using medical supplies such as insulin at home and the rising prevalence of life-threatening disorders are boosting the autoinjectors market growth.
Autoinjectors are segmented into reusable and disposable autoinjectors. Reusable autoinjectors are further classified into prefilled autoinjectors and empty autoinjectors. Reusable autoinjectors currently dominating the global autoinjectors market share. Due to ease of self-administration, decreased anxiety, and dosage precision, prefilled autoinjectors are increasingly preferred by end users over fillable ones.
By lessening the likelihood of unintentional needle sticks and product exposure, prefilled pharmaceuticals increase patient safety. For patients who need long-term treatment and parenteral drug administration on a daily or weekly basis, prefilled injection is practicable. As a result, patients favour self-administrating devices as they are no longer reliant on doctors for every dosage.
Report Attributes

Details

Autoinjectors Market Size (2023E)

US$ 59.04 Billion

Forecasted Market Value (2033F)

US$ 260.45 Billion

Global Market Growth Rate (2023 to 2033)

16% CAGR

China Market Growth Rate (2023 to 2033)

21.5% CAGR

Japan Market Growth Rate (2023 to 2033)

12% CAGR

Germany Market Growth Rate (2023 to 2033)

13% CAGR

Canada Market Growth Rate (2023 to 2033)

14% CAGR

Key Companies Profiled

AbbVie, Inc.
Amgen, Inc.
Antares Pharma, Inc.
Becton, Dickinson and Company
Consort Medical PLC
Eli Lilly and Company
Haselmeier GmbH
Mylan NV
Owen Mumford Ltd.
SHL Group
Teva Pharmaceutical Industries Ltd.
Ypsomed AG
Don't Need a Global Report?
save 40%! on Country & Region specific reports
Which Market Trends are Expected to Be Profitable for Manufacturers of Autoinjectors?
"Advancements in Designs of Autoinjectors"
Autoinjectors are also called single-shot injectors due to their multiple benefits such as dosage accuracy, easy self-administration, and improved patient satisfaction.
The autoinjector devices' cutting-edge designs are enhancing drug delivery efficiency. Autoinjectable doses are becoming more popular among patients who need to consume medications on a daily or weekly basis. The rising demand for self-use devices for the treatment and management of different diseases is also boosting the sales of autoinjectors.
Auto-injectors and pen injectors are becoming more popular due to their user-friendly qualities. Also, technological developments have made it possible for autoinjector devices to ensure low error rates for first-time users while also guaranteeing the precise dosage of the medication the patient intends to self-administer.
"Rising Cases of Chronic Disorders across the World"
Rising prevalence of chronic disorders is playing a triggering factor in the increasing demand for autoinjectors. Globally, chronic diseases are a key cause of rising death rates and increasing rates of individuals with disabilities.
The World Health Organization (WHO) predicted that the majority of chronic diseases account for 60% of the global disease burden each year and 73% of all fatalities globally.
For instance, the prevalence of multiple sclerosis, a chronic autoimmune condition, is rising rapidly in developed nations such as the United States.
According to research from the National Multiple Sclerosis Society, approximately 1 million Americans were estimated to have multiple sclerosis in 2019.
"Increasing Demand for Advanced Autoinjectors"
Several initiatives by respective governments of emerging countries, expanding point-of-care device demand, and growing public awareness of the advantages of autoinjectors over conventional drug delivery systems are all contributing to the rapid sales of autoinjector devices.
Auto-injectors are a straightforward and streamlined alternative to syringes that allow for drug self-administration. Compared to manual syringes the auto-injectors offer more precise and constant drug dosage.
Furthermore, it is anticipated that the user-friendliness of auto-injectors, rising introductions of novel autoinjectors with improved functionality in the market such as single-design autoinjectors, a greater emphasis on safety and efficacy, and increasing prevalence of diseases such as diabetes, multiple sclerosis, and anaphylaxis will drive autoinjector sales during the forecast period.
What May Affect to Growth of the Sales of Autoinjectors?
"Lengthy Product Approval Process and High Pricing Trends"
The extensive process of research and development for autoinjectors entails the employment of cutting-edge technologies, which raises production costs and yields expensive final products. Autoinjector sales are hampered by such high costs in developing and undeveloped nations where user's purchasing power is constrained.
Furthermore, the lengthy approval processes for many products and the strict regulatory requirements lead to pricey autoinjectors. Also, several product recalls are expected to hamper sales graphs to some extent.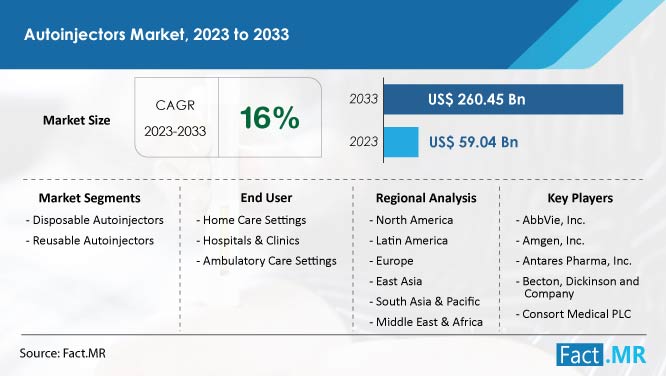 How are New Market Players Performing in This Industry?
"New Companies Focused on Developing Advanced Drug Delivery Options"
To expand their research and development of breakthrough technologies and hasten the release of cutting-edge products, autoinjector start-ups are concentrating on raising fresh funds. To compete with the well-established market players, the new auto-injector producers are also using their funding to create innovative marketing and commercial strategies.
The creation of therapeutic proteins and monoclonal antibodies that could allow the delivery of biologics by autoinjectors and prefilled syringes was the focus of Elektrofi's biotechnology start-up, for which it has raised US$ 40 billion in June 2022. The extra funding was meant to be applied for the development of a GMP manufacturing line and the promotion of its drug delivery system in clinics.
A detailed study on the start-up ecosystem and new developments is been listed by Fact.MR, a market research and competitive intelligence provider in its latest report on autoinjectors.
More Insights, Lesser Cost (-50% off)
Insights on import/export production,
pricing analysis, and more – Only @ Fact.MR
Country-wise Analysis
Why is the United States a Lucrative Market for Autoinjector Suppliers?
"Rising Cases of Cancer & Diabetes"
Demand for autoinjectors is expected to expand at a rapid pace in the United States during the projected period. This can be attributed to the aspects such as the rapidly growing prevalence of chronic disorders such as diabetes and cancer, and the high rate of advanced product adoption.
According to Globocon 2020, there were 612,390 fatalities and 2,281,658 newly diagnosed cancer cases in the United States in 2020.
Breast cancer had the maximum incidence of all malignancies, with 253,465 cases, followed by lung cancer (227,875), prostate cancer (209,512), and colon cancer (101,809).
In the United States, ailments such as diabetes and anaphylaxis have increased dramatically over time.
The Centers for Disease Control and Prevention (CDC) estimate that over 37.3 million Americans have diabetes. These patients rely heavily on insulin shots to control their blood sugar levels.
Anaphylaxis, a potentially fatal allergic reaction, is prevalent in the United States and affects around one in 50 people, according to research by the Asthma and Allergy Foundation of America (AAFA).
Also, the United States market is growing as a result of rising technological improvements, the entry of new competitors, and the quick introduction of innovative products.
Teva Pharmaceuticals USA, Inc., a subsidiary of Teva Pharmaceutical Industries Ltd., announced in April 2020 that AJOVY (fremanezumab-vfrm) autoinjector devices are available in the United States. The anti-CGRP (calcitonin gene-related peptide) precautionary migraine medicine with monthly (225 mg) and quarterly (675 mg) subcutaneous dose options is AJOVY, which is recommended for the preventative treatment of migraine in adults.
What is Aiding the Sales of Autoinjectors in Germany?
"Rapid Advancements in Healthcare Systems"
Sales of autoinjectors in Germany are predicted to evolve at a CAGR of 13% during the next 10 years. This can be due to the rising prevalence of life-threatening diseases, the growing need for needle-free drug delivery devices, and the availability of cutting-edge medication delivery technologies.
In terms of innovation and health, Germany is gaining popularity. The country's increasing focus on patented drug delivery systems and R&D activities is boosting demand for auto-injectors.
Sales of autoinjectors are also expected to increase substantially over the next ten years due to established patient safety rules and the increasing incidences of needle stick accidents.
A glucagon-prefilled auto-injector pen known as Ogluo® was made available in Germany in November 2022, according to a release from Tetris Pharma Ltd., a division of Arecor Therapeutics plc. In both adults and children with diabetes, the product is used to treat severe hypoglycemia.
Why is Japan Considered an Investment-worthy Market in Asia Pacific?
"Rapidly Growing Rate of Senior Population Leading to Increasing Cases of Orthopedic Conditions"
Nearly one-third of Japan's population is over the age of 65, and this group is heavily influencing the country's healthcare industry trends. Autoinjector demand is expected to increase in the nation over the coming years due to the increasing cases of joint and bone-related health problems, such as rheumatoid arthritis, among the elderly.
The Japanese market is expected to progress at a CAGR of 12% from 2023 to 2033 due to the advancements in injectable drug treatment technologies, developing healthcare infrastructure, and the growing rate of the elderly population.
A well-known Japanese pharmaceutical manufacturer, Otsuka Pharmaceutical Co. Ltd., declared in June 2022 that an auto-injector dosage form for AJOVY® Subcutaneous Injection 225 mg manufactured by Teva Pharmaceuticals had received regulatory approval for sale in Japan. Otsuka Pharmaceutical is the official distributor of AJOVY in Japan.
Category-wise Analysis
For Which Disease Treatment are Autoinjectors Widely Used?
"Anaphylaxis - A Severe Allergic Issue"
Autoinjectors are used to treat diseases such as rheumatoid arthritis, anaphylaxis, multiple sclerosis, cardiovascular disorders, diabetes, and more.
Anaphylaxis, a potentially fatal allergic reaction, is one of many allergic reactions that are commonly treated with epinephrine autoinjectors. It is anticipated that rising anaphylaxis rates would increase demand for epinephrine autoinjectors (EAIs) as a treatment, as it is typically administered via pre-filled syringes and autoinjectors. This will generate potential opportunities in the autoinjectors market.
Many allergy drugs are delivered using auto-injector syringes since anyone can do it without medical expertise or experience. Sales of autoinjectors for anaphylaxis are predicted to increase at a rapid pace during the forecast period due to the growing need for injectable epinephrine to treat a variety of allergic reactions, including anaphylaxis.
Competitive Landscape
To gain a large client base and earn more revenue shares, key players in the autoinjectors market are developing advanced home-use autoinjectors, and needle-free devices & therapies. Along with this, they are also adopting market strategies such as mergers, collaborations, partnerships, regional expansion, and more.
Fact.MR report reveals detailed information regarding winning strategies such as local supply, product standards, supply chain management, quality control, and more adopted by leading companies in the autoinjectors market to earn more.
The Qfinity autoinjector platform, a straightforward, reusable, and cost-effective solution for subcutaneous (SC) drug self-administration, was introduced by Jabil Healthcare, a branch of Jabil Inc., in May 2022.
Stevanato Group S.p.A. inked an exclusive contract for its Aidaptus auto-injector in May 2022 with Owen Mumford Ltd., one of the top producers and innovators of medical devices.
Key Segments of Autoinjectors Industry Research
By Disease :

Rheumatoid Arthritis
Anaphylaxis
Multiple Sclerosis
Cardiovascular Disorders
Diabetes

By Type :

Disposable Autoinjectors
Reusable Autoinjectors

By Route of Administration :

Subcutaneous
Intramuscular

By Type of Molecule :

Monoclonal Antibodies
Peptides, Proteins
Small Molecules

By End User :

Home Care Settings
Hospitals & Clinics
Ambulatory Care Settings

By Region :

North America
Latin America
Europe
East Asia
South Asia & Oceania
MEA
- FAQs -
The global autoinjectors market is valued at US$ 59.04 billion in 2023.
Global demand for autoinjectors is predicted to increase at a CAGR of 16% from 2023 to 2033.
The market for autoinjectors is projected to reach US$ 260.45 billion by 2033.
Developments in the design of autoinjectors and rising prevalence of chronic illnesses are driving market growth.
AbbVie, Inc., Amgen, Inc., Antares Pharma, Inc., and Becton, Dickinson and Company are leading manufacturers of autoinjectors.