Chickpea Fiber Market
Chickpea Fiber Market Analysis, By Type (Soluble and Insoluble), By Application, and Region - Market Insights 2023 to 2033
Analysis of Chickpea Fiber Market Covering 30+ Countries Including Analysis of US, Canada, UK, Germany, France, Nordics, GCC countries, Japan, Korea and many more
Chickpea Fiber Market Outlook (2023 to 2033)
Based on the analysis by Fact.MR, the global chickpea fiber market is estimated to be valued at US$ 725 million in 2023 and it is expected to grow at a CAGR of 6.0% to reach US$ 1,304 million by the end of 2033.
Chickpea fiber has gained popularity in recent years due to its nutritional benefits and versatility. As chickpea is high in dietary fiber, protein, and various minerals while being gluten-free and low in fat. These qualities make it attractive for use in gluten-free products, vegan and vegetarian diets, and as a functional ingredient in a range of food and beverage formulations creating growth opportunities for the chickpea fiber market as well.
Report Attributes
Details

Chickpea Fiber Market Size (2022A)

US$ 675 Million

Estimated Market Value (2023E)

US$ 725 Million

Forecasted Market Value (2033F)

US$ 1,304 Million

Global Market Growth Rate (2023-2033)

6.0% CAGR

United States Market Size (2023)

US$ 239 Million

Chinese Market Growth Rate (2023-2033)

6.2% CAGR

Key Companies Profiled

Ajay Food Products (Katni) Pvt ltd
Anu Foods
Ardent Mills
ChickP
Dr. Axe
Gayatri Psyllium Industries
Lianfu Food
Scoular
Ultrafoods
Vitarich
Don't Need a Global Report?
save 40%! on Country & Region specific reports
Historic and Future Pathway Analysis for the Chickpea Fiber Market
Chickpea fiber refers to the fibrous component derived from chickpeas, a legume known for its nutritional value. This natural ingredient is rich in protein, vitamins, and minerals, among others. Its benefits extend beyond its nutritional profile, as chickpea fiber offers numerous advantages in food formulation. In food formulation, chickpea fiber serves as a functional ingredient, enhancing texture, viscosity, and stability. Its water-binding properties help retain moisture, improving shelf life.
Chickpea fiber has a wide range of applications including processed food formulation, gluten-free food formulation, fiber enrichment, blood sugar management, weight management digestive health, cholesterol reduction, and reduced-calorie food formulation.
Short Term (2023-2026): The increasing consumer demand for healthier and functional food options is anticipated to drive market growth. It is demonstrated that chickpea fiber is used in product formulation due to its high fiber content, protein, and other essential nutrients, which aligns with this demand for healthier options, especially in developing economies.
Medium Term (2026-2029): Augmenting demand for clean label and plant-based food trends, and the increasing number of individuals adopting flexitarian, vegetarian, and vegan lifestyles present significant growth opportunities for chickpea fiber.
Long Term (2029-2033): Increasing prevalence of chronic health conditions, such as obesity, diabetes, and cardiovascular diseases are likely to drive the market growth in the long run as these health concerns have led to a greater emphasis on preventive healthcare and dietary interventions. Chickpea fiber, with its nutritional profile and health benefits, offers a natural and effective solution for managing and preventing such conditions.
On the back of the aforementioned facts, the chickpea fiber market is expected to grow at a CAGR of 6.0% during the forecast period from 2023-2033, According to the Fact.MR, a market research and competitive intelligence provider.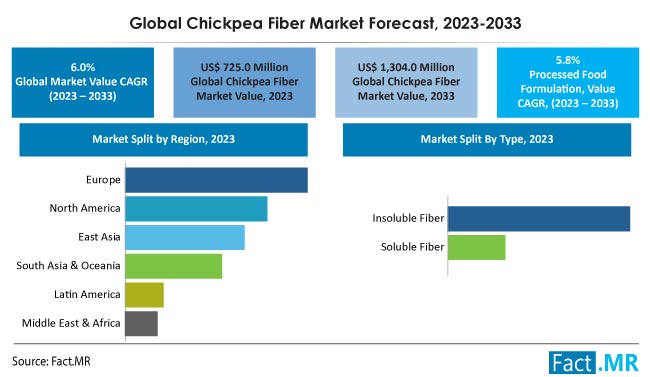 Market share analysis of chickpea fiber based on type and region is provided in a nutshell in the above image. Under the type segment, the insoluble chickpea fiber is likely to grow at a CAGR of 5.6% in the coming years.
Market Dynamics Outlook
''Chickpea Fiber Market Expands with Growing Chronic Health Concerns"
The growing prevalence of chronic health conditions, including obesity, diabetes, and cardiovascular diseases, is a significant driver for the chickpea fiber market. These health concerns have led to a greater focus on preventive healthcare and dietary interventions. Dietary fiber, such as chickpea fiber, is recognized for its potential role in managing and preventing these conditions.
According to WHO, there are 1 billion people worldwide who are obese comprising 650 million adults, 340 million adolescents, and 39 million children. WHO estimates that approximately 167 million people will become unhealthy due to obesity by 2025.
Given the health benefits associated with chickpea fiber, the presence of chickpea fiber in the diet contributes to weight management. The fiber content helps create a feeling of fullness, reducing the likelihood of overeating and promoting satiety. This can be beneficial in maintaining a healthy weight and preventing obesity-related digestive issues.
Additionally, chickpea fiber helps in regulating blood sugar levels by slowing down the absorption of glucose into the bloodstream. This is particularly beneficial for individuals with diabetes or those at risk of developing the condition.
As medical professionals and nutrition experts continue to promote the consumption of dietary fiber for disease prevention and management, the demand for chickpea fiber as a functional ingredient in food formulations is expected to drive overall market growth.
''Alternative Ingredients on the Rise: Impeding Market Growth for Chickpea Fiber''
The chickpea fiber market faces significant competition from various alternative ingredients that potentially hinder its growth. These alternatives include psyllium husk, inulin, oat fiber, and wheat fiber. Psyllium husk, known for its high fiber content and binding properties, is a cost-effective and versatile alternative that competes with chickpea fiber. Inulin, derived from plants like chicory root, offers similar functionalities and prebiotic benefits. Oat fiber, rich in beta-glucan, and wheat fiber, abundant in insoluble fiber, both serve as substitutes to enhance fiber content and improve texture in food products.
All these alternatives restrict the growth of chickpea fiber due to factors such as cost competitiveness, functional equivalency, and consumer preference. Manufacturers are opting for cost-effective alternatives that provide similar functionalities, while consumer familiarity and preference for products made with alternative ingredients can limit the demand for chickpea fiber. The stiff competition from alternatives is likely to stumble the market growth trajectory of the chickpea fiber market.
More Insights, Lesser Cost (-50% off)
Insights on import/export production,
pricing analysis, and more – Only @ Fact.MR
Country-wise Insights
What are the Factors Driving Chickpea Fiber Demand across the U.S.?
With a growing emphasis on maintaining a healthy lifestyle, individuals are actively seeking out dietary fiber as an essential component of their diets. Chickpea fiber, known for its high fiber content, has gained prominence as a natural and wholesome ingredient that support digestive health, aid in weight management, and reduce the risk of chronic diseases.
Further, shifting dietary preferences towards plant-based foods is another factor driving the market growth. As more people are adopting vegetarian, vegan, or flexitarian lifestyles, there is a growing need for plant-based ingredients that provide the desired nutritional profile and functional benefits. Chickpea fiber, derived from a plant source, perfectly serves the purpose. It not only offers the benefits of dietary fiber but also contributes to the texture, structure, and nutritional value of plant-based food products.
Also, the demand for gluten-free and allergen-free options in the U.S. has propelled the popularity of chickpea fiber.
It is anticipated that by 2032 the market for gluten-free food in the U.S. will be worth 14 billion US dollars, doubling the market value in 2022. The popularity of this food is strongly correlated with the frequency of celiac disease, a chronic digestive ailment wherein consuming gluten causes an immune response that may be detrimental to the small intestine.
With an increasing number of individuals diagnosed with gluten sensitivities or allergies, there is a heightened demand for gluten-free alternatives in the market. Chickpea fiber, being naturally gluten-free, provides a versatile and nutritionally rich solution for formulating gluten-free products across various food categories. These factors collectively contribute to the increasing adoption and market growth of chickpea fiber in the United States.
Why China's Chickpea Fiber Market Is Flourishing?
The versatility of chickpea fiber as a functional ingredient has bolstered its popularity in China. With its remarkable ability to enhance the texture, stability, and overall quality of various food products, including gluten-free food, weight management products, and processed food formulation, chickpea fiber has garnered widespread attention from both food manufacturers and chefs alike. This adaptability has opened up a multitude of creative possibilities, driving the innovation and diversification of chickpea fiber-based products in the Chinese market.
The Chinese chickpea fiber market is valued at US$ 81.9 Million in 2023 and is predicted to expand at a CAGR of 6.2% throughout the forecast period.
Category-wise Insights
Why Do Processed Food Application has a Prominent Share in the Chickpea Fiber Market?
Processed foods have become an integral part of modern dietary habits, offering convenience, extended shelf life, and a wide range of options to consumers. With the increasing pace of urbanization and hectic lifestyles, there has been a growing reliance on processed foods that provide quick and easy meal solutions. Chickpea fiber, with its functional properties and nutritional benefits, has emerged as a valuable ingredient for food manufacturers looking to enhance the quality and appeal of their processed food products.
The sensory attributes and texture-enhancing properties of chickpea fiber make it highly suitable for inclusion in processed foods. Its ability to improve the texture, mouthfeel, and overall sensory experience of food products has made it a sought-after ingredient in various processed food applications such as baked goods, snacks, and ready-to-eat meals.
The processed food application of chickpea fiber is estimated to expand at a CAGR of 5.8%.
How is Insoluble Chickpea Fiber Popularity Driving the Market?
Insoluble chickpea fiber is renowned for its positive impact on digestive health. Its ability to improve satiety and aid in weight management has contributed to its growing appeal. As obesity and related health concerns continue to be global issues, individuals are actively seeking dietary options that support healthy weight management. Insoluble chickpea fiber, with its appetite-suppressing properties, has emerged as an attractive solution, driving its popularity and fueling market growth. The insoluble chickpea fiber is expected to grow at a CAGR of 5.6% during the forecast period.
Know thy Competitors
Competitive landscape highlights only certain players
Complete list available upon request
Eminent Player's Key Stratagems
To capture a sizable portion of the chickpea fiber industry, producers are pursuing an expansion and new product launch strategy. By working with other companies, research institutions, or technology suppliers, firms are utilizing their talents and expertise to create products and increase their market reach. For instance:
In February 2021, ChickP Pvt Ltd. announced its production capacity expansion for chickpea fiber in North America by collaborating with Socious Ingredients, Inc. The company expects that the expansion will enable it to keep up with the rising demand for chickpea fiber by zooming its quantity and quality-based production marking 20 metric tonnes in a day and 5000 tonnes a year production of its much sought-after product ChickPea Isolate.
Fact.MR has provided detailed information about the price points of key manufacturers of chickpea fiber positioned across regions, sales growth, production capacity, and speculative technological expansion, in the recently published report.
Segmentation of Chickpea Fiber Industry Research
By Type :

By Application :

Processed Food Formulation
Gluten-Free Food Formulation
Fiber Enrichment
Blood Sugar Management
Weight Management
Digestive Health
Cholesterol Reduction
Reduced Calorie Food Formulation

By Region :

North America
Latin America
Europe
East Asia
South Asia & Oceania
Middle East & Africa
- FAQs -
The global chickpea fiber market is estimated to be valued at US$ 725 million in 2023.
The regions included in the chickpea fiber market study include North America, Latin America, Middle East & Africa, South Asia & Oceania, East Asia, and Europe.
Prominent players in the market are Lianfu Food, Ultrafoods, Ajay Food Products (Katni) Pvt ltd, Vitarich, Ardent Mills, ChickP, Gayatri Psyllium Industries, Anu Foods, Dr. Axe, and Scoular.
The market is expected to reach a valuation of US$ 1,304 million in 2033.
The historic growth rate of the chickpea fiber market was 5.3% from 2018-2022.