Cold Pressed Oil Market
Cold Pressed Oil Market Analysis By Product Type (Cold Pressed Coconut Oil, Groundnut Oil, Palm Oil, Rapeseed Oil, Sunflower Oil & Cold Pressed Soybean Oil) By Distribution Channel and By Region – Global Market Insights 2022 to 2032.
Analysis of Cold Pressed Oil market covering 30 + countries including analysis of US, Canada, UK, Germany, France, Nordics, GCC countries, Japan, Korea and many more
Cold Pressed Oil Market Outlook (2022-2032)
The cold pressed oil market is projected to grow steadily at a 5.9% value CAGR, during the forecast period 2022-2032. Earlier in 2021, this market was projected to have a global market valuation worth US$ 28 Billion and is expected to reach a sum of US$ 52.60 Billion by 2032.
Cold press extraction is a mechanical extraction method that requires less energy than other extraction methods. The technique eliminates all harmful effects associated with conventional oil extraction.
Report Attributes
Details

Global Growth Rate (2022-2032)

5.9% CAGR

Estimated Market Value in 2021

US$ 28 Billion

Expected Market Value in 2022

US$ 29.65 Billion

Projected Market Value by 2032

US$ 52.60 Billion

CAGR for the North American Market

6.8%

Market Share of Asia Pacific

40.7%

Key Cold Pressed Oil Providers

Statfold Seed Oils Ltd.
Archer Daniels Midland Company (ADM)
Wilmar International Ltd
Bunge Limited
Cargill Inc.
Naissance Natural Healthy Living
China Agri-Industries Holdings Limited
The Healthy Home Economist
Gramiyum Wood Pressed Oils
FreshMill Oils
Besides, it is environmentally friendly and can be used to obtain high-quality oils by performing the production at low temperatures using the cold press method. As the benefits of the oil remain untouched in cold-pressed oils, the demand for the same has been increasing since the last few years.
Consumption of healthy foods is on the rise among health-conscious consumers. As a result, functional nutrients, which are beneficial to health, have gained wide acceptance worldwide.
Cold-pressed oils contain no added chemicals or preservatives, and they also do not destroy linoleic acid tissue; thereby, they are healthier and greener. Consequently, these factors are expected to drive the growth of the global cold-pressed oil industry.
Among the various kinds of distribution channels, the products sold in the hypermarkets and the supermarkets have seen the maximum sales. It occupied a global market share of 46% and is expected to grow steadily with a CAGR of 5.6% during the forecast period, 2022-2032.
This market is expected to gain a global market valuation of US$ 29.65 Billion by the end of 2022. As of 2021, the palm oil segment accounted for the largest share in the cold pressed oil market. It is because of the health benefits it provides to consumers, including lowering cholesterol levels, boosting brain health, and improving skin and hair.
Know thy Competitors
Competitive landscape highlights only certain players
Complete list available upon request
2017-2021 Demand Analysis of cold pressed oil Industry vs. Future Outlook 2022-2032
According to Fact.MR- a market research and competitive intelligence provider- the cold pressed oil industry growth was estimated at a CAGR of 5.2% from 2017 to 2021. An increase in the number of health-conscious consumers towards better lifestyle and eating habits is expected to boost the sales of the cold pressed oil products globally.
In recent years, consumers have been replacing other hydrogenated oils with cold-pressed oils due to their health benefits. This has resulted in a significant growth of the market. Further, a recent trend of people eating only foods that contain natural fruits and flavors has further contributed to market growth. All of these factors could contribute to the popularity of cold-pressed oils.
In the past few years, a major growth in this market was contributed by the cosmetics industry, where the trend can be seen to be shifting from artificial products to natural and organic products. Consumers are also inclined towards using cleanly labeled green products on their skin to lessen the effects caused by the artificial chemicals. For all these driving factors, from 2022 to 2032, the global cold pressed oil market is forecast to expand 1.7x.
Prominent Growth Drivers Influencing Cold Pressed Oil Industry
Cold Pressed Oils are full of Nutritional and Health Benefits
The health benefits of cold pressed oils are attracting the attention of health-conscious consumers. Cold-pressed oils contain natural antioxidants from the seeds from which they were derived. Oils extracted through cold-pressing are extracted at room temperature under 49°C.
In addition to their nutritional value, cold-pressed oils maintain most of their subtle color and flavor. Cold pressed oil is also cholesterol-free and contains no trans fats, making it an excellent choice for patients suffering from heart ailments.
The rich oleic acid content of cold-pressed oils enhances the immune system. These oils are also rich in natural antioxidants, which help prevent cell damage. Cold-pressed coconut oil obtained from freshly and matured coconut kernels without any heating makes for an excellent immune system booster. It contains antioxidants that protect the body against free radical damage.
Cold-pressed oils are safer than hot-pressed oils as they do not suffer from heating-induced adverse effects. Moreover, these oils have superior nutritional properties to refined oils. Since these oils are non-refined, cholesterol-free, and free of any harmful solvent residues, they contribute significantly toward a healthy lifestyle.
Also, the rise in demand for clean oil worldwide and the growth in trend among consumers regarding healthier choices for oils for various daily purposes is anticipated to drive the market.
Cold Pressed Oils in the Cosmetics Industry will see Major Growth
Cosmetics manufacturers are gradually removing existing manufacturing standards that use artificial ingredients. Rather, cosmetics are manufactured using natural ingredients, such as oils and fruits. Together, this factor and advances in dermatology have driven growth in the cold-pressed oil market.
Grapeseed oil, jojoba oil, rosehip oil, and other cold-pressed oils have skin-nourishing properties and promote youthful appearance. The beauty industry is redefining itself with this new trend of using oils instead of cosmetics. Cold-pressed oils are rich in fatty acids such as linoleic and oleic acids, which are useful for treating acne.
Some even claim that it can reduce acne marks and blemishes. Antioxidants present in these oils help to reduce stress on the skin, thereby reducing wrinkles and fine lines. In addition to relieving stress, it also enhances the complexion.
Key players have identified cold-pressed oils as a rich source of vitamins A and E that are beneficial to the skin by moisturizing and nourishing it. Cold-pressed oils keep the skin moisturized and hydrated. Due to their anti-inflammatory properties, they can soothe and calm irritated and inflamed skin. For all these skin benefits, the cold pressed oil market is going to experience significant growth during the forecast period.
More Insights, Lesser Cost (-50% off)
Insights on import/export production,
pricing analysis, and more – Only @ Fact.MR
What could possibly hinder Cold Pressed Oil Deployment?
High Cost Challenges will affect the Growth of this Market
One big constraint to this market is that these oils can cause allergy to the consumers. One can have an allergic reaction to a vegetable oil such as sunflower, olive, groundnut, almond, etc., since these are cold pressed and can contain small amounts of proteins which can cause allergic reactions. For example, occasionally a person can develop an allergy to an oil product or a blend.
The allergy is not due to the essential oils of rosewood, and blue tansy in the blend. It is due to the almond oil or olive oil present in the blend. What may appear to be an allergic reaction to a blend of essential oils may be due to a carrier oil contained in the blend. Thus, consumers allergic to these ingredients will not buy the products, and sales are likely to dwindle.
Global market growth is limited by low productivity and allergies also caused by soybean, rapeseed, coconut, and other products. The market growth is also expected to be hindered by severe health issues such as itchy palms and feet, shortness of breath, and nasal congestion.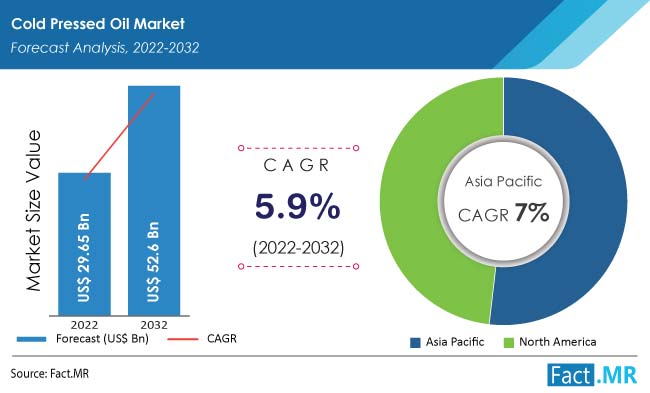 Region-wise Analysis
What is the outlook of the North-American Cold Pressed Oil Market?
Clean and eco-friendly nature of the oils to propel the growth in the U.S
The North American market for the various kinds of cold pressed oil is forecast to have a CAGR of 6.8% from 2022 through 2032. Over the forecast period, increasing health awareness in the population is expected to lead to a healthier lifestyle, spurring the growth of the market.
Increasingly, people are opting for healthier and eco-friendly lifestyle choices, which makes cold-pressed oils more popular than processed oils, especially in the US. In comparison to other methods of obtaining oil, cold pressed oil is considered more environmentally friendly. Its main advantage is that it does not require any additional chemicals.
In addition, consumers of the North American region are more likely to use products that are labeled as clean. Cold-pressed oils have no additives or chemicals, which gives manufacturers the right to label them as clean products, thereby attracting more buyers.
In a developed region like North America, the concern among people about a clean and pollution-free environment will likely drive the development of the market during the forecast period. Cold oil extraction processes emit less carbon dioxide and other greenhouse gasses.
How is the Cold Pressed Oil Growth unfolding in the Asia Pacific?
Easy Availability of Raw Materials to boost the Market Growth
The Asia Pacific market held over 40.7% share in 2021 and is expected to grow at 6.5% from 2022 to 2032. This region has countries like India, China, and Indonesia where all these raw materials are being cultivated and grown.
Raw materials like sunflower seeds, palm, coconut, rapeseed and many more are abundant in APAC regions, which ultimately results in lower prices for the products. Easy availability of raw materials also leads to lower labor costs. Combining these two factors, there is an increasing demand for cold-pressed oil in the APAC region. The above mentioned countries are the largest producers of cold-pressed oil from the APAC region.
The health and nutritional qualities of oilseeds are preserved when they are cold-pressed. Vitamin E helps boost immunity and reduce inflammation. The cold-pressing process preserves natural, healthy antioxidants that would otherwise be destroyed by heat. As an alternative to cooking, cold-pressed oils are highly recommended since they are high in nutritional value.
Both omega 3s and omega 6s are abundant in the oil. Additionally, they contain zinc and vitamins such as vitamins A, C, E, and D, as well as lecithin and potassium. There are also bioflavonoids in cold-pressed oils. As a result of the high nutritional value, as well as its better taste and aroma, cold pressed oil is widely used in Asia Pacific. In 2021, this region accounted for the majority of revenue.
Is Asia Pacific a Lucrative Market for Cold Pressed Oil Sales?
Mergers and Acquisitions to Generate New Growth Avenues
The Asia-Pacific region promises rewarding opportunities, expanding at a CAGR of 7.0%. Leading manufacturers are merging and acquiring, while the healthcare and life sciences industry is booming.
In addition, the growing adoption of innovative laboratory methods for faster diagnosis and investigation of infectious and chronic disorders is another driver of market growth in the region. A key factor driving the market is the introduction of molecular kits and the growing use of reagents for diagnosis.
Region-wise Forecast CAGRs for the Cold Pressed Oil Market
| | |
| --- | --- |
| North America | 6.5% |
| Asia Pacific | 7.0% |
Category-wise Insights
Which Distribution Channel Type is forecast to gain the Maximum Market Share?
Hypermarkets and Supermarkets likely gain the Maximum Share
In 2021, hypermarkets and supermarkets accounted for 46% of the market share, and the channel is expected to expand at a CAGR of 5.7% from 2022 to 2032. Retailers such as hypermarkets and supermarkets have advantages such as individualized customer service from the sales staff, no delivery wait, and quick return policies.
Customers can get help with products they purchase from the hypermarkets and supermarkets because there are people they can turn to if they are having difficulty. As the staff explains the various benefits and ingredients of the products well, it is easier for the consumers to make a decision about which product to purchase. A particular brand has the opportunity to place multiple products on the shelves of a supermarket at the same time. By utilizing this strategy, multiple products become visible to the consumer, which increases sales possibilities.
The development of well-developed distribution channels throughout the world and the large preference of older consumers for in-store purchases as contrasted with the younger generation play a significant role in revenue generation in the offline segment.
By Product Type, which Category is likely to Benefit The Most?
The Palm Cold Pressed Oil Segment is forecast to grow significantly
In 2021, the palm oil segment dominated the cold pressed oil market with a share of over 40.0%, and it is expected to experience a higher CAGR between 2022 and 2032 of 5.9%. This is due to the health benefits offered to customers, including lowering cholesterol levels, increasing brain health, and developing skin and hair.
Cold pressed palm oil is widely used by manufacturers in various kinds of cosmetics and skincare products. As a massage oil, palm oil boosts the elasticity of the skin, facilitates circulation, soothes minor burns, protects the skin against harmful UV rays, diminishes the appearance of wrinkles and blemishes, and facilitates the regeneration of more resilient and supple skin.
Additionally, palm oil offers a variety of health benefits. It is used to treat malaria, high blood pressure, high cholesterol, and cyanide poisoning, and to prevent vitamin A deficiency, cancer, and brain diseases. Moreover, palm oil increases metabolism and aids in weight loss.
In order to maximize the benefits of palm oil, manufacturers of palm oil are experimenting with various variations using enhanced technology. Over the forecast period, the palm oil segment is expected to contribute substantially to the global market.
Don't Need a Global Report?
save 40%! on Country & Region specific reports
Competitive Landscape
Numerous well-established players as well as several small and medium-sized players operate in this market. Cold pressed seed oils have many advantages, which is why several companies manufacture and supply them. Many vendors have increased their production of cold-pressed oil in response to the growing demand for skin treatments. Two firms that are likely to focus on the production of cold-pressed oils for the cosmetics industry are GNC Holdings, Inc. and Blackmores Limited.
Dabur India Ltd, India's largest Ayurvedic and Natural Health Care Company, announced its launch of virgin coconut oil in February 2022, further strengthening its position in the coconut oil market. Dabur Virgin Coconut Oil is cold pressed and 100% natural. In addition to being used for cooking, it is traditionally used for skin and hair care and as a massage oil.
Key Segments Covered in the Cold Pressed Oil Market Report
Cold Pressed Oil Market by Product Type :

Cold Pressed Coconut Oil
Cold Pressed Groundnut Oil
Cold Pressed Palm Oil
Cold Pressed Rapeseed Oil
Cold Pressed Sunflower Oil
Cold Pressed Soybean Oil
Other Cold Pressed Oils

Cold Pressed Oil Market by Distribution Channel :

Cold Pressed Oil Sales via Hypermarkets & Supermarkets
Cold Pressed Oil Sales via Online Channels
Cold Pressed Oil Sales via Convenience Stores
Cold Pressed Oil Sales via Other Distribution Channels

Cold Pressed Oil Market by Region :

North America
Europe
Asia Pacific
Middle East & Africa
Latin America
- FAQs -
From 2017-2021, the cold pressed oil market grew at a 5.2% value CAGR
The global cold pressed oil market is expected to grow with a 5.9% CAGR and is projected to gain a market size of US$ 52.60 Billion by 2032
In 2021, the Hypermarkets & supermarkets distribution channel dominated the global market with 46% market share and is expected to grow with a 5.7% CAGR during 2022-2032
The Palm cold pressed oil segment is expected to grow steadily with a CAGR of 5.5% during 2022-2032
During the forecast period, the North American cold pressed oil market will flourish at a steady CAGR of 6.8%
Asia Pacific had a global market share of 40.7% in 2021 and is expected to grow with a 6.5% CAGR during the forecast period