Q-TOF Mass Spectrometry Market Outlook (2022-2027)
As per a new Fact.MR analysis, expanding at a CAGR of 6.5%, the global Q-TOF mass spectrometry market is projected to increase from a valuation of US$ 950 million in 2022 to US$ 1.3 billion by the end of 2027.
The use of Q-TOF mass spectrometry techniques in biotechnology is expected to rise even faster at a CAGR of 7.5% over the forecast period. Segment expansion is being fueled by the high usage of spectrometry methods in the biotechnology industry for the research and development of drugs.
Report Attributes

Details

Q-TOF Mass Spectrometry Market Size (2022)

US$ 950 Million

Projected Market Value (2027)

US$ 1.3 Billion

Share in Spectrometry Market (2022)

11%

Global Market Growth Rate (2022-2027)

6.5% CAGR

Market Share of Biotechnology

40%

Key Companies Profiled

Agilent Technologies, Inc.
Bruker Corporation
SCIEX
Shimadzu Corporation
Waters Corporation
Danaher
Shimadzu
Thermo Fisher Scientific, Inc.
PerkinElmer, Inc.
Know thy Competitors
Competitive landscape highlights only certain players
Complete list available upon request
Demand Analysis of Q-TOF Mass Spectrometry (2017-2021) Vs. Market Predictions (2022-2027)
"Rapid Expansion of Q-TOF Mass Spectrometer Applications in Pharmaceutical & Biotechnology Firms"
According to Fact.MR, a market research and competitive intelligence provider, demand for Q-TOF mass spectrometry is projected to increase at a CAGR of 6.5% from 2022 to 2027.
The section of mass spectrometry known as Q-TOF mass spectrometry uses the time of flight measurements to determine the particle's mass-to-charge proportion (TOF). In Q-TOF mass spectrometry, an electric field of undetermined strength is used to accelerate the particles. The effects of other particles changing the particle with equal kinetic energy are accelerated as a result. In mass spectrometry experiments, a collision cell is situated between a quadrupole and a TOF analyzer to cause fragmentation.
The market for Q-TOF mass spectrometry systems is anticipated to grow as a result of factors such as the expansion of Q-TOF mass spectrometer applications in pharmaceutical and biotechnology firms and the expansion of research and development initiatives in the industry. Supportive programs by government organizations and a growing emphasis on producing high-quality goods are the two main drivers of the Q-TOF mass spectrometry market expansion.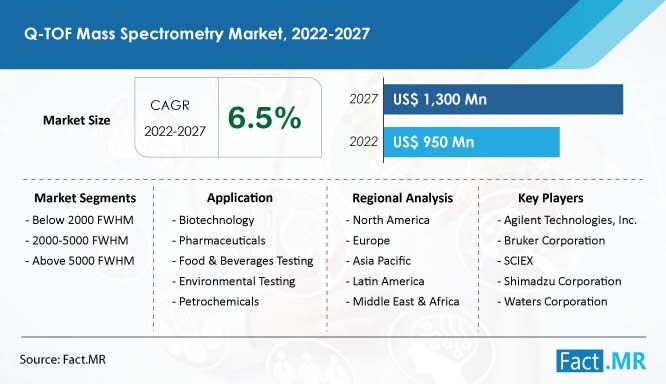 What's Enhancing Q-TOF Mass Spectrometry Market Potential?
"Rapid Innovation in Q-TOF Mass Spectrometry Techniques being Witnessed"
Food contamination detection and drug testing are two of the mass spectrometer's most common uses. Strict legislation is being implemented by governments to combat drug usage and tainted food. The mass spectrometer analyses the bodily fluids to check for the presence of steroids or other substances. As a result, during the forecast period, the market is anticipated to rise due to the increasing demand for drug and food testing.
Additionally, the Q-TOF mass spectrometer produces readings that are more precise than those of any other spectrometer. To ensure the correctness of the results/output, it uses two or more mass analyzers with an additional reaction step. All of these factors collectively indicate that the worldwide Q-TOF mass spectrometer market is predicted to rise significantly over the projection period.
Rapid innovation in Q-TOF mass spectrometry techniques is driving market expansion. The development of the handheld and portable devices needed for Q-TOF mass spectrometry operations is the primary factor driving the global Q-TOF mass spectrometry market. These devices have enhanced imaging capabilities for use during sample analysis. It lessens the work required to transfer large, hefty samples to labs for chemical examination.
These hand-held and portable Q-TOF mass spectrometry equipment are utilized in the defense industry, food safety inspection, environmental testing, and drug discovery services. The global Q-TOF mass spectrometry market is expanding as a result of growing applications for Q-TOF mass spectrometry equipment in clinical research, tissue analysis, toxicology, proteomics, and disease markers.
Rising investments in research & development, particularly in developed and developing countries, will further open up attractive market expansion potential for medical instruments and technologies. Market growth rate is also being boosted by government organizations' research and development capabilities for the incorporation of cutting-edge technologies in healthcare facilities.
Additional significant growth-inducing elements include several technological developments, such as the creation of innovative hybrid spectrometers. These spectrometers provide quick, high-resolution testing with increased precision and accuracy.
The industry is also projected to benefit from a huge emphasis on research operations in the healthcare sector and an increase in contract research companies worldwide over the coming years.
More Insights, Lesser Cost (-50% off)
Insights on import/export production,
pricing analysis, and more – Only @ Fact.MR
How is Market Growth Being Hampered to Some Extent?
"Availability of Substitutes & Lack of Qualified Professionals"
Market growth is expected to be hindered over the coming years by the rising use of some analysis techniques as Q-TOF mass spectroscopy substitutes. Market expansion is anticipated to be hampered by high costs related to research and development, a lack of adequate infrastructure, and rising system prices as a result of technological advancements.
Along with these factors, the market is expected to face challenges from a lack of favorable reimbursement scenarios and technology penetration in developing economies, high capital expenditures for the establishment of production facilities, and inadequate infrastructure in low- and middle-income countries.
The capital expenditure required to install and maintain these devices is anticipated to impede the expansion of the global market. Small diagnostic clinics and laboratories cannot typically afford Q-TOF mass spectrometers, especially in developing nations. Q-TOF mass spectrometry requires qualified personnel to run the equipment. Additionally, high product prices and a shortage of qualified professionals to operate these devices are hampering the sales of Q-TOF mass spectrometry machines.
How Can New Companies Penetrate the Q-TOF Mass Spectrometry Industry?
"New Entrants Should Focus on Development of Novel Methods and Devices"
Many new companies in the spectrometry industry are concentrating on the development of novel methods and devices. Emerging market players are actively funding R&D initiatives that enable them to develop unique products, which helps further with maximizing market revenue.
Andson Biotech, a Georgia-based start-up, creates brand-new sensors in pursuit of the most innovative new cell and gene therapies. With a technique called mass spectrometry, Andson's sensors make it possible to measure significant biomolecules quickly and precisely to guarantee the quality of drug products. It enables mass spectrometry to fulfil the role of a true process analytical technology.
Don't Need a Global Report?
Save 40% on Country & Region specific reports
Which Region Offers Lucrative Growth Opportunities for Q-TOF Mass Spectrometry Device Manufacturers?
"Rising Integration of High-end Hardware & Software Processes in Spectrometry Equipment in North America"
The market for Q-TOF mass spectrometry is dominated by North America. The widespread use of mass spectrometry in a variety of sectors, technological innovations in spectrometry methods, and integration of high-end hardware and software processes in spectrometry equipment are the main factors propelling market expansion.
Factors promoting market growth in the region include the presence of significant market players, growing initiatives by many organizations and associations to raise awareness about new, advanced Q-TOF mass spectrometry products and technology, and growth in research activities that enable the interchange of technical knowledge among medical researchers, industry experts, and technical experts.
Country-wise Insights
What is the Outlook of the U.S. Q-TOF Mass Spectrometry Market?
"Rising Demand for High Resolution & Precise Q-TOF Mass Spectrometers in Research Institutes"
The rising number of research institutions, more spending on R&D activities, a favorable funding environment, a solid foundation of healthcare facilities, and an increase in the number of procedures involved in drug development are the factors driving market expansion in the U.S.
The market is expanding as a result of increasing Q-TOF mass spectrometry instruments usage in the food and beverage industry, rising demand for high resolution and precise Q-TOF mass spectrometers in research institutes, and increased R&D in the biotechnology sector.
What is Supporting Market Growth in China?
"Rising Mass Spectrometry Usage in Pharmaceutical Sector in China"
The Q-TOF mass spectrometry market in China is anticipated to increase at a CAGR of 6% from 2022 to 2027.
In China, market expansion is being driven by an increase in medical tourism, expanding research efforts, rising mass spectrometry usage in the pharmaceutical and food testing sectors, and rising consumer demand for high-quality healthcare.
Due to the existence of a strong research base for the creation of novel medications and the rise in popularity of innovative platforms across numerous fields, it is expected that the market in China would expand at the fastest rate.
Category-wise Insights
Which Application Will Lead Revenue Generation for Market Players?
"High Need for Drug Component Analysis in Biotechnology Applications"
Based on application, the Q-TOF mass spectrometry market is divided into biotechnology, pharmaceuticals, food & beverage testing, environmental testing, petrochemicals, and others. Biotechnology accounts for 40% share of the global market.
The market is being driven by the rising demand for hyphenated and tandem techniques in biotechnology applications. Technological advancements in Q-TOF mass spectrometers, including fast speed, increased resolution, and higher accuracy are driving their demand in biotechnology applications.
From the initial stages of drug discovery to late-stage clinical trials and research, Q-TOF mass spectrometry is crucial to the biotechnology sector. Thus, it is projected that rising funding in the biotechnology sector will fuel market growth.
The rising need for drug component analysis & biomolecule analysis is driving the demand for Q-TOF mass spectrometry in biotechnology applications.
The requirement for a cost-effective system for the analysis of samples and the rising demand for automation in diagnostic approaches are driving segment growth. Manufacturers are encouraged to concentrate on the development of new products.
Additionally, innovations in Q-TOF mass spectrometry devices are anticipated to influence market trends. Complex biological mixtures are separated using cutting-edge methods such as capillary electrophoresis and ion mobility spectrometry.
Competitive Landscape
Key market players are concentrating on providing better solutions to drive their market growth. Top companies have a large global presence and a diversified and technologically advanced product line.
For instance,
Intabio and Bruker collaborated to develop a cutting-edge interface for their UHR-QTOF mass spectrometers. Intabio will work with Bruker to develop the necessary hardware and software to link the Blaze instrument to a Bruker MS.
Segments of Q-TOF Mass Spectrometry Industry Research
By Type:

Below 2000 FWHM
2000-5000 FWHM
Above 5000 FWHM

By Application:

Biotechnology
Pharmaceuticals
Food & Beverage Testing
Environmental Testing
Petrochemicals
Others

By Region:

North America
Europe
Asia Pacific
Latin America
Middle East & Africa