Shoulder Arthroplasty Market
Shoulder Arthroplasty Market Analysis By (Partial, Total, Revision), By Device (Resurfacing Implants, Trauma Devices, Platform Systems), By Indication (Arthritis, Fracture/Dislocation, Hill Sachs Defect), By End User & By Region - Global Market Insights 2023-2033
Analysis of Shoulder Arthroplasty Market Covering 30+ Countries Including Analysis of US, Canada, UK, Germany, France, Nordics, GCC countries, Japan, Korea and many more
Shoulder Arthroplasty Market Outlook (2023-2033)
Increasing at a CAGR of 4%, the global shoulder arthroplasty market is valued at US$ 1.57 billion in 2023 and is projected to reach US$ 2.32 billion by the year 2033.
Based on the procedure, the shoulder arthroplasty is segmented into partial shoulder arthroplasty, total shoulder arthroplasty, and revision shoulder arthroplasty. Demand for partial shoulder arthroplasties is expected to increase at a CAGR of 5% from 2023 to 2033.
Shoulder hemiarthroplasty also referred to as a partial replacement, is a shoulder replacement in which the glenoid, the other half of the shoulder joint, is preserved while the humerus (arm bone) is replaced with an artificial metal implant. When only the humeral head is destroyed by severe, chronic cases of shoulder osteoarthritis, shoulder hemiarthroplasty is advised.
Following are two types of hemiarthroplasty :
In a stemmed hemiarthroplasty, a metal ball and stem, identical to the part used in a total shoulder replacement, are used to replace the humerus' head. When the humeral head is badly fractured or arthritic but the socket is healthy, or when there is a significant rotator cuff tear and a total shoulder replacement will probably fail over time, a stemmed hemiarthroplasty is advised.
Resurfacing hemiarthroplasty entails removing the stem from the prosthesis and replacing the humeral head's joint surface. Resurfacing hemiarthroplasty keeps bone in situ and prevents component wear and loosening problems that could arise with total shoulder replacement over time.
In shoulder replacement surgery, injured shoulder parts are removed or replaced with prosthetic devices. The preferred methods of therapy appear to be either replacing just the humerus bone's head or both the ball and the socket.
With the additional benefits of restoring motion, strength, and operation and supporting the patient in resuming some level of physical activity, the primary purpose of shoulder joint replacement is to relieve pain. A total shoulder replacement is indicated by inflammatory arthritis, post-traumatic degenerative joint disease, and osteoarthritis. Global demand for total shoulder arthroplasties is predicted to expand at a CAGR of 3.5% during the next 10 years.
Shoulder arthroplasty devices are segmented into shoulder arthroplasty resurfacing implants, shoulder arthroplasty trauma devices, and shoulder arthroplasty platform systems.
In addition to the rising prevalence of proximal humerus rupture and painful shoulder arthritis, the world's ageing population is expanding at an unprecedented rate, which is driving the growth of shoulder replacement arthroplasty procedures. The market for shoulder arthroplasty is being further fueled by higher patient awareness and patients' willingness to be able to keep a full range of motion and regain productivity.
Report Attributes

Details

Market Size (2023E)

US$ 1.57 Billion

Forecasted Market Value (2033F)

US$ 2.32 Billion

Global Market Growth Rate (2023-2033)

4% CAGR

China Market Growth Rate (2023-2033)

8% CAGR

Japan Market Growth Rate (2023-2033)

2% CAGR

Germany Market Growth Rate (2023-2033)

2% CAGR

Key Companies Profiled

ConMed Corporation
DePuy Synthes
Integra Lifesciences Corporation
Limacorporate S.p.A.
Smith & Nephew PLC
Wright Medical Group NV
Zimmer Biomet Holdings, Inc.
Don't Need a Global Report?
save 40%! on Country & Region specific reports
What's Driving Demand for Shoulder Replacement Surgeries?
"Rapidly Increasing Cases of Shoulder Arthritis, Especially Among Elderly Population"
Global demand for shoulder replacement arthroplasties is being driven by the increasing prevalence of proximal humerus rupture and symptomatic shoulder arthritis in the senior population. The main reason for disability in adults is an increase in arthritis prevalence.
In 2021, an analysis based on nine studies-including six papers about patient-reported outcomes (of 530 shoulder replacements) and 529 total shoulder arthroplasties and 364 partial shoulder arthroplasties—was carried out by the National Institute for Health and Care Research (NIHR).
It included a 10-year follow-up on 7,651 total shoulder arthroplasties, 7,953 reverse shoulder arthroplasties, and 1,395 partial shoulder arthroplasties which is available through a national joint registry for Australia. Nine out of ten shoulder joint surgeries last at least ten years, according to the NIHR analysis.
Over the coming years, this is projected to increase the demand for shoulder joint replacements worldwide.
"Rising Number of Shoulder Arthroplasty Surgeries"
Demand for shoulder arthroplasty procedures is being driven by the rising prevalence of shoulder joint diseases. Orthopedic physicians and patients are increasingly favouring reverse shoulder arthroplasty.
The shoulder joint's ball and socket placements are exchanged or reversed during this surgical procedure. A metal ball replaces the glenoid, and a plastic socket takes the place of the humeral head.
Demand for reverse shoulder replacement surgeries is anticipated to increase during the projected period due to rising R&D activities in the field of reverse shoulder arthroplasty technologies and economic development in developing nations.
"Increasing Demand for Anatomical Shoulder Prosthesis"
One of the most effective treatment procedures for degenerative joint disorders of the shoulder has been proven to be arthroplasty. Over the past 60 years, there have been several improvements made to implant designs to address the early issues with arthroplasties, such as implant loosening and function restoration.
Total anatomical shoulder arthroplasty (TSA) is still a well-established procedure for osteoarthritis in patients with a healthy rotator cuff, even though reverse shoulder arthroplasty (RSA) has grown to be the most commonly performed type of shoulder replacement in developed countries such as the U.S. and the United Kingdom.
TSA patients with osteoarthritis can now anticipate a considerable, long-lasting reduction in pain and function. Anatomical shoulder replacement is predicted to receive more attention in the coming years as a result of its effectiveness.
The International Osteoporosis Foundation (IOF) is in charge of promoting osteoporosis treatment in Europe.
The National Institute of Health reported in an article titled "Trends in incidence and prevalence of osteoarthritis in the United Kingdom" that the incidence of osteoarthritis was 6.8 per 1000 people and the prevalence was 10.7% in 2020, which increases the demand for anatomical shoulder prosthesis.
"Implants for Shoulder Reconstruction with AI Gaining Traction"
The adoption of shoulder replacement procedures is accelerating due to a high pace of technological breakthroughs in the implant industry. The potential for shoulder joint surgery growth for medical implants is being boosted by people's growing awareness of artificial implants.
Advancements in this field are necessary for organ transplantation because 3D bioprinting is used to construct artificial implants. 3D bioprinting is gaining acceptance because it lowers the chance of organ rejection. As a result adoption of artificial intelligence (AI) is boosting the demand for advanced shoulder prosthesis.
In therapeutic settings, hydroxylapatite (HA) has been used for a long time. It has strong biocompatibility with bone contact because its chemical makeup closely resembles that of bone substance. Currently, hydroxyapatite of biologic is utilised as a coating on dental or orthopedic implants as well as in the shape of granules, blocks, and scaffolds for bone repair and regeneration. It can also be used alone or in a combination with polymers or other ceramics.
What Challenges are Hampering Sales of Shoulder Arthroplasty Devices?
"High Cost of Prosthesis and Strict Rules for Product Approvals"
Medical prosthesis comes with several concerns, including dangers during implant placement or removal, infection, and prosthetic failure. Some people may develop allergic reactions to the materials used in implantation.
It is estimated that the high cost of artificial implants as they are mostly customized and strict regulatory norms for product approvals may restrain the sales growth throughout the projected timeframe.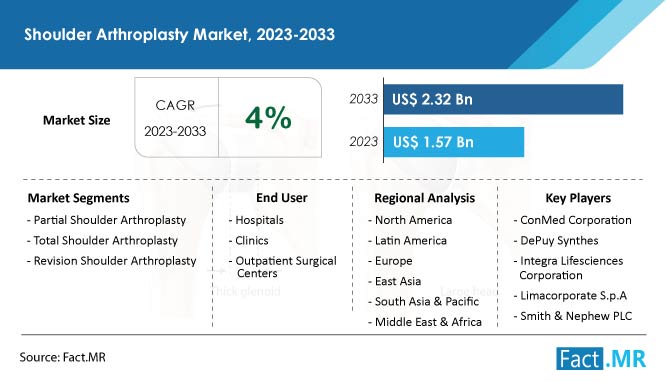 Which Tactics are Applied By New Companies to Stand Out in This Space?
"New Market Entrants Focusing on Creating Advanced Implants"
Start-ups are spending money on R&D to develop innovative technologies and services. The comparatively smaller or more complicated bones and other parts make some orthopedic problems difficult to cure.
One such case is thumb base arthritis, which causes chronic discomfort and makes it difficult for patients to carry out basic tasks such as using a phone. To address the demands of orthopedic patients, emerging market participants are creating implants that operate similarly to tiny joints.
The new Irish company, to meet clinical requirements in orthopedics, Loci Orthopaedics provides medical implants. From the beginning, the InDx implant mimics the complex and organic actions of the thumb joint. The normal thumb joint has two rotating points that can move in tandem or independently of one another, allowing for the full range of motion.
More Insights, Lesser Cost (-50% off)
Insights on import/export production,
pricing analysis, and more – Only @ Fact.MR
Country-wise Analysis
How is Demand for Shoulder Replacement Devices Evolving in the U.S.?
"Rapidly Developing Medical Sector and Presence of Top Market Players"
The United States currently dominates the North American market. The United States is emerging as the primary hub for the medical device industry due to the presence of huge international corporations in this sector. In addition, the expansion of the American healthcare system is contributing to sales growth.
According to figures from the World Bank for 2020, there were approximately 16.9% of Americans 65 or older, and that number is expected to rise to up to 22% by the year 2050.
A doctor's diagnosis of arthritis will affect 78.4 million adults in the US, or 25.9% of all adults, an increase of 49%.
Additionally, nearly 30 million adolescents and children participate in youth sports throughout the nation each year, which is projected to fuel demand for shoulder replacement devices in the US, according to a report by Weinstein Legal study which was issued in March 2020.
Furthermore, Johnson & Johnson unveiled the INHANCE Shoulder System, a fully integrated shoulder replacement system, in August 2021. During operations, it gives surgeons the flexibility to switch seamlessly between stemless and stemmed implants.
Thus, such advancements in implants by top market participants are also boosting sales growth in the U.S.
Why are Top Manufacturers Attracted to the Asia Pacific Region?
"Rising Medical Tourism Due to Low Healthcare Costs"
Higher healthcare spending in the Asia Pacific will transform into strong growth potential for many MNCs and local medical device companies. Also, the expanding disposable income and rising life expectancy have made the Asia Pacific a hub advantageous for many industries, particularly healthcare, drawing more foreign businesses to engage in this opportunity-rich market.
The Asia Pacific region has become increasingly attractive for shoulder replacements on a worldwide scale due to low healthcare costs and lax government regulations that help companies to gain potential opportunities in the shoulder arthroplasty market.
Increasing at a CAGR of 2%, Japan is expected to be an emerging market in the Asia Pacific region. China holds a dominating position in the Asia Pacific market with an expected growth rate of 8%.
For instance, the first clinical use shoulder replacement systems in Japan have recently been approved, according to Exactech Inc., a producer of bone and joint restoration solutions for the extremities.
Category-wise Analysis
Which Disease Indications are Driving Demand for Shoulder Arthroplasty Procedures?
"Rising Cases Related to Arthritis, Such As Osteoarthritis"
Some of the indications of shoulder arthroplasty are arthritis, fracture/dislocation, rotator cuff tear arthropathy, and Hill Sachs defect.
One of the most prevalent types of arthritis that affects a significant portion of the global population is osteoarthritis. One of the largest bone structures in the body, the knees and hand joints are constantly subjected to wear and tear resulting in discomfort and chronic illnesses such as osteoarthritis.
Rheumatoid arthritis affects the muscles, tendons and ligaments, joints, and fibrous connective tissue in addition to being related to an inflammatory illness that produces inflammation in the body's joints. Rheumatoid arthritis significantly reduces the capacity to carry out health-related everyday activities, such as employment and housework.
Rheumatoid arthritis is a chronic, immobilising disorder that frequently results in deformity and discomfort. It typically develops between the ages of 20 and 40, the most productive years of life. Rheumatoid arthritis affects between 0.3% and 1% of the population and is more prevalent in industrialised nations, mainly in women.
For patients with severe, irreparable rotator cuff injuries, subacromial balloon arthroplasty or shoulder balloon arthroplasty is a minimally-invasive treatment intended to restore the biomechanical equilibrium of the shoulder.
The surgical method known as a total reverse shoulder replacement, which is now quite common, has been demonstrated to be successful in treating rotator cuff tear arthropathies or primary shoulder arthroplasties with pseudo paralysis, even in the absence of arthritis.
Thus, the rising prevalence of such disorders is boosting the demand for shoulder replacement.
Competitive Landscape
The market is moderately competitive with the presence of local as well as international players.
To increase their market share, a majority of the key players in the shoulder arthroplasty market are concentrating on their expansion into developing nations. Additionally, several businesses are launching new products, which are assisting them in sustaining their presence in the worldwide market.
Smith+Nephew introduces new total ankle and total shoulder replacement technologies in August 2021, and during the American Academy of Orthopaedic Surgeons 2021 Annual Meeting in San Diego, the company showcased its recently enlarged extremities portfolio.
Stryker unveiled the Tornier shoulder arthroplasty portfolio and a fresh Tornier Perform Humeral System in July 2021.
Key Segments of Shoulder Arthroplasty Industry Research
By Procedure :

By Device :

Resurfacing Implants
Trauma Devices
Platform Systems

By Indication :

Arthritis
Fracture/Dislocation
Rotator Cuff Tear Arthropathy
Hill Sachs Defect

End User :

Hospitals
Clinics
Outpatient Surgical Centers

By Region :

North America
Latin America
Europe
East Asia
South Asia & Oceania
MEA
- FAQs -
The global shoulder arthroplasty market is valued at US$ 1.57 billion in 2023.
The market for shoulder arthroplasty devices is predicted to reach US$ 2.32 billion by 2033.
Global sales of shoulder arthroplasty devices are expected to increase at a CAGR of 4% during the next 10 years.
North America is currently dominating the global shoulder arthroplasty market.
The top 3 companies in the shoulder arthroplasty market are Stryker, Smith+Nephew, and DePuy Synthes.