Sweet Biscuits Market Outlook (2023 to 2033)
The global sweet biscuits market is valued at US$ 109 billion in 2023 and is projected to expand at a CAGR of 5.8% from 2023 to 2033. As such, global demand for sweet biscuits is estimated to reach a market valuation of US$ 192 billion by the end of 2033.
Increasing demand for convenient snacking and the growing retail sector are expected to boost the sales of sweet biscuits across the world. Sandwich biscuits are in high demand due to consumers' evolving preferences, particularly among the younger generation and children. The diversified flavor range of sandwich biscuits is also projected to drive product sales.
Biscuits, except macaroons, are usually consumed as a snack or treat, not as a full meal. They are small, sweet, and inexpensive, making them easily accessible for snacking. Biscuits are also a nutritious and long-lasting food option, making them popular among consumers worldwide.
Raw materials such as starch, flour, sugar, milk, eggs, fruits, spices, and various other ingredients are used in the production of sweet biscuits. Flour makes up 50% to 60% of the total raw materials, and other options such as potato flour, rye, oats, soy, and rice can also be used. Online stores, convenience stores, and supermarkets are major sources of sweet biscuits.
This new market research report by Fact.MR provides a comprehensive assessment of the sweet biscuit industry, including a detailed analysis of the competitive landscape, key drivers, restraints, trends, and segments.
Report Attributes

Details

Sweet Biscuits Market Size in 2023

US$ 109 Billion

Projected Market Value (2033)

US$ 192 Billion

Global Market Growth Rate (2023 to 2033)

5.8% CAGR

Market Growth Rate for Canada
(2023 to 2033)

4.6% CAGR

Market Growth Rate for Germany
(2023 to 2033)

4% CAGR

Key Companies Profiled

Britannia Industries Ltd.
United Biscuits
Burton's Biscuit Company
Parle Products Ltd.
Nestlé
Mondelez International
Kraft Foods Group, Inc.
Kellogg Company
Don't Need a Global Report?
Save 40% on Country & Region specific reports
Why is There Ever-increasing Demand for Sweet Biscuits?
"Growth of Retail Sector Fueling Sales of Sweet Biscuits"
The retail sector is undergoing significant advancements, with growing accessibility and convenience in purchasing food. This includes popular new methods such as mobile phone shopping and virtual supermarkets. Consumers can now buy sweet biscuits from anywhere using their phones.
The demand for sweet biscuits is also increasing due to the growth of molded retail formats, such as hypermarkets and supermarkets. The evolving retail landscape and growing preference for premium bakery products are expected to drive sweet biscuit sales.
"Rising Preference for Convenient Snacking"
The preference for convenient snacking and expanding retail access to sweet biscuits is driving the demand for these products. In particular, the popularity of sandwich biscuits is increasing due to their diverse flavor options and appeal among young consumers. Promotions and deals, such as buy-one-get-one-free or value packs, are expected to further boost sales of sweet biscuits.
Meanwhile, the growing sales of healthy snacks through online channels reflect a shift towards healthier lifestyles. Additionally, favorable demographic and socioeconomic factors such as rising standards of living, population growth, and urbanization are expected to present significant opportunities for industry players in the coming years.
What Should Sweet Biscuit Manufacturers Take Into Account?
"Increasing Preference for Healthy Food and Price Fluctuations of Raw Materials"
Consumers are becoming more conscious of their health and reducing their sugar intake, which may restrict the growth of the sweet biscuits market. Additionally, fluctuations in raw material prices and high shipping costs can increase the price of the final product, thus affecting the demand for sweet biscuits.
Despite these challenges, advancements in research and development and increasing focus on technological innovations are expected to drive improvements in the industry. The expanding retail sector and growing youth population are predicted to present growth opportunities.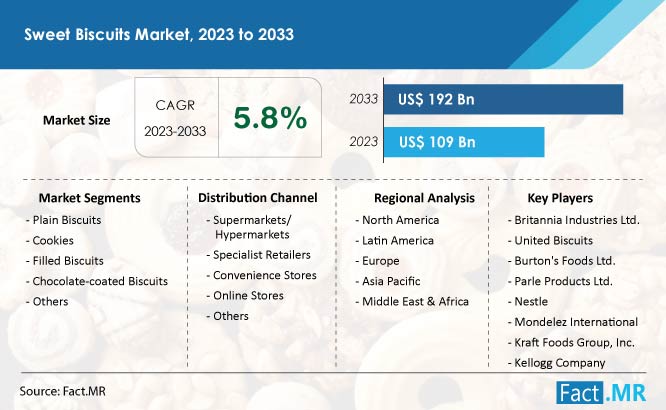 Why are Sales of Sweet Biscuits Increasing in North America?
"Rising Consumption of Sandwich Biscuits in North America"
North America is expected to play a major role in the global sweet biscuits market due to the growing consumption of sandwich biscuits among the working-class population. Factors such as changing lifestyles, urbanization, rising disposable income, and the availability of a range of flavors are expected to drive the demand for sweet biscuits in North America.
More Insights, Lesser Cost (-50% off)
Insights on import/export production,
pricing analysis, and more – Only @ Fact.MR
How is the Asia Pacific Market for Sweet Biscuits Faring?
"Rising Consumption of Sandwich Biscuits in North America"
Asia Pacific is expected to have a significant share of the market revenue due to the rising consumption of bakery products and cereals by the regional population. Growing health-conscious consumers, a rising young population, and changing lifestyles are contributing factors that are fueling the demand for sweet biscuits in the region.
Country-wise Insights
Why is the Consumption of Sweet Biscuits Increasing in Japan?
"Growth in Product Offerings Contributing to Demand for Premium Biscuits"
Demand for sweet biscuits in Japan is predicted to increase at a CAGR of 3% through 2033. This estimated growth in cookie consumption is expected to drive the sales of sweet biscuits in the country. Furthermore, the presence of established brands and widespread distribution channels are projected to create demand for premium biscuits in Japan.
Which Prominent Factors are Influencing the Demand for Sweet Biscuits in the United States?
"Rising Consumption of Sandwich Biscuits by Working-class Population"
The working-class population in the United States is exhibiting significant consumption of sandwich biscuits. Urbanization, availability of multiple flavors, and changing lifestyles in the country are contributing to the growing demand for sweet biscuits. The market for sweet biscuits in the United States was valued at over US$ 20 billion in 2022.
Demand for sweet biscuits in Canada is anticipated to expand at a CAGR of 4.6% from 2023 to 2033. In addition, Canada has a significant number of major sweet biscuit manufacturers.
What is Driving the Sales of Sweet Biscuits in Germany?
"Growing Demand for Convenient Snacking Options"
Sales of sweet biscuits in Germany are projected to expand at a CAGR of 4% from 2023 to 2033. The rising preference for convenient and healthy snacking options among consumers is driving growth in the sweet biscuits market. Additionally, the introduction of a diverse range of new products is further fueling this demand.
Category-wise Insights
Which Types of Sweet Biscuits are Popular?
"Growing Popularity of Cookies & Plain Biscuits among Different Age Groups"
The global market is segmented into plain biscuits, cookies, filled biscuits, chocolate-coated biscuits, and others, based on the product type. Among these, the cookies segment is forecasted to expand at a CAGR of 4.4% from 2023 to 2033. Globally, cookies are the most widely consumed type of biscuit among individuals of all ages.
To cater to the growing demand for premium cookies, biscuit manufacturers are experimenting with unique flavor profiles. Additionally, the introduction of products tailored to consumer's preferences also contributes to this demand.
Plain sweet biscuits are preferred by individuals from various socioeconomic backgrounds, leading to a notable rise in demand. Their widespread availability as a convenient and healthy snacking option with easily measurable nutrient content makes plain sweet biscuits a popular choice among consumers.
In response, companies are launching digestive plain biscuits, particularly in developing countries where there is a growing preference for healthy snacks.
Which is the Most Commonly Used Channel for Selling Sweet Biscuits?
"Growth of Convenience Stores and Online Retail Fueling Product Sales"
The sweet biscuits market is segmented into supermarkets/hypermarkets, specialist retailers, convenience stores, online stores, and others based on the distribution channel. The online store segment is expected to have a significant market share due to the discounts offered. Online shopping has become increasingly popular in recent years due to its convenient doorstep delivery.
The convenience stores segment is expected to experience substantial growth due to the wide range of product offerings and the ease of shopping for buyers.
Competitive Landscape
Leading producers of sweet biscuits are investing in expanding their global reach while enhancing their supply chain management. They are dedicated to delivering high-quality products and complying with quality control regulations that have a minimal environmental impact during production.
Key players in the sweet biscuit industry are pursuing various strategies such as mergers and acquisitions and innovative product development to create opportunities for new entrants.
Nestle SA, a subsidiary of Nestle Health Science, acquired the Brazilian health lifestyle brand Puravida in March 2022. Puravida produces nutritional snacks, bars, drink mixes, and protein powder, and is a digitally native vertical brand founded in 2016.
Parle diversified its portfolio in December 2021 with the launch of "Parle G Chakki Atta." This new product is expected to bring a positive impact on consumers' health in the long run.
Other prominent manufacturers of sweet biscuits include Britannia Industries Ltd., United Biscuits, Burton's Foods Ltd., Parle Products Ltd., Mondelez International, Kraft Foods Group, Inc., and Kellogg Company.
Segmentation of Sweet Biscuits Industry Research
By Product :

Plain Biscuits
Cookies
Filled Biscuits
Chocolate-coated Biscuits
Others

By Distribution Channel :

Supermarkets/Hypermarkets
Specialist Retailers
Convenience Stores
Online Stores
Others

By Region :

North America
Europe
Asia Pacific
Latin America
Middle East & Africa