Trifluoroacetic Acid Market
Trifluoroacetic Acid Market Analysis by Type (99.5% Trifluoroacetic Acid, 99.9% Trifluoroacetic Acid), By Application (Medical Intermediates, Pesticide Intermediates, Others), By Region – Global Market Insights 2023 to 2033
Analysis of Trifluoroacetic Acid Market Covering 30+ Countries Including Analysis of US, Canada, UK, Germany, France, Nordics, GCC countries, Japan, Korea and many more
Trifluoroacetic Acid Market Outlook (2023 to 2033)
The global trifluoroacetic acid market is valued at US$ 304.5 million in 2023 and is projected to reach US$ 405 million by the end of 2033, expanding at a CAGR of 2.9% over the next ten years.
Trifluoroacetic acid (TFA) is the most practical perfluoro organic acid. Strong acidity, a substantial dielectric constant, miscibility with water and most organic solvents, and a relatively low boiling point are its distinguishing characteristics (71.8 degree Celsius). In organic synthesis, using extremely acidic chemicals enables better control over reaction byproducts. It might be one of the excellent compounds with the most worldwide usage.
The Simons method is used to electrochemically fluorinate acetyl chloride or anhydride in dehydrated hydrogen fluoride to create TFA. The resultant trifluoro acetyl fluoride is then hydrolyzed in excellent yields.
Asia Pacific accounts for a market share of 39% for trifluoroacetic acid worldwide.
The chemical industry, in which it is utilized as an intermediary component in the manufacturing of other chemicals, accounts for a majority of the need for monochloroacetic acid. With the increase in manufacturing of these subsequent chemicals, it is anticipated that the global monochloroacetic acid market would rise in the future.
A halogenated acetic acid derivative called chloroacetic acid is used to make insecticides, drilling fluids, medicines, and colors. Because of beneficial regulatory support and easy availability of raw materials, the chloroacetic acid business is predicted to increase as a result of expanding farm industries and rising pesticide demand.
The purchase of Polyplastics Co. Ltd. by Daicel Corporation, which marks an investment in a more lucrative and capital-efficient industry that would expand the company's line of products to include acetic acid, was announced on July 20, 2020.
Due to its handy properties-volatility, soluble in organic solvents, and acidic strength-trifluoroacetic acid is regarded as an excellent solvent, catalyst, and reagent. Moreover, TFA is more easily accessible in anhydrous form compared to numerous acids and is less damaging than sulfuric acid. Many of these factors play a part in the rising demand for trifluoroacetic acid. However, fluctuations in supply and demand as well as issues brought on by water's azeotropic properties limit market expansion.
In addition to being an effective disinfectant, acetic acid is also an effective herbicide for household use. Acetic acid can be used in agriculture as a low-cost substitute for weedicides, however, it cannot be utilized to eliminate weeds from crops on a big scale.
Report Attributes

Details

Trifluoroacetic Acid Market Size in 2022

US$ 296 Million

Estimated Market Value (2023)

US$ 304.5 Million

Projected Market Value (2033)

US$ 405 Million

Global Market Growth Rate (2023 to 2033)

2.9% CAGR

North America Market Growth Rate (2023 to 2033)

3%

Key Companies Profiled

Sinochem
Anhui Jinao
Midas Pharma GmbH
Shandong Xingfu
Bluestar
Solvay
SRF
Halocarbon
Why are We Seeing Steadily Rising Consumption of Trifluoroacetic Acid?
Trifluoroacetic Acid Acts as Vital Agent in Peptide Synthesis in Pharmaceuticals"
In the chemical synthesis used in the pharmaceutical business, trifluoroacetic acid is a useful reagent. Among other things, it is frequently used as a starting material for important trifluoro acetylating agents like trifluoroacetate, trifluoromethylation processes, and peptide synthesis.
TFA is primarily utilized for effective peptide sequencing and peptide synthesis. The global market is also anticipated to be driven by the rising R&D activities and expenditures in the pharmaceutical sector.
"Increasing Usage of TFA in Pesticides Marks Expansion in Agricultural Sector"
The expansion of the agriculture sector is the key reason for the need for trifluoroacetic acid on a global scale. The pesticides business uses the majority of the TFA that is produced. TFA is frequently found in chemical pesticides such as fungicides, insecticides, and herbicides.
A CF3 group produced through TFA is present in around 8.6% of the pesticide references in the pesticide manual. Pesticides like beflubutamid, flazasulfuron, diflufencican, and prosulfuron are some of the more popular ones. Thus, it is predicted that the expanding agricultural sector will fuel the expansion of the global market throughout the anticipated time.
Don't Need a Global Report?
save 40%! on Country & Region specific reports
Why is Trifluoroacetic Acid Usage Restricted in Many Countries?
"Hazardous to Aquatic Life and Non-Biodegradable Properties"
Trifluoroacetic acid is hazardous and non-biodegradable, which is likely to have a negative influence on the potential of the global market since many countries are restricting the use of harmful chemicals to uphold the sustainable trend and decrease the environmental impact on a global scale.
TFA acid can be hazardous to aquatic life and is not biodegradable. As a result, environmental concerns are growing, which will reduce product demand across several end-use industries. Using it in the production line poses environmental problems. Throughout the projection period, this is anticipated to limit the market for trifluoroacetic acid.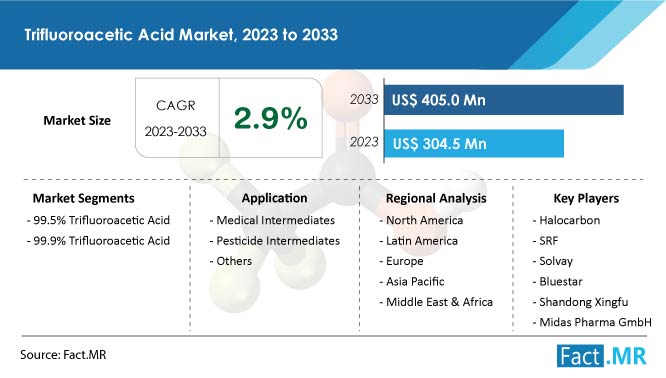 Country-wise Insights
Will Increasing Construction Projects in India and China Benefit Target Market Growth?
"High Presence of Polymer Producers and Medical Government Support in India"
The market in China is prominent as a result of the region's increasing presence of polymer producers. Moreover, acetic acid is used in a wide range of sectors, such as chemicals, paints, and coatings. Rapid urbanization and industrialization in developing countries such as China and India are expected to help the industry expand.
The market in Asia Pacific is projected to rise faster than that of other regions at a CAGR of 5.8% during the forecast period.
Increased government spending in the construction industry and the expansion of numerous construction projects are taking place, and these developments are anticipated to boost product demand across key industries throughout the projection period. There will be a dramatic increase in the medical sector as a result of the government's increased support, particularly in India where 100% of FDI licenses, special incentives, and medical perks have been approved.
What is the Market Scenario for Trifluoroacetic Acid in the United States?
"Rising Applications in Healthcare and Agriculture Sectors"
The potential market for trifluoroacetic acid in the United States is expected to be significantly influenced by the rising cancer prevalence and the availability of a strong healthcare infrastructure. Some variables that influence the growth of the trifluoroacetic acid market are the rising cancer prevalence, the aging population, and the abundance of the substance.
The North American market is anticipated to expand at a CAGR of 3.0% during the forecast period.
With the expansion of agricultural production in North America, where the United States is the primary producer and exporter, ammonia demand has increased significantly. It ranks among the top suppliers and producers of agricultural goods. In addition, the growing market for trifluoroacetic acid is being driven by the rising demand for products like cereals, oats, and other foods in the United States.
Why is the Trifluoroacetic Acid Market in Germany Considered Profitable?
"Technological Advancements in Healthcare and Early Diagnosis of Chronic Diseases"
Due to its substantial use in performance products, agrochemicals, and medicines, as well as the expansion of Germany's key end-use industries. Due to increased expenditures in the healthcare system and escalating technological advancement, Over the course of the prediction period, trifluoroacetic acid is expected to be most efficient in Germany.
Over the projection period, the frequency of chronic illnesses and the increased demand for early diagnosis will also influence the market potential for trifluoroacetic acid.
More Insights, Lesser Cost (-50% off)
Insights on import/export production,
pricing analysis, and more – Only @ Fact.MR
Category-wise Insights
Why are We Seeing a Sharp Increase in the Demand for Pure Trifluoroacetic Acid?
"High use Pure Form of Trifluoroacetic Acid in Agrochemical Industry"
During the course of the projected period, the 99.9% trifluoroacetic acid sector will continue to grow at a leading rate. By the end of the forecast period, increased demand for extremely pure trifluoroacetic acid is anticipated to upsurge the sales of trifluoroacetic acid.
Carboxymethylcellulose, herbicides, thioglycolic acids, and cellulose ethers are all made with monochloroacetic acid. The synthesis of numerous agricultural inputs, including insecticides and herbicides, uses a pure form of TFA and MCA.
99.9% a colorless gas with a potently offensive odor, trifluoroacetic acid is an acyl halide. Trifluoroacetic ester and fluorosulfuric acid can be combined to create it. It produces HX, HF, and oxoacid fluoride ions when it reacts with water, however, it performs terribly as an electrophilic source for substitution reactions processes. It is the most widely used fluorinating agent in the industry because it produces high yields of nitro, amino, and sulfonyl chemicals without deteriorating.
Where is Trifluoroacetic Acid Most Widely Used?
"Increasing Usage in Medical Intermediates"
Due to its use as a medical intermediary during the manufacture of pharmaceuticals, the requirement in the field of medicine will be very strong. The industry will benefit from rising pharmaceutical demand, which will ultimately increase the market potential for trifluoroacetic acid.
Since it is a crucial ingredient in the creation of aspirin and some other medications, the medical establishment is another significant user of acetic acid. The trifluoroacetic acid market is anticipated to expand at a healthy rate in the years to come because of its numerous applications and rising demand.
It functions during peptide synthesis as a protective group for amines, such as glycinamide, which made it simple to eliminate by dilute acid treatment (e.g. TFA). It is used to make zidovudine (AZT), a drug that aids in the treatment of HIV. It facilitates the process of creating the ionic liquid known as imidazolium salt. Moreover, particularly in automated synthesizers, it serves as a protective ring for amino acids during the solid-phase synthesizing of peptides and proteins.
Competitive Landscape
The global trifluoroacetic acid market is a subset of the specialty chemicals market, which also includes firms producing high-value chemicals used in the production of a wide range of goods, such as but not limited to, specialty chemicals, preservatives, advanced polymeric materials, glues, sealers, specialized paints, colorants, and surface coating.
The trifluoroacetic acid manufacturers involved in making high-value-added chemicals are utilized to make a variety of goods, including but not limited to specialty paints, pigments, coatings, adhesives, advanced polymers, adhesives, and fine chemicals.
For instance, Celanese declared in January 2019 that it was extending its acetic acid manufacturing plant in Clear Lake, Texas. From producing 1.3 million tons of acetic acid per year to almost 2 million tons annually, Celanese has increased capacity. At Singapore and Nanjing, China, the development will improve productivity options inside its worldwide acetic acid network.
Lotte of South Korea and BP of the United Kingdom established a joint venture to boost the manufacturing of acetic acid at the South Korean factory. At an estimated cost of US$ 175 million, the business will shortly raise its production capability by 100,000 t/y. Trifluoroacetic acid companies will have the ability to meet Korea's rising demand thanks to this agreement.
Monochloroacetic acid was produced by CABB in partnership with Jining Gold Power of China for distribution in China. It has declared plans to manufacture 25 kilotons of liquid fuel annually using German hydrogenation technology. Additionally, it is anticipated that this regional production facility would raise the bar for sustainability and safety.
Know thy Competitors
Competitive landscape highlights only certain players
Complete list available upon request
Trifluoroacetic Acid Industry Segmentation
By Type :

99.5% Trifluoroacetic Acid
99.9% Trifluoroacetic Acid

By Application :

Medical Intermediates
Pesticide Intermediates
Others

By Region :

North America
Latin America
Europe
Asia Pacific
Middle East & Africa
- FAQs -
The global trifluoroacetic acid market is valued at US$ 304.5 million in 2023.
Global demand for trifluoroacetic acid is projected to increase at a CAGR of 2.9% from 2023 to 2033.
The market for trifluoroacetic acid is anticipated to reach US$ 405 million by 2033.
Anhui Jinao, Midas Pharma GmbH, Bluestar, and SRF are some of the leading manufacturers of trifluoroacetic acid.