Modern medical science has witnessed a sharp upward trend that considers symptoms as adaptive body responses. Increasing awareness of the "law of similars" has promoted the use of homeopathy products that use highly diluted small doses of natural elements in order to trigger healing abilities of human body. In addition, people have been shifting away from invasive treatments wherever possible owing to high costs and physical strain associated with these procedures. Homeopathy being non-invasive with zero stress and strain treatment has gained sufficient traction since past several years.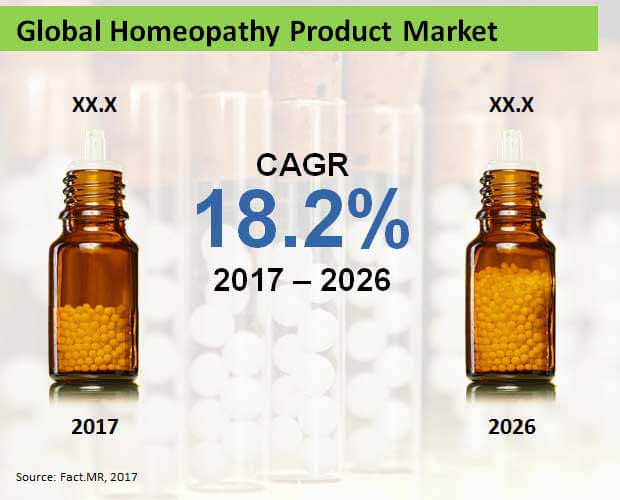 Realizing the widespread acceptance homeopathy treatment sector, Fact.MR analysis says that the global market for homeopathy products is meant to witness stellar growth during the period of assessment. Largely driven by growing awareness regarding effectiveness of homeopathy as a mainstream treatment for several disorders, the sale of homeopathy products has risen considerably. The sales of homeopathy products is expected to grow at a rate of 18.2% during the period of forecast, 2017-2026. Moreover, more than 1,000,000 thousand units of homeopathy products is expected to be sold by end of 2026.
The global market for homeopathy products is highly competitive and consists of numerous international and regional vendors. Competitive environment in homeopathy products market is expected to intensify in the years to follow with growth in innovations and product line extensions based on treatment of various disorders and ailments. Key participants in the global homeopathy products market include Boiron Group, Biologische Heilmittel Heel GmbH, A Nelson & Co Ltd., GMP Laboratories of America, Inc., and Standard Homeopathic Company (Hyland's, Inc.), to name a few.
Protect Consumers Who Chose Alternative Remedies – FDA's New Approach Towards Regulating Homeopathic Drugs
Food and Drug Administration is looking forward to introduce "risk based enforcement approach" to drugs that are labelled homeopathic in the America market. With a view to protect patients that prefer homeopathic products, FDA is to update current policy to address situations wherein homeopathic treatments are marketed especially for serious conditions or diseases, but the products have not offered clinical advantages. This new policy would cover all products that are labelled homeopathic but contain potentially dangerous and unsafe ingredients or which are do not follow standard manufacturing practices.
FDA's approach to regulate homeopathic products would reflect the present criticality and complexity of the entire market. Few examples of products that could be subject to FDA's enforcement approach are children's and infant products that are labelled to comprise ingredients related to potentially significant concerns associated with safety, for instance nux vomica and belladonna; as well as products that are being marketed for serious maladies such as heart diseases and cancer.
Increasing Inclination Towards Non-Invasive Remedies to Spur Sales of Homeopathic Products
Invasive treatments to cure disorders and malignancies are considered as last resort by people, who are more focused on using alternative medications such as naturopathy and homeopathy. With growing demand for medications that are to be consumed orally, supported by increasing preference for orally administered medications and drugs that are exempt of side effects, consumption of homeopathy products is set to increase in the coming years.
Allopathy also includes strong drugs, but are not suitable for every individual. Moreover, with respect to costing, allopathic medications are highly priced and showcase temporary effect on the illnesses. The illness can return even after the dosage of the prescribed drug is over. Cases of drug abuse is another fact, owing to which people are shifting towards natural medications. Homeopathy products offer preventive measures, boost immune systems, are inexpensive and do not have side effects. This is expected to spur the sales of homeopathy products in the years to follow.
Note: The insights mentioned here are of the respective analysts, and do not reflect the position of Fact.MR
The comprehensive research report on global homeopathy products market by Fact.MR supports the reader by providing incisive insights on the consumption and demand of homeopathy products from a global perspective. This research study also enables the reader in slating key growth strategies in order to maintain tempo with the changing market dynamics in the current and future scenario. The research covers data and statistical analysis on the past, the present market condition as well as provides analysis of the market nine years down the line, starting from 2017 till 2026.
Comprehensive perspective in a nutshell
Global homeopathy products market research report focuses on various opportunities, trends, drivers and restraints across important geographies in the globe. This delivers a global perspective by covering all the key areas presenting a holistic view of the market. This assists the reader to get a detailed understanding about the regions with optimum potential in order to slate investment decisions and expansion strategies. The research study eliminates all the biasness giving a more realistic shape to the market acumen.
Uniqueness in research process
Credibility of the researched data and market statistics lie in the uniqueness of the research process that ensures enhanced accuracy. Weighted assessment of the global homeopathy products market is underlined by an extensive research methodology that entails both high level secondary research and in-depth primary research to acquire relevant numbers. The data collected undergoes several funnels of validation and re-examination at each step of the primary research and this continues till the end of the research process. This ensures delivering value with data having a higher degree of accuracy. Opinions of market observers and the subject matter experts are extrapolated and triangulation of these enables the analysts to arrive at a much accurate global market representation.
Thorough competitive assessment
The research study on the global market for homeopathy products covers high level analysis on key players that are involved in the market. Competitive analysis section in the report focuses on product portfolio analysis, strategies applied by the key players, key product developments, their innovations, sales approach and product sales, SWOT analysis, supply chain analysis, future expansion plans, their area wise spread, mergers and acquisitions, market shares, and other key financials, thus offering a complete competition standing in the market at a global level. Competitive assessment has been done in a systematic way to enable the reader to draw necessary conclusions.
Market Taxonomy
| Region | Product Type | Source Types | Application |
| --- | --- | --- | --- |
| North America | Tincture | Plants | Analgesic and Antipyretic |
| Latin America | Dilutions | Animals | Respiratory |
| Europe | Biochemics | Minerals | Neurology |
| Japan | Ointments | | Immunology |
| APEJ | Tablet | | Gastroenterology |
| MEA | Other products | | Dermatology |
| | | | Other Applications |
(Additional information, including cross-sectional data and country-wise analysis & forecast is available in the report)
The comprehensive research report on the global market for homeopathy products provides valuable insights with weighted analysis. Every organization has its own internal research team that strives to gather sufficient research about various facets of the market. Fact.MR aims at doing all the heavy lifting by providing unbiased insights which can be actioned by the research team thus supporting in achieving their research milestones.
There are several reasons which reinforce the value of this research report, such as unbiased research approach in data collection, detailed and comprehensive and a weighted segmentation of the entire homeopathy products market, key trends and developments taking/taken place in the market, statistical analysis reaching maximum accuracy, global market forecasts which gives an idea about the future market scenario based on the current and the past market dynamics and assisting the reader in slating important strategies in order to maintain the right rhythm and overcome the challenges caused by the changing market dynamics to achieve competitive advantage.
Fact.MR offers custom research services that help clients to get specific research solutions
We are committed towards customer satisfaction and quality service.
---
Our Clients

Homeopathy Products Market Forecast, Trend Analysis & Competition Tracking - Global Market insights 2017 to 2026