Detox Products Market to Grow 1.7X, with Product Innovations in Europe and US
The global detox products market is estimated to grow at a CAGR of over 4% during the forecast period (2019-2029) and the market valuation is set to grow 1.7x by 2029. Consumable detox products will continue to occupy center stage. The proliferation of treatment centers around the world are focusing on providing natural detox based remedies with a self-healing and holistic approach. The next few years are anticipated to be lucrative for detox products which are expected to be significantly high in demand. In comparison, herbal detox products are also gaining traction among health-conscious consumers willing to start a detoxification regime in countries like Germany, Italy, and the United States. The aforementioned factors are expected to drive demand for detox products over the forecast period. Furthermore, prominent competitors based in U.S. and Europe are focusing on increasing sales by expanding their product offerings and establishing new manufacturing plants in the global detox products market.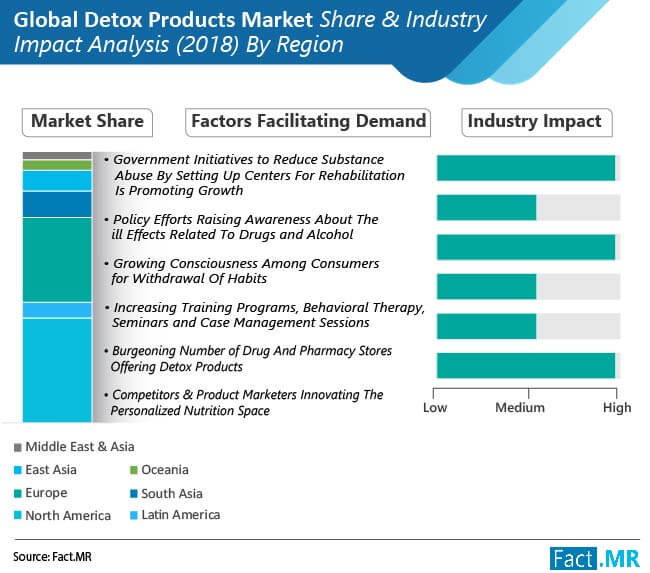 To get detailed insights on the detox products market, request for a report sample here
Drug Stores & Pharmacies Lead With Medicare Beneficiaries Becoming Prominent
The drug stores and pharmacy segment is foreseen to witness a growth rate of about 3% during the forecast period. Drug stores and pharmacies consist of operators who retail a range of prescription and over-the-counter medicines. Since most of the detox products are prescribed and consist of branded prescription drugs, drug stores & pharmacies will be the only sought after place to acquire detox products. Moreover, government initiatives to reduce substance abuse by setting up centers for rehabilitation is promoting growth for the drug stores and pharmacy segment. In other emerging nations such as India, pharmaceutical giants such as Johnson & Johnson, German Remedies, Cipla, and ITC are offering various detox products such as nicotine replacement products directly through drug stores & pharmacies that are expected to have a positive impact on the overall segment.
North America Holding 2/5th Demand Share with Increasing Rehabilitation Campaigns
The growing percentage of drugs and alcohol consumption in the U.S. and policy efforts to spread awareness about the ill effects of these products is anticipated to drive regional development for the detox products market. The government in the U.S. is setting up a centers for rehabilitation and is raising awareness through various campaigns and educational programs. During the forecast period these measures are expected to increase the market share for detox products. Moreover, growth in training programs, behavioral therapy, seminars and case management is also fueling growth in the detox products market in North America.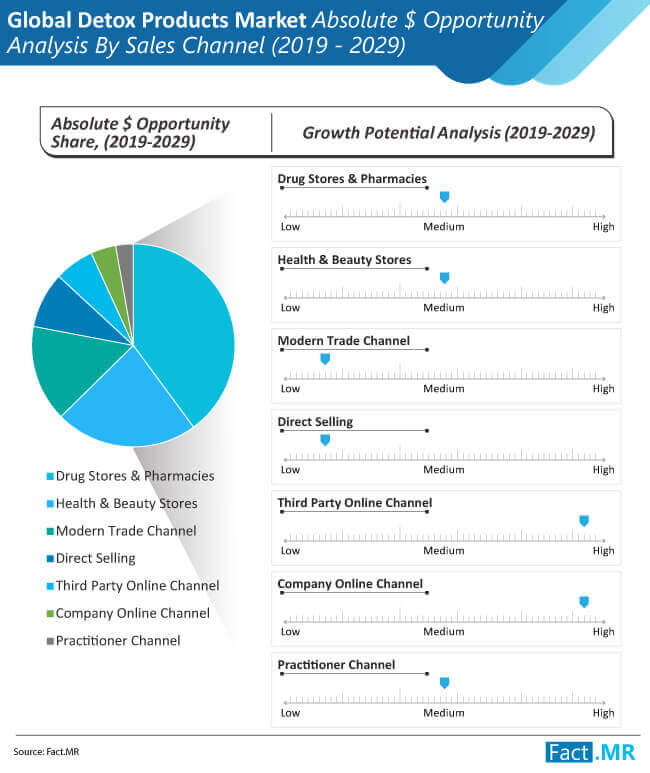 For critical insights on the sales channels of the detox products market, ask an analyst here
Partnerships among Manufacturers to Snowball Sales Figures
The global market for detox products is highly competitive with leading pharmaceutical companies such as Pfizer, Inc., Novartis AG and new rivals such as West-Ward Pharmaceuticals Corp (Hikma) and Detoxify LLC operating with an outlook towards developing efficient detox products and maximizing sales. Some of the key developments in the detox products market are:
In August 2019, GSK and Pfizer combined their respective consumer healthcare businesses into a global joint venture. The goal would be to complete the integration of these two companies and to exploit the combined strength.
In April 2018, Sandoz (A division of Novartis) signed an agreement with Pear Therapeutics to develop and market digital prescription therapies for patients with substance use disorder and opioid use disorders.
Key competitors involved in the market for detox products are investing rigorously in crafting and launching new products to gain a reasonable benefit and widen the consumer base. Mergers & acquisitions along with product portfolio variation are key business approaches being adopted by detox products industry participants.
Global Detox Products Market - Scope of the Report
The following report provides forecast and analysis of the global detox products market along with the historical data of 2014, estimated data 2019 and forecast data up to 2029 in terms of revenue (US$ Mn), according to a Fact.MR study. The research propounds critical trends that are currently influencing growth within the global detox products market along with several macro-economic indicators. This newly published and insightful report on detox products sheds light on key dynamics, and their impact on the overall value chain from suppliers to end-users, which are expected to transform the future of the global detox products market.
The report also comprises the study of current issues with end users and opportunities for detox products. It also contains value chain analysis, including the key market participants. To provide users of this report with a comprehensive view of the market, we have included a detailed competitive analysis about the key players involved in the market and strategic overviews. The dashboard included in the report provides a detailed comparison of detox products manufacturers on parameters such as total revenue, product offerings, and key strategies. A list of key companies operating in the detox products market provided in the report adds to the credibility of this exhaustive research study.
Global Detox Products Market: In-Depth Assessment on Key Segments
The global detox products market is segmented on the basis of product type, form, process, buyer type, sales channel and region.
| | | | | | |
| --- | --- | --- | --- | --- | --- |
| Product Type | Form | Process | Buyer Type | Sales Channel | Region |
| Activated Charcoal | Liquid | Alcohol Detoxification | Individual | Drug Stores & Pharmacies | North America |
| Cold Pressed Juice | Tablets (Pills) & Pallets | Drug Detoxification | Institutional | Health & Beauty Stores | Latin America |
| Detox Tea | Powder | Nicotine Detoxification | | Modern Trade Channels | Europe |
| Diuretics | Capsules | Metabolic Detoxification | | Direct Selling | South Asia |
| Superfood Mixes | Other Forms | | | Third Party Online Channel | East Asia |
| Others | | | | Company Online Channel | Oceania |
| | | | | Practitioner Channel | MEA |
This taxonomy and the detailed ToC prepared are confidential and intended exclusively for the individual or entity with whom it is being shared. Reading, disseminating, distributing, or copying this to any party other than addressee(s) is unauthorized and prohibited.
Country-specific assessment on demand for detox products has been provided for each regional market, along with the market size valuation and forecast price point assessment, price index and impact analysis of key regional and country-wise dynamics, which were obtained through quotes from numerous detox products manufacturers, experts, and suppliers. Y-o-Y growth projections have also been offered on all regional markets incorporated in the report. Moreover, future trends, growth prospects, and other possibilities related to the market have been answered in the report.
The report provides company-level market share analysis, which has been derived on the basis of the company's annual sales and segmental revenue in all the target end-use industries. The market has been forecasted based on constant currency rates. The report provides detailed competitive and company profiles of key participants operating in the global detox products market. Some of the major competitors operating in the detox products market are Pfizer Inc., Novartis AG, West-Ward Pharmaceuticals Corp., Detoxify LLC., Himalaya Global Holdings Ltd and others.
Global Detox Products Market: Research Methodology
A number of primary and secondary sources were consulted during the course of the study. Secondary sources include Factiva, Morningstar and Hoovers, and company annual reports and publications. Comprehensive interviews have been conducted by our analysts, and the intelligence and insights obtained have been used for validating the information gained through secondary research. The report also includes a description of assumptions and acronyms utilized for research purposes. Data gathered has been validated using the triangulation method to offer useful quantitative and qualitative insights into the detox products market.
A short market viewpoint offered in the report elucidates the macro-economic aspects that influence the growth of the detox products market, which includes global GDP growth rate, various industries growth rate, such as healthcare, pharmaceuticals and biologics. This report serves as an authentic resource of intelligence on the detox products market, enabling the readers to take fact-based decisions on the future direction of their businesses.
Fact.MR offers custom research services that help clients to get specific research solutions
We are committed towards customer satisfaction and quality service.
---
Our Clients

Detox Products Market Forecast, Trend Analysis & Competition Tracking - Global Market Insights 2019 to 2029