Popularity of Egg White Peptide as Health-Promoting Food Ingredient
Demand for egg white peptide continues to gain momentum as primary animal-based protein worldwide, depicting great promise as rich source of bioactive peptides that improve human health. Identification of these peptides illustrates greater commercialization opportunity in light of their significance as the health promoting food ingredients. Preventing and treating microbial infections of gastrointestinal tract, extending shelf-life of foods, and controlling foods' & feeds' microbiological quality are key application areas where egg peptides witness considerable penetration.
Challenges prevail in the global egg white peptide market, with concerns regarding animal welfare utilizing the conventional cage system, and rising prices of feed in combination with employment of renewable agricultural products for replacing highly expensive fossil-based fuels & chemicals. However, collaborative efforts being taken by the community, industry, researchers, international organizations, and government, for addressing issues related to animal health & welfare, environment, and cost of production are likely to rub off on product development and innovation in the near future.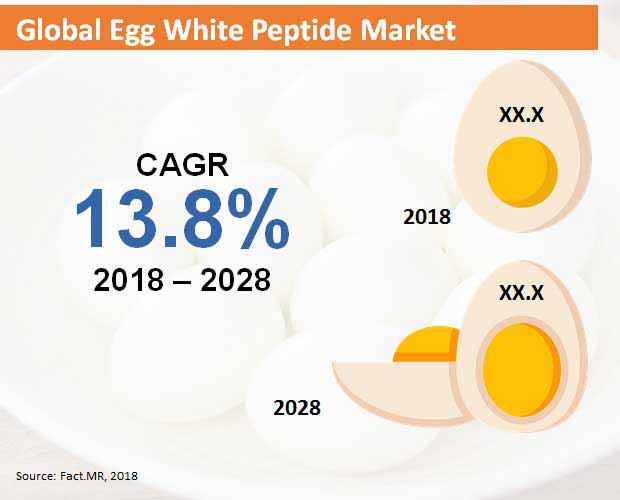 Future outlook for the global egg white peptide market is foreseen to be promising, with an estimated 13.8% value CAGR in the forecast period (2018-2028). Approximately 43,680 kgs of egg white peptide are estimated to be sold worldwide by 2028-end.
Egg White Proteins – A Precursor for Production of Bioactive Peptides
Maintaining cardiovascular health is an imperative challenge faced by consumers worldwide, which is gaining greater emphasis on account of pandemics such as diabetes and obesity. Egg white proteins are deemed as potential precursors for bioactive peptide production. Various biological activities, including anti-inflammatory, antioxidant, and antimicrobial activities, have been illustrated by egg white protein-derived bioactive peptides.
Egg white proteins have further been linked with physiological benefits by in vitro simulated gastrointestinal digestion, in light of the multifunctional peptides released. Natural product-based, egg white protein-derived bioactive peptides are being developed by manufacturers, which demonstrate promising effects on vascular health maintenance in animal studies and in vitro experiments.
Leading producers of egg white peptides are focused toward securing regulatory health claims. Key market participants are employing new approaches for maintaining vascular health by integrating medical care, specialized nutrition, and early diagnostics, in a bid to offer more effective products that promise improved life quality for consumers.
Emphasis of Medical Research on Peptides to Augur Well for Egg White Peptides Development
All types of peptides illustrate the attribute of mimicking behavior of natural ligands – substances that interact with receptors/enzymes/cells for aiding biological processes, and egg white peptides are no exception. Egg white peptides have been perceived to show insulin sensitizing and mimetic effects in the 3T3-F442A pre-adipocytes. Additionally, several studies demonstrate the budding of bioactive peptides derived from egg white ovotransferrin in managing inflammation, hypertension, and oxidative stress in vivo and in vitro.
These attributes have further enabled drugs derived from peptides in targeting diseases with more precision and fewer side effects compared to small-molecule drugs. Peptides are becoming the future of medical research and drug development in light of their selectiveness, higher potency, and more safety. This will further rub off on the development and demand for egg white peptides in the forthcoming years.
Note: The insights mentioned here are of the respective analysts, and do not reflect the position of Fact.MR
Fact.MR's recently collated report offers actionable insights and accurate forecasts on the global egg white peptide market for the period of forecast, 2018 to 2028. Key parameters such as impact of current and future growth determinants & deterrents, expected developments & regulatory scenario, demand statistics, and global raw material procurement & supply are elucidated and analyzed. Influence of these parameters on the egg white peptide market's growth has been quantified for deriving a market growth rate estimate.
Global Egg White Peptide Market Taxonomy & Segmentation Analysis
This report also offers a scrutinized study on the global egg white peptide market in terms of a segmentation analysis. The market has been divided into four key segments, namely, product type, application, primary function, and region. These segments have been analyzed in detail, engulfing market forecasts and estimates at a country and regional level.
The segmentation analysis offered can be useful for the report readers in understanding probable opportunities and potential markets for the target product – egg white peptide. A taxonomy table incorporated in the report illustrates all the market segments in a systematic manner as depicted below.
| | | | |
| --- | --- | --- | --- |
| Region | Product Type | Application | Primary Function |
| North America | Tri-Peptide | Food & Beverage | Antioxidant |
| Latin America | Di-Peptide | Cosmetic & Personal Care | Antimicrobial |
| Western Europe | Other Product Types | Pharmaceutical | Anti-Inflammatory |
| Eastern Europe | | Other Applications | Anti-Diabetic |
| APEJ | | | Binding Activities |
| Japan | | | |
| MEA | | | |
(Additional information, including cross-sectional data and country-wise analysis & forecast is available in the report)
Competitive Landscape Assessment on Global Egg White Peptide Market
In its concluding chapter, the report quantifies revenues share of prominent companies in the global egg white peptide market, and offers an in-depth overview of the market's competitive scenario. A detailed description has been delivered on all the market players profiled in the report, which includes intelligence in terms of their company overview, key financials, product overview, past as well as latest developments.
A SWOT analysis is offered on every market player incorporated in the report, along with information on their new product developments, and market expansion strategies such as collaborations and partnerships. The scope of the report is offer its readers with authentic information and insights on the global egg white peptide market, to enable them in making better future decisions for growth of the businesses.
Robust Research Methodology to Provide Authentic Market Intelligence
A tested & proven research approach is employed by analysts at Fact.MR for evaluating key industry dynamics and offering precise and authentic market intelligence. A blend of primary & secondary research has been implemented for offering estimates and forecasts on the global egg white peptide market. Secondary research forms initial phase of our research, wherein the analysts conduct extensive information mining by referring to up-to-date and verified data resources that include technical journals, regulatory and government published material, and independent studies, which forms the basis of the market estimates.
All the market estimates and forecast offered are further verified via an exhaustive primary research, wherein interviews are conducted with leading market participants, and industry experts. These comprehensive primary interviews aid in validating the information procured and gain significant industry insights, estimations and key developments.
Fact.MR offers custom research services that help clients to get specific research solutions
We are committed towards customer satisfaction and quality service.
---
Our Clients

Egg White Peptide Market Forecast, Trend Analysis & Competition Tracking - Global Market insights 2018 to 2028