Sun Protection Products Market
Sun Protection Products Market By Product Type (Sun Care Products, After Sun Products), By Form (Creams, Gel, Lotion, Powder), By Ingredient (Ecamsule, Avobenzone), By Consumer Orientation (Male, Female, Unisex), By Claim, By Sales Channel - Global Market Insights 2021 to 2031
Analysis of Sun Protection Products market covering 30 + countries including analysis of US, Canada, UK, Germany, France, Nordics, GCC countries, Japan, Korea and many more
Sun Protection Products Market outlook
Sun protection products market analysis,the market is forecast to experience steady rise with its overall valuation reaching US$ 15.3 Bn in 2021. Sales are expected to surge at 6.6% CAGR through 2031.
Growing concerns for health and awareness about the side-effects of artificial and chemical products have raised demand for organic products in developed as well as developing regions. Green label sun care products are becoming popular among consumers, which has caused a surge in global production of sun protection products.
Consumption of sun protection products for the hair and skin is expected to witness 1.8X growth with an incremental dollar opportunity of US$ 1.5 Bn over the next ten years.
Know thy Competitors
Competitive landscape highlights only certain players
Complete list available upon request
Key Points Covered in Sun Protection Products Industry Survey:
Market estimates and forecast 2016-2031
Key drivers and restraints impacting market growth
Segment-wise, country-wise, and region-wise analysis
Competition mapping and benchmarking
Global sun protection product consumption
Sales channel analysis of sun care products
Brand share and market share analysis
Top self-tanning care product brands
Natural oil sun protection products trends
Top mass retailers of sun protection lotions
Online sales of sun care products
Online sales analysis of sunscreen
Sun protection cream manufacturers
Key product innovations and regulatory climate
COVID-19 impact on sun protection product sales and how to navigate
Recommendation on key winning strategies
2016-2020 Sun Protection Products Market Analysis Compared to Demand Outlook for 2021-2031
During 2016-2020, demand for sun care products rose at a CAGR of 5.5%, and the market is predicted to surge at a CAGR of 6.6% during the forecast period of 2021-31.
Consumers' preference towards longer skin protection along with resistance towards sweat and water is high. This is one of the key reasons behind their increasing expenditure on sun protection products. Customers are interested in the long-lasting effects of these products that has caused an upsurge in global demand.
Sun protection products are available in different forms, viz. lotions, sprays, and gels. Self-tanning care is probably the prime reason that consumers are increasingly using sun protection products. There are other benefits of using sun protection products, such as momentary prevention of wrinkles and slow skin aging. As such, demand for sun protection creams with anti-aging effects is rising.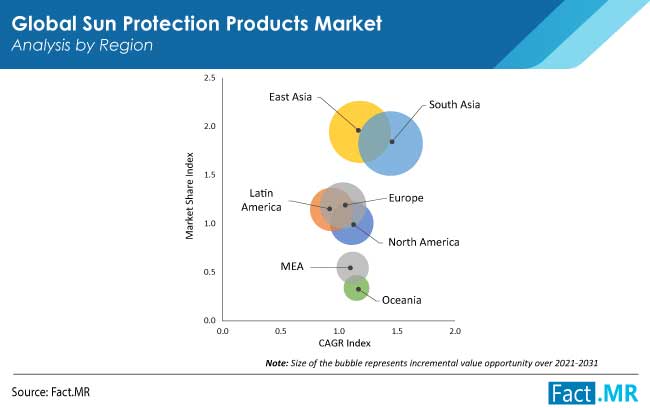 Will Demand for Natural Ingredients Remain the Chief Sun Protection Product Sales Driver?
With growing awareness of the harsh chemicals used in cosmetics and their harmful effects on the skin, consumers are becoming more critical about ingredient content before purchasing any product.
Increasing knowledge of consumers about the side effects of chemicals and benefits organic ingredients is encouraging manufacturers to produce after-sun products with mild and GMO-free ingredients, there driving the organic sun protection products market.
Manufacturers are focusing meeting consumer demand by introducing innovative and multifunctional sun protection products that provide nourishment to the skin. Due to the complete skin nourishment provided by suncare creams and lotions along with protecting the skin from UV radiations, demand for after-sun products such as creams and lotions are expected to witness a surge.
By making use of organic and natural ingredients instead of chemicals while producing sun care products, most manufacturers are aiming to target health-conscious consumers across the globe. With the use of innovative and medically advanced manufacturing methods for producing sun protection products and increased consumer awareness, the market in Europe is expected to be the most prolific during the forecast period.
More Insights, Lesser Cost (-50% off)
Insights on import/export production,
pricing analysis, and more – Only @ Fact.MR
What is the Impact of Multifunctional Self-Tanning Care Products with Manifold Benefits?
Self-tanning care products have been among the most sought-after cosmetic products due to their effectiveness in protecting the skin from harmful UV rays and other skin problems caused due to sun exposure. But now, consumer expectations regarding the added advantages of these products are driving manufacturers to produce innovative and multifunctional self-tanning care products.
Demand for self-tanning care products with added benefits and features such as skin nourishment, redness reduction, spot removing, peeling-prevention, moisturizing, and anti-ageing is expected to rise rapidly.
Leading companies are investing more in R&D and introducing innovative self-tanning care products that provide multiple skin benefits such as hydration, acne control, dark spot removal, and spot correction. Sales of self-tanning care products that are aromatic and handy may also gain traction during the forecast period.
Creams and lotions are beneficial for improving skin quality by reducing red patches and dark spots, which drives consumer demand for self-tanning care creams and lotions. Simplicity of application and complete skin nourishment are among the two leading driving engines for the surge in sales of self-tanning care creams and lotions.
Manufacturers across the globe are focusing on producing self-tanning care creams and lotions that contain organic ingredients and help in patching up the skin damages caused due to excessive sun exposure.
Will Easier Availability of Products in Different Ingredients and SPFs Complement Market Expansion?
Easier availability of sun protection products containing different active physical, chemical, and biological ingredients for different skin requirements is likely to fuel the growth of sun protection products. Accessibility of different products will allow consumers to choose the right ingredient-based product as per their needs.
SPF indicates the total amount of sun exposure a product can handle, and consumers can choose products based on the amount of time that they are going to spend in the sun.
Don't Need a Global Report?
save 40%! on Country & Region specific reports
Country-wise Insights
How is Product Development Driving Demand for Sun Protection Products in the U.S.?
The U.S. market for sun protection products is expected to hold a market share of 12% (of global) in 2021, and is set to rise a CAGR of 6.5% through 2031.
Demand for sun care products in the U.S. that are classic and niche is increasing across the country. Initially, the development and production of niche sun protection products were in the territory of only small manufactures. However, with increase in demand, key players are increasingly focusing on strategic investments for the development of classic and niche sun care products through strategic alliances with luxury and classic brands.
On April 8, 2019, MyKAI, the cosmetic product line was born from an alliance between Bio-on and Unilever.
On May 13, 2019, Beiersdorf acquired the iconic Coppertone brand from Bayer, which will strengthen the company's presence in North America.
How is Demand for Sun Protection Products Shaping Up in Germany?
The Germany sun protection products industry is expected to account for over 27% share in the European market in 2021.
Some of the chemicals used in Europe provide stronger protection against the whole spectrum of UVA light, which is not fully covered by U.S. solutions. In the top five European countries, nearly half of consumers (49%) use sunscreen when spending the entire day in the sun, and nearly a quarter (29%) use it to prevent premature skin ageing.
Despite the value of a good-looking tan, customers are anticipated to seek for greater SPF sunscreens as the population ages. During the review period, most countries will follow this trend, with Germany leading the way by switching from SPF6 to SPF20.
In Europe, Spanish consumers are among the most cautious when it comes to sun protection. To avoid burning or developing cancer, half of them (50 percent) wear sunscreen, the highest percentage among the Big 5. And, 19 percent use sunscreen to avoid tanning altogether, which is more than double the average for the United Kingdom (8%), France (7%), Italy (6%), and Germany (6%). (4 percent).
Germany continues to lead the way in terms of new self-tanning product launches. The number of self-tanners launched in the country increased by 27% between 2016 and 2021.
What is the Growth Prospects for Sun Protection Products in France?
According to Fact.MR analysis, France is expected to hold 15% share of the European market for the year 2021.
In France alone, there was a 43% jump in the number of new face creams with SPF in 2019 and 2018. This is due to more consumers incorporating sun protection into their everyday skincare routines being sold by top brands of sun protection sprays in France.
The sun protection spray market, for example, have surpassed suncare gels and creams in popularity in France, with sprays being regarded more user-friendly and easier to apply. This was also the case in Italy. Coppertone, for example, capitalized on the convenience of a new format by introducing a foam version that is also oil-free.
In the meantime, many products were developed in the spray format, including brands such as Vichy and Nivea, all of which claimed new features that improved their ease of use. The sun care sector is well aware of its growth potential and the need for more segmentation.
How Large is the Opportunity for Sun Protection Products in the U.K.?
The U.K. is estimated to account for 14.7% of the European market by 2031, rising at a compounded annual growth rate of 4.9%.
Over the years, consumers in U.K. became more aware about sun protection. As a result, producers have been constantly looking for more convenient formats. The days of thick, difficult-to-spread creams are long gone. New formats and products with extra benefits have aided in the expansion of sun protection value sales.
In the U.K., stores rarely have sun protection below SPF10, with SPF15, SPF20, SPF30, and SPF50 taking up an increasing amount of shelf space.
Manufacturers should be allowed to add value to these products by using added-value ingredients such as plant-based extracts like milkweed. Anti-aging products saw innovation as well, with L'Oréal Expertise offering Olio Solare anti-aging sun protection in Italy, for example. Meanwhile, La Roche-Posay, a pharmacy brand, continued to focus on facial sun protection with a new line that included the groundbreaking Anthelios XL AC SPF30 Extreme Fluid.
As more consumers look for natural and non-chemical sun protection, natural components and minerals are projected to be among the market growth drivers in the near future.
Why is Demand for Sun Protection Products High in Japan?
In 2021, Japan will command a market share of more than 35% in East Asia. Over the forecast period of 2021 to 2031, the market in Japan is expected to develop at a CAGR of 4.5%.
With a high SPF rating, weightlessness, hydrating ingredients, and adaptability as a cosmetics primer, Japanese sunscreen has become something of a cult favorite among beauty-holics and skincare connoisseurs worldwide.
Consumers in Japan are looking for premium products that contain healthy ingredients, components, and provide additional benefits, and this trend is expected to promote continued expansion in the sales of sun protection products.
Category-wise Insights
Which Type of Sun Protection Products Holds High Market Share?
Among the product types, sun care products are the most preferred and hold a dominant share of 59%. The segment is expected to progress at a CAGR of 6.3% over the forecast period.
SPF-15-29, SPF-30-55, and SPF-55+ have gained popularity across product lines, and e-Commerce sales of sun care products are expected to only increase during the assessment period. Consumers are still leery of prolonged ultraviolet ray exposure, but tourism and outdoor mobility restrictions have caused sluggishness.
Which Form of Sun Protection Products is Popular?
Spray form of sun protection products holds a high share of 25%, and will witness a CAGR of 6.1% over the forecast period.
Spray-on sunscreens are light, dry rapidly, and don't leave any oily residue on the skin, making them safe for both adults and children. Spending time in the sun raises the risk of skin cancer and premature ageing. Therefore, using sunscreen on a regular basis has become an important element of any skin care routine, thereby driving the sunscreen market.
Sunscreen sprays are useful for use on hard-to-reach areas as well as for children, and are a simple way to protect oneself from the sun. These sprays have grown in popularity due to their ease of use and convenience, particularly among parents who need to rapidly apply sunscreen to their children before they go outside to play.
Growing global awareness of the harmful effects of the sun on exposed skin is driving demand for sunscreen sprays. Sunscreen formulations contain active chemicals that boost the skin cells' self-defense capabilities by making them more resistant to sunlight. Sprays, on the other hand, do not give appropriate coverage, are highly combustible, and pose a major risk of inhalation.
Nonetheless, Asia Pacific's fast rising economies as well as organic sunscreen spray innovation and new product releases are offering prospects for market players.
Which Ingredient is Dominating the Sun Protection Products Industry?
Avobenzone is dominating the global sun protection products industry with a market share of 31%s.
Avobenzone, FDA-approved compound, can absorb UV rays over a wider range of wavelengths than many other sunscreen agents. Avobenzone is used in the production of the most common sunscreen agent. It is only used in the beauty and personal care business because to the limited range of applications. Because of its restricted chemical usage, avobenzone is exclusively used in beauty and personal care products, rendering it subject to greater study and development due to its unknown benefits.
Inorganic sunscreens such as zinc oxide and titanium oxide are best replaced with avobenzone. Avobenzone has been in the market for a long time, but its application has been limited to the sunscreen industry due to its sun-blocking formulae.
This has piqued the interest of industrialists, who are investing their hard-earned cash in avobenzone R&D in order to discover new benefits and reduce the apparent side-effects. Usage of the ingredient in sun protection products is expected to witness significant growth over the coming years.
What Packaging is Mostly Preferred for Sun Protection Products?
Tubes holds the maximum share of 50%. Use of tubes with different sizes such as <50 grams, 50 grams – 100 grams, 101 grams - 200 grams, and >200 grams in the sun protection products packaging business has been in the industry since these products were introduced, and yet hold a dominant position in the industry.
This is a more cost-effective alternative to the sticks and bottles that are used in packing. Manufacturers are focusing more towards innovative packaging especially in beauty and cosmetics products. For instance, 'The DuPont Awards for Packaging Innovation', one of the most prestigious worldwide packaging awards, recognizes firms that make significant advancements in the fields of sustainable package, customer product experience, and cost-effective packaging production technology.
Manufacturers are recommended to offer customers a variety of options in this very handy package shape, such as compact, lightweight pouches for travel; resealable, family-size pouches of sunscreen; and trial-size pouches that promote sampling with proper labels and claims, so as to expand their market share.
Rigid formats such as bottles and tubes have a lower product-to-package ratio, and are expected to witness substantial growth over the forecast period.
What is the Impact of COVID-19 on Sales of Sun Protection Products?
The impact of the pandemic caused by the novel coronavirus outbreak has altered the growth of several industries. While impact on certain industries has been severe, other reported steady rise in sales despite hindrances amid the pandemic.
Sunscreens witnessed a 17% dip in March 2020 as brands lost out on spring break sales. Coronavirus sparked a disruption to a previously strong sector: In 2019, the worldwide sun protection market was expected to increase at a compound annual growth rate of 7% over the next decade. Sales were slow in the first quarter of 2020, and many stores were closed.
The sector reacted well to the crisis after a while, with companies switching production to hand sanitizers and cleaning chemicals, and providing free beauty services to first responders.
The COVID-19 crisis is more likely to accelerate trends that were already shaping the market, such as the rise of the global middle-class and the use of e-Commerce. Sun protection product manufacturers are expected to experience a period of stagnation over the forecast years due to the COVID-19 prevalence.
Even before the pandemic, brands were under pressure to overhaul their product-innovation pipelines. Now, this need is even greater.
Competitive Landscape
Sun care product suppliers are focusing on strengthening their online presence and spending on research & development (R&D) to strengthen their footprint
Multinational sun protection product companies are focusing on expanding their manufacturing facilities and acquiring local players in order to diversify their product offerings.
L'Oréal S.A. is the leading player which holds 17% market share of the total sun protection products market. The company focuses on developing disruptive scientific and technological innovations in every cosmetics category. Company research & innovation regarding hair care products will rise as it strives to meet consumer expectations.
R&D capabilities of Johnson & Johnson Services, Inc. and Procter & Gamble Company has made them top competitors in the sun protection products market. Company business model relies on continued growth and innovation of product & brands, as well as creation of new innovative products.
Japanese company Shiseido Co., Ltd also holds a significant share in the overall market. The company established VISION 2020 strategy in the year 2018 to rebuild the business foundation and thoroughly resolve structural issues of business in Japan and overseas. Also, the company's 'prestige first' strategy focuses on 4 new brands.
Sun Protection Products Market Report Scope
Attribute

Details

Forecast Period

2021-2031

Historical Data Available for

2016-2020

Market Analysis

USD Million for Value

Key Regions Covered

North America
Latin America
Europe
East Asia
South Asia
Oceania
MEA

Key Countries Covered

US
Canada
Germany
U.K.
France
Italy
Spain
Russia
China
Japan
South Korea
India
Thailand
Malaysia
Indonesia
Australia
New Zealand
GCC Countries
Turkey
Northern Africa
South Africa

Key Market Segments Covered

Product Type
Form
Ingredient
Packaging Type
Distribution Channel
Region

Key Companies Profiled

L'Oréal S.A.
Unilever PLC
Procter & Gamble
Kao Corp.
Johnson & Johnson Services, Inc.
Avon Products, Inc.
Christian Dior SE
Beiersdorf AG
Groupe Clarins
Bioderma Laboratories
Burt's Bees
Estee Lauder
Unilever
Coty Inc.

Report Coverage

Latest Trends of Sun Protection Products
Market Forecasts
Company Share Analysis
Competition Intelligence
DROT Analysis
Market Dynamics and Challenges
Strategic Growth Initiatives

Customization & Pricing

Available upon Request
Segmentation of Sun Protection Products Industry Research
By Product Type:

Sun Care Products

SPF-15-29
SPF-30-55
SPF-55+

After Sun Products
Self-Tanning Care Products

By Form:

Sun Protection Creams
Sun Protection Gels
Sun Protection Lotions
Sun Protection Powder
Sun Protection Wipes
Sun Protection Sprays
Sun Protection Natural Oils
Other Forms

By Ingredient:

Ecamsule-based Sun Protection Products
Avobenzone-based Sun Protection Products
Oxybenzone-based Sun Protection Products
Titanium Dioxide-based Sun Protection Products
Zinc Oxide-based Sun Protection Products
Natural Oils

Raspberry Seed Oil
Wheat germ Oil
Avocado Oil
Hazelnut Oil
Carrot Seed Oil
Other Suncare Natural Oils

By Packaging Type:

Sun Protection Sticks
Sun Protection Tubes

<50 grams
50 grams – 100 grams
101 grams - 200 grams
>200 grams

Bottle Packaging for Sun Protection Products

50 ml – 100 ml
101 ml – 200 ml
201 ml – 300 ml

Other Packaging Types

By Customer Orientation:

Sun Protection Products for Males
Sun Protection Products for Females
Unisex Sun Protection Products

By Sales Channel:

Modern Trade of Sun Protection Products
Sun Protection Products Sold at Convenience Stores
Sun Protection Products Sold at Departmental Stores
Sun Protection Products Sold at Professional Salons
Sun Protection Products Sold at Drug Stores
Sun Protection Products Sold at Specialty Stores
Online Sales of Sun Protection Products
Other Sales Channels
- FAQs -
The global sun care products market enjoys a valuation of over US$ 15 Bn at present.
Sales of sun protection products will register a steady rise at a CAGR of 6.6% over the forecast period.
In recent years, manufacturers have shifted to natural oil ingredients as a solution with an interest to attract emerging consumer markets that prefer organic products.
Increasing demand for natural ingredients from millennials, easier availability of products in different ingredients and SPFS, growing online retail penetration, and increasing consumer awareness about harmful effects of the sun on the skin triggering
Europe is a dominant market for sun protection products, and is set to register around 6% CAGR through the 2031.
Tier-1 players include market leaders with a share of more than 68%. Market leaders are characterized by wide product portfolio for multiple product types. Top manufacturers of sun protection products include L'Oréal S.A., Unilever PLC, The
The U.S., Canada, U.K., Japan, Germany, and France are among the leading markets for sun protection products, exhibiting consistently high demand.
As per Fact.MR, the Germany market accounts for 27% share in Europe, while China accounts for 43% share of the East Asia market.