Thymus Cancer Treatment Market
Thymus Cancer Treatment Market Analysis By Cancer Type (Thymoma, Thymic Carcinoma), By Treatment (Surgery, Radiation Therapy, Chemotherapy, Hormone Therapy, Targeted Therapy, Immunotherapy), By End User (Hospitals & Clinics, Research & Academic Institutes), By Distribution Channel (Hospital Pharmacies, Retail Pharmacies, Online Pharmacies), & By Region - Global Market Insights 2023 to 2033
Analysis of Thymus Cancer Treatment Market Covering 30+ Countries Including Analysis of US, Canada, UK, Germany, France, Nordics, GCC countries, Japan, Korea and many more
Thymus Cancer Treatment Market Outlook (2023 to 2033)
The global thymus cancer treatment market is valued at US$ 353.5 million in 2023 and is forecasted to increase at a CAGR of 7.5% to reach US$ 728.7 million by the end of 2033.
A tiny organ that lies in the upper chest under the breastbone, is commonly affected by thymus cancer. The organ is divided into two halves called lobes and is composed of several tiny bumps called lobules. An essential component of the body's immune system is the thymus. During foetal development and childhood, the thymus gland is crucial for the growth and maturation of T lymphocytes (T cells). T cells are created in the thymus and move to lymph nodes all over the body. These T cells are in charge of combating bacteria, fungi, viruses, and other agents that cause infections.
Thymus tumours sometimes referred to as thymomas and thymic cancers or thymic epithelial tumours (TETs), is rare cancer that develops from the thymic epithelial cells. People with thymomas commonly experience symptoms such as weight loss, coughing up blood, chest pain, and shortness of breath.
A benign tumour known as a thymoma is common in people between the ages of 40 and 60. People with thymus cancer tend to have immune system issues since the thymus gland is crucial for the formation of T cells.
Approximately 400 new instances of thymus cancer are identified each year in the United States, according to the American Cancer Society.
Chemotherapy, targeted therapy, hormone therapy, and novel immunotherapies such as immune checkpoint inhibitors, are later-stage thymus tumour treatment options. The size and position of the thymoma, as well as the patient's age and general health, all play a distinct role in determining the best strategy for the treatment of thymus cancer.
Thymoma and thymic cancer both originate from the same kind of cell; however, they behave differently:
Thymoma: The cancer cells have a similar appearance to the healthy thymus cells, but develop slowly, and seldom invade other organs.
Thymic Cancer: The cancer cells differ from the thymus cells in appearance, they multiply more quickly, and they are more likely to spread throughout the body. Thymic carcinomas make up about one of every five TETs. Thymic cancer treatment is more challenging than thymoma.
There are two types of thymic cancers: resectable and unresectable. Resectable thymic cancer can be removed through surgery, as opposed to unresectable thymic cancer, which cannot be removed through surgery. The launch of cutting-edge medications & therapies as a result of rising research & development spending in the field of cancer treatment is expected to boost the growth of the thymus cancer market.
Report Attributes

Details

Thymus Cancer Treatment Market Size (2023E)

US$ 353.5 Million

Forecasted Market Value (2033F)

US$ 728.7 Million

Global Market Growth Rate (2023 to 2033)

7.5% CAGR

Leading Regional Market

North America

Key Companies Profiled

Amgen Inc.
Bristol-Myers Squibb Company
Celgene Corporation
Eli Lilly and Company
Astellas Pharma Inc.
Merck & Co., Inc.
Novartis AG
Pfizer Inc.
AstraZeneca
Mylan NV
Johnson & Johnson Services, Inc.
Onxeo
Takeda Pharmaceutical Company Limited
Tiziana Life Sciences Plc
Teva Pharmaceutical Industries Ltd
Don't Need a Global Report?
save 40%! on Country & Region specific reports
Which Dynamics are Generating Potential Growth Opportunities for Thymus Cancer Treatment Market Players?
"Immunotherapy's Triumph - Enhancing Immunity for Thymus Cancer Patients"
Immunotherapy has emerged as a promising treatment approach for thymus cancer. Immune checkpoint inhibitors, such as pembrolizumab and nivolumab, which block proteins such as PD-1 or PD-L1 that inhibit the immune response, have shown encouraging results in thymus cancer patients.
These immunotherapies have been found to enhance the body's immune response against cancer cells, leading to improved outcomes in some cases. As the understanding of the immune landscape of thymus cancer expands, further developments in immunotherapy are expected to occur, potentially leading to more effective treatment options.
"Biomarkers as Guides - Molecular Profiling Role in Thymus Cancer Management"
Molecular profiling techniques, such as next-generation sequencing (NGS), have enabled a deeper understanding of the genetic mutations and alterations in thymus cancer tumours. This has opened up opportunities for targeted therapies that specifically target these genetic alterations.
For example, thymus cancers with mutations in the RAS pathway or the mTOR pathway may be targeted with specific inhibitors. Molecular profiling also helps in identifying potential biomarkers that can guide treatment decisions and predict treatment response. With the advancements in molecular profiling techniques, precision medicine approaches are gaining traction in the management of thymus cancer, leading to more tailored and effective treatment strategies.
"Unleashing Potential of Combination Cancer Therapeutics"
Combination therapies that involve the use of multiple treatment modalities are emerging as promising approaches for thymus cancer treatment. For example, combining chemotherapy with immunotherapy or targeted therapy has shown synergistic effects in some cases. Additionally, combining surgery with other treatment modalities, such as radiation therapy or systemic therapies, may be considered for certain patients with thymus cancer.
These combination approaches are aimed at maximizing treatment efficacy, reducing the risk of recurrence, and improving overall patient outcomes.
"Faster Recovery, Better Outcomes: Minimally-Invasive Approaches for Treatment of Thymoma & Thymic Carcinoma Patients"
Minimally-invasive techniques, such as video-assisted thoracoscopic surgery (VATS) and robotic-assisted surgery, are gaining popularity in the treatment of thymus cancer. These techniques offer several advantages, such as smaller incisions, less postoperative pain, shorter hospital stays, and faster recovery times compared to traditional open surgery.
VATS and robotic-assisted surgery can be used for thymus tumour resection, lymph node dissection, and other surgical procedures, providing an alternative treatment option for eligible patients. As technology continues to advance, minimally-invasive surgeries are expected to become even more widespread in thymus cancer treatment.
The market for thymus cancer treatment is constantly evolving, with emerging trends that are shaping the landscape of thymus cancer therapies. These trends are driven by advancements in research, technologies, and a deeper understanding of the molecular and genetic characteristics of thymus cancer.
Which Aspects Should Providers of Thymus Cancer Treatment Solutions Focus On?
"Navigating Complexity - Limited Treatment Options Compared to Other Types of Cancer"
Thymus cancer is a rare and heterogeneous malignancy, and there are limited treatment options available compared to other more common cancer types. There is no established standard of care for thymus cancer, and treatment decisions are often based on the stage and subtype of the tumour, as well as the overall health of the patient. The lack of standardized treatment guidelines can make treatment decisions complex and challenging for oncologists.
"Counting Costs - Managing Treatment Expenses for Advanced-stage Thymus Tumour"
Thymus cancer is often diagnosed at an advanced stage, as it may not cause noticeable symptoms until the tumour has grown significantly. Late diagnosis can limit the treatment options available, as advanced-stage thymus cancers may be less responsive to curative treatment approaches, such as surgery or radiation therapy, and may require more aggressive treatment strategies. This may further also increase the cost of treatment, which may not be affordable for low-income patients.
"Limited Access to Specialized Care"
Thymus cancer is a rare malignancy, and not all healthcare facilities especially in poor or developing regions may have the expertise or resources to provide specialized care for thymus cancer patients. Access to experienced oncologists, surgeons, and specialized treatment centers may be limited, particularly in certain geographic regions, which can impact the quality and effectiveness of thymic carcinoma treatment.
More Insights, Lesser Cost (-50% off)
Insights on import/export production,
pricing analysis, and more – Only @ Fact.MR
What Unique Approaches Can Start-ups Take to Disrupt Traditional Thymus Cancer Treatment?
"Innovative & Patient-centric Therapies, Power of Partnerships & Collaborative Solutions"
The thymus cancer treatment market is a relatively niche and specialized field, but there are several opportunities for newcomers to make a meaningful impression. Here are some potential opportunities for new companies in the thymus cancer treatment market.
Developing Innovative Therapies: Thymus cancer treatment options are limited, and there is a significant need for innovative therapies that can improve patient outcomes. Newcomers can focus on research and development of novel therapies, such as targeted therapies, immunotherapies, or combination therapies, that can effectively target thymus cancer cells and provide better treatment options for patients.
Patient Support Services: Thymus cancer patients may face various physical, emotional, and financial challenges during their treatment journey. Newcomers can focus on developing supportive care services, such as patient education programs, psychological support, financial assistance, and survivorship programs, to help patients navigate through the challenges of thymus cancer treatment and improve their quality of life.
Collaborations & Partnerships: Collaboration with established healthcare institutions, research organizations, or industry partners can provide new entrants with access to expertise, resources, and networks that can accelerate the development and commercialization of thymus cancer treatment solutions. Collaborative efforts can lead to synergistic outcomes and create opportunities for newcomers to establish their presence in the thymus cancer treatment market.
With a focus on addressing the unmet needs of thymus cancer patients, newcomers can contribute to improving treatment outcomes and quality of life for these patients.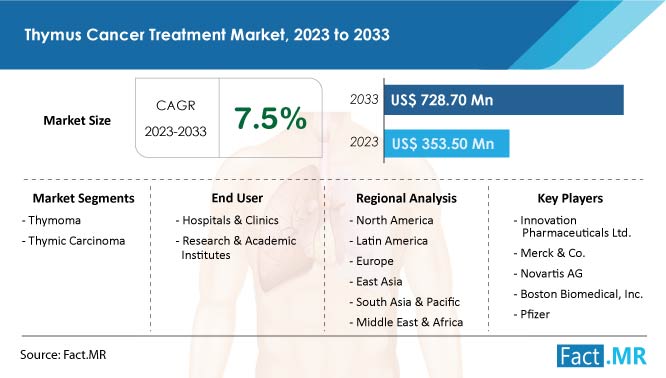 Country-wise Analysis
How are the Sales of Thymus Cancer Treatment Solutions Faring in the United States?
"Breaking New Ground: Velosbio Inc. and Merck & Co. Inc. Collaborate for Advanced Cancer Solutions"
The United States is experiencing higher adoption rates of cancer therapies due to rising cases of cancer.
In 2022, there were around 1.9 million new cancer cases identified, according to the American Cancer Society's 'Cancer and Figures 2022' report. Additionally, according to the same source, at a rate of 1.5 instances of thymus cancer per million occur in the United States each year.
The presence of key market players and increasing launches by manufacturers to meet the growing demand for innovative solutions are expected to drive sales of thymus cancer treatment solutions during the forecast period.
Velosbio Inc., a clinical-stage biopharmaceutical business dedicated to creating first-in-class cancer treatments, entered into a definitive agreement with Merck & Co. Inc. in November 2020. This move is benefitting companies by introducing advanced thymus cancer diagnosis & treatment solutions and expanding their product folio.
What Makes Germany Stand Out Among European Countries in Terms of Cancer Treatment Solutions?
"Ahead of Curve - Germany's Vision for Advanced Cancer Treatment Solutions"
Germany is one of the European countries with advanced healthcare technologies and facilities. Due to the high number of cancer cases recorded in the country as well as the numerous clinical studies being conducted for effective thymus tumour removal diagnosis and surgeries, the Germany market is predicted to expand significantly throughout the projection period.
According to a report from the International Agency for Research on Cancer 2021, there were 629 000 cancer cases in Germany in 2020, and by the end of 2040, this number is projected to rise to 750 000.
How is China Coping with the Growing Burden of Cancer Cases?
"Fighting Cancer Head-on - China's Growing Focus on Effective Cancer Treatments"
Rising incidence of thymus cancer, a greater focus on finding effective cancer treatments, a growing number of new drug launches and approvals, and increasing investments in R&D activities are the main drivers for the booming demand for thymus cancer treatment solutions in China.
In contrast to the 4,568,754 new cancer cases in China in 2020, the estimated number of new cancer cases for 2022 was 4,820,000, according to the research "Cancer Statistics in China and the United States, 2022: profiles, trends, and determinants" published in February 2022.
Know thy Competitors
Competitive landscape highlights only certain players
Complete list available upon request
Category-wise Analysis
Who are the Major End Users of Thymus Cancer Treatment Solutions?
"Hospitals & Clinics as Champions of Thymus Cancer Treatment"
Hospitals and medical centers are key end users of thymus cancer treatment solutions, as they are the primary institutions where patients receive cancer diagnoses, undergo surgeries or other treatments, and receive ongoing care. These facilities may offer a range of thymus cancer treatment options, including surgeries, radiation therapy, chemotherapy, targeted therapies, and immunotherapies.
Competitive Landscape
According to Fact.MR, a market research and competitive intelligence provider, key players in the thymus cancer treatment market are investing heavily in R&D activities to develop new therapies and improve existing treatment options. They conduct extensive clinical trials to test the safety and efficacy of novel drugs, surgical techniques, and medical devices.
These companies also engage in collaborations with research institutions and hospitals to accelerate the development process. They are also focusing on expanding their market reach by entering into new geographic regions and establishing partnerships with local healthcare providers.
Key Segments of Thymus Cancer Treatment Industry Research
By Cancer Type :

By Treatment :

Surgery
Radiation Therapy
Chemotherapy
Hormone Therapy
Targeted Therapy
Immunotherapy

By End User :

Hospitals & Clinics
Research & Academic Institutes

By Distribution Channel :

Hospital Pharmacies
Retail Pharmacies
Online Pharmacies

By Region :

North America
Latin America
Europe
East Asia
South Asia & Oceania
MEA
- FAQs -
The global thymus cancer treatment market is valued at US$ 353.5 million in 2023.
Global sales of thymus cancer treatment solutions are set to rise at a CAGR of 7.5% from 2023 to 2033.
Revenue from thymus cancer treatment solutions is expected to reach US$ 728.7 million by 2033.
Some of the key market players are Amgen Inc., Bristol-Myers Squibb Company, and Celgene Corporation.
North America holds a significant position in the global thymus cancer treatment market due to the presence of leading companies.