Cancer Profiling Market
Cancer Profiling Market By Product (Instruments, Consumables), By Indication (Breast, Colorectal, Ovarian, Melanoma, Kidney, Lung and Rare Cancer), By End User, By Test Cancer, By Region - Global Market Insights 2021 to 2031
Analysis of Cancer Profiling market covering 30 + countries including analysis of US, Canada, UK, Germany, France, Nordics, GCC countries, Japan, Korea and many more
Cancer Profiling Market Outlook
The global cancer profiling market is expected to yield significant gains across 2021, as preference for precision-based medicine and high quality oncology care acquires increasing traction. With global cancer burden slated to proliferate, patients and medical practitioners alike are scrambling to offer highly efficacious and long-lasting cancer diagnostics, prompting the entry of numerous service providers.
Key solution providers are effectively leveraging smart technology, nanomedicine, and automation to accelerate diagnostic processes. Reduction in testing timeframes to provide accurate results has helped patients seek timely treatment to mitigate their cancers. The report by Fact.MR provides a taxonomy elaborating on key market segments. It also outlines visionary insights on the dynamics of the market, including the drivers, restraints, opportunities, trends, and pricing analysis, along with key success factors. Market trends have been tracked in 20+ high-growth countries.
Know thy Competitors
Competitive landscape highlights only certain players
Complete list available upon request
Historical Vs Future Growth Projections
The global cancer profiling market has experienced substantial gains during the historical period of 2016 to 2020. According to Fact.MR, the market surpassed US$ 900 million revenue in 2018, expanding at an annual growth rate of 4%. Absolute opportunity worth US$ 36 million was generated in 2019.
Past growth is primarily attributed to heightened research & development initiatives undertaken by governments, research institutions, and healthcare professionals to introduce state-of-the-art therapeutic and profiling approaches. Moreover, increasing regulatory approvals by government entities have helped augment the sales of cancer profiling tests.
For instance, in November 2017, the U.S. Food & Drug Administration authorized the Memorial Sloan Kettering Cancer Center's Integrated Mutation Profiling of Actionable Cancer Targets (IMPACT) tumor profiling test. Such approvals are expected to rise in the future, widening the berth for upcoming sales.
How is Rising Global Cancer Burden Augmenting Demand for Cancer Profiling?
Cancer has emerged as one of the leading causes of death, and a significant impediment to growing life expectancy. The World Health Organization, in 2019, pegged it as amongst the leading causes of fatalities among people below 70 years of age. As per estimates by GLOBOCAN 2020, approximately 19.3 million new cancer cases and nearly 10 million deaths occurred in the previous year.
Female breast cancer surpassed lung cancer, recording 2.3 million new cases (12%), followed by colorectal cancer (10%), prostate (7.3%), and stomach (5.6%). Thus, it can be concluded that, the global burden of cancer incidence and mortality has surged, and will continue to increase in the long run. Thus, governments across the world are investing in extensive cancer eradication programs.
As per the American Cancer Statistics' estimates, by 2040, global burden is expected to increase to 27.5 million afflictions, with over 16 million expected fatalities. Consequently, advancements have been seen in oncology care, with demand for personalized medicine experiencing a massive incline. Hence, cancer profiling is gaining traction, with specific gene mutation identification and targeted therapies receiving credible nudge.
More Insights, Lesser Cost (-50% off)
Insights on import/export production,
pricing analysis, and more – Only @ Fact.MR
What Scope Do Technological Advancements Have in Furthering Cancer Profiling?
While conventional cancer treatment therapies such as chemotherapy and radiotherapy continue to hold sway, researchers are touting more precision-based and targeted approaches to streamline the entire process. Such transformative technological impacts are prompting diagnostics providers to seek highly sophisticated cancer profiling approaches.
A major breakthrough observed in this regard is the advent of nanomedicine. In the conventional sense, nanomedicines are used to modulate biodistribution and target site accumulation of systemically administered chemotherapy drugs to strike a balance between efficacy and toxicity. Starting 2015, the US Food & Drug Administration approved Onyvide and Vyxeos, some of the first anticancer nanomedicines.
Prominent cancer profiling market players are expected to effectively leverage smart sciences to dole out advanced equipment in the future. Boehringer Ingelheim, for instance, currently offers an in-class SOS1::KRAS inhibitor BI 1701963. This is a protein-protein inhibitor that binds to the Son of sevenless homolog 1 (SOS1), one of the guanine nucleotide exchange factors switching the KRAS gene into an 'on' state to single cell proliferation leading to cancerous growth. In 2019, BioGenex released the NanoMtrx® 300, a compact 30-slide bench-top fully automated pathology workstation for immunohistochemistry (IHC) and in situ hybridization (ISH).
Will Burgeoning Demand for Personalized Medicine Bolster Growth?
Personalized medicine is becoming increasingly mainstream, with patients demanding more precision-based and efficacious cancer treatments. Recent advancements in genomics, computational biology, medical imaging, and diagnostic technologies are prompting practitioners to developed advanced therapeutic approaches.
Emerging oncology personalized medical treatment include the TLR9 Agonist plus Immunotherapy and the EGFR/HER2 Exon 20 Mutation therapy, respectively. The former approach uses the investigational toll-like receptor 9 (TLR 9) agonist CMP-001 in combination with pembrolizumab (Keytruda) to reverse resistance to anti-PD1 therapy, an important treatment procedure in metastatic melanoma.
In the latter case, researchers are investigating possible approaches to treat non-small cell lung cancers (NSCLC) with the introduction of new drugs for treating NSCLC associated with EGFR and HER2 exon 20 insertions or mutations.
Don't Need a Global Report?
save 40%! on Country & Region specific reports
How is Lower Ceiling on Predictive Biomarkers Identification Restraining Growth?
As genomic instability and acquisition of mutations are the hallmarks of cancer, tumor heterogeneity continues to pose challenges for the identification, testing, and development of cancer biomarkers. These challenges are prevalent across the drug development landscape, wherein, their implementation in clinical drug trials is advancing at a staggering pace.
For these reasons, the landscape of cancer therapy seeks potential strategies for the development of robust biomarkers that complements the evolving cancer alterations, thereby enabling efficient tumor biopsies using cancer profiling. While the ongoing cancer therapeutic scenario is lagging behind in biomarker development, considerable investments are in pipeline, and their outcome is expected to aid in the progress of cancer profiling landscape in the future.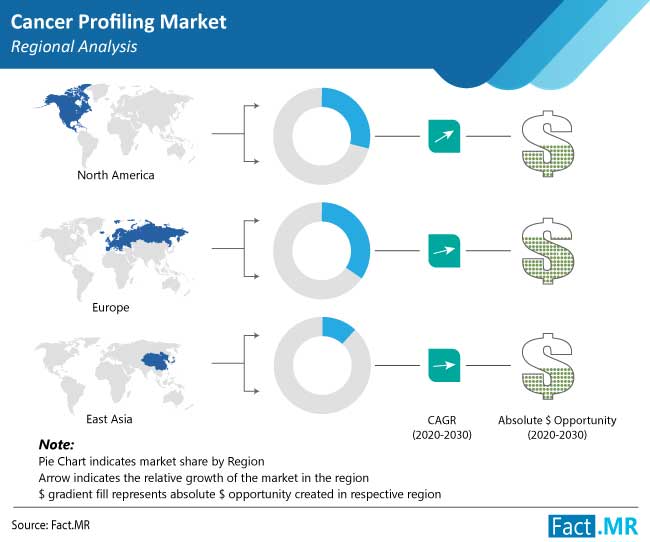 Country-wise Analysis
How Lucrative is the U.S. Cancer Profiling Market?
The United States is expected to garner significant share in the cancer profiling landscape. A study conducted by the American Cancer Society projects a substantial increase in the incidence of numerous cancers across the country in 2021. It estimates that, over 1.8 million people are expected to suffer from some or the other malignancy, with over 600 thousand deaths. Therefore, government initiatives have been undertaken to contain the spread of this debilitating disease. These include launching awareness campaigns and promoting highly advanced cancer profiling and detection research.
The National Cancer Institute has been playing a pivotal in advancing sophisticated cancer research studies and initiatives, including on cancer biology, cancer genomics, and cancer prevention. At present, the agency is working on determining the efficacy of patient derived xenograft (PDX) mice-based clinical trials. These mice largely retain the genetics of human tumors from which they were initially created. This is expected to reassure clinicians about the validity of novel cancer treatment and detection studies and approaches.
Will Biological Research Programs Drive Demand for Cancer Profiling in the U.K.?
Key cancer profiling equipment manufacturers and suppliers are increasingly penetrating the U.K. market amid heightened biological research to develop effective cancer diagnostics. Cancer Research UK reported that, since January 2021, a series of studies have been proposed to establish possible links between cancer cell growth and serine intake.
Results yielded until now have been variable, as certain cancer cells are efficient at producing their own serine, especially amongst patients with KRAS mutations. Fortunately, researchers are hopeful of obtaining a standardized conclusion through subsequent studies, thereby heightening prospects for deployment various cancer profiling approaches in the long-run.
The U.K. market is characterized by the presence of various oncology diagnosis providers such as GE Healthcare. The company offers highly advanced mammography solutions, including the Senographe PristinaTM Contrast Mammography, the Senographe Crystal NovaTM digital mammography transformation, and the SenoBrightTM HD. Moreover, players are leveraging AI-enabled solutions, such as Ibex Medical Analytics who unveiled its Galen Prostate platform in June 2020.
Why are Cancer Profiling Players Increasing Penetration across Germany?
According to Globocan 2020, total number of prevalent cancer cases across Germany amounted to over 2 million in the last five years, with over 600 thousand new cases and 252 thousand fatalities. Heavy smoking and binge drinking are attributed as key culprits behind the rising prevalence of cancer across the country.
According to the European Commission's report, nearly one in five adults reported smoking every day in 2017, with over one-fifth of men and nearly a sixth of women reporting daily tobacco consumption. Consequently, prevalence of lung cancer has increased, with fatality rates comprising nearly 40% of the country's population. As a result, the scope for cancer diagnosis and treatment has increased in recent years.
Robust institutional frameworks such as the German Cancer Consortium and key University Medical Center-based Comprehensive Cancer Centers (CCCs) play an instrumental role in further advanced cancer research throughout the country. Such heightened support is attracting key cancer profiling equipment manufacturers across the country.
How are Manufacturers Likely to Benefit from the Indian Market for Cancer Profiling?
India exhibits credible potential with respect to cancer profiling research. Studies of cancer genetics and medical oncology are core research fields, receiving over 30% of total research funding. Research funding for surgical oncology constitutes 9% of overall spending. Growth is also fueled by high cancer incidence, with over a million new cases being diagnosed annually.
On an average, approximately 15% of diagnosed cancer patients opt for treatment, with the rest of them remaining ignored. This disturbing trend has alerted the government, which is accelerating national level initiatives to prevent unwanted fatalities. International level collaborations are also helping bolster advanced cancer research.
In 2018, the Indian government signed a MoU with the U.K. to initiate a bilateral level cancer research initiative. The collaboration has successfully brought together medical practitioners on a single platform to address research challenges attributed to affordability, prevention, and care by improving progress against cancer outcomes. Such efforts are attracting cancer profiling manufacturers across the country.
Category-wise Insights
How is Lung Cancer Profiling Stimulating Growth?
In terms of indication, profiling for lung cancer, including non-small cell lung cancer (NSCLC), is likely to receive major tailwinds, attributed to increased prevalence across all regions. According to a paper published in the National Center for Biotechnology Information in 2019, novel, highly sensitive blood-based assays to test cfDNA and ctDNA at very low concentrations for genomic abnormalities have been developed.
Moreover, in recent times, methylation of ctDNA has emerged as a potential lung cancer diagnostic and screening testing tool. A major advantage of this testing is its remarkable stability as compared to other potential biomarkers. Furthermore, DNA methylation alteration detection happens at during early carcinogenesis, enabling clinicians to take appropriate steps to prevent further lung cancer spread.
Why is Next Generation Sequencing Highly Sought-after?
Over the years, cancer prevalence has aggrandized manifold, prompting researchers to discover novel therapeutic approaches. Hence, genomics-focused pharmacology has acquired center stage, providing major traction to next generation sequencing. Compared to conventional approaches, NGS offers greater accuracy, sensitivity and speed.
As NGS can assess multiple gains in a single assay, it eliminates the need to order multiple tests to identify the causative mutation. Furthermore, NGS testing enables mutation detections at as little as 5% of the DNA isolated from a tumor sample. This approach is expected to find applications across major types of cancers, including NSCLC, liver cancer, and breast cancer, among others.
Will FISH Cancer Profiling Instruments Provide Significant Nudge to the Market?
By product, fluorescence in-situ hybridization (FISH) instruments are anticipated to garner substantial revenue shares through the forecast period. FISH profiling is less time-consuming as compared to conventional approaches. It assists in easy chromosomal microdeletion, amplification, and translocation.
Players such as Cytocell are highly prominent in FISH instrument manufacturing. It currently offers the BAC-2-FISHTM process-based FISH probes christened as myProbes®. Likewise, ADS Biotec manufactures the CellWriterTM Workstation to produce its patented FISHArrayTM technology to allow multiple cytogenetic assay performances.
Competitive Landscape
These aforementioned players rely on a variety of organic and inorganic growth strategies to cement their market presence. Offering new products, forging strategic alliances, acquisitions and mergers with other players, and conducting clinical trials for determining drug efficacy are a few examples.
For instance, F. Hoffmann La Roche Ltd. presented updated overall survival (OS) data from its Phase III IMbrave 150 study evaluating Tecentriq® (atezolizumab) in combination with Avastin® (bevazicumab) in comparison with sorafenib in people suffering from unresectable hepatocellular carcinoma (HCC) who have not received prior systemic therapy.
In January 2021, Illumina Inc. announced a series of new and expanded oncology partnerships with Bristol Myers Squibb, Kura Oncology, Myriad Genetics, and Merck, to advance comprehensive genomic profiling. These partnerships were concluded to expand its TruSightTM Oncology 500 (TSO 500) Research Use Only comprehensive pan-cancer assay to profile known and emerging biotumors.
Recently, February 2021, QIAGEN NV partnered with INOVIO to develop next generation sequencing (NGS) companion diagnostics for the latter's VGX-3100 for cervical dysplasia treatment. The initial project in this expanded collaboration focuses on the co-development of a diagnostic test that identifies women who are most likely to benefit from clinical use of VGX-3100.
Report Scope
Attribute

Details

Forecast Period

2021-2031

Historical Data Available for

2016-2020

Market Analysis
US$ Mn for Value & '000 Tests for Volume

Key Regions Covered

North America
Latin America
Europe
CIS & Russia
Japan
APEJ
MEA

Key Countries Covered

US
Canada
EU-4
UK
BENELUX
Nordics
Brazil
Mexico
Russia
India
ASEAN
South Korea
Australia & New Zealand
Japan
GCC
South Africa
Turkey

Key Market Segments Covered

Product
Indication
End User
Region

Key Companies Profiled

F. Hoffmann La Roche Ltd
Illumina Inc.
QIAGEN
Thermo Fisher Scientific Inc.
Abbott
Nanostring Technologies Inc.
Siemens AG
HTG Molecular Diagnostics, Inc.
Perkin Elmer Inc.
Agilent Technologies Inc.
Negenomics Laboratory Inc.
Genomic Health
Biogenex
Pacific Biosciences of California Inc.

Pricing

Available upon Request
Key Market Segments Covered
Product

Instruments

Immunohistochemistry (IHC) Analyzers
Fluorescence in-situ Hybridization (FISH) Instruments
PCR Instruments
DNA Sequencer
Fragment Analyzer

Consumables

Reagents & Kits
Other Ancillary (Probes, Holders, etc.)

Indication

Breast Cancer
Colorectal Cancer
Ovarian Cancer
Melanoma
Kidney Cancer
Lung Cancer (including NSCLC)
Rare Cancers

End User

Hospitals
Diagnostic Centers
Cancer Research Institutes
Others

Test

Immunohistochemistry (IHC)
Fluorescence in-situ Hybridization (FISH)
Qualitative Polymerase Chain Reaction (qPCR)
Next Generation Sequencing (NGS)
Sanger Testing
Fragment Analysis

Region

North America
Latin America
Europe
CIS & Russia
Japan
APEJ
MEA
- FAQs -
The global market is expected to witness credible gains through 2031, primarily driven by burgeoning research in advancing precision-based treatment and incorporation of technological advancements
According to Fact.MR, suppliers and manufacturers are increasingly targeting emerging economies across Asia Pacific. Maximum growth opportunities are visible across India, as it possesses the world's largest population base.
Testing for detecting possible cases of non-small cell lung cancer (NSCLC) is acquiring momentum, as the prevalence rate is expected to compound over the coming years. Various respiratory disorders arising out of sedentary habits such as smoking are le
Fact.MR's report has profiled the following players in its study: F. Hoffmann La Roche Ltd, Illumina Inc, QIAGEN, Thermo Fisher Scientific Inc, Abbott, Nanostring Technologies Inc, Siemens AG, HTG Molecular Diagnostics, Inc, Perkin Elmer Inc