Probiotic Cosmetics Market Demonstrates High Growth, to be moderately Impacted in Short Term Owing to COVID-19
The rising awareness for microbiome cosmetic products has augmented the growth of the probiotic cosmetics products in the market. In 2020, where many industries have been facing the impact of COVID-19, some impact is anticipated on probiotic cosmetic demand as well. Nationwide lockdowns have led to the closure of cosmetic stores, thus disrupting their demand and consequently limiting their supply. However, the market is expected to restore by the end of the third quarter owing to the consumer shift towards natural products.
Internet Retailing to Offer Better Profit Margins
The significant presence of internet retailers has boosted the growth of probiotic cosmetics in every region. Probiotic cosmetic products market is expected to grow at a CAGR of nearly 12% during 2020-2030. Moreover, the inventory holding capacity of the e-commerce giants makes it easy for the probiotic cosmetics producers to increase production. The up-scaling profit margin has motivated market players to sell their products on their websites.
North America and Europe to be the Most Significant market for Probiotic Cosmetic Products
North America accounts for a significant portion of demand for probiotic cosmetics and is expected to grow by nearly 3X during 2020-2030. The United States accounts for nearly nine-tenths of the probiotic cosmetic market in North America in terms of production as well as consumption. The ease in procurement of ingredients with a rising number of suppliers has boosted the production of probiotic cosmetic products in North America.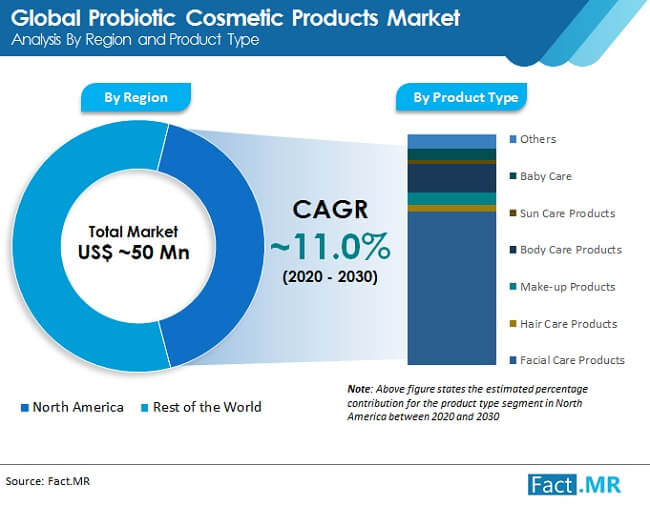 Key Players in the Market Collaborating With Ingredient Suppliers to Market New and Innovative Products
Key companies have made investments in developing their science on gut-brain axis and are trying to introduce serum and creams with skin microbiota to extend their product portfolio. In order to develop new microbiome products and to make them marketable, companies have been collaborating with ingredient startups. For instance, DSM is working with S-Biomedic, a Belgian life science startup, to develop probiotic active skincare technology to treat acne.
Impact of COVID-19 on Probiotic Cosmetic Market
The market for probiotic cosmetics is anticipated to dive for the first two quarters. Nationwide lockdowns have led to shutdowns in retail outlets marketing cosmetic products. Simultaneously, people have maintained social distancing, due to which they have become self-isolated. This has dipped demand for cosmetic products as consumers are no longer visiting cosmetic stores. However, by the end of the fourth quarter, an upsurge in demand is anticipated. Key manufactures such as Estee Lauder have been contributing significantly to contain the spread of the coronavirus. The company has donated US$ 2 million to Doctors without Borders to support their continued life-saving work in response to the COVID-19 pandemic. Additionally, the company has augmented its hand sanitizer production for high-need groups and populations.
Analyst viewpoint:
"Technological advancements such as an introduction of customized cosmetic products and innovation in manufacturing processes is aiding the global probiotic cosmetic products market growth."
Global Probiotic cosmetics Market: Scope of the Report
The recent global probiotic cosmetics market report by Fact.MR offers a 10-year forecast from 2020 to 2030. The report elaborates on the key drivers, restraints, opportunities and threats to the expansion of the global probiotic cosmetics market. A detailed segmental analysis, based on product type, forms, species, category, demographic, use case, sales channel and regions has been provided in the report.
Regional analysis in terms of supply chain analysis, business execution and market value analysis provides an in-depth perspective about the future scope of the global probiotic cosmetics market. In addition, a separate section on market structure has also been provided. The section provides a detailed analysis of key market players and the strategies for expansion in the probiotic cosmetics market.
Global Probiotic Cosmetics Products Market – Scope of the Report
Probiotic cosmetics market is anticipated to witness a notable upsurge during the forecast period 2020 to 2030, conferring to a new Fact.MR study. The study promotes crucial trends that are presently determining the growth of probiotic cosmetics market. This newly published and perceptive report sheds light on vital dynamics, which are likely to convert the future of probiotic cosmetics market, in turn generating worthwhile opportunities for key companies as well as evolving players who are interested in the manufacturing of probiotic cosmetics market.
Probiotic cosmetics market study is a detailed market intellect on key revenue progression factors, challenges, industry trends, and opportunities, which will eventually influence the growth of probiotic cosmetics market. The report primarily conveys a summary of the probiotic cosmetics market, considering present and upcoming cosmetics industry scenarios, to reveal striking sides relating to the acceptance of probiotic cosmetics market across prominent regional markets.
A detailed assessment on few of probiotic cosmetics market raw material suppliers accessible in the report allows the report readers to obtain detailed findings that have resulted from probiotic cosmetics market supply chain analysis, business execution, and value chain analysis across the regional markets incorporated in the report. A list of prominent companies functioning in probiotic cosmetics market provided in the report enhances reliability of this ample research study.
Probiotic Cosmetics Products Market: Report Summary
Study offers a comprehensive overview on diverse features that are inducing demand, revenue generation and sales in probiotic cosmetics market across the globe.
A comprehensive estimate on probiotic cosmetics market has also been made accessible by the experts, who have considered the market estimates on the basis of a likely scenario, an optimistic scenario, and a conservative scenario regarding sales of probiotic cosmetics market during the forecast period. Analysis and estimation of price point comparison by region and by product with the global average price has been included in this study.
Probiotic Cosmetics Products Market: Segmentation
FactMR's study has done the segmentation of probiotic cosmetics market on the basis of product type, forms, category, demographic, use case, distribution channel and across 5 regions.
Product Type

Facial Care products

Cleanser / makeup remover /Wash
Creams & Lotions
Scrubs / peels / masks
Serums
Others

Hair Care products

Shampoos & gels
Hair Sprays
Others

Make-up products
Body Care products

Body Lotion
Hand care
Sun Care products
Baby Care
Others

Form

Fermentation products
Cell lysates
Tyndallization
Living probiotic bacteria

Category

Leave-on products
Rinse-off products

Demographic

Use Case

Individual
Professional Services

Distribution Channel

Direct Sales
Department Store
Internet Retailers
Specialty Stores
Drugs & Pharmaceutical Stores
Others

Regions

North America
Latin America
Europe
East Asia
South Asia & Oceania
Probiotic Cosmetics Products Market: Analysis on Market Size Evaluation
Predictions of probiotic cosmetics market, encompassing current as well as forthcoming projected values estimate and analysis on region-wise demand trends and price index have been assimilated in the report.
Market estimates at the regional and global scale for probiotic cosmetics market are available in terms of "US$ Mn." A Y-o-Y growth contrast on prominent probiotic cosmetics market segments, along with the market attractiveness valuation computes understandings brought in the report. Metrics mentioned above are also followed based on probiotic cosmetics market demographics where probiotic cosmetics market witness a steady demand.
Probiotic Cosmetics Products market: Scrutinized Assessment on Regional Segments
Weighted sections have been elaborated in the report on probiotic cosmetics market, which delivers projection on the regional markets. These chapters brighten the regional macros (political economic, and business environment outlook), which are expected to have a significant impact on the growth of probiotic cosmetics market during period of forecast.
Country-specific valuation on demand for probiotic cosmetics market has been offered for each regional market, along with the market scope estimate and forecast, price index, price point assessment, and impact analysis of dynamics of prominent regions and countries. For all regional markets Y-o-Y growth estimates have also been incorporated in the report.
Probiotic Cosmetics Products Market: In-depth Analysis on Competitive Landscape
The report ends with a section on the competition scenario of probiotic cosmetics market, along with the profiles of major companies contributing to the market expansion. Essential and up-to-date data as well as information correlated to the market performers, who principally engage in the production and supply of probiotic cosmetics market, has been brought with the help of a detailed dashboard view. Market share analysis and comparison of prominent players provided in the report permits the report readers to plan preemptive steps to advance their businesses.
Company profiles have been shared with report, which exerts essentials such as product portfolio, along with an all-inclusive SWOT analysis on each player recognized along with the company policies identification and analysis. The company presence mapped and presented through the matrix for all the prominent players of the market functioning in probiotic cosmetics market offers readers with actionable intellect, which helps in thoughtfully presenting the market status, and making decisive predictions on the competition levels in probiotic cosmetics market. Major companies operating in probiotic cosmetics market are, Andalou Naturals Inc., Aurelia Probiotic Skincare Ltd., BIOMILK Probiotic Skincare, ESSE SKINCARE, LaFlore Probiotic Skincare, TULA Life, Inc., EMINENCE ORGANIC SKIN CARE, Marie Veronique, Estee Lauder Inc., GALLINÉE and several others.
Impact of Covid-19 on Probiotic Cosmetics Products Market
The report includes a scenario based assessment of impact of COVID-19 across key regions for all four quarters of 2020. The report discusses the market forecast under optimistic, probabilistic and pessimistic scenario. Under the three scenarios, the demand loss and recovery has been illustrated and described through L-shaped and U-shaped recovery curves. Alongside, the COVID-19 impact has been benchmarked with previous crisis including sub-prime crisis, Eurozone crisis and SARS pandemic.
Fact.MR offers custom research services that help clients to get specific research solutions
We are committed towards customer satisfaction and quality service.
---
Our Clients

Probiotic Cosmetic Products Market Forecast, Trend Analysis & Competition Tracking - Global Market Insights 2020 to 2030