Automotive Wiper Market
Automotive Wiper Market Analysis By Arm Type (Synchronized Radial Arm Automotive Wipers, Pantograph Arm Automotive Wipers), By Blade Type (Traditional Brackets, Low-profile Beams, Hybrid), By Vehicle (Passenger Vehicles, Light Commercial Vehicles, Heavy Commercial Vehicles), By Application (Windshield Wipers, Rear Wipers, Headlight Wipers), By Sales Channel (OEMs, Aftermarket) & By Region - Global Market Insights 2023 to 2033
Analysis of Automotive Wiper Market Covering 30+ Countries Including Analysis of US, Canada, UK, Germany, France, Nordics, GCC countries, Japan, Korea and many more
Automotive Wiper Market Outlook (2023 to 2033)
Worldwide sales of automotive wipers are predicted to increase at a CAGR of 4.5% from 2023 to 2033. The global automotive wiper market is thus expected to increase from US$ 4.50 billion in 2023 to US$ 6.99 billion by the end of 2033.
Automotive wiper plays a crucial role in ensuring driver visibility and safety by removing rain, snow, dust, and other debris from the windshield. Wipers have evolved significantly over the years, incorporating advanced technologies and improved materials to enhance their performance.
According to the World Health Organization (WHO), visibility issues contribute to a significant number of road accidents, resulting in approximately 1.3 million fatalities and 20 to 50 million non-fatal injuries annually. In light of these alarming statistics, the demand for highly efficient automotive wipers is expected to experience a substantial increase over the forecast period.
Sales of automotive wipers are projected to grow at a healthy pace in the East Asian region over the next 10 years. This growth can be attributed to the region's rapid economic development, significant infrastructural improvements, a surge in vehicle production and sales, and the presence of leading automotive part manufacturers. Increasing demand for high-quality automotive wipers in East Asia can also be attributed to strict rules regarding safety features of automobiles.
Sales of windshield wipers are anticipated to increase at a CAGR of 5% over the projected period. Windshield wipers are a critical component of every vehicle, designed to keep the windshield clear and provide optimal visibility to the driver. Modern windshield wipers feature an aerodynamic design that reduces wind lift, noise, and drag. This design allows wipers to maintain better contact with the windshield resulting in more efficient and streak-free wiping.
Rain-sensing wipers use sensors that detect moisture on the windshield. When moisture is detected, the wipers activate automatically and adjust their speed based on the intensity of the rain. This technology enhances convenience and ensures optimal visibility without requiring manual adjustments.
Washer fluid systems, coupled with windshield wipers, spray a cleaning solution onto the windshield to aid in the removal of stubborn debris and enhancement of visibility. Some advanced systems incorporate sensors that detect the need for washer fluid and automatically activate the spray.
Windshield wipers provide indispensable safety features in vehicles such as providing clear visibility and ensuring driver safety during adverse weather conditions. With ongoing advancements in technology, wiper blades have become more efficient, durable, and user-friendly.
Report Attributes
Details

Automotive Wiper Market Size (2023E)

US$ 4.50 Billion

Forecasted Market Value (2033F)

US$ 6.99 Billion

Global Market Growth Rate (2023 to 2033)

4.5% CAGR

Germany Market Value (2033F)

US$ 636.74 Million

United States Market Value (2033F)

US$ 1.35 Billion

Japan Market Growth Rate (2023 to 2033)

3.2% CAGR

China Market Growth Rate (2023 to 2033)

5.2% CAGR

India Market Growth Rate (2023 to 2033)

2.5% CAGR

Key Companies Profiled

Valeo
TRICO
Robert Bosch AG
Mitsuba Corp.
AM Equipment
B. Hepworth and Company Limited
Denso Corporation
DOGA S.A.
Federal Mogul Motorparts LLC
HELLA GmbH & Co. KGaA
Magneti Marelli S.p.A.
Nippon Wiper Blade Co. Ltd.
Pilot Automotive
TEX Automotive Ltd.
Don't Need a Global Report?
save 40%! on Country & Region specific reports
How are Technological Advancements Augmenting the Sales of Automotive Wipers?
"Introduction of Laser Beam Technology - Game-Changer for Wiper Blades"
Demand for automotive wiper blades is increasing due to the introduction of laser beam wiper technology. Several companies are investing significantly in integrating advanced technologies into wiper systems to enhance their efficiency and automation.
Tesla applied for a patent for a ground-breaking single-bladed electromagnetic windshield-wiper system in 2021. According to the patent application, the new method intends to increase wiping effectiveness while keeping a visually pleasing design. The design also has the additional benefit of consuming less battery power to run the wiper.
The automotive industry is experiencing several developments in cleaning tools that utilize laser beams. These tools offer a quick and reliable chemical-free solution for cleaning various glass items in cars and solar photovoltaic facilities. They can be combined with other glass cleaning methods such as wipers, air, water, or chemical cleaners, providing a versatile cleaning solution.
As companies continue to innovate and invest in advanced technologies, automotive wiper sales are increasing, offering more efficient and automated wiper systems that cater to evolving needs of customers.
"Growing in Tandem: Sales of Automotive Wipers Rising Alongside Automotive Demand"
The global automotive industry is currently experiencing a notable upswing, driven by the increasing urbanization rates across all continents.
According to the European Automobile Manufacturer's Association, the worldwide production of motor vehicles reached 85.4 million in 2022, marking a 5.7% increase compared to 2021.
Key countries such as China, the United States, and Germany continue to dominate the automotive market. Despite challenges posed by the COVID-19 pandemic, the industry has demonstrated remarkable resilience, primarily due to the rising popularity of hybrid and electric vehicles. As a result, allied industries such as automotive components, including automotive wipers, are also growing in proportion.
Manufacturers are now specializing in the production of both front and rear windscreen wipers, aiming to improve visibility on roads during unfavorable weather conditions.
Valeo made headlines in November 2020 by unveiling its latest line of wiper systems for aftermarket services. This comprehensive range includes 18 original equipment front and rear wiper motor references, extending coverage to a remarkable 3.3 million vehicles worldwide.
"Aftermarket Presenting Potential Growth Opportunities for Manufacturers of Automotive Wipers"
Aftermarket sales are witnessing significant growth due to increasing global automotive ownership and the continuous need for the repair and maintenance of various automotive components. These components include spark plugs, shock absorbers, the main body, gears, wipers, and tires. Opportunities for growth in the aftermarket industry are particularly prominent in the Asian, North American, and European regions.
Recently, Robert Bosch launched a sensory campaign to promote its ICON beam windshield wiper blades. The focus of this campaign was to highlight the challenging and stressful conditions that drivers face during extreme weather situations. It conveyed the message that using Bosch's wiper blades can restore visibility, bringing a sense of calmness and confidence to drivers.
Similarly, in November 2020, Pylon Manufacturing Corporation launched its first-ever line of off-road wipers, called the BFGoodrich Off-Road Wiper Blades. These wiper blades are specifically designed for SUVs, trucks, jeeps, and 4x4 vehicles. They are built to withstand off-road driving while maintaining proven performance for everyday travel. Equipped with SCRUB-X technology for extreme weather conditions, these wiper blades feature a durable rubber element.
What is Hampering the Sales of Rear Wipers to Some Extent?
"Sedan's Angled Windows Negating Necessity of Rear Wipers"
The aerodynamic design of sedans has limited the use of rear wipers. Rear wipers are typically employed to maintain clear visibility through the rear glass for safety purposes. However, in sedans and smaller cars, the angled window design helps prevent the accumulation of dirt and obstructions.
Sedans and compact vehicles are engineered to achieve optimal fuel efficiency, which is facilitated by their streamlined shape that minimizes wind resistance. To enhance aerodynamics and reduce fuel consumption, windows in these vehicles are often slanted. As a result, the need for a rear wiper is eliminated since the slanted glass is less prone to dirt buildup.
Addition of a rear wiper introduces increased wind drag leading to a slight decrease in fuel efficiency. This factor is anticipated to impede the demand for automotive wipers over the forecast period, as manufacturers are prioritizing aerodynamic performance and fuel economy in sedan designs.
More Insights, Lesser Cost (-50% off)
Insights on import/export production,
pricing analysis, and more – Only @ Fact.MR
What Strategies are New Companies Adopting to Progress in This Market?
"Developing Tailored Solutions Owing to Growing Demand for Speciality Wipers"
Besides traditional wipers, there is a rising demand for specialty wipers designed for specific applications. For example, wipers optimized for heavy-duty vehicles, electric vehicles, or high-performance sports cars. By identifying niche segments and developing tailored solutions, newcomers can tap into these specialized sections.
"Shifting to Eco-friendly Solutions"
Environmental sustainability is gaining prominence in the automotive industry, including the wiper market. Consumers are increasingly conscious of eco-friendly products and practices. New manufacturers of automotive wipers can align with this trend by developing wipers made from recyclable materials, reducing waste, or offering eco-friendly options such as waterless wipers.
"Integration of Wipers with Advanced Driver-assistance Systems"
ADAS technologies such as rain-sensing wipers are becoming more common in modern vehicles. Newcomers can explore partnerships or collaborations with advanced driver-assistance system (ADAS) manufacturers or vehicle manufacturers to integrate their wipers into these advanced systems, providing a seamless and integrated experience.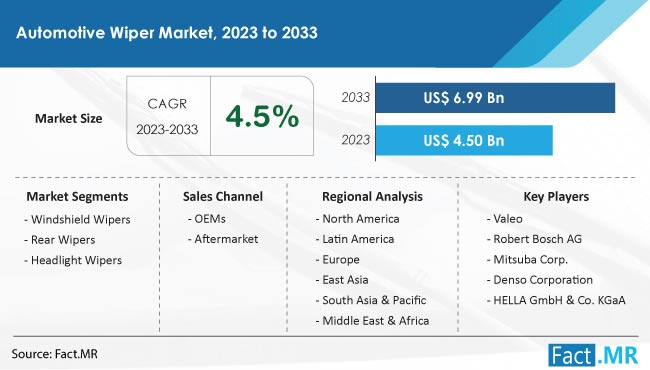 Country-wise Analysis
Why are Manufacturers of Automotive Wipers Eyeing the German Market?
"Advanced Automobile Production and Innovative Wiper Technologies"
Sales of automotive wipers in Germany are predicted to increase at a CAGR of 4.9% from 2023 to 2033, reaching a value of US$ 636.74 million by the end of 2033.
Germany's automotive industry and engineering expertise are gaining worldwide recognition. German automobiles are synonymous with qualities such as innovation, safety, reliability, and design, earning admiration across continents, from Asia to America. Furthermore, Germany holds the largest production and sales market for automobiles in Europe.
This exceptional reputation is a result of Germany's outstanding research and development facilities, comprehensive integration of the industrial value chain, and highly skilled workforce. As a result, automotive manufacturers in Germany are constantly equipping vehicles with cutting-edge safety features, including accessories such as wipers to enhance visibility, especially in adverse weather conditions.
In April 2021, Robert Bosch introduced an enhanced version of its renowned Aerotwin Wiper. This latest iteration boasts a new AeroClip adaptor designed for optimum aerodynamics. The innovative design allows for increased contact pressure between the wiper and the automotive windshield, ensuring improved wiping performance even at high speeds. By introducing such advanced wiper technology, German manufacturers prioritize safety and strive for superior driving experiences.
What Makes the United States a Profitable Market for Automotive Wiper Suppliers?
"Manufacturers of Automotive Wipers Harnessing Technological Advancements for Efficient Wiper Systems"
The United States market for automotive wipers is forecasted to reach US$ 1.35 billion by the end of 2033.
The United States is experiencing remarkable growth in the market for plug-in electric and hybrid vehicles, driven by the rise of electric mobility. This surge in the industry has also prompted several electric vehicle (EV) manufacturers to capitalize on technological advancements to introduce highly efficient wiper systems.
In September 2021, Tesla secured a patent for the utilization of laser to remove debris from its vehicles, including its application as a windshield wiper. The groundwork for this innovation was laid in 2019 when the concept was initially conceived. According to the blueprint from 2019, the laser beams not only serve the purpose of cleaning windshields but also aid in removing grime, dirt, and bugs from various surfaces.
As a result of these advancements and breakthroughs, the demand for automotive wipers is experiencing healthy growth in the United States.
Which Aspect is Propelling the Sales of Automotive Wipers in Japan?
"Japanese Automotive Customers Embracing Energy-efficient Wiper Solutions"
Automotive wiper demand in Japan is projected to reach US$ 426.82 million by 2033. With a growing emphasis on sustainability and fuel efficiency, Japanese customers are increasingly interested in energy-efficient solutions, including automotive wipers. Manufacturers are developing wiper systems that consume less power while maintaining optimum performance, thereby contributing to overall energy conservation.
The concept of connected cars and smart vehicles is gaining traction in Japan. Automotive wipers are also evolving to incorporate smart features such as advanced driver assistance systems (ADAS) and sensors to detect rainfall intensity and adjust wiping speed accordingly.
Know thy Competitors
Competitive landscape highlights only certain players
Complete list available upon request
Category-wise Analysis
Which Vehicle Type Accounts for High Demand for Automotive Wipers?
"Rising Production of Passenger Vehicles Driving High Demand for Automotive Wipers"
According to Fact.MR, a market research and competitive intelligence provider, demand for automotive wipers in the production of passenger vehicles is predicted to rise at a CAGR of 4.8% over the coming 10 years.
With the production and sales of passenger vehicles reaching new heights, automotive wiper sales are increasing. Among various vehicle segments such as heavy commercial vehicles and commercial vehicles, passenger vehicles stand out as the primary catalyst in the growth of the market.
Increasing need for commuting to work and the provision of convenient transportation options by companies for their employees are some of the key drivers behind the rising sales of passenger vehicles. Moreover, the proliferation of on-demand taxi services offered by companies such as Uber, Ola, and others across different regions is expected to further fuel the demand for passenger vehicles in general, leading to a corresponding rise in the sales of automotive wipers.
Competitive Landscape
In the competitive landscape of the automotive wiper market, both local and international enterprises are vying for supremacy. Local players are focusing on price competitiveness, while multinational players on their brand value.
Leading companies such as Denso Corporation, Valeo SA, Continental AG, and Robert Bosch GmbH are at the forefront of innovation, constantly developing cutting-edge technologies and introducing new products. These major firms are engaged in fierce competition as they are striving to capture a larger market share and meet evolving needs of customers.
Under the Schaeffler TruPower brand, Schaeffler India debuted a premium line of wiper blades in 2022.
The Bosch ENVISION and FOCUS wiper blades were two new wipers that Bosch unveiled in February 2022. The two blades can endure the challenging night-time driving conditions, helping motorists arrive at their destinations safely.
Key Segments of Automotive Wiper Industry Research
By Arm Type :

Synchronized Radial Arm Automotive Wipers
Pantograph Arm Automotive Wipers

By Blade Type :

Traditional Brackets
Low-profile Beams
Hybrid

By Vehicle :

Passenger Vehicles
Light Commercial Vehicles
Heavy Commercial Vehicles

By Application :

Windshield Wipers
Rear Wipers
Headlight Wipers

By Sales Channel :

By Region :

North America
Latin America
Europe
East Asia
South Asia & Oceania
MEA
- FAQs -
The global automotive wiper market is valued at US$ 4.50 billion in 2023.
By 2033, worldwide sales of automotive wipers are projected to reach US$ 6.99 billion.
Demand for automotive wipers is predicted to rise at a CAGR of 4.5% from 2023 to 2033.
The United States automotive wiper market is projected to attain a valuation of US$ 1.35 billion by 2033.