Key Insights - Melanoma Cancer Diagnostics
The melanoma cancer diagnostics market is being driven by a growing emphasis on early detection and prevention, with global revenue exceeding US$ 800 million in 2018.
Melanoma is a type of skin cancer developing from pigment-containing cells known as melanocytes. Melanoma cancer diagnostics is to diagnose melanoma with biopsy.
During a biopsy, all or the part of mole or growth over the skin is removed to test and analyze the sample. Common biopsy procedures used to diagnose melanoma are punch biopsy, incisional biopsy, and excisional biopsy.
Adoption of Artificial Intelligence (AI) for Melanoma Cancer Diagnosis Growing
The adoption of Artificial Intelligence (AI), combined with large image database, is showing promising results in distinguishing malignant from benign moles and other non-cancerous skin conditions.
Researchers in the US, Germany, and France recently conducted a study using artificial intelligence known as deep learning Convolutional Neural Network (CNN). Researchers compared the performance with 58 international dermatologists and found that CNN missed very few melanomas and misdiagnosed benign moles less often than dermatologists.
Along with performing image analysis, the network is capable of teaching itself to improve its performance by using a machine learning process.
The process that CNN used in the research is based on an algorithm developed by Google which allows AI to differentiate between thousands of different objects.
However, according to some experts, more work and research is necessary to realize the full potential of this technology for skin cancer diagnosis.
Non-Invasive Techniques Show Promising Results in Skin Cancer Diagnostics
Non-invasive skin cancer diagnostics methods are being used on a large scale for skin cancer diagnosis. Although biopsy is considered to be the best way for skin cancer diagnosis, it is leading to a number of complications including infection, scarring, and bleeding.
Hence, researchers are focusing on developing less invasive or non-invasive methods for skin cancer diagnosis.
For instance, Pigmented Lesion Assay (PLA) test by DermTech uses sticky adhesive patch to collect skill cells from lesion to diagnose melanoma and clinical trials found that PLA has high sensitivity and very low probability of missing melanoma.
Meanwhile, ongoing technological advancements in optical imaging techniques is also resulting in development of new tools in diagnosis and treatment of skin cancer.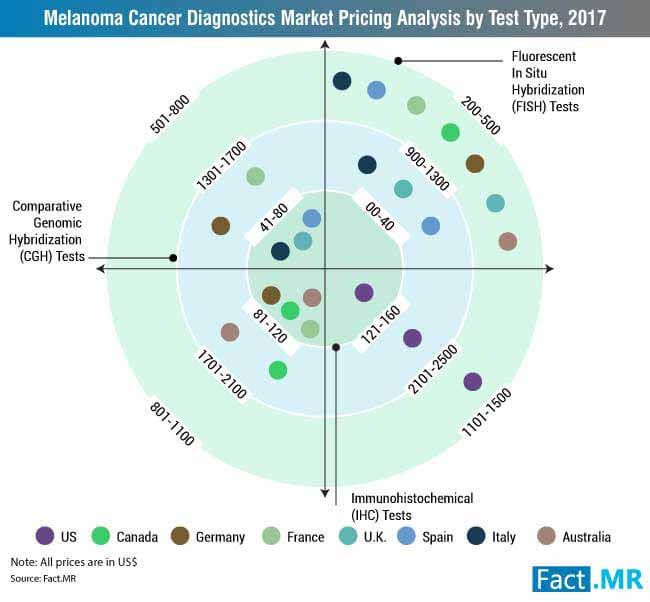 As a part of non-invasive medical devices and techniques, researchers are focusing on techniques of dermoscopy and advanced non-invasive imaging techniques including optical coherence tomography and reflectance confocal microscopy.
Meta-analysis performed in clinical settings demonstrated that dermoscopy has improved diagnostic accuracy of pigmented and non-pigmented lesions. In the near future, physicians would be able to recognize tumor patterns using dermoscopy technique.
Reflectance confocal microscopy that enables real-time examination of skin tumors has been proven as an excellent method for evaluating melanocytic lesions. Using reflectance confocal microscopy, dermatologist may be able to avoid biopsy of benign tumor.
Researchers have also developed Speckle-Variance optical coherence tomography (SV-OCT) capable of detecting vascular changes taking place in melanocytic lesions.
Increasing Incidences of Skin Cancer Driving Demand for Melanoma Cancer Diagnostics
According to the World Health Organization (WHO), around 132,000 melanoma skin cancers occur worldwide every year. It is also estimated that about 10% decrease in ozone levels is likely to result in 4,500 melanoma skin cancer cases.
There were nearly 300,000 new melanoma of skin cases in 2018, as per the American Institute of Cancer Research.
With the number of skin cancer cases going up in the past few years, focus on providing early detection and diagnosis is increasing.
Melanoma cancer is on a rise owing to the changing environmental conditions and increasing exposure to UV rays. This is driving the demand for rapid diagnostics for early detection of melanoma cancer.
Along with the US, UK is also witnessing a rise in melanoma skin cancer, with around 15,400 new melanoma cancer cases in the UK each year, as per the Cancer Research UK. Two-week wait is the most common way of diagnosing melanoma cancer in the UK.
The most common biopsy procedures used in diagnosing melanoma are excisional biopsy, punch biopsy, and incisional biopsy. However, non-invasive test to diagnose melanoma is also gaining popularity across various countries.
Know thy Competitors
Competitive landscape highlights only certain players
Complete list available upon request
Governments Initiatives for Early Detection and Skin Cancer Treatment Drive Adoption
With a rise in melanoma related deaths across various countries, melanoma diagnostics and therapeutics is significantly increasing.
Government initiatives, along with the advancement in technology is also driving the growth of melanoma cancer diagnostics. Notable initiatives include,
European Skin Care Foundation (ESCF) is strongly focusing on establishing skin cancer centers across Europe. ESCF is also supporting research activities with an emphasis on innovative modalities for diagnosis and treatment.
To effectively manage melanoma in New Zealand and Australia, initiatives have been taken by governments in both the countries for early detection and holistic treatment. The Ministry of Health in New Zealand has established National Cancer Program to provide high quality and timely treatment for cancer.
The Ministry of Health in New Zealand, in partnership with various institutions, is likely to hold cancer control conference in 2019 to discuss major challenges and identify possible solutions.
The Department of Health in Australia review of evidence on effectiveness of public awareness campaigns to increase awareness for need of skin checks among people, with strategies to target high risk groups.
Absence of Accurate Diagnostic Methods to Remain Key Challenge
With rise in cases of melanoma skin cancer across various regions, researchers and scientists are focusing on developing more precise methods of diagnosis along with cost-effectiveness.
According to the Agency of Healthcare Research and Quality, cancer is one of the most expensive conditions to treat in the US.
Moreover, insurance providers with cost sharing measures are also shifting a huge portion of the medical cost to patients.
This has resulted in more out-of-pocket cost for diagnosis and treatment of skin and other types of cancer.
Diagnostic accuracy for melanoma varies significantly with potential financial implications. With advanced diagnostics technologies, the cost of diagnostic procedures, screening, treatment, and medical follow-up is also increasing.
According to the study published in the American Journal of Preventive Medicine, in 2007-2011, the average annual cost for skin cancer increased by 126%. Economic burden of skin cancer treatment is significantly increasing with a substantial increase in cost in diagnostics and treatment for melanoma.
Centers for Disease Control and Prevention (CDC) also projects that from 2011 to 2030, annual cost of treating patients suffering from melanoma is likely to increase to $1.6 billion from $457 million.
Research presented at 2018 National Cancer Research Institute (NCRI) Conference has also found the rise in the rate of men dying from malignant melanoma.
Without accurate and additional prevention measures the incidences is likely to increase in coming years along with the rise in melanoma diagnostics and treatment cost.
More Insights, Lesser Cost (-50% off)
Insights on import/export production,
pricing analysis, and more – Only @ Fact.MR
Additional Questions Answered
The report along with the valuable insights on the melanoma cancer diagnostics market provides answers to some of the important questions on melanoma cancer diagnostics market.
Which test type is expected to register the highest growth in the melanoma cancer diagnostics market?
What will be the market share of Cancer research Centers in melanoma cancer diagnostics market?
Which region is likely to remain lucrative in the melanoma cancer diagnostics market?
What factors are driving the growth in the melanoma cancer diagnostics market?
Melanoma Cancer Diagnostics Market: segmentation
Test Type

Fluorescent In Situ Hybridization (FISH) Tests
Comparative Genomic Hybridization (CGH) Tests
Immunohistochemical (IHC) Tests

End User

Hospitals
Pathology Laboratories
Cancer Research Centres

Regions

North America
Latin America
Europe
CIS & Russia
Asia-Pacific
Japan
Middle East & Africa